General Questions about Kasa Cam Outdoor
How do I install a Kasa Cam Outdoor?
Every Kasa Cam Outdoor comes with a mountable base plate, screws and clips for cable management. Once you have screwed in the base plate you may attach the camera and adjust the lens to the desired view.
How do I turn my Kasa Cam Outdoor Siren on/off?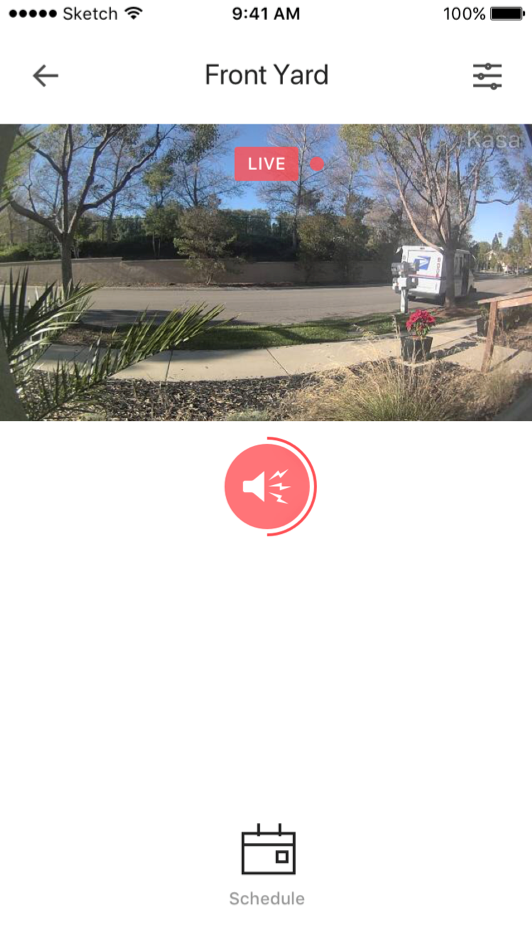 From the live view screen, tap the siren icon to be taken to the siren on/off button. Tap once to trigger the siren, tap again to disarm it.
How should I clean the surface of the Kasa Cam Outdoor?
You can clean dirt off your Kasa Cam Outdoor using a damp washcloth and wiping the edges off. We recommended caution when wiping the face of the camera so that you do not scratch the lens.
How do I reset the KC200?
You can reset the KC200 camera by powering the camera on and inserting a paperclip into the tiny hole on the bottom of the unit where it says reset. Hold the paperclip there for up to 15 seconds until your camera's light is blinking amber and green. Your camera has just been reset.

Note: Be careful not to poke the safety clip into the unmarked microphone hole. This could damage your camera and void the warranty.
How good is the audio and video quality on Kasa Cam Outdoor?
The Kasa Cam Outdoor provides crystal clear 1080p video streaming with a 130-degree wide angle field of view. Kasa Cam supports both daylight and night vision with up to 25 feet of clarity. Kasa Cam outdoor equipped with industry leading microphones and speakers to give you an excellent 2-way audio experience straight out of the box. There is also a 75-decibel built in siren to deter unwanted intruders.
Do I need a hub for the Kasa Cam Outdoor?
No, our outdoor cameras hub free and designed to work straight out of the box with your existing wireless network. All you need to get started is a safe and covered outlet for you to plug your camera into.
How far can I place the Kasa Cam Outdoor from my Wi-Fi router?
The average range of Kasa Cam Outdoor cameras can be 25-50 feet away from the router. This range varies based on your internet service, router model and home type. You can test your camera's signal strength from the device settings menu from within the app.
Is Kasa Cam Outdoor battery powered?
No, the Kasa Cam Outdoor can only be powered by being plugged into an electrical outlet.
How long is the power cord?
Kasa Cam Outdoor comes with a 10-foot cable and an AC adapter meant to be plugged indoors or into a weatherproof outdoor outlet.
Is this faq useful?
Your feedback helps improve this site.
SubscriptionTP-Link takes your privacy seriously. For further details on TP-Link's privacy practices, see TP-Link's Privacy Policy.
From United States (English)?
Check products and services for your region.