Common Questions Regarding Wi-Fi 6E Deco
Q1. What is Wi-Fi 6E?
Wi-Fi 6E is an upgraded version of Wi-Fi 6, it extends Wi-Fi 6 into the 6GHz band. Wi-Fi 6E works with the same standard as Wi-Fi 6 but with an extended spectrum. 6GHz is the new frequency band ranging from 5.925 GHz to 7.125 GHz, allowing up to 1,200 MHz of additional spectrum. Unlike the existing bands on which channels are currently crammed into the limited spectrum, 6GHz band exists without overlap or interference.
Q2. What are the benefits of using a 6GHz network?
Nowadays, most houses have a Dual-Band wireless router which broadcasts both 2.4GHz and 5GHz Wi-Fi signals. These routers are mostly overlapping with each other because the 5Ghz channels are very limited, which leads to tremendous 2.4Ghz and 5GHz wireless interference between neighbors.
However, 6GHz has seven 160MHz channels, which means there won't be any overlapping as long as you select a different channel from your neighbor. 6GHz wireless is designed to resolve overlapping and interference problems, providing you with the best 4K/8K streaming, gaming and high speed downloading experience.
Q3: Do I need to upgrade my Mesh system into Wi-Fi 6E even if I do not have any 6GHz wireless clients?
Mesh system are different from traditional Routers, Mesh nodes could use 6GHz as a wireless backhaul. Under this circumstance, 6G is only used between Deco units' communication, which means upgrading to Wi-Fi 6E Mesh could still bring significant performance improvement and increase network stability even if your wireless clients don't support 6GHz.
Q4: What Wi-Fi 6E capable Mesh products are available?
Please refer to this page, we will periodically update the content of this page.
https://www.tp-link.com/en/home-networking/deco/?filterby=6093
Q5. What channels does Wi-Fi 6E have?
Wi-Fi 6E allows for 7 additional 160 MHz channels, divided into 4 continuous non-crossing sub bands (U-NII-5, 6, 7, 8).
Due to the difference of wireless regulations of different country or area, available 6E channels might differ.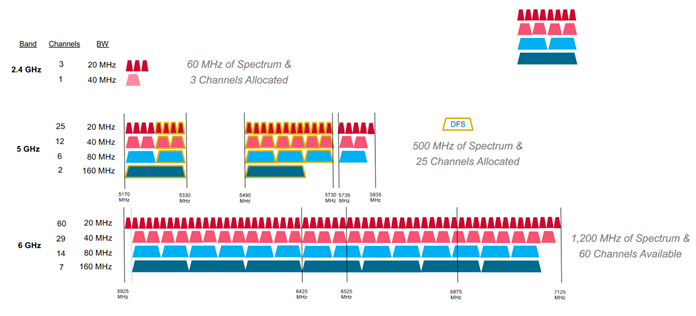 Q6. Which 6GHz channels does Deco XE75 support?
Deco XE75 works on the U-NII-5 band and will select the best channel automatically.
Q7. How does the 6GHz band operate on the Deco XE75 Mesh product?
6GHz network acts as a dedicated backhaul by default, which means, by default, the 6GHz band is only used for data transfer between Deco units.
If you want to connect your Wi-Fi 6E supported phones/laptops to the 6GHz radio of the Deco network, you could enable the 6GHz Wi-Fi in the Deco app. Please refer to the below FAQ for how to.
How to Use the 6 GHz Band of your Deco Wi-Fi 6E System for Client Devices.
Q8. Can I use 6GHz wireless with my old phones and laptops?
Wi-Fi 6E Deco products have 2.4GHz and 5GHz wireless radio as well. Your old phones and laptops can still connect to the traditional 2.4GHz or 5GHz band.
However, those phones and laptops are not able to use the 6GHz radio of Wi-Fi 6E Deco products because those devices do not support 6GHz Wi-Fi.
Note:
Your device includes WiFi 6E-capable hardware might not have Wi-Fi 6E capabilities since the regulators of some regions have not approved the 6G band. We suggest you consult your client device manufacturers to find out if your client device supports 6Ghz Wi-Fi or not.
Q9. Will the Wi-Fi 6E model Deco X75 work with my old Deco system such as Deco M5, Deco X20/X60, Deco X90?
Yes, all Deco models should be able to work together as one network.
However, you wouldn't be able to use the 6GHz backhaul when Deco XE75 is used with another old Deco model which has no Wi-Fi 6E capability. You can still enable the 6GHz network for clients to connect, the specific setting can be found in the Deco app, make sure your Deco app is up to date.
Q10. When using Wi-Fi 6E capable Mesh devices, will my cellphone be able to automatically switching between the 5Ghz and 6GHz network?
It highly depends on the cellphone itself, Deco XE75 currently won't suggest a client to switch from one frequency to another. However, the client itself might choose to connect to the 5Ghz at a certain point, when the 6GHz signal become weak enough. Just like switching to 2.4Ghz network when 5Ghz doesn't have enough signal strength.
Moreover, as long as the client supports 802.11k/v roaming protocols, it should be able to automatically switch between different Deco units, at 6GHz, the process would be seamless.
Q11. What can I do if my Intel AX210 fails to connect to Deco's 6GHz network?
Firstly, check if your current system supports 6GHz Wi-Fi, make sure 6GHz Wi-Fi is regulated in your region/country.
Secondly, Go to Intel's official site and update your AX210 driver.
If the issue persists after updating the driver, please contact us with the above steps you have done before.
Is this faq useful?
Your feedback helps improve this site.

TP-Link Community
Still need help? Search for answers, ask questions, and get help from TP-Link experts and other users around the world.
From United States?
Get products, events and services for your region.