WiFi 5 vs. WiFi 6: Vad är skillnaden?
Hem- och företagare som letar efter nätverksutrustning står inför en rad val. WiFi 5 och WiFi 6 produkter är de två alternativen som de flesta tvekar mellan.
En blick på produktkampanjer eller tekniska nyheter kan omedelbart berätta att WiFi 5 och WiFi 6 identifierar olika generationer av WiFi, med WiFi 6 som är nyare med bättre prestanda.
En nyare standard betyder dock inte alltid att det är den du behöver. Om du funderar på att ta tag i den senaste generationen kanske du vill ta lite tid att överväga dina alternativ i förväg.
För att göra ett rationellt val måste vi först förstå de viktigaste skillnaderna mellan WiFi 5 och WiFi 6.
Vad är WiFi 5 och WiFi 6?
WiFi 5 (802.11ac WiFi) och WiFi 6 (802.11ax) är delar av WiFi-nätverksfamiljen. WiFi Alliance förenklade namngivningen med märkning baserat på generering av WiFi istället för deras standarder.
WiFi 5, den femte generationen WiFi, rullade ut med Wave 1-certifiering i mitten av 2013.
WiFi 6, den 6: e generationen WiFi, introducerades 2018 och kom ut på marknaden 2019, med OFDMA, 1024-QAM, MU-MIMO (både upplänk och nedlänk), Target Wake Time och BSS-färgning. WiFi 6 är utformad för att förbättra hastigheter, öka effektiviteten och minska trängseln i scenarier för tung bandbreddsanvändning genom att bygga på WiFi 5.


Vilka är deras skillnader?
Den senaste generationen WiFi-standarder är bakåtkompatibel med tidigare standarder. Det representerar ett betydande hopp i den teknik som används och tillgängliga funktioner. WiFi 6 stöder alla funktioner i WiFi 5 samtidigt som det ger fler fördelar.
Varje generation av WiFi ökar WiFi-hastigheterna. Det gör även WiFi 6, även om detta inte är dess primära mål. De nominella datahastigheterna höjs upp till 9.6 Gbps, cirka 40% högre än för WiFi 5.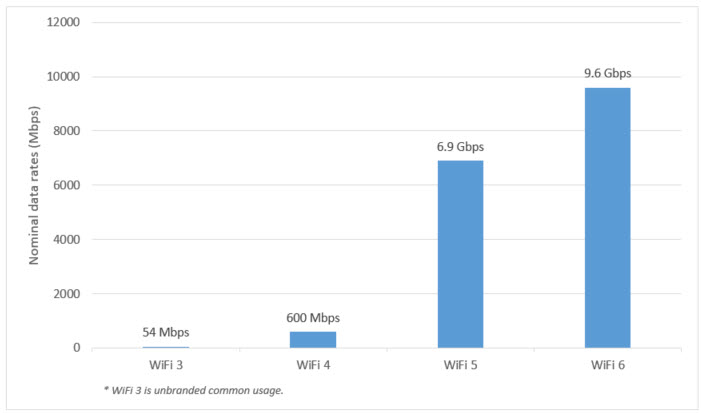 Prestanda i trånga nätverk är i slutändan WiFi 6: s signaturfunktion. Även känd som "Högeffektiv WiFi", WiFi 6 lyser starkast i enhetstäta miljöer som företagskontor, köpcentra och täta bostadslägenheter. Medan den nominella datahastighetsförbättringen mot WiFi 5 är cirka 40%, är den totala genomströmningsförbättringen över ett helt nätverk 300% (därmed hög effektivitet). Detta innebär också 75% lägre latens. WiFi 6 upprätthåller också stabila topphastigheter medan de är anslutna till många enheter samtidigt, även där tidigare WiFi-versioner skulle snubbla.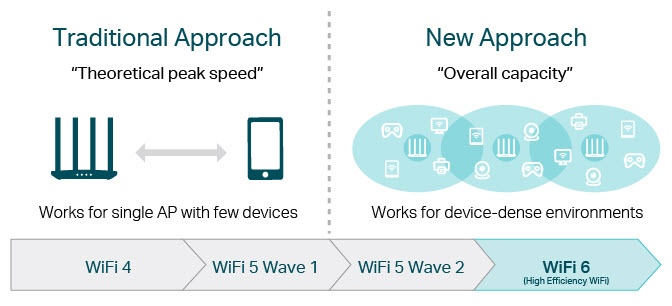 Med Target Wake Time (TWT) kan enheter förhandla om när och hur ofta de vaknar för att skicka eller ta emot data. Den här funktionen ökar enhetens vilotid och förbättrar batteriets livslängd avsevärt för mobila enheter och IoT-enheter.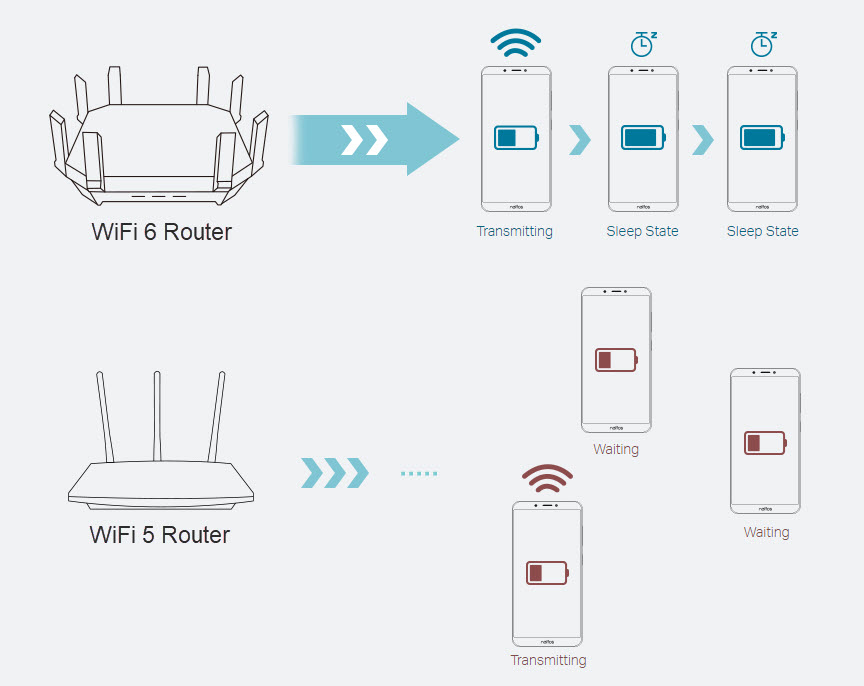 Världsomspännande antagande av WiFi 5- och WiFi 6-enheter
WiFi 6 ser bred adoption på WLAN-marknader runt om i världen.
Enligt IDC: s Worldwide Quarterly Wireless LAN Tracker under tredje kvartalet 2021:
På företags-WLAN-marknaden utgjorde WiFi 6 AP: er (åtkomstpunkter) 62.2% av intäkterna i segmentet Dependent AP. De stod för 50,7% av enhetsleveranserna inom segmentet under Q3 2021. WiFi 5-produkter utgjorde den stora balansen mellan återstående beroende AP-försäljning.
På konsument-WLAN-marknaden fortsatte WiFi 6-produkter att växa och steg för att utgöra 27.9% av konsumentsegmentets totala intäkter, upp från 24.5% under andra kvartalet 2021. WiFi 5 APs står fortfarande för de flesta intäkter (61.4%) och enhetsleveranser (63.6%).
Många produkter, inklusive smartphones, surfplattor, datorer, nätverksprodukter och vissa hemunderhållningsenheter i premiumklass, har nu WiFi 6. Antalet produkter fortsätter att växa. Nu är det dags att jaga efter en WiFi 6-router för att dra mest nytta av dina nya WiFi 6-klienter!
Hänvisning:
Meet the 6th generation of WiFi
From United States?
Get products, events and services for your region.