4 ting du bør vite før du kjøper en WiFi 6E-ruter
Selv om WiFi 6-rutere kontinuerlig lanseres, begynner WiFi 6E-rutere å treffe markedet med et helt nytt 6 GHz-bånd, som lover høyere båndbredde, raskere hastigheter og lavere latens.
Før du skynder deg ut for å få en WiFi 6E-ruter, her er 4 ting du trenger å vite.
1. WiFi 6E utvider WiFi 6 til 6 GHz-båndet.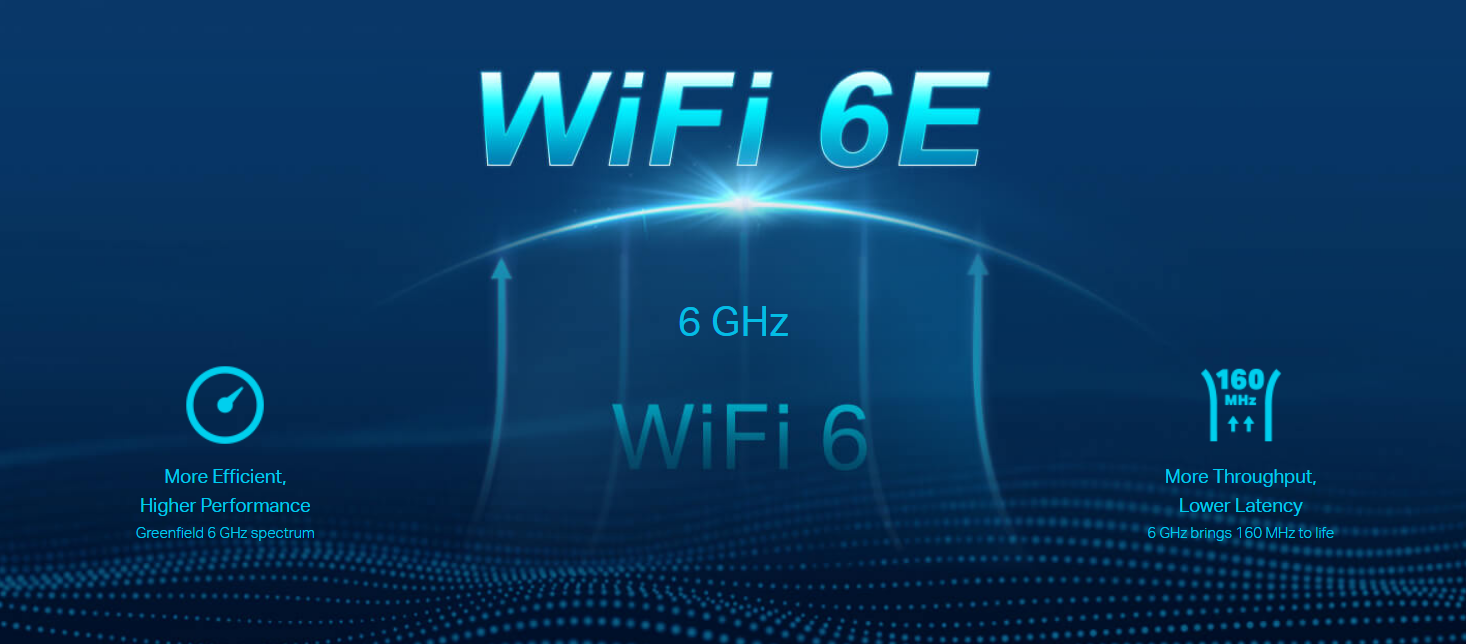 WiFi 6E er ikke en ny generasjon WiFi-protokollen som Wi-Fi 6 var. Den fungerer med samme standard som WiFi 6, men med opptil 480 MHz ekstra spektrum i 6 GHz-båndet (alt fra 5,925 GHz til 6,425 GHz). Det vil øke nettverkskapasiteten dramatisk samtidig som overbelastning reduseres.
WiFi 6E gir opptil 3 ekstra superomfattende 160 MHz-kanaler på 6 GHz, noe som muliggjør mange flere samtidige overføringer med høyest mulig hastighet.
I motsetning til de overfylte 2,4 GHz- og 5 GHz-båndene, er 6 GHz-båndet nylig åpnet og bare tilgjengelig for enheter som støtter WiFi 6E (og fremtidige WiFi-standarder, uansett hva de måtte være). Dette kutter ut alt rotet i miljøer med hundrevis av andre enheter.
Med økt kapasitet, bredere kanaler og åpent bånd kan WiFi 6E-brukere glede seg over 8K-filmer, AR/VR-spilling og nedlastinger av store filer – uten å bufre selv i tett overfylte områder.
2. WiFi 6E vil se rask adopsjon i fremtiden.
Ifølge Phil Solis, forskningsdirektør ved International Data Corporation (IDC): "WiFi 6E vil se rask adopsjon i 2021 med mer enn 338 millioner enheter som kommer inn i markedet, og nesten 20 prosent av alle WiFi 6-enhetsforsendelser som støtter 6 GHz innen 2022." Dette kan allerede sees i dag, med selskaper som allerede slipper produkter som støtter WiFi 6E - fra telefoner til PC-er og bærbare datamaskiner - med mange flere over horisonten.
3. WiFi 6E er fortsatt på et tidlig stadium av utvikling og anvendelse.
Wi-Fi Alliance® leverte WiFi 6E-sertifiseringsprogrammet i januar 2021. WiFi 6E kan imidlertid spores tilbake til slutten av 2018 da Federal Communications Commission (FCC) foreslo ulisensiert bruk av et nytt 5925-til-6425 MHz-bånd. WiFi på 6 GHz kom offisielt ut i 2020 etter videre undersøkelse.
Nå er WiFi 6E på vei for å få bredere adopsjon rundt om i verden.
I USAs fotspor har storbritannia, EU, De forente arabiske emirater, Saudi-Arabia og andre også tatt beslutningen om å levere 6 GHz til WiFi. Mange flere vurderer eller utvikler seg mot å åpne 6 GHz for ulisensiert drift.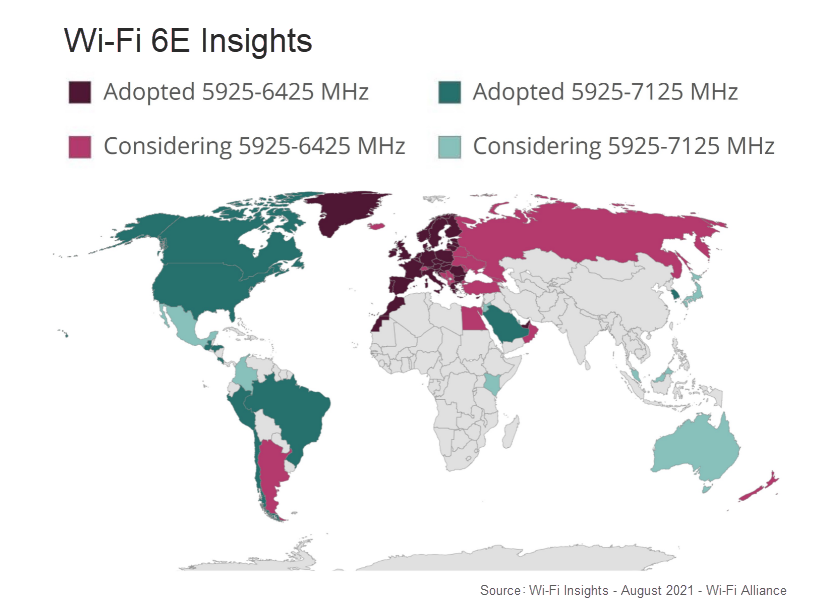 4. Ikke for mange enheter støtter 6 GHz ennå.
Så langt har det vært et begrenset antall WiFi 6E-rutere som kommer inn i markedet, og prisene deres kommer med en premie for tidlig adopsjon. Dette betyr at disse enhetene ikke er helt klare for din daglige forbruker.
Selvfølgelig vil flere rutere på mellomnivå og inngangsnivå gradvis komme ut, men dette tar tid.
Et annet problem er kompatibilitet. Selv om WiFi 6E er bakoverkompatibel med tidligere WiFi-standarder, er 6 GHz-båndet bare tilgjengelig for enheter som støtter WiFi 6E (og fremtidige WiFi-standarder som ennå ikke er kommet). For tiden er WiFi 6E-enheter sjeldne i husholdninger. Det kan faktisk hende at du bare har en eller to av dem hvis du nylig har oppgradert noen av de viktigste enhetene dine, for eksempel telefonen eller datamaskinen.
På grunn av dette er det bare ikke nok enheter til å dra nytte av det splitter nye 6 GHz-båndet for øyeblikket.
Imidlertid, hvis du alltid er ute etter å være den første med den nyeste teknologien og planlegger å oppgradere Wi-Fi hjemme med 6 GHz-båndet, må du følge med på TP-Links kommende WiFi 6E Mesh-systemer, Deco XE75 og Deco XE200 og WiFi 6E-rutere, AXE95 og AXE75. TP-Link er konsekvent rangert av analytikerfirmaet IDC som den beste leverandøren av WiFi-produkter, og WiFi 6E-produktene er sikkert verdt ventetiden.
SubscriptionTP-Link takes your privacy seriously. For further details on TP-Link's privacy practices, see TP-Link's Privacy Policy.
From United States?
Get products, events and services for your region.