Oct.2023

24
TP-Link Unveils XGS-PON WiFi 7 Access Portfolio Powered by Qualcomm 10G Fiber Gateway Platform
Paris, France — October 24, 2023. — TP-Link, a leading global provider of consumer and business networking products, today announced its strategic technology collaboration with Qualcomm Technologies, Inc. to deliver a portfolio of cutting-edge XGS-PON (10 Gigabit Symmetrical Passive Optical Network) WiFi 7 solutions aimed at revolutionizing the telecommunications industry by providing service providers with an agile and accelerated deployment scheme, unprecedented WiFi and networking experiences for their customers.
The XGS-PON product portfolio includes WiFi 7 HGU (Home Gateway Unit) and ONU SFP+ Module. Harnessing the power of the latest fiber access technologies, WiFi 7 standard, and mesh technologies, TP-Link's XGS-PON products are designed to offer not only incredible high-speed internet access and boosted coverage but also stability and seamless WiFi experiences. The TP-Link Aginet Unified Cloud (TAUC) solution offers service providers a complete and flexible WiFi management solution to improve operational efficiency, optimize their services, and enhance customer satisfaction. ISPs can easily roll out their service plans with increased ROI and better customer satisfaction.
"We are thrilled to partner with Qualcomm Technologies on this groundbreaking project," said Pingji Li, Vice President of TP-Link Corporation Limited. "Combining our advanced hardware and software expertise with their chipset platform will enable us to deliver exceptional WiFi experiences alongside lightning-fast internet speeds and unmatched connectivity options. The XGS-PON solution is built on Qualcomm's existing mature SoC platform, allowing us to maintain the high standard of existing WiFi gateways in every aspect, including system stability, WiFi performance, and user experiences. This is a reliable choice for us, our customers, and end users."
"Our technology collaboration with TP-Link is a crucial step toward accelerating broadband innovation and tailored subscriber services," said Ganesh Swaminathan, vice president and general manager, Wireless Infrastructure and Networking, Qualcomm Technologies, Inc. "We're confident that our 10G PON technology will not only meet but also exceed customers' evolving demands, all while future-proofing service providers' networks."
Featured Products
Revolutionize Your WiFi Experiences - TP-Link Aginet XGS-PON VoIP WiFi 7 Routers
Building on our leading expertise in WiFi routers and utilizing cutting-edge WiFi 7 technology, our XGS-PON routers offer unparalleled user experiences at home. Specifically, XGB810v is designed to set new performance benchmarks, providing an unmatched internet experience in a sleek, streamlined form factor.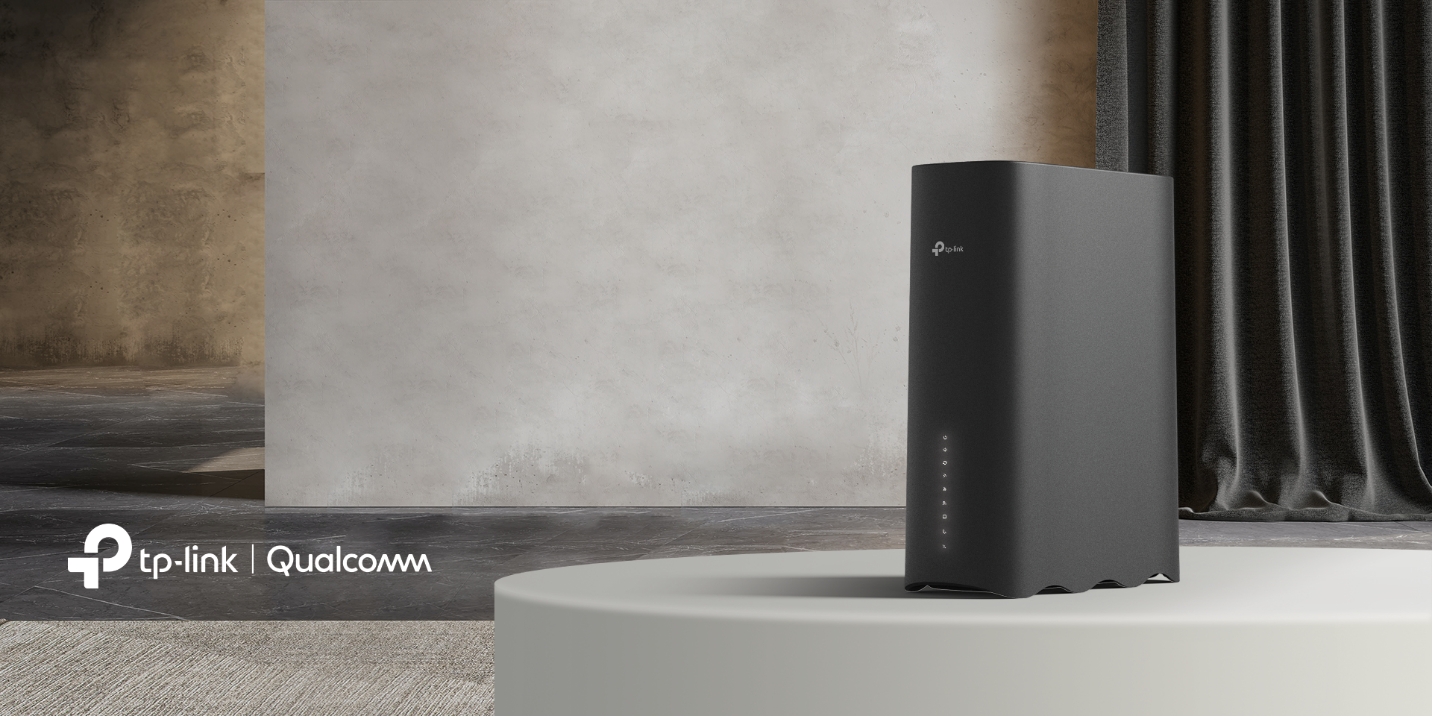 Innovation Meets Aesthetics with Stunning Performance – XGB810v is built with 8 optimally positioned internal antennas to achieve omnidirectional coverage with high gain, high isolation, and wide beamwidth. Its minimalistic design effortlessly integrates into any environment.
Incredible 19 Gbps Tri-Band WiFi 7 with Expandable Coverage – Enjoy extreme WiFi performance in network speed, efficiency, and capacity with ultra-fast 19 Gbps across three bands, powered by the Qualcomm® 10G Fiber Gateway Platform. Leveraging WiFi 7, MU-MIMO, OFDMA, and beamforming technology, XGB810v optimizes signal clarity and strength to deliver super-fast data to multiple devices across three bands with reduced latency and high efficiency. Users will experience seamless 8K/4K streaming, immersive gaming, AR/VR, and blazing-fast downloads. It's also compatible with the EasyMesh standard for simple, smart mesh WiFi with great flexibility.*
10G Symmetrical Internet Access and Flexible Wired Connectivity – Equipped with an XGS-PON port, XGB810v enables 10 Gbps symmetrical fiber internet access, catering to high-bandwidth needs for downloads and uploads. Its 10 GbE WAN/LAN port, 4× 2.5 GbE ports, and USB 3.0 port offer phenomenal flexibility to build fast and stable home networks. The 2× phone ports enable high-quality telephony with various call features to surpass traditional landlines.**
Empowered Deployment and Management – XGB810v features TAUC cloud management, and TR-069/TR-369 protocols. TAUC integrates TR-069/TR-369 protocols, TR-181 Multi-AP for EasyMesh topology and Data Elements, and advanced WiFi diagnostics. It also offers tailor-made API services and a customized mobile app for end users. This cohesive cloud solution enables service providers to implement zero-touch deployment and manage internet and WiFi services remotely—accessible anywhere, anytime.
Rounding out the XGS-PON product series is TP-Link's XGS-PON ONU SFP+ Module, XGM10A. It utilizes the latest XGS-PON technology and multiple Ethernet UNI modes for flexible internet service plan options and scalability. Benefiting from TP-Link's comprehensive product ecosystem, XGM10A can pair with WiFi 7 routers and mesh systems based on Qualcomm, e.g., EB810v and HB810, to offer a one-stop solution for both service providers and end users.
Product Availability:
XGB810v – BE19000 Tri-Band Wi-Fi 7 XGS-PON VoIP Router
XGB810v will be available in Q2 2024 for testing. Actual delivery may vary depending on customer requirements and customization plans.
XGM10A

–

XGS-PON ONU SFP+ Module
XGM10A will be available in Q4 2023.
EB810v

– BE19000 Tri-Band Wi-Fi 7 VoIP Router

HB810

–

BE19000 Whole Home Mesh Wi-Fi 7 AP
These two products are ready for testing now. Actual delivery depends on customer requirements and customization plans.
***
About TP-Link
Founded in 1996, TP-Link is a global provider of reliable networking devices and accessories, involved in all aspects of everyday life. The company is ranked by analyst firm IDC as the No. 1 provider of WiFi devices for a consecutive 12 years§, supplying distribution to more than 170 countries and serving billions of people worldwide.
With a proven heritage of stability, performance, and value, TP-Link has curated a portfolio of products that meet the networking needs of all individuals. Now, as the connected lifestyle continues to evolve, the company is expanding today to exceed the demands of tomorrow. For more information, visit www.tp-link.com.
§According to the latest published IDC Worldwide Quarterly WLAN Tracker Report, Q4 2022 Final Release.
*Maximum wireless signal rates are the physical rates derived from IEEE Standard 802.11 specifications. Actual wireless data throughput, wireless coverage, and quantity of connected devices are not guaranteed and will vary as a result of network conditions, client limitations, and environmental factors, including building materials, obstacles, volume and density of traffic, and client location. Use of Wi-Fi 7, and related features requires clients to also support the corresponding features to achieve the claimed performance.
**10 Gbps or 2.5 Gbps internet speeds require compatible service plans and equipment.
Qualcomm is a trademark or registered trademark of Qualcomm Incorporated.
Qualcomm 10G Fiber Gateway Platform is a product of Qualcomm Technologies, Inc. and/or its subsidiaries.
From United States?
Get products, events and services for your region.