General Questions about the Kasa Cam
*Note: All Kasa Cams require and only work with the Kasa for Mobile App
Q: What do the various LED colors mean on the Kasa Cam?
The Kasa Cam has an LED on the front, you can know the current status of the camera from the LED.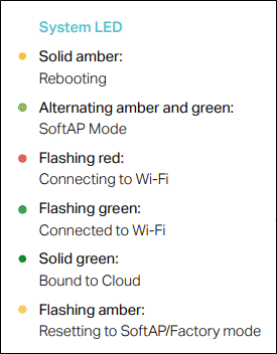 Q: What should I do if I've forgotten my password?
You can refer to this link to solve your problem.
Q: What kind of phones and OS version is the TP-Link Kasa app compatible with?
Any smartphone running Android 5.x or higher and iPhone running iOS 10 or higher.
Q: How do I use Hold to Talk?
All Kasa Cams come equipped with a built-in microphone and speaker for two-way communications. From the live view screen (portrait or landscape) you can push the "Hold to Talk" button to start a conversation.
Press the "Hold to Talk" button and you will hear the chime indicating you can start talking.
Start talking
Release the "Hold to Talk" button when you've finished talking and you'll hear a chime
Note: For "Hold to Talk" to function you will have to enable it on your initial use.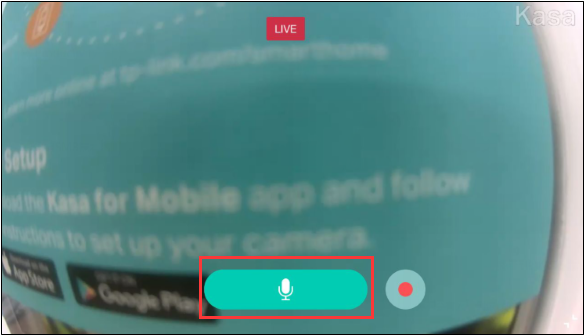 Q: Why can't I hear the sound of the camera when clicking the "Hold to Talk" button on the camera?
Our camera's 2-way audio is half-duplex. It can't send and receive voice for instant calls at the same time. It is similar to the walkie-talkie mode.
Q: Who can view my clips and my camera?
Only the individuals who have signed into the associated Kasa account can. All video streams and activities associated your Kasa Cam are private and can only be viewed by those signed into the Kasa Account. Right now, we only support one account per household.
*Note: We recommend that you never share your account information with anyone.
Q: How secure is this camera?
Data security is important to us and understand that it is essential for your peace of mind. We use industry standard of AES 128-bit encryption with SSL/TLS. Kasa uses Amazon Web Services (AWS) for cloud infrastructure and storage. For more information regarding Amazon's security policy refer to AWS Cloud Security. Refer to TP-Link's Term of Use for more information.
Q: What happens at the end of Kasa Care subscription plans?
If you do not have a credit card on file and do not choose to enroll in Kasa Care by the end of your Kasa Care subscription plan, your Kasa Care services will automatically convert to a free plan. With a free plan, you'll only have access to your last 2 days or less of video history depending on the Kasa Cam's model number.
If you have a credit card on file, at the end of your Kasa Care subscription plan you will automatically be enrolled into the monthly Premium/Plus plan and your card will be charged accordingly. You may opt out by selecting the free plan before your subscription plan ends.
For details Kasa care subscription plans, please refer to this link.
Q: How can I use Kasa cameras with Chromecast?
Kasa cameras support displays with a Google Chromecast, Google Home Hub and any smart display with Google Assistant. You can view the live feed from any Kasa cameras on the linked Kasa account, and you can refer to this link to know the commands the camera support currently.
The support for "camera on/off" commands is not available now. Due to this Chromecast or Google Home Hub will not accept commands and are not supported with Kasa cameras. Support for "camera on/off" commands could also present a possible security risk, as an intruder could potentially shut of your cameras with a simple command.
Q: What does the Notification Frequency option do for Kasa Cams?
The notification frequency setting allows users to receive a single push notification for multiple activities detected within a very short time of one another. This feature can be used in addition to creating activity zones and configuring sensitivity settings. Notification frequency can be enabled from the camera's notification settings and can be useful for users who have their camera pointed to a busy area.
Q: What can I do if bugs are triggering my Kasa Cam Outdoor?
If your Kasa Cam Outdoor is placed in an area where bugs or dust are a problem, you can change the minimum motion duration setting. You can configure the minimum motion duration found in the Privacy and Sensitivity tab of your camera setting. Refer to question "How can I reduce the number of false alerts I receive from my Kasa Cam Outdoor?"
Q: Does the Kasa Cam use the 2.4GHz or 5GHz band?
KC200 and KC120 support both 2.4GHz and 5GHz, while KC100 only supports 2.4GHz.
Q: What is the bandwidth used for video streaming?
Kasa Cam Outdoor uses 2.5 Mbps to stream video at 1080p resolution. You can adjust your resolution in the app to free up bandwidth space on your network. The camera also uses some of your networks bandwidth to upload recordings to the Kasa cloud servers.
Q: Does Kasa Cam monitor 24/7?
Yes, Kasa Cam monitors 24/7. The camera records clips only when motion or sound activity occurs.
*Note: Your camera must be on for the monitoring to take place.
Q: How do I turn off the green LED on the front of the camera?
From your camera's live view screen, access the device settings. Scroll down to a toggle switch for Status LED.
Is this faq useful?
Your feedback helps improve this site.
SubscribeTP-Link takes your privacy seriously. For further details on TP-Link's privacy practices, see TP-Link's Privacy Policy.
Be The First To Get Exclusive Deals & News