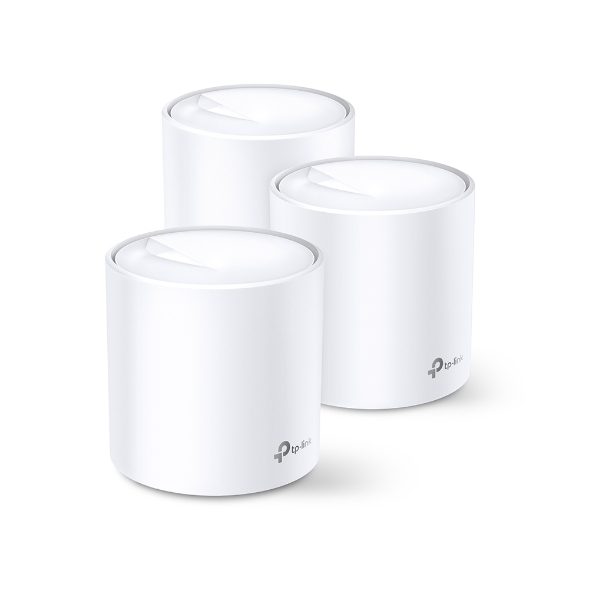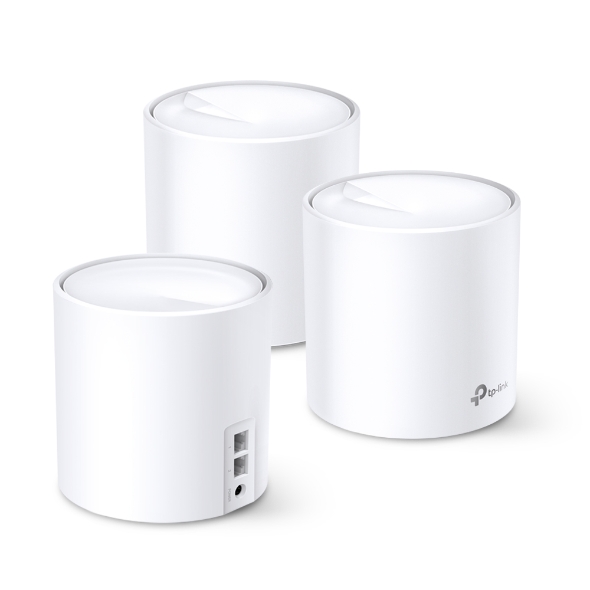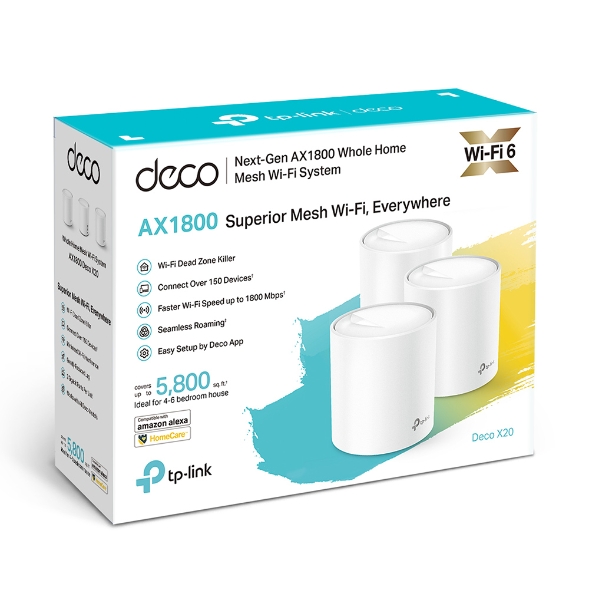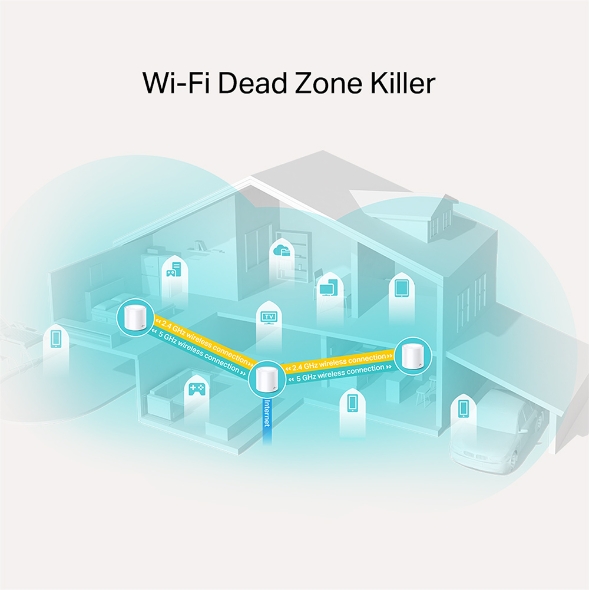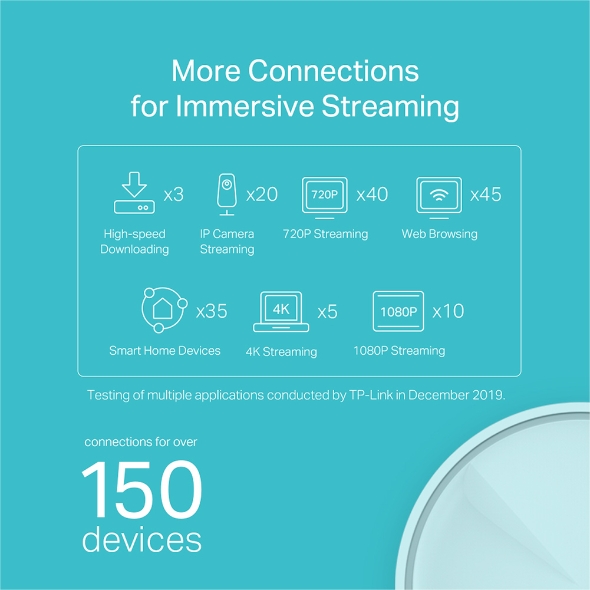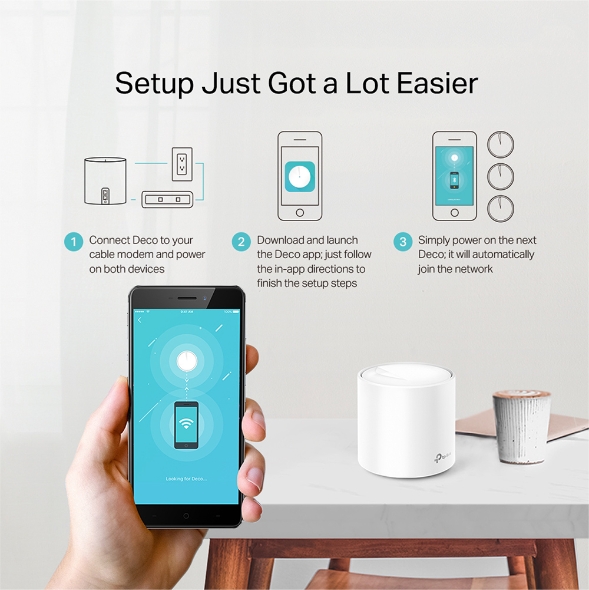 Deco X20
AX1800 Whole Home Mesh Wi-Fi 6 System
Faster Connections: Wi-Fi 6 speeds up to 1,800 Mbps—1,201 Mbps on 5 GHz and 574 Mbps on 2.4 GHz.
Connect More Devices: OFDMA and MU-MIMO technology quadruple capacity to enable simultaneous transmission to more devices.
Boosted Seamless Coverage: Achieve seamless whole home coverage with a clearer and stronger whole home Wi-Fi signal generated by Wi-Fi 6.
Ultra-Low Latency: Greater reduction in latency enables more responsive gaming and video chatting.
One Unified Network: Multiple units form a whole-home network that auto-selects the best connection as you move around your home.
Total Security: WPA3 encryption and TP-Link HomeCare provide personalized features, including Parental Controls, Antivirus, and Quality of Service (QoS) to ensure a safer online experience.
Setup Made Easier Than Ever: The Deco app walks you through setup step-by-step.
Das Mesh-WLAN der nächsten Generation
AX1800 Whole Home Mesh Wi-Fi 6-System der nächsten Generation
Deco X20


Fortschrittliches Mesh mit Wi-Fi 6
Ausgestattet mit der Wi-Fi 6-Technologie ist das Mesh-WLAN von Deco für das gesamte Zuhause so konzipiert, dass es eine enorme Steigerung der Abdeckung, Geschwindigkeit und Gesamtkapazität bietet. Holen Sie sich das neueste Mesh-WLAN, um das zukünftige Netzwerk zu genießen, das schneller lädt und mehr Verbindungen herstellt. △
Verbesserte Abdeckung des gesamten Hauses

Nahtloses Roaming

Verbindet über
150 Geräte

Schnelleres Wi-Fi 6-Geschwindigkeit

Stark reduzierte Verzögerung
2,4-GHz-Funkverbindung
5-GHz-Funkverbindung
2,4-GHz-Funkverbindung
5-GHz-Funkverbindung
Internet
WLAN-Totzonen-Killer
With clearer and stronger signals enhanced by BSS Color and Beamforming, Deco X20 boosts broader whole home Wi-Fi up to 5,800 ft2 (3-pack).† Wireless connections and optional Ethernet backhaul work together to link Deco units, providing even faster network speeds and truly seamless coverage. Want more coverage? Simply add another Deco.
3-PACK

Cover up to 5,800 sq.ft.

2-PACK

Cover up to 4,000 sq.ft.
True Seamless Roaming for Greater Experiences
TP-Link Mesh means Deco units work together to form one unified network. Your phone or tablet automatically connects to the fastest Deco as you move through your home, creating a truly seamless Wi-Fi experience. ‡
More Connections for Immersive Streaming
Enjoy a more efficient network with 4× the average throughput on connected devices in dense environments thanks to Wi-Fi 6 technology△. Deco X20 is tested to connect over 150 devices without dragging down performance†.
connections for over
150
devices
High-speed Downloading

IP Camera Streaming

720P Streaming

Web Browsing

Smart Home Devices

4K Streaming

1080P Streaming
Testing of multiple applications conducted by TP-Link in December 2019.
Faster Wi-Fi 6 Speed = No Wait
The latest 1024-QAM and higher symbol rate combines to boost speeds up to 1.8 Gbps—ideal for bandwidth-intensive tasks like cloud gaming and 4K UHD video. Families will enjoy immersive live-streaming with flawless video and clear audio without buffering.△†
5GHz:

1201Mbps

2.4GHz:

574Mbps
1024-QAM

More data encoded at one time

Higher Symbol Rate

11% faster speed
Greatly Reduced Lag, More Fun
Wi-Fi 6 brings stable and responsive Wi-Fi connections to tomorrow's hyper-connected home. Enjoy more responsive gaming and seamless video chatting even when multiple compatible devices are connected and transmitting data at the same time△.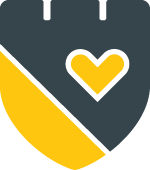 HomeCare
Your Home, Our Care
Customize your home network with enhanced security using a kit of features built in TP-Link HomeCare. Whether protecting your sensitive data or limiting the access of kids and guests, HomeCare provides you the tools you need to fully manage your network.
Robust Parental Controls

Block inappropriate content and restrict time spent online

Built-In Antivirus

Protect all connected devices in your home from online threats

Quality of Service

Prioritize devices and applications for faster performance when needed
Setup Just Got a Lot Easier
Unbox Deco, install the app and then simply follow the on-screen directions. Deco app will take care of the rest, getting your network up and running in minutes.
1 Connect Deco to your cable modem and power on both devices

2 Download and launch the Deco app; just follow the in-app directions to finish the setup steps

3 Follow in-app instructions to configure your Deco system.
Wi-Fi Made Easy
Easy Management

Manage your Wi-Fi at home or away on the Deco app, including seeing all connected devices, prioritizing your own, setting up a guest network, and more.

Voice Control

Pair with Alexa to control Deco X20 with simple voice commands. Enjoy the convenient life.

All Decos Work Together

Deco X20 ist mit jedem anderen Deco-Modell kompatibel, um ein Mesh-Netzwerk zu bilden. Erweitern Sie die Mesh-WLAN-Abdeckung jederzeit, indem Sie einfach weitere Dekos hinzufügen.
Nahtlose Übertragung
Die Decos arbeiten zusammen, um ein einheitliches WLAN-Netzwerk zu bilden. Ihr Telefon oder Tablet verbindet sich immer automatisch mit der Deco-Einheit, welche Ihnen die höchste Geschwindigkeit bietet, während Sie sich durch Ihr Zuhause bewegen. Dank der Unterstützung von 802.11r und 802.11k/v können Sie das unterbrechungsfreie WLAN trotz Wechsel zwischen den Deco-Einheiten vollumfänglich genießen.
Bester WLAN-Empfang

TP-Link Mesh-Technologie findet immer die beste Übertragungsmöglichkeit in einem geeigneten Band für Sie. Egal wo Sie sich aufhalten.
Selbstreparatur

Wenn eine Deco-Einheit ein Problem feststellt, organisiert das System automatisch eine andere Verbindungsmöglichkeit mittels der anderen Deco Einheiten, damit Sie immer online bleiben. Die fehlerhafte Deco Einheit wird danach unverzüglich von den anderen Deco Einheiten repariert.
WLAN + Powerline
Nicht nur per WLAN, sondern auch über die Stromleitung können die Decos des P7 zusammenarbeiten. Dicke Wand? Kein Problem mehr.
Im Vergleich zu einer einzelnen WLAN-Verbindung wird die Geschwindigkeit durch die Kombination über Powerline um 60% erhöht.
-Systemdigkeit um 60%
Standard WLAN- System
Hybrid WLAN-System
Powerline

Hinweis:WLAN + Powerline ist nur beim Deco P7 verfügbar
IoT Mesh*
Die TP-Link Deco Einheiten des M9 Plus bietet die direkte Integration von Zigbee, Bluetooth und WLAN. Dadurch wird Ihr Mesh Netzwerk zur IoT Zentrale für Ihre Smart Home Geräte – ohne zusätzlichen Hub oder Bridges.
* nur verfügbar beim TP-Link Deco M9 Plus
- - -

Wi-Fi

- - -

Zigbee

- - -

Bluetooth
Warum TP-Link Mesh-Technologie
Model Number
TP-Link Deco
Netgear Orbi
Google WiFi
Wireless Backhaul
Tri-Band (2.4G+5G_1+5G_2)¹
Single-Band (5G_1 Only)
Dual-Band (2.4G+5G)
Mesh Protocol Supported
IEEE 802.11k/v/r
IEEE 802.11k/v
IEEE 802.11s
True Seamless Roaming
√
×
×
APS(Adaptive Path Selection)
√
×
√
IoT Mesh
√²
×
×
Powerline Backhaul
√³
×
×
Wireless + Powerline Bandwidth
√⁴
×
×
Band Steering
√
√
√
AP Steering
√
√
√
Self-Healing
√
√
√

HINWEIS: 1&2: Nur für Deco M9 Plus

3&4: Nur für Deco P7

Quelle in Dez. 2017
Deco Management, einfach auf einen Klick
Mit der Deco-App können Sie Ihr Deco-Mesh-Netzwerk einfach und unkompliziert über jedes iOS- oder Android-Gerät verwalten.
Kinderleichte Installation
Deco-Einheiten auspacken, App installieren und den Anweisungen auf dem Bildschirm folgen. Deco wird sich um den Rest kümmern und Ihr Netzwerk in wenigen Minuten initialisieren.
Verbinden Sie einen Deco mit dem DSL-Modem, dann schalten Sie beide Geräte ein.

Laden Sie die Deco-App herunter und installieren Sie diese.

Folgen Sie den Anweisungen der App zur Konfiguration Ihres Deco-Systems.
Einfaches Management
Die Deco App ermöglicht Ihnen das Netzwerk von überall aus zu verwalten.
Klares Management-Dashboard

Klare Übersicht über Ihren Netzwerk-Status und Status aller angeschlossenen Geräte in Echtzeit.

Mehrere Deco-Einheiten, eine App

Mit einer Deco-App lassen sich mehrere Decos verwalten.

Kontrolle über alle Zugangsrechte

Sie können sehen, wer gerade online ist und wer in Ihrem Netzwerk über welche Zugangsrechte verfügt.

Management auf Distanz

Der Fernzugriff auf Ihr Netzwerk per Smartphone ist von überall aus möglich.
Umfassender Jugendschutz
Bestimmen Sie, wie lange und welche Seiten besucht werden dürfen.
Erstellen Sie Benutzerprofile für alle Ihre Familienmitglieder und legen Sie Zeitbeschränkung sowie Zugriff fest.

Beaufsichtigen Sie Ihre Kinder bei allen Ausflügen ins Internet, indem Sie Web-Inhalt altersgerecht filtern.

Bestimmen Sie Online-Zeiten für Ihre Familienmitglieder.

Erhalten Sie eine Übersicht über Online-Zeiten und besuchten Internetseiten.

Unterbrechen Sie den WLAN-Empfang zur gewünschten Zeit einfach per Tastendruck.
Eine intuitive App mit vielen Funktionen
Monatlicher Nutzungsreport
Der monatliche Report gibt alle Details Ihres Netzwerks an, z.B. die Verwendungshistorie, blockierte Inhalte, Sicherheitsdrohung und vieles mehr.
Heim-Automatisierung
Die Automatisierung und Steuerung per Stimmung macht das Leben leichter.
*Zurzeit nur für Deco M9 Plus
Vereinfachte Kontrolle
Die Kontrolle aller Geräte über Ihr Smartphone erfolgt einfach per Klick.
*Zurzeit nur für Deco M9 Plus
Schützen Sie Ihr Netzwerk
Das integrierte Antiviren-Programm schützt alle verbundenen Geräte vor Viren und sichert Ihr Online-Banking vor ungewolltem Zugriff.
*Zurzeit nur für Deco M9 Plus, Deco P7 und Deco M5
Priorisierung von Geräten
Sie können bestimmten Geräten eine höhere Priorität der Geschwindigkeitsnutzung zuweisen
oder für bestimmte Zeitspannen die besten Verbindungen zuweisen.
App-Priorisierung
Verteilen Sie mehr Bandbreite zu Anwendungen die Sie wichtig finden.
*Zurzeit nur für Deco M9 Plus, Deco P7 und Deco M5
WLAN-Teilen mit Freunden
Einfaches Einrichten von Gäste-WLAN mit simpler Passwortübertragung per Smartphone App.
Geschwindigkeit Testen
Klare Übersicht über Ihre WLAN-Geschwindigkeit und den Status aller Ihrer angeschlossenen Geräte.
Wir unterstützen Sie gerne
Haben Sie noch weitere Frage über unser Deco Mesh Heimnetzwerk? Kontaktieren Sie uns einfach unter https://www.tp-link.com/de/support
Support
Hinweis: App-Oberfläche und Funktionen können je nach App-Version und Deco-Modellen variieren.
WLAN
Standards
Wi-Fi 6IEEE 802.11ax/ac/n/a 5 GHzIEEE 802.11ax/n/b/g 2.4 GHz
WiFi Speeds
AX18005 GHz: 1201 Mbps (802.11ax)2.4 GHz: 574 Mbps (802.11ax)
WiFi Range
4-6 Bedroom Houses (3-pack)

---

TP-Link Mesh TechnologyOptional Ethernet backhaul work together to link Deco units to provide seamless coverage2× Antennas (Internal)Multiple antennas form a signal-boosting array to cover more directions and large areasBeamformingConcentrates wireless signal strength towards clients to expand WiFi range
WiFi Capacity
High

---

Dual-BandDistribute devices to different bands for optimal performanceMU-MIMOSimultaneously communicates with multiple MU-MIMO clientsOFDMASimultaneously communicates with multiple WiFi 6 clients4 StreamsMore than enough bandwidth for connected devices
Working Modes
Router ModeAccess Point Mode
HARDWARE
Processor
1 GHz Quad-Core CPU
Ethernet Ports
2× Gigabit Ports*Per Deco Unit Supports WAN/LAN auto-sensing
Buttons
Reset Button
SICHERHEIT
WiFi Encryption
WPA-Personal
WPA2-Personal
WPA3-Personal
Network Security
SPI FirewallAccess ControlHomeCare™ Antivirus

---

\Malicious Site CheckerPort Intrusion PreventionInfected Device IsolationNotification and Log
Guest Network
1× 5 GHz Guest Network1× 2.4 GHz Guest Network
SOFTWARE
Protocols
IPv4 IPv6
Service Kits
HomeCare™Learn More>
Parental Controls
HomeCare™ Parental Controls

---

Custom ProfilesContent FilteringURL FIlteringTime Limit Time Schedule (Bed Time)Log InsightUsage MonitorMonthly Reports
WAN Types
Dynamic IPStatic IPPPPoEPPTPL2TP
Quality of Service
HomeCare™ QoS

---

QoS by DeviceQoS by Application
Cloud Service
OTA Firmware UpgradeTP-Link ID DDNS
NAT Forwarding
Port Forwarding
UPnP
IPTV
IGMP ProxyIGMP SnoopingBridge Tag VLAN
DHCP
Address ReservationDHCP Client ListServer
DDNS
TP-Link
Management
Deco App
PHYSICAL
Dimensions (W×D×H)
4.33 × 4.33 × 4.49 in (110 × 110 × 114 mm)
Package Contents
Deco X20 (3-pack)3 Deco X20 Units1 RJ45 Ethernet Cable3 Power Adapters1 Quick Installation GuideDeco X20 (2-pack)2 Deco X20 Units1 RJ45 Ethernet Cable2 Power Adapters1 Quick Installation GuideDeco X20 (1-pack)1 Deco X20 Unit1 RJ45 Ethernet Cable1 Power Adapter1 Quick Installation Guide
SONSTIGES
Systemanforderungen
Android 4.4 or lateriOS 9.0 or later
Zertifizierung
CE, FCC, IC, RoHS, RCM, JPA, JRF, VCCI
Umgebung
Operating Temperature: 0℃~40℃ (32℉ ~104℉)Storage Temperature: -40℃~70℃ (-40℉ ~158℉)Operating Humidity: 10%~90% non-condensingStorage Humidity: 5%~90% non-condensing
TEST DATA
WiFi Transmission Power
CE:<20 dBm (2.4 GHz)<23 dBm (5 GHz)FCC:<30 dBm (2.4 GHz)<30 dBm (5 GHz)
△Use of Wi-Fi 6 and other features including OFDMA, MU-MIMO, 1024-QAM, and BSS Color require clients to also support the corresponding features.
†Maximum wireless signal rates are the physical rates derived from IEEE Standard 802.11 specifications. Actual wireless data throughput and wireless coverage, and quantity of connected devices are not guaranteed and will vary as a result of network conditions, client limitations, and environmental factors, including building materials, obstacles, volume and density of traffic, and client location.
‡Clients need to support 802.11k/v/r and may require additional set up. Performance may vary depending on the client device
Newsletter abonnieren Für TP-Link ist Datenschutz sehr wichtig. Weitere Informationen zu unseren Datenschutzbedingungen finden Sie in der Datenschutzerklärung von TP-Link.
Von United States?
Erhalten Sie Produkte, Events und Leistungen speziell für Ihre Region