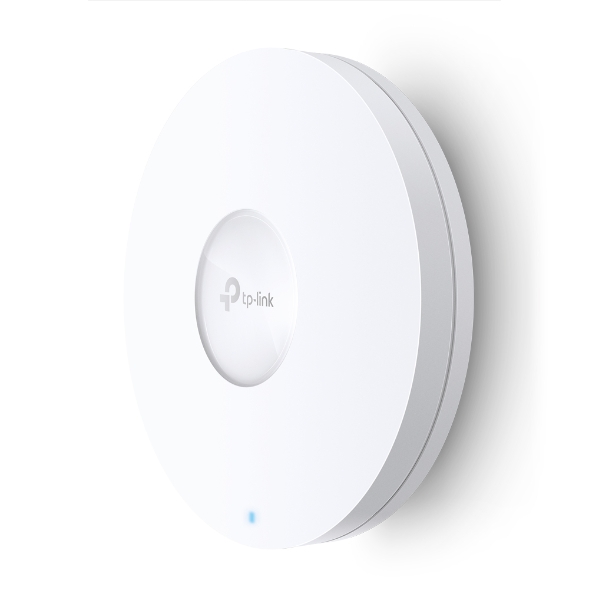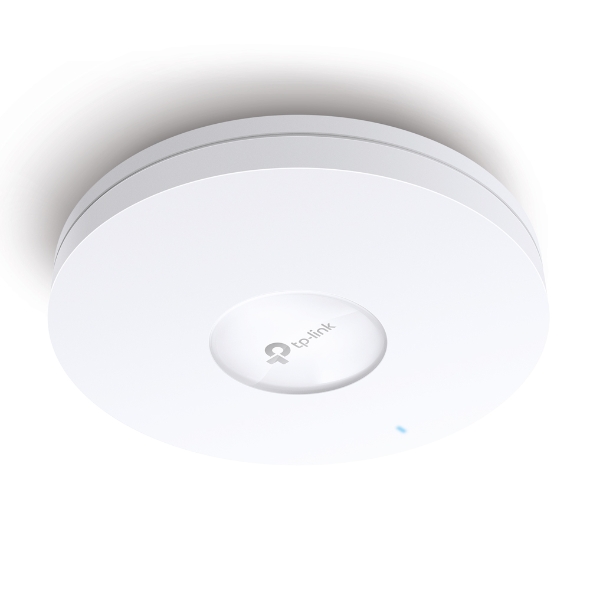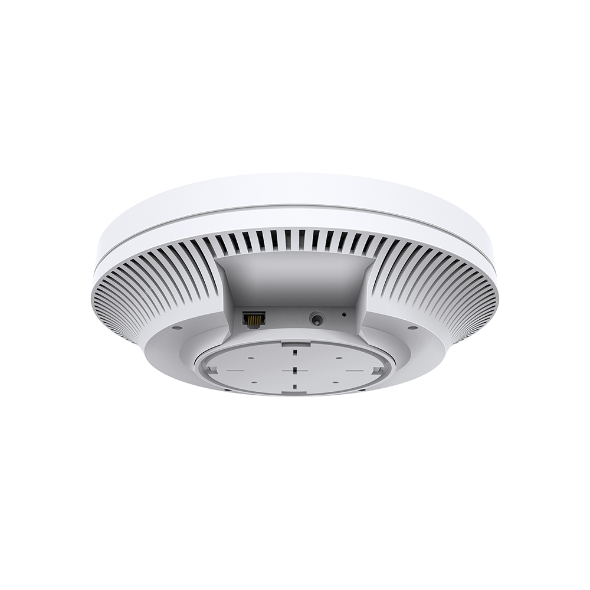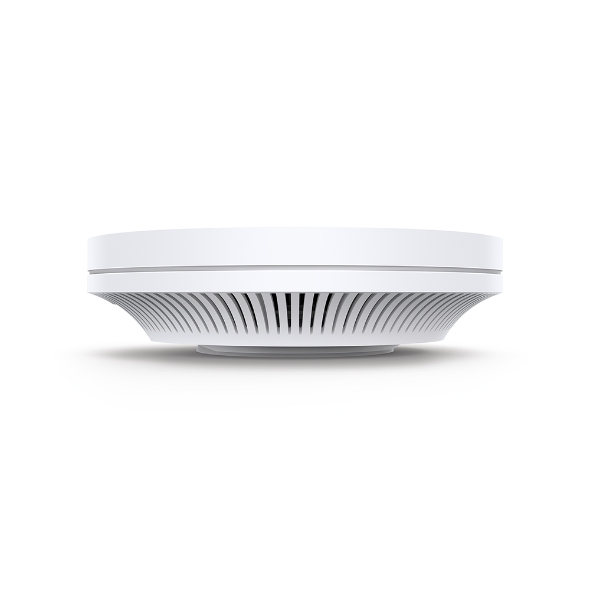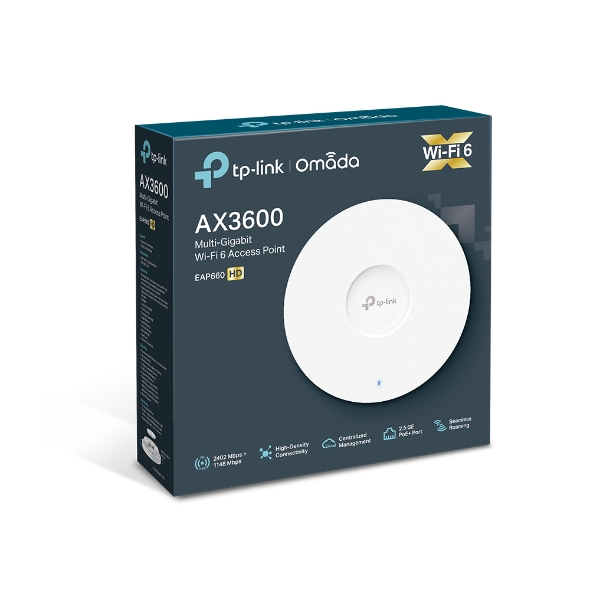 EAP660 HD
AX3600 Draadloos Dual-band Multi-gigabit Access Point Plafondmontage
Ultrasnelle wifi 6-snelheden: Gelijktijdig 1148 Mbps op de 2.4GHz-band en 2402 Mbps op de 5GHz-band, totale wifi-snelheden tot 3550 Mbps.†
Verbindingen voor omgevingen met een hoge dichtheid: 4× meer capaciteit om meer apparaten tegelijkertijd te verbinden.‡
Geïntegreerd in Omada SDN: Zero-Touch Provisioning (ZTP)§, gecentraliseerd cloudbeheer en slimme bewaking.
Gecentraliseerd beheer: Cloudtoegang en Omada app voor extra gebruiksgemak en eenvoudig beheer.
2,5G-poort: Een 2,5 Gbps Ethernet-poort verhoogt de totale doorvoer.
Seamless Roaming: Zelfs videostreams en spraakoproepen worden niet onderbroken als gebruikers door een ruimte lopen.△
PoE-ondersteuning: Ondersteunt Power over Ethernet (802.3at) voor een eenvoudige implementatie en installatie.
Beveiligd gastnetwerk: Voorzien van meerdere verificatiemogelijkheden (sms/Facebook/wifi/voucher enz.) en voldoende draadloze beveiligingstechnologieën.
Krachtige
AX3600 draadloze verbindingen voor
omgevingen met een hoge dichtheid

EAP660 HD
Verbindingen met hoge dichtheid voor 4× meer capaciteit
OFDMA* en uplink & downlink MU-MIMO** zorgen voor een 4 keer hogere netwerkcapaciteit in vergelijking tot wifi 5 (802.11ac) in omgevingen met een hoge dichtheid zodat je meer apparaten tegelijk kunt verbinden‡. Profiteer van de mogelijkheden voor meerdere gebruikers en verbeter je bedrijfsprocessen.
Hotels

Hoogwaardige wifi met maximale wifi-dekking

Restaurants

Maximale wifi-dekking
in omgevingen met
een hoge dichtheid

Winkelcentra

Sociale marketing
voor O2O

Vergaderruimten

Draadloze en bekabelde
verbindingen voor
drukke omgevingen

Treinstations

Wifi met hoge dichtheid
Geavanceerde wifi-snelheden met 8 ruimtelijke streams
Het Omada wifi 6 access point beschikt over de nieuwste 802.11ax-technologieën zoals 1024 QAM en een lang OFDM-symbool, zodat de EAP de snelheden kan verhogen tot 3550 Mbps (2402 Mbps op een 5GHz-band en 1148 Mbps op een 2.4GHz-band)†. Met 8 ruimtelijke streams, wordt de doorvoer voor meerdere personen aanzienlijk verhoogd en kunnen meer toepassingen worden uitgevoerd.
1024 QAM
25% meer gecodeerde
gegevens tegelijkertijd
Lang OFDM-symbool
11% sneller
5GHz
4 streams 802.11ac
1733 Mbps
4 streams 802.11ax
2402 Mbps
2.4 GHz
4 streams 802.11ac
600 Mbps
4 streams 802.11ac
1148 Mbps
Omada SDN — slimmere cloudoplossing voor zakelijke netwerken
Met het SDN-platform (Software Defined Networking) van Omada integreer je netwerkapparaten, zoals access points, switches en gateways, voor een krachtig zakelijk netwerk met een hogere efficiëntie, beveiliging en betrouwbaarheid.
Wifi 6 access point voor omgevingen met een hoge dichtheid
EAP660 HD
Access point (wandmontage)
Access point (buiten)
Access point (plafondmontage)
JetStream PoE-switches
SafeStream-gatewaybeveiliging
Cloudtoegang
Omada
Cloudcontroller
Probleemloos en centraal cloudbeheer:
100% gecentraliseerd cloudbeheer voor het hele netwerk, vanaf verschillende locaties – kan altijd en overal volledig via één interface worden bediend.
Geoptimaliseerde prestaties voor bekabelde verbindingen met 2,5 GE PoE+-poort
De EAP660 HD is uitgerust met een 2,5 gigabit Ethernet-poort en levert uitzonderlijke multi-gigabit prestaties om te voldoen aan de vraag naar betere en snellere wifi. Compatibel met standaard 802.3at PoE+ voor een flexibele implementatie.
2,5 GE PoE+-poort
Seamless Roaming
Met behulp van 802.11k/v roaming schakelen clients automatisch over naar het access point met een optimaal signaal. Dit zorgt voor een naadloze overgang wanneer je rondloopt.△ Gevoelige toepassingen zoals VoIP en videoconferenties worden daardoor niet onderbroken.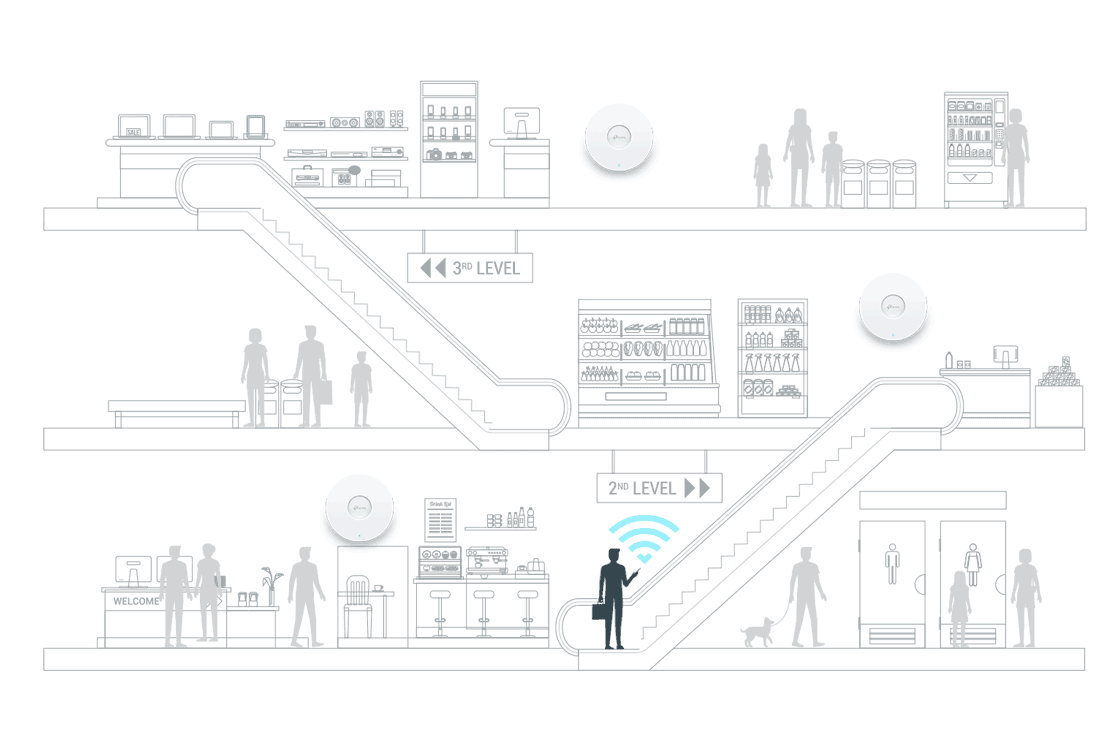 Verbeter de netwerkefficiëntie
met geavanceerde functies
Band Steering

Dual-band apparaten worden automatisch naar de bredere 5 GHz-band verplaatst voor snellere verbindingen

Load Balancing

Zorgt ervoor dat een groot aantal gebruikers probleemloos gebruik kan maken van het drukke zakelijke netwerk

Airtime Fairness

Verbeter de gemiddelde netwerkdoorvoer voor zeer drukke omgevingen
Verfijnd industrieel ontwerp en eenvoudig te monteren
1 push up 2 simply rotate to lock
Veilig gastnetwerk met login via Facebook, wifi en sms
Het gastnetwerk beschikt over een beveiligde toegang voor gasten die je wifi-netwerk willen delen. Captive Portal zorgt dat alleen bevoegde gasten het netwerk kunnen gebruiken. De verificatie via sms of Facebook maakt het gebruik van de captive portal nog eenvoudiger. Gebruikers kunnen hierdoor nog makkelijker verbinding maken en dit werkt in het voordeel van je bedrijf.
Hospitality

TP-Link Omada allows hotels to build reliable WiFi networks. Hotel WiFi network solutions including network topology, design, features, installation, and products are introduced.

Full WiFi coverage and wired connections
Flexible guest control
Seamless roaming
Easy Management

Education

Due to its reliable, scalable, and secure network solution, TP-Link has been widely acknowledged by global customers in the Education market ranging from infant schools with a few APs up to colleges and universities with hundreds of APs.

Easy management
High-density WiFi
Full WiFi coverage and wired connections
VPN and security

High-Density Environment

Equipped with enterprise chipsets, dedicated antennas, advanced RF functions, and auto channel selection and power adjustment, Omada Wi-Fi 6 and Wi-Fi 5 APs have high concurrency capacity for high-density environments.

Enhanced Multi-User Capability
Improved Dense WiFi Experience
Full WiFi Coverage
PGL ESPORTS

TP-Link Provides Reliable Networking Service for PGL Major Kraków

PGL ESPORTS

TP-Link Provides Reliable Networking Service for PGL Major Kraków

"The TP-Link hardware performed as expected and allowed us to deploy a complex network in a short amount of time, with a minimal amount of troubleshooting required." —Vlad Rosca, PGL Technical Director

East European Comic Con

TP-Link Provides Internet Access for East European Comic Con for the Fourth Year Running

East European Comic Con

TP-Link Provides Internet Access for East European Comic Con for the Fourth Year Running

"TP-Link Romania have provided a high-quality service and the right equipment to meet our requirements in each of the projects we have worked on together. EECC2017 was their toughest challenge so far and they passed with flying colors." —Marius Radu, EECC Gaming Director
Functionaliteit van de Hardware
Interface
1× 2.5 Gbps Ethernet-poort (ondersteunt IEEE802.3at PoE)
Knop
Reset
Uitgangsvermogen
• 802.3at PoE
• 12 V DC

Energieverbruik
• EU: 18,5 W
• US: 21,5 W
Afmetingen ( B x D x H )
243 × 243 × 64 mm
Type Antenne
Internal Omni• 2.4 GHz: 4× 4 dBi• 5 GHz: 4× 5 dBi
Montage
Plafond-/wandmontage (kits worden meegeleverd)
Draadloze Functies
Standaarden voor Draadloze Netwerken
IEEE 802.11ax/ac/n/g/b/a
Frequentie
2.4 GHz en 5 GHz
Overdrachtssnelheid
• 5 GHz: tot 2402 Mbps
• 2.4 GHz: tot 1148 Mbps

Draadloze Functies
• 1024-QAM
• 4× langer OFDM-symbool
• OFDMA
• Meerdere SSID's (tot 16 SSID's, 8 per band)
• Draadloze radio in-/uitschakelen
• Automatische kanaaltoewijzing
• Besturing signaalsterkte (signaalsterkte aanpassen via dBm)
• QoS (WMM)
• MU-MIMO
• Seamless Roaming
• Band Steering
• Load Balance
• Airtime Fairness
• Beamforming
• Frequentielimiet
• Opstartschema
• Draadloos schema
• Draadloze statistieken op basis van SSID/AP/Client


Draadloze Beveiliging
• Captive Portal-authenticatie
• Toegangsbeheer
• Draadloos Mac-adresfilter
• Draadloze isolatie tussen clients
• SSID naar VLAN Mapping
• Lokale LAN-poort op basis van VLAN
• Rogue AP-detectie
• 802.1X-ondersteuning
• WEP, WPA-Personal/Enterprise, WPA2-Personal/Enterprise, WPA3-Personal/Enterprise

Overdrachtsvermogen
• CE:
<20 dBm (2.4 GHz, EIRP)
<23 dBm (5 GHz, EIRP)

• FCC:
<26 dBm (2.4 GHz)
<26 dBm (5 GHz)

Beheer
Omada App
Ja
Centralized Management
• Omada-cloudcontroller
• Omada-hardwarecontroller (OC300)
• Omada-hardwarecontroller (OC200)
• Omada-softwarecontroller
Cloud Access
Ja (via OC300, OC200, Omada-cloudcontroller of Omada-softwarecontroller)
Email Notificaties
Ja
LED Aan/Uit Controle
Ja
Management MAC Toegangscontrole
Ja
SNMP
v1, v2c, v3
System Logging Local/Remote Syslog
Lokale/externe syslog
SSH
Ja
Web-based Management
HTTP/HTTPS
L3 Management
Ja
Multi-site Management
Ja
Management VLAN
Ja
Zero-Touch Provisioning
Yes. Requiring the use of Omada Cloud-Based Controller.
Overige
Certificatie
CE, FCC, RoHS
Pakketinhoud
• EAP660 HD
• Voedingsadapter
• Plafond-/wandmontagekits
• Installatiegids
Systeemvereisten
Microsoft Windows XP, Vista, Windows 7, Windows 8, Windows 10, Linux
Omgeving
• Gebruikstemperatuur: 0°C~40℃
• Bewaartemperatuur: -40°C~70℃
• Rel. luchtvochtigheid gebruik: 10%~90%, niet-condenserend
• Rel. luchtvochtigheid bewaren: 5%~90%, niet-condenserend
†Maximale draadloze signaalfrequentie op basis van specificaties van de IEEE 802.11-standaard. De werkelijke draadloze gegevensdoorvoer en het draadloos bereik kunnen niet gegarandeerd worden en variëren op basis van 1) omgevingsfactoren, met inbegrip van bouwmaterialen, fysieke objecten en obstakels, 2) netwerkomstandigheden, met inbegrip van lokale interferentie, omvang en dichtheid van het verkeer, locatie van het product, complexiteit van het netwerk en overhead, en 3) clientbeperkingen, met inbegrip van nominaal vermogen, locatie, verbinding, kwaliteit en toestand van de client.
‡4× meer capaciteit verwijst naar de toename van de gemiddelde doorvoer in omgevingen met een hoge dichtheid in vergelijking tot een standaard 4×4 11ac access point.
§Voor de functie Zero-Touch Provisioning is het gebruik van de Omada-cloudcontroller vereist.
△Voor Seamless Roaming moeten de clients 802.11k/v ondersteunen en zijn er mogelijk extra instellingen vereist. De prestaties kunnen variëren op basis van het clientapparaat.
*Om gebruik te maken van OFDMA moeten de clients OFDMA ondersteunen.
**UL MU-MIMO-functies kunnen door middel van software-updates worden ingeschakeld.
From United States?
Get products, events and services for your region.