Software Defined Networking (SDN) met cloudtoegang
Met het SDN-platform van Omada (Software Defined Networking) kunnen netwerkapparaten worden geïntegreerd, zoals access points, switches en gateways, voor 100% gecentraliseerd cloudbeheer. Omada creëert een uiterst schaalbaar netwerk, dat volledig via één interface kan worden beheerd. De naadloze bekabelde en draadloze verbindingen zijn perfect geschikt voor hotels, het onderwijs, retail, kantoren enzovoort.
Omada SDN- Controller

Gecentraliseerd beheer voor maximaal 1500 apparaten en 20.000 gebruikers

Geen pc/server vereist

Clouddienst zonder licentiekosten
All Cloud SDN Managed Devices >>
Omada Cloud Management Platform >>
Hoogwaardige wifi met volledige dekking

Wifi voor omgevingen met hoge dichtheid

Sociale marketing voor O2O

Bekabelde en draadloze verbindingen

Volledige wifi-dekking in omgevingen met hoge dichtheid
Flexibele opties voor cloudbeheer
Met Omada SDN hebt u de keuze uit twee verschillende SDN-controllers: een cloud-controller (volledig in de cloud) en een hybride cloud-controller (op locatie) met volledige cloudtoegang. Dit biedt u een zo groot mogelijke keuzevrijheid en de mogelijkheid om het volledige netwerk via de cloud te beheren en op uw zakelijke behoeften aan te passen.
Cloudcontroller voor een eenvoudigere implementatie
Met de cloud-controller vindt het beheer volledig via de cloud plaats. Met Omada SDN hoeft u geen aanvullende configuraties uit te voeren, waardoor het een efficiënte en betaalbare implementatie-oplossing is. Bovendien kunt u het netwerk vanaf elke locatie centraal beheren. Het is niet nodig om te investeren in aanvullende hardware-controllers of om installaties bij de klant uit te voeren.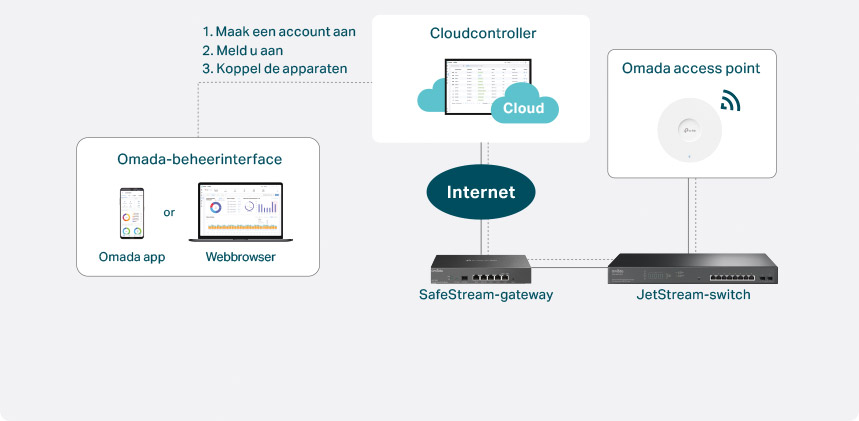 Lokale controller met cloudtoegang
Omada biedt cloudtoegang tot de lokale, gecentraliseerde beheerplatforms – de Omada-softwarecontroller of Omada-hardwarecontroller – zodat u overal de volledige controle over het gehele netwerk hebt met behulp van de Omada app of de gebruikersinterface. U betaalt hiervoor geen extra abonnementskosten.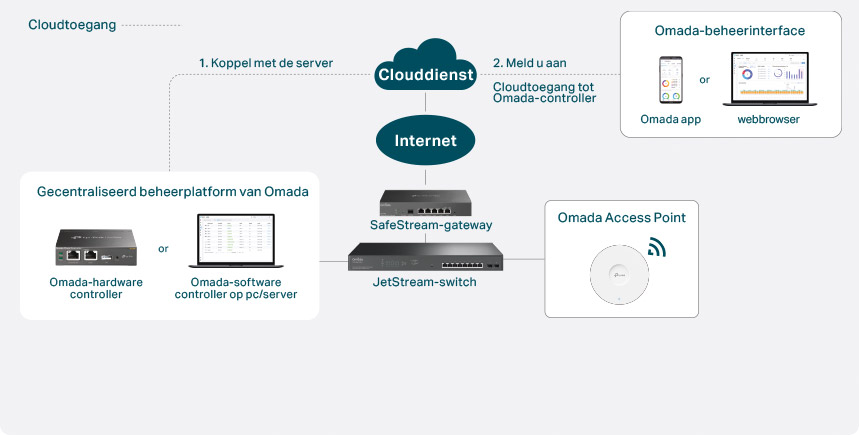 Probleemloos gecentraliseerd beheer
100% gecentraliseerd cloudbeheer van het gehele netwerk vanaf verschillende locaties dat wordt bestuurd via één interface — altijd en overal.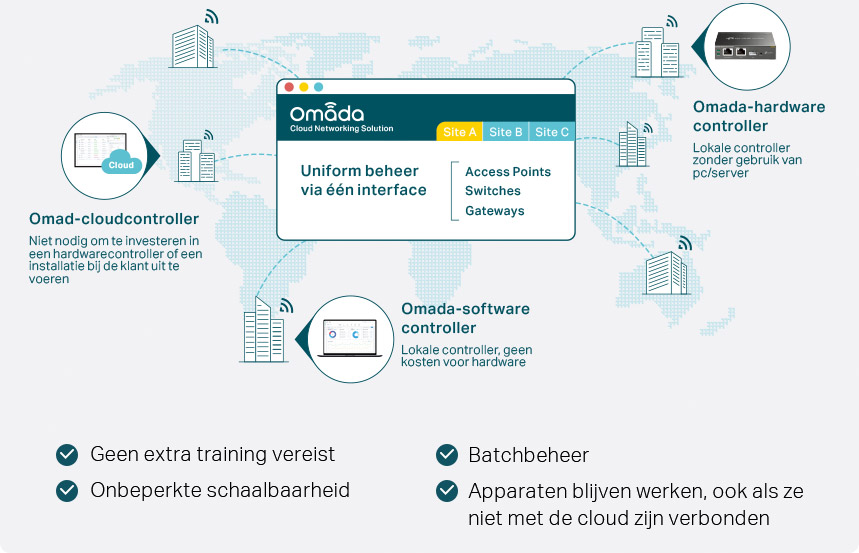 Eenvoudige en intelligente netwerkbewaking
Met het gebruiksvriendelijke dashboard kunt u eenvoudig de realtime netwerkstatus bekijken; netwerkgebruik en verdeling van het verkeer controleren; logboeken over de netwerkconditie waarschuwingen voor abnormale gebeurtenissen en meldingen ontvangen; of zelfs belangrijke gegevens opvolgen voor betere bedrijfsresultaten.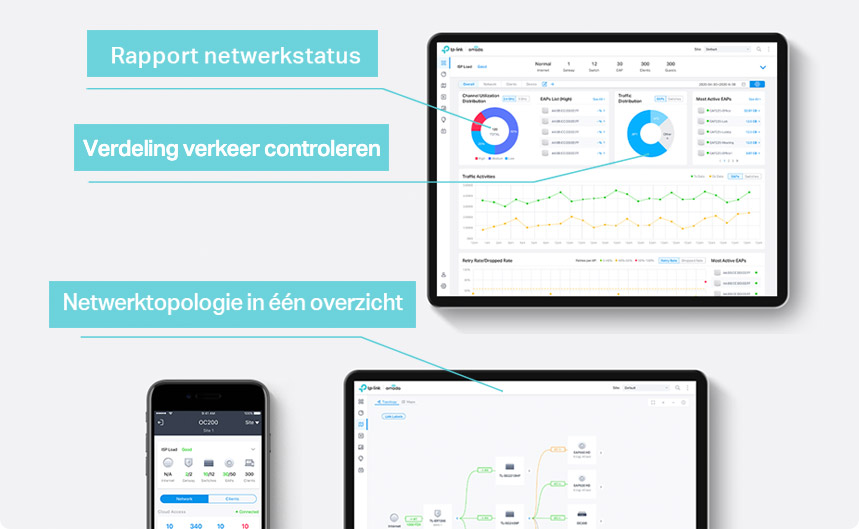 Uitgebreide beveiliging voor het gehele netwerk
Betere bescherming van de privacy van gebruikers
TP-Link Omada scheidt de netwerkbeheergegevens van gebruikersgegevens. Het verkeer van gebruikers gaat niet via de cloud, zodat de privacy van gebruikers beter wordt beschermd.

Voldoende beveiligingsfuncties
Een krachtige firewall en geavanceerde beveiligingsfuncties helpen om het netwerk en de gegevens te beschermen.

Extra gebruiksgemak met de Omada app
Met een tik op uw telefoon kunt u overal ter wereld uw volledige netwerk op afstand beheren en configureren.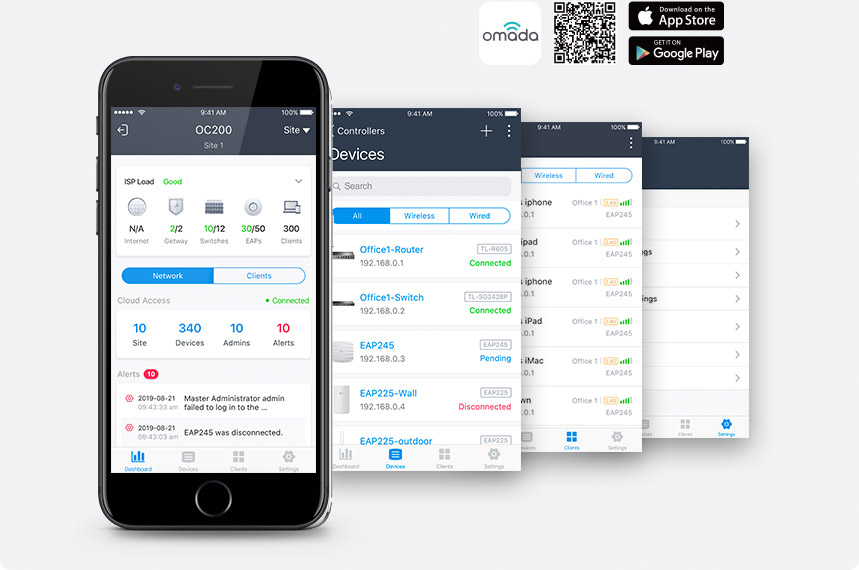 AbonneerTP-Link hecht veel waarde aan privacy. Voor meer informatie over ons privacybeleid kan je onze Privacy Policy bekijken.
Krijg updates over nieuwe producten, samenwerkingen en ander interessant nieuws
From United States?
Check products and services for your region.