802.11ax

Versterk uw zakelijke wifi

Hogere efficiëntie. Grotere capacieit. Verbeterde prestaties.
TP-Link verwelkomt de wifi 6-serie (802.11ax),die is geïntegreerd in Omada SDN
Waarom hebt u wifi 6 nodig?
Vereisten voor meer draadloze apparaten
Vereisten voor toenemende bandbreedte
Meer interferentie tussen access points
Wat zijn de voordelen van wifi 6?
Grotere capaciteit:

Verbeterde prestaties:

Hogere efficiëntie:
4× More Device Simultaneously
4× meer apparaten tegelijk bedienen
—— met uplink en downlink van MU-MIMO
802.11ax breidt de MU-MIMO-technologie uit van 4×4 naar 8×8 en maakt uploaden en downloaden mogelijk in vergelijking tot 802.11ac MU-MIMO. 802.11ax access points met 8×8 MU-MIMO voor uplink en downlink bieden tot 4 keer meer capaciteit in scenario's met hoge dichtheid in vergelijking tot SU-MIMO (Single-User MIMO), waardoor meer gelijktijdige verbindingen met apparaten mogelijk zijn. Laat de capaciteit van het netwerk de groei van uw bedrijf volgen.
verbinding voor 1000+ apparaten
Verbeterde efficiëntie met OFDMA
De wifi 6-standaard maakt gebruik van OFDMA voor efficiënter gebruik van kanalen en verminderde latentie. Een wifi-verbinding is als een reeks bestelwagens die gegevenspakketten bij uw apparaten aflevert. Met 802.11ac wifi kan elke bestelwagen slechts één pakketje bij één apparaat afleveren. Maar in het geval van OFDMA kan elke bestelwagen meerdere pakketjes tegelijkertijd afleveren. Deze aanzienlijk verbetering wat betreft efficiëntie geldt voor zowel up- als downloads.
Wachten

Client 2

Wachten

Verzonden gegevens

Client 1

Client 2

Client 3

Verzonden gegevens

802.11ax | OFDMA
Meer gegevens verpakken met

­
1024-QAM
25% sneller dan 256-QAM
Met 1024-QAM bevat elk symbool 10 bits in plaats van 8 bits, waardoor de snelhden tot wel 25% toenemen in vergelijking tot 802.11ac 256-QAM. Kijk thuis naar Netflix of stream live Twitch-uitzendingen vanaf de computer – met 1024-QAM wordt streamen nog beter.
Frequentie f
Frequentie f
11ac: 256 subcarriers in 3,6 μs (0,4 μs GI)
11ax: 1024 subcarriers in 13,6 μs (0,8 μs GI)
| | 802.11ac (wifi 5) | 802.11ax (wifi 6) |
| --- | --- | --- |
| Aantal subcarriers van gegevens | 234 | 980 |
| Duur symbool (μs) | 3,6 (3,2 symbool + 0,4 GI) | 13,6 (12,8 symbool + 0,8 GI) |
| Geldige snelheid voor subcarriers van gegevens | 65 | 72,05882 |
| Verbetering | | 1,108597 |
* Eén symbool, 80MHz-kanaal
Betere dekking en snelheden
met 4× langer OFDM-symbool
OFDM is een symbool dat gegevens verzendt. Het verdeelt gegevens over kleinere subcarriers voor meer stabiliteit en een groter bereik. 802.11ax gebruikt een 4 keer langer OFDM-symbool om 4 keer meer subcarriers te maken. Hierdoor biedt het langere OFDM-symbool van wifi 6 een verbeterd bereik en is de wifi 11% sneller.
Wifi-interferentie binnen uw bedrijf minimaliseren
met BSS Coloring
Om de systeemcapaciteit nog verder te verhogen en interferentie door andere kanelen te verminderen is er een nieuwe BSS Coloring en Spatial Reuse-technologie aan 802.11ax toegevoegd. Deze technologie biedt een overeenkomende kleurmarkering voor elk access point om aangrenzende servicesets van elkaar te onderscheiden en de efficiëntie van draadloze kanalen te verbeteren door de kleur te identificeren. De wifi 6-oplossing kan ruimtelijk hergebruik van kanalen implementeren om de netwerkprestaties en capaciteit in omgevingen met een hoge dichtheid, zoals kantoren, restaurants en winkelcentra, aanzienlijk te verhogen.
Geen inteferentie
Inteferentie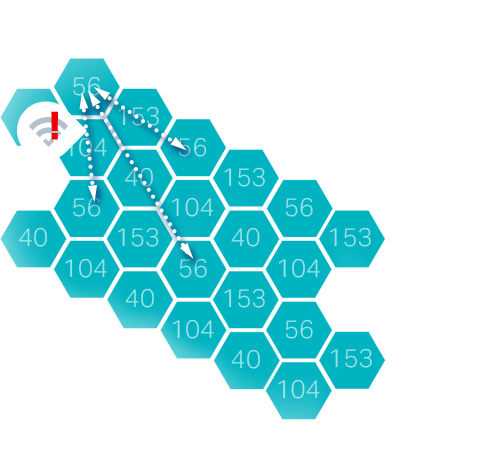 · BSS-blokkering op hetzelfde kanaal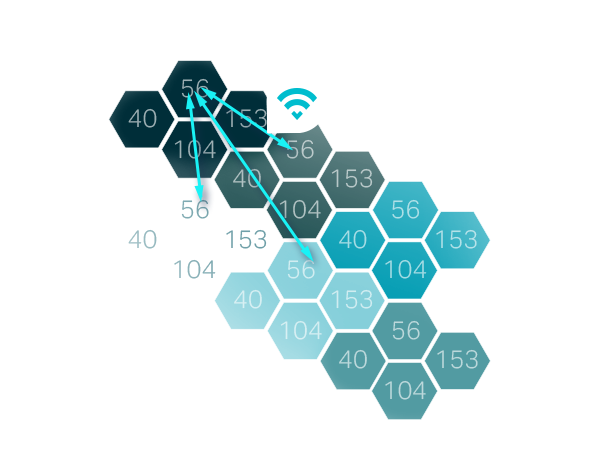 ·BSS op hetzelde kanaal, alleen geblokkeerd op basis van overeenstemmende kleuren
Verzenden
Slaapstand
Slaapstand
Wachten
Wachten
Verzenden
Verminder het energieverbruik
met Target Wake Time
Target Wake Time (TWT) stelt apparaten in staat te bepalen wanneer en hoe vaak ze wakker worden om gegevens te verzenden of te ontvangen. Hierdoor bevinden ze zich langer in de slaapstand, waardoor de batterij van mobiele en IoT-apparaten aanzienlijk langer meegaat.
AbonneerTP-Link hecht veel waarde aan privacy. Voor meer informatie over ons privacybeleid kan je onze Privacy Policy bekijken.
Krijg updates over nieuwe producten, samenwerkingen en ander interessant nieuws
Over ons
Pers & Media
Learning Center
From United States?
Check products and services for your region.