Ändern der WLAN-Einstellungen in Ihrer Deco App
Wenn Sie den WLAN-Namen oder das WLAN-Passwort des Deco-Netzwerks ändern möchten, zeigt Ihnen dieses Handbuch, wie Sie dies tun können.
Hier nehmen wir Deco M9 Plus als Beispiel.
1. Starten Sie die Deco App, melden Sie sich mit Ihrer TP-Link-ID an oder tippen Sie auf Anmelden, um eine TP-Link-ID einzurichten.
Hinweis: Wenn Sie bereits angemeldet sind, wird dieser Bildschirm übersprungen.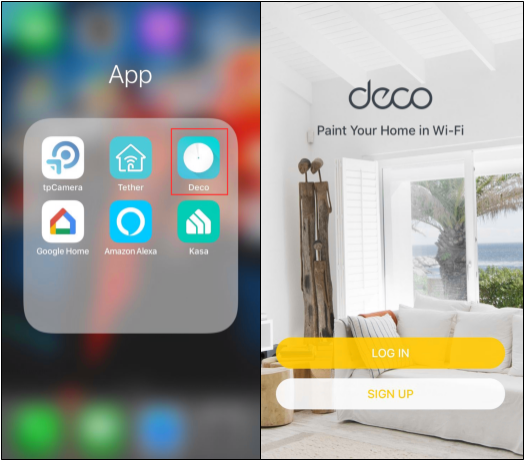 2. Tippen Sie auf "Mehr" und klicken Sie dann auf "Wi-Fi".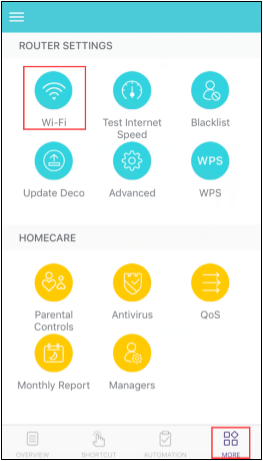 3. In den Wi-Fi-Einstellungen haben Sie drei Möglichkeiten: Hauptnetzwerk, Gastnetzwerk und Shake to Share.
Hauptnetz:
Deco bietet sowohl 2,4 GHz als auch 5 GHz Wi-Fi-Netzwerke mit dem gleichen Netzwerknamen an. Wenn Sie nur 2,4 GHz oder 5 GHz Wi-Fi verwenden möchten, können Sie das unerwünschte Wi-Fi-Band in der Deco App ausschalten....
Klicken Sie auf die SSID oder das Password, dann können Sie die SSID und das Passwort nach Belieben ändern. Sie können die SSID bei Bedarf auch ausblenden und dann auf "Speichern" tippen, um die Änderungen zu speichern.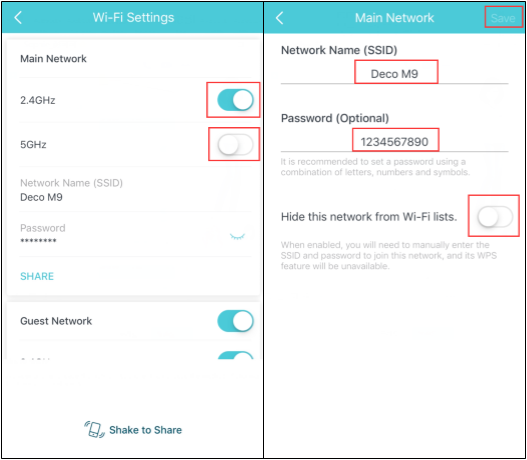 Gast-Netzwerk:
Aktivieren Sie das Gastnetzwerk, wenn Sie es verwenden möchten.
Klicken Sie auf die SSID oder das Passwort, ändern Sie dann die SSID und das Passwort nach Ihren Wünschen und tippen Sie dann auf "Speichern", um die Änderungen zu speichern.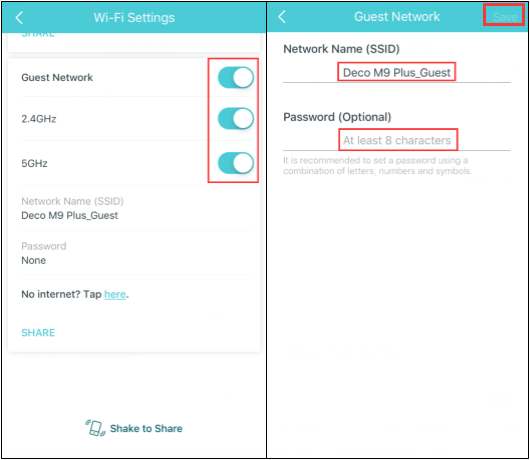 Hinweis: Deco unterstützt nur die Option Keine Sicherheit und die Sicherheitsoption WPA/WPA2-PSK.
Schütteln zum Teilen
Schütteln Sie Ihr Telefon, wählen Sie dann das Netzwerk, das Sie freigeben möchten, die Art der Freigabe und mit wem Sie teilen möchten.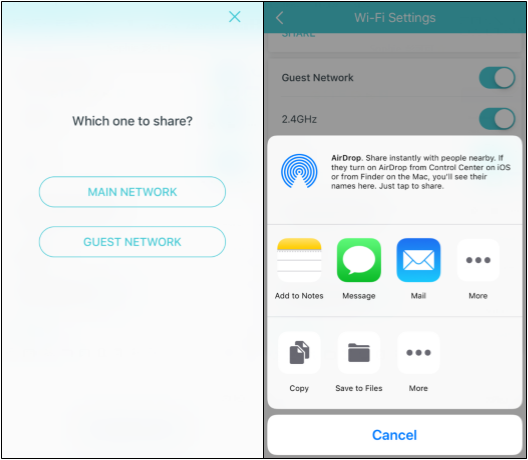 Weitere Details zu den einzelnen Funktionen und Konfigurationen finden Sie unter Download Center um das Handbuch Ihres Produkts herunterzuladen.
Finden Sie diese FAQ hilfreich?
Mit Ihrer Rückmeldung tragen Sie dazu bei, dass wir unsere Webpräsenz verbessern.
Subscription Für TP-Link ist Datenschutz sehr wichtig. Weitere Informationen zu unseren Datenschutzbedingungen finden Sie in der Datenschutzerklärung von TP-Link.
From United States (English)?
Check products and services for your region.