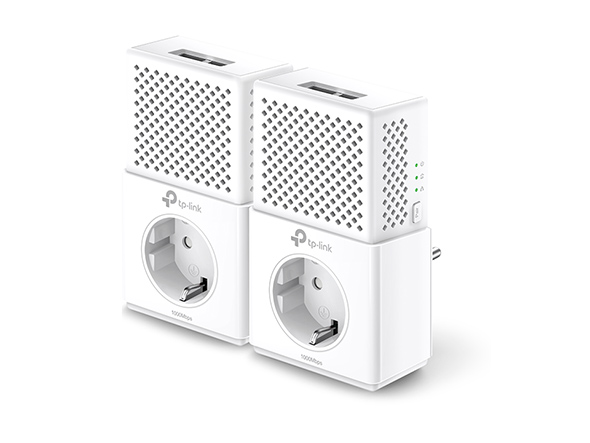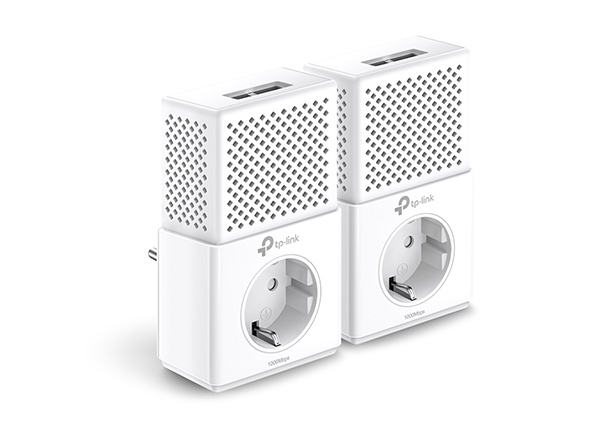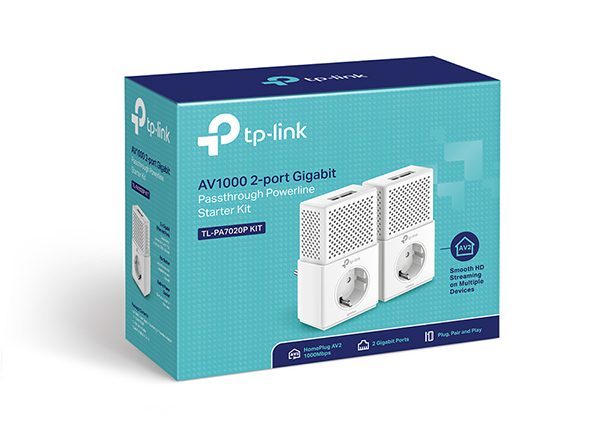 TL-PA7020P KIT
AV1000-Gigabit-Powerline-Adapter KIT
Powerline-Geschwindigkeit bis zu 1 Gbit/s nach dem neuen Standard Homeplug AV2 über bestehende Stromleitungen, ideal für unterbrechungsfreies HD-Videostreaming und Online-Gaming
Die integrierte Frontsteckdose sorgt dafür, dass kein Steckplatz verloren geht
2 Gigabit-LAN-Ports für eine schnelle, stabile Einbindung von Netzwerkgeräten wie Fernseher, Spielekonsolen oder Laptops ins Internet
Einfache Installation dank Plug & Play, keine Konfiguration erforderlich
Patentierter Energiesparmodus senkt den Stromverbrauch automatisch um bis zu 85%
1000 Mbit/s –
Ideal für brandbreitenintensive Anwendungen
Das TL-PA7020P KIT unterstützt den neuen Powerline-Standard Homeplug AV2 mit ultraschnellen Datentransfers von bis zu 1000 Mbit/s. Damit profitieren Sie von einem stabilen Signal für unterbrechungsfreies HD-Videostreaming und Online-Gaming – und das selbst in abgelegene Räumen oder auf dem Dachboden!
Mehrere Gigabit-LAN-Ports
für maximale Konnektivität
Je 2 Gigabit-LAN-Ports pro Adapter machen das TL-PA7020PKIT zum idealen Partner für Ihr Home Entertainment. Schließen Sie bis zu 3 Netzwerkgeräte wie NAS, Smart-TV, Desktop-PC, Spielekonsolen u.v.m. per LAN-Kabel an die Adapter an und schon sind diese in das Powerline-Netzwerk integriert.
Spielekonsole
Smart-TV
Desktop-PC
Kinderleichte Installation
ohne Konfiguration
Verbinden Sie den ersten Powerline-Adapter mit dem Router und stecken Sie einen weiteren Powerline-Adapter in dem Raum ein, in dem Sie einen Netzwerkanschluss benötigen.* Danach schließen Sie Ihre Netzwerkgeräte wie z.B. PCs, Smart-TVs oder Spielekonsolen an. Das war's!
*Für ein Powerline-Netzwerk benötigen Sie mindestens 2 Adapter.
Integrierte Frontsteckdose für mehr Flexibilität
Die integrierte Frontsteckdose kann wie eine normale Steckdose verwendet werden. Sie ermöglicht den Wiederanschluss des zuvor an der Stelle installierten Gerätes, sodass Ihnen kein Steckplatz verloren geht. Der integrierte Rauschfilter reduziert die Anfälligkeit der Powerline-Übertragung für Interferenzen.
Bis zu 85% Energieeinsparung
Das TL-PA7020P KIT gehört einer neuen Generation von Powerline-Adaptern an und ist deutlich stromsparender. Werden für eine bestimmte Zeit keine Daten übertragen, schaltet das Gerät automatisch in den Energiesparmodus und spart dann bis zu 85%* Energie.
* Die tatsächliche Einsparung kann je nach Nutzungsbedingungen und Umgebungsfaktoren variieren.
Arbeitsmodus
Energiesparmodus
Verwandte Produkte
TL-PA8030P KIT

TL-PA8010P KIT

AV1200-Gigabit-Powerline KIT

TL-PA8010P KIT

HomePlug AV2-Standard

√

√

Powerline-Geschwindigkeit

1200Mbit/s

1200Mbit/s

LAN-Port

3 Gigabit-Ports

1 Gigabit-Port

Frontsteckdose

√

√

Sicherheit auf Tastendruck

√

√

Energiesparmodus

85%

85%
The theoretical maximum channel data transfer rate is derived from HomePlug AV2 specifications. Actual data transfer rate will vary from network environment including: distance, network traffic, noise on electrical wires, building material and construction, quality of electrical installation and other adverse conditions.
HARDWARE-FUNKTIONEN
Steckertyp
EU
UK
FR
Standards und Protokolle
HomePlug AV2
HomePlug AV
IEEE1901
IEEE802.3
IEEE802.3u
IEEE802.3ab
Schnittstelle
2 Gigabit-Ethernet-Ports
Schuko-Steckdose
Taste
Pair
Energieverbrauch
Maximal: 6W (230V/50Hz)
Typisch: 6W (230V/50Hz)
Standby: 0,5W (230V/50Hz)
LEDs
PWR
PLC
ETH
Abmessungen (B*T*H)
131mm*72mm*42mm
Reichweite
bis zu 300m in Gebäuden
Leistungsabgabe der integrierten Steckdose
16A
SONSTIGES
Zertifizierung
CE
RoHS
Verpackungsinhalt
2 Powerline-Adapter
2m-Ethernetkabel
CD
Schnellinstallationsanleitung
Systemanforderungen
Microsoft® Windows® 2000/XP/2003/Vista/7/8/10*
MacOS®
Linux
* Das mitgelieferte Tool läuft aktuell nur unter Windows® 2000 bis 7.
Umgebung
Betriebstemperatur: 0°C..40°C
Lagertemperatur: -40°C..70°C
Betriebsfeuchtigkeit: 10%..90%, nicht kondensierend
Lagerfeuchtigkeit: 5%..90%, nicht kondensierend
Subscription Für TP-Link ist Datenschutz sehr wichtig. Weitere Informationen zu unseren Datenschutzbedingungen finden Sie in der Datenschutzerklärung von TP-Link.