Network Management
At Your Fingertips!
TP-Link Tether
TP-Link Tether provides the easiest way to remotely access and manage routers or range extenders through your iOS or Android devices. From setup to Parental Controls, Tether provides a simple, intuitive user interface to check the status of your networking device, who's online and what their privileges are. More personal settings for your network can be configured with TP-Link Tether.
Easy Update and
Control via Cloud
With a unique, exclusive TP-Link ID, you have the power to manage your Router, DSL Modem Router or Repeater anywhere, anytime. Tether will also alert you of any firmware updates to ensure the best, most advanced Wi-Fi experience in your network. So if you need to reboot, update, or reconfigure your home router while at the office or on vacation, Cloud makes it easy.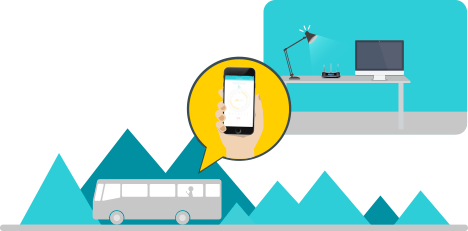 Setting up Your Network with Tether
Straight out of the box, use Tether to set up your new TP-Link router or range extender listed in the compatible devices list below. Setup the network name, password and internet settings to get online in no time.
Live Network Management Access with Tether
With Tether, you can see who is connecting to your network and block those shouldn't be there at the touch of a button. Wave goodbye to Wi-Fi thieves!
Managing Administrators and
Online Behaviors with Tether
Tether helps you designate the devices or users that can manage the TP-Link routers or range extenders and set the permission rules that comes with it. With a URL-based white list, you can choose websites that are safe to visit. In addition, control and limit access to the network to certain times of the day for users in the child list. So bed time really means bed time!
Designate a parent device to control the router or range extender, as well as child devices that should be managed.

Designate a parent device to control and supervise.

Using a URL-based white list, you can restrict access to websites you decide are safe for your kids.

Restrict access to websites via a URL-based white list.

Control your children's access to the internet by specific days and time to make sure they are not up all night surfing.

Set up a schedule to control your childrzen's access to the internet.
Device's Firmware: latest version required. Required System: iOS 8.0 or later, Android 4.0 or later.
To get started with Tether, be sure you are connected to one of our compatible devices below. Click below for update if necessary.
Supporting Multiple Languages
Tether App supports up to 22 languages, enabling easy network management for users all over the world.
Português (Brasil)
Български
Čeština
Nederlands
English
français
Deutsch
Ελληνικά
한국어
italiano
Polski
Português
Română
Русский
Slovenčina
Español
ไทย
繁體中文
Türkçe
Tiếng Việt
український
Japanese