What Should I Do If I Can't Log In To The Deco App?
Problem Description
If you are having difficulty logging in to the Deco app, the following error message(s) may appear:
No internet connection, Incorrect email, or password.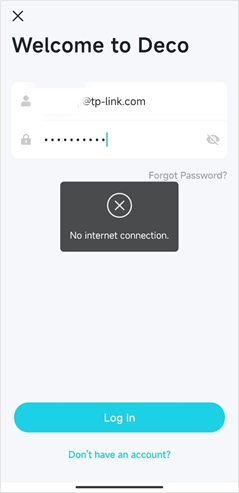 Troubleshooting Steps
1) Make sure your phone has Internet access
Check your Wi-Fi and/or cellular signal status, or you can test Internet connectivity by attempting to open a web page in your web browser.
2) Make sure your TP-Link ID and Password are both entered correctly
If you receive an error indicating an incorrect email or password, this means the email and/or password entered do not match our records. Apart from just verifying the password, please also make sure the email address is a valid TP-Link ID and is entered correctly. It is also a good rule of thumb to make sure there are not any additional spaces mistakenly entered in the ID (most commonly, at the end of the ID).
3) Reset the password of your TP-Link ID
If have forgotten the password of your TP-Link ID, please tap "Forgot Password?" on the login page to begin the password reset process.
For more details, please refer to the FAQ What if I forget the password of my TP-Link ID or the account is locked?(Deco)
4) Switch to another network
For example, if you are using the mobile data of your phone for Internet access, try to connect to an available Wi-Fi network. Alternatively, if you are using the Deco's Wi-Fi network, try a different Wi-Fi network, or try the mobile data connection of your phone.
5) Uninstall and reinstall the latest Deco App, then try to login again
Note: When you reinstall the Deco App, it will prompt you for standard permissions. Please allow the requested permissions for the Deco app.
iOS: The Deco App will prompt for WLAN/cellular permission; please enable the permission(s).
Android: The Deco App will ask for WLAN permission; please enable the requested permission.
If the aforementioned steps do not resolve the issue, please contact TP-Link Technical Support and provide us with the following information:
1) Model number of the phone(s) you've tried and their OS version
2) Screenshot of the error message
3) Your TP-Link ID
4) If you have already configured some Deco products using that TP-Link ID, please let us know whether the Deco Mesh Wi-Fi network is currently functioning
5) Any additional information relating to your concerns with your Deco and/or TP-Link ID
Is this faq useful?
Your feedback helps improve this site.