Frequently Asked Questions about Kasa Smart Doorbell (KD110)
The following article has commonly asked questions about Kasa smart doorbell.
Installation and Compatibility
Q1. Does kasa doorbell require an existing doorbell to be installed? What type of transformer do I need?
Yes, Kasa doorbell needs to wire to your existing doorbell to get power, it requires your doorbell wiring coming with a transformer that provides 16-24VAC and minimum 10VA output power, which is commonly used in house doorbell systems.
Q2. Is my existing mechanical/digital doorbell compatible with kasa doorbell?
Your existing doorbell button must be a stand-alone momentary push button. Integrated intercoms, gate systems, and entry controls are likely incompatible. Refer FAQ here to Check Kasa Doorbell Compatibility
Q3: Is the Kasa doorbell powered by a battery? Is it a complete wireless doorbell?
No, Kasa doorbell does not own a battery. It wires to the existing doorbell to get power, in this way doorbell camera gets power consistently and could get live feeds at any time.
Q4: What is recommended distance of placing the wireless chime away from the wired doorbell?
The maximum distance between KD110C and KD110D is 30 meters. The real distance may vary depending on the environment like obstacles or walls between chime and doorbell.
Q5: What Internet speed is required for using the kasa doorbell?
2.4GHz Wi-Fi Network; At least 2 Mbps upload speed.
Q6. Can I mount the doorbell horizontally instead of vertically?
The doorbell camera is designed to be installed vertically, not horizontally.
It could be installed horizontally if desired but there are no settings to rotate the video image to 90-degree due to its hardware limitation, in this situation, you will have to physically rotate your device to view it properly.
Chime Related
Q1: Can Kasa doorbell use the existing chime instead of the kasa wireless chime?
Not in this case. Kasa doorbell needs to work with the kasa wireless electrical chime that comes with it, refer to FAQ Can Kasa Doorbell KD110 Work with My Existing Chime for more details.
Q2: Can a Doorbell (KD110D) work with multiple Chimes (KD110C)?
Yes, one KD110 doorbell can pair and work with multiple Kasa wireless chimes.
There is no limit on the number of Kasa chimes, you could make at least 20 KD110C work with a KD110D.
Note: KD110 doorbell and chime are sold by kit till now, please reach local retailer or distributor for updated sales information.
Q3: Can I use multiple doorbell (KD110D) with single or same Chime(KD110C).
Not in this case, Chime(s) could work with only one KD110D doorbell at a time, not multiple KD110Ds.
Q4: Can I remove the old chime? Will the old chime still work after installing Kasa doorbell?
The old chime could be removed but the wiring and screws of the old chime should be retained. The doorbell requires installing jumpers on the old chime Trans and Front/rear terminals to bypass the old chime, in this way the old chime will be void and does not sound anymore.
Features and Third-Party
Q1: Does the KD110 doorbell support 24/7 recording?
KD110 supports 24/7 recording using a SD card, you can save the footage using a Micro SD card (sold separately) and playback on Kasa Smart APP.
Q2: Is the video doorbell compatible with other brand's wireless chimes, like Eufy or Ring?
Not this case. Only KD110's wireless chime can pair to the KD110 doorbell.
Q3: Does the doorbell work with 3rd-party smart platforms?
The doorbell can work with Amazon Alexa, Google Assistant.
Q4: Can I view Kasa doorbell a PC or desktop?
No. You will need Kasa APP or Google/Alexa smart display devices to watch the Live View.
Q5. How to change the ringtones for the doorbell?
The wireless chime provides 8 different ringtones. Press 'Music' button on the side of the chime to switch between different ringtones.
Troubleshooting
Q.What should I do if wireless Chime does not ring when pressing the doorbell?
1. Press Music button or Volume button on Chime (KD110C) to check if Chime ring
2. Try moving the Chime closer to the video doorbell
3. Disable Do not Disturb Mode. With this mode scheduled, the doorbell will not ring, and no push notifications
Tap your Smart Doorbell on the Home page> enter the live view page> tap

at the bottom> Toggle it OFF
4. Repair the Chime with doorbell on Kasa APP:
Press the sync button on KD110C for 3 seconds until the system LED blinks green to enter pairing mode.
Kasa APP> tap button

in the right top> Device settings > Chime Paring.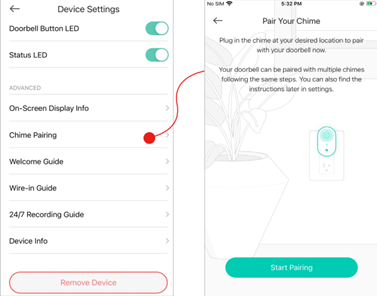 Others
Q: How do you prevent someone from stealing the doorbell
1) The installation of our video doorbell is firm and secure, it is not a simple click-in and out. Please have a glance at the quick start guide of our doorbell installation guide.
2) Once a thief enters the field of the doorbell camera, you will receive a notification on your device with proper Detection settings. You can view the event and take the necessary actions.
3) The video is encrypted with the user's account and then stored on the doorbell. Others cannot access the video without correct account info.
Is this faq useful?
Your feedback helps improve this site.
SubscribeTP-Link takes your privacy seriously. For further details on TP-Link's privacy practices, see TP-Link's Privacy Policy.
Be The First To Get Exclusive Deals & News