What should I do if fail to upgrade the firmware of my TP-Link router?
This article will show you how we can handle the case of failing to upgrade the firmware on TP-Link devices.
Part I: Online Upgrade
Step 1: Check whether the TP-Link device supports online upgrades or not. Only devices which support the TP-Link Cloud service have an online upgrade function. You may check the following compatibility list:
https://www.tp-link.com/support/compatibility-list/tplink-cloud/
Step 2: Confirm the internet connectivity of the TP-Link device. Only devices which connect to the internet successfully could upgrade the firmware online smoothly.
Step3: Change the DNS Server manually. Try manually assigning a static DNS server to the router WAN/Internet. You may try some popular public DNS servers, such as Google's 8.8.8.8 or CloudFlare's 1.1.1.1. Please refer to the following screenshot.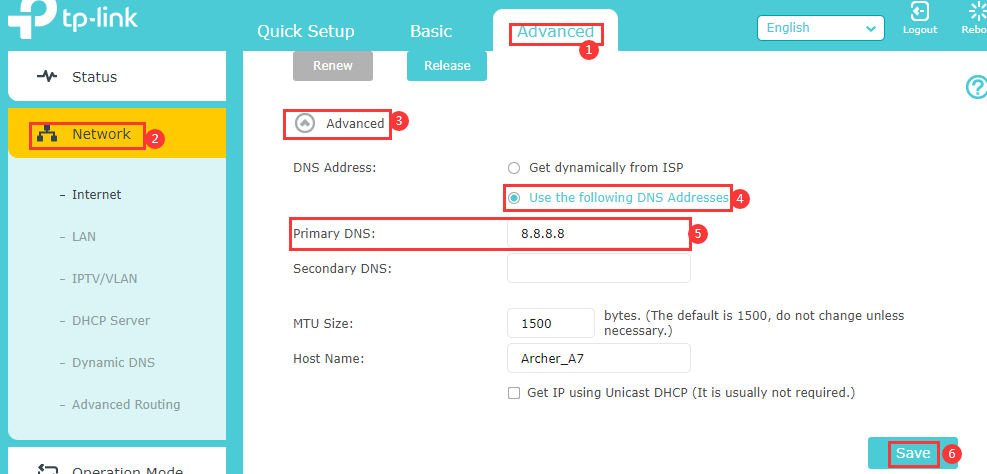 Step 4: Try to upgrade firmware locally or manually by downloading the latest firmware on the computer. Please refer to How to upgrade the firmware on TP-Link devices?
Part II: Manual/Local Upgrade
Case1. The error message "unable to upgrade".

Step 1: Verify the format of the latest firmware. After downloading the latest firmware from the TP-Link official website, you should extract that folder first. The correct format of firmware should be a bin file.
Step 2: check whether you have downloaded the correct firmware version for your TP-Link device.
1. Check the model number, hardware version, EU or US version of TP-Link device by referring to How to find the hardware version on a TP-Link device?
Reminder: Please upgrade firmware/software from the local TP-Link official website of the purchase location for your TP-Link device, otherwise it may cause upgrade failure or mistakes and be against the warranty.
2. Select the corresponding hardware version on the download website.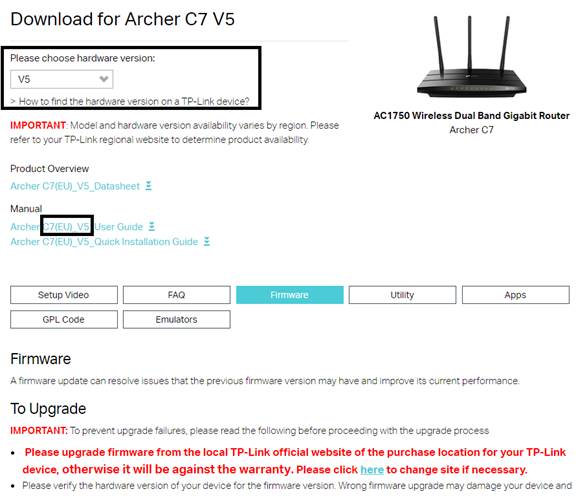 Case2. The progress bar is stuck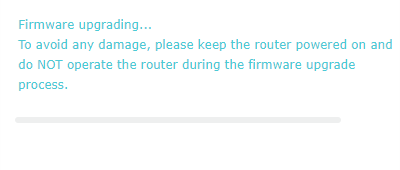 1. We suggest you wait for 5minutes to see if the progress is finished.
2. Try to refresh the web page first. Then upgrade again.
3. Try to change another web browser(Firefox, Microsoft Edge, Chrome and etc) to upgrade.
Notes: If there is a sudden power outage during the upgrade, there is a high chance that the router will become a bridge. At this point, you may refer to How to use webpage firmware recovery if the router become brick (new logo)?
If the above suggestions cannot help you out, please contact TP-Link technical support with the following info:
1. The model number, hardware version, current firmware version of TP-Link device;
2. The firmware version downloaded from TP-Link official website;
3. The screenshot of error info is displayed on the firmware upgrade page.
To get to know more details of each function and configuration please go to Download Center to download the manual of your product.
Is this faq useful?
Your feedback helps improve this site.