What should I do if I have more than one Deco models?
Under some circumstances, we have more than one Deco models (Deco M5, Deco M9 Plus, etc) in hand and want to use them together in one network topology.
To maximize the overall network performance, please kindly note:
1. If you have more than 2 Deco P7 units, and want a powerline backhaul network, please choose Deco P7 as the main Deco.
2. It is not recommended to choose M4R as the main Deco if you have higher priority models.
There are two situations and it is recommended to do as follows:
1. When creating a new Deco network
Choose a main Deco in the priority order below, then follow instructions in the Deco app to set it up.
Deco M9 Plus / Deco P7 > Deco M5>Deco M4R
After the main Deco is configured successfully, follow the instruction in the Deco app to add the slave Deco one by one.
2. When adding a new Deco to an existing Deco network
For example, you have set up a Deco M5 network already, but want to add new M9 Plus into the existing mesh network to extend your wireless coverage.
In this case, it's recommended to reselect M9 Plus as the main Deco to ensure the system performance. (Similarly, we recommend to follow the priority order to reselect the main Deco: Deco M9 Plus / Deco P7 > Deco M5>Deco M4R)
Take "add Deco M9 Plus into the existing M5 network" as an example. Please follow the steps below:
1. Update your Deco app
Go to the App Store or Google Play Store, check and update your Deco app to the latest version.
2. Add M9 Plus into the M5 network.
Tap here to add the Deco M9 Plus to the existing Deco M5's network.
If you failed to setup the Deco M9 Plus, please refer to the link for troubleshooting.
3. Update M9 Plus
Tap "More", then click on "Update Deco".
The app will search the firmware updates automatically. If a new firmware is available for Deco, please download and upgrade them through the Deco app.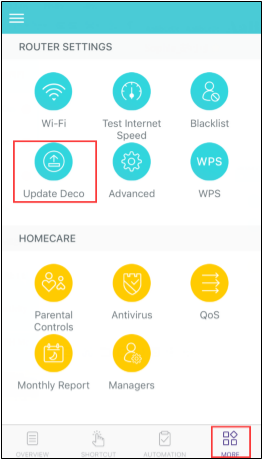 When the updates are completed, the app will remind that your firmware version is up-to-date.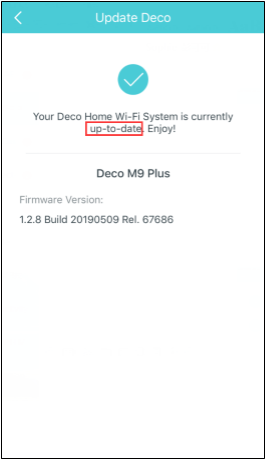 4. Set M9 Plus as the main Deco.
Make sure your phone is connected to the Deco's Wi-Fi network, then open the Deco app.
Refer to the link to set the Deco M9 Plus work as main Deco.
If need more help, it's suggested to contact TP-Link support.
Is this faq useful?
Your feedback helps improve this site.