What should I do if Internet connection on my TP-Link DSL modem is unstable?
To figure out what causes the problem, it's important to collect info when connection drops.
End-device means computer, laptop, front-device(s) means your modem or main router etc. which the TP-Link router is connected to.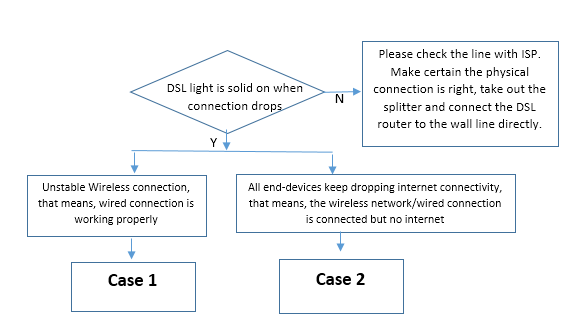 Note: If you can't tell whether wired connection is fine or not, because you don't have wired connection to test. At the same time, when the problem happens, all wireless end-devices drop internet connectivity but the wireless network are still connected. If the situation meets above, the problem actually is unstable internet connectivity. Refer to Case Two.
Case One
Step 1
Check whether the connection will be automatically restored after a few minutes. Check the Wi-Fi LED on the router when it happens and see if the wireless network can be found via your end-devices.
Step 2
It's probably caused by wireless interference. To change wireless channel, channel width (refer to here) or get away from wireless interference source, such as microwave oven, cordless phone, USB3.0 hard drive etc.
Step 3
Check firmware version of your router (here). Upgrade if it's not the latest firmware. Contact our support if you don't know how to upgrade.
Step 4
Contact our support with the information above for further help and tell us how many devices you have and corresponding operating systems.
Case Two
Step 1
Log in to the web management interface of the modem, http://192.168.1.1, or http://tplinkmodem.net.
Step 2
Get screenshot of DSL Status page and save system log.
Note: Please save the system log when the internet connection stops working. System log isn't necessary if you have to log in to the interface by reset or restart the modem.
Step 3
Contact our support with the information above for further help and tell who your internet service provider is.
Is this faq useful?
Your feedback helps improve this site.

TP-Link Community
Still need help? Search for answers, ask questions, and get help from TP-Link experts and other users around the world.