How to change DNS server settings on my Deco?
In certain network environment, users may need to configure particular DNS address for his/her network. This article aims to guide you to change the DNS server settings on your Deco system.
Part 1, Preparation
1, Have the Deco App installed on your mobile Phone.
2, Make sure the mobile phone is connected to Deco's Wi-Fi network.
3, Close the Deco App if it is already running in the background.
4, Re-launch the Deco App.
Please note: Only when your mobile phone is connected to Deco's Wi-Fi network, can you change its WAN settings through the Deco App. Re-launching the Deco App is to clear App cache.
Part 2, Change the DNS server settings
1, Tap on the Menu icon in bottom right corner, then tap on Advanced -> IPv4.
2, Tap on Internet Connection Type, toggle off "Obtain DNS Automatically" and type in your preferred DNS server settings.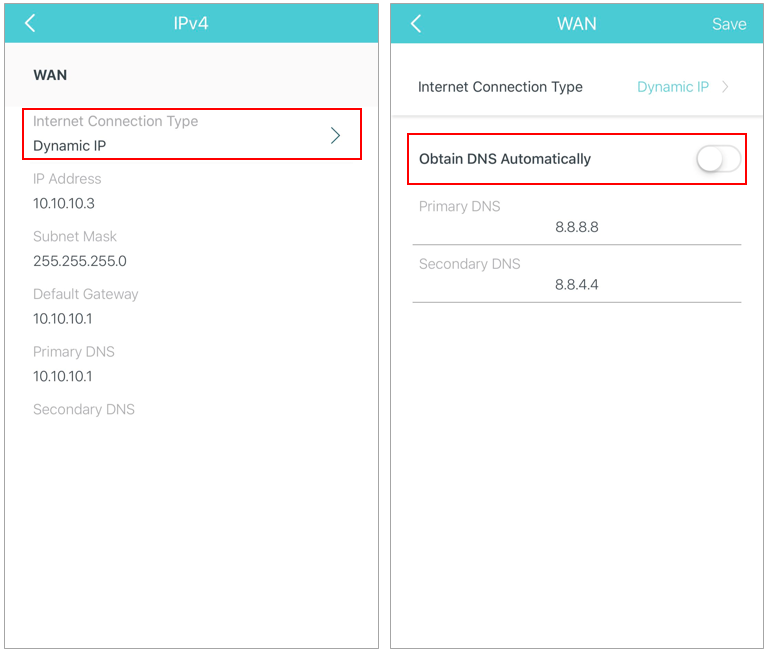 3, Click Save and the new DNS settings will take effect automatically.
Is this faq useful?
Your feedback helps improve this site.