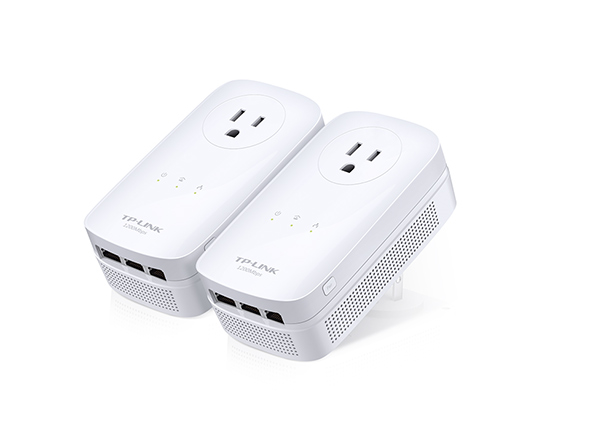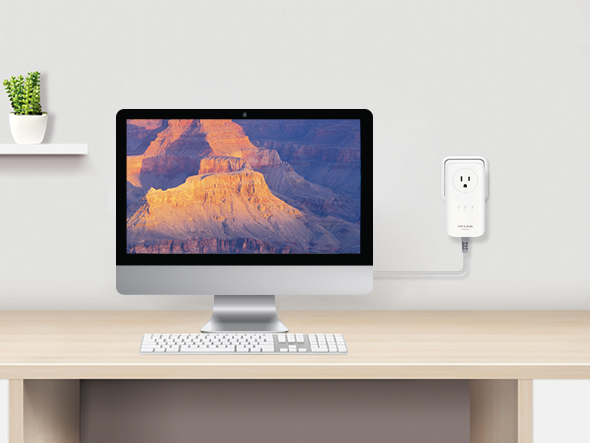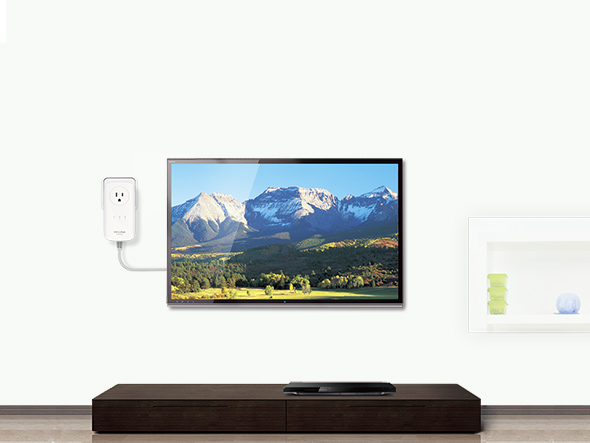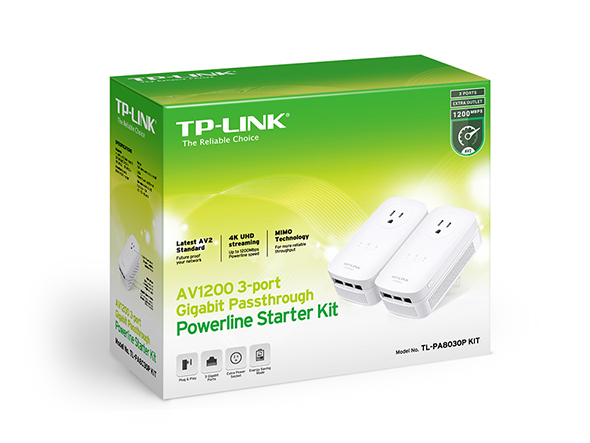 AV1200 3-Port Gigabit Passthrough Powerline Starter Kit
HomePlug AV2 standard compliant*
Line-Neutral/Line-Ground 2×2 MIMO with Beamforming ensures larger range, higher transmission capacity and more stable connections
3 gigabit ports create secure wired networks for desktops, smart TVs or games consoles
Integrated power socket ensures no power outlet goes to waste
Plug and play, no configuration required
Patented Power-Saving Mode automatically reduces power consumption by up to 85%**
AV1200!
Perfect for Bandwidth Demanding Activities
The TL-PA8030P KIT utilizes MIMO technology and Powerline Beamforming to expand coverage throughout the home. Ideal for bandwidth demanding activities like 4K Ultra-HD streaming, online gaming and large file transferring.
*The HomePlug AV2 MIMO technology significantly improves data transfer rates during peak time.
Line-Neutral/Line-Ground
with Beamforming
Wider Coverage
MIMO technology with Beamforming maximizes the performance on each independent stream to improve coverage throughout the home, particularly for previously hard to reach outlets.
Long Distance Long Distance
MIMOSISO
Higher Transmission Capacity with More Stability
MIMO transmits two independent data streams on three wire pairs, live, neutral and ground increasing total throughput. Powerline Beamforming optimizes overall performance and reduces interference to maximize data transfer rates.
Neutral Wire
Line Wire
Ground Wire
MIMOSISO
Note:
MIMO - Multi-input Multi-output
SISO - Single-input Single-output
3 Gigabit Ports
for Maximum Connectivity
The TL-PA8030P KIT transmits data over gigabit Ethernet ports, creating secure wired networks for true gigabit-class broadband speeds.* This makes the TL-PA8030P KIT well suited for audio and video streaming, online gaming, multi-room IPTV and other high-demand networking uses. It also provides five extra Gigabit ports so users simultaneously connect wired devices like smart TVs, media streaming devices, game consoles, external hard drives, or desktop computers to ensure maximum connectivity.
Game Console
4K TV
Computer
Plug and Play
Users can get their powerline network up and running by plugging the Powerline adapters into any available power outlet, eliminating the need for time-consuming and expensive renovations previously required to establish a whole-home or office wired Ethernet network.
Save Power Outlets for Other Uses
No longer will you need to sacrifice a power outlet for your Powerline devices. The TL-PA8030P KIT features an integrated power outlet with output of up to 16A*, so users can safely plug their high-power electrical appliances directly into the front of the Powerline unit. The built-in noise filter blocks out electrical signals and other noise, preventing any performance interference from external devices.
*Power output of up to 15A is suitable for high-power
electrical appliances to be connected.
Conserve Power by Up to 85%
Its sophisticated Power-Saving mode automatically switches from regular "Working" mode to "Power-Saving" mode when no data activity is being transferred on the Ethernet cable, greatly reducing energy consumption by up to 85%.
Working mode
Power-Saving mode
Related Products
TL-PA8030P

TL-PA8010P

AV1200 Gigabit Passthrough Powerline Starter Kit

TL-PA8010P KIT

HomePlug AV2 Standard

√

√

Powerline

AV1200

AV1200

Ethernet Port

3 Gigabit Ports

1 Gigabit Port

Extra Power Socket

√

√

One Button Security

√

√

Power Saving Mode

85%

85%
HARDWARE FEATURES
Plug Type
US
Standards and Protocols
HomePlug AV2, HomePlug AV, IEEE 1901, IEEE 802.3, IEEE 802.3u, IEEE 802.3ab
Interface
3 * Gigabit Ethernet Port, Power Socket
Button
Pair Button
Power Consumption
Maximum: 6W
Typical: 6W
Standby: 0.5W
LED Indicator
PWR, PLC, ETH
Dimensions ( W x D x H )
5.2×2.8×1.7 in. (131×72×42 mm)
Range
300 Meters over electrical circuit
Power Output to Integrated Socket
16 A
SOFTWARE FEATURES
Modulation Technology
OFDM (PLC)
Encryption
Powerline Security:
128-bit AES
OTHERS
Certification
FCC, RoHS
Package Contents
Powerline Ethernet Adapter
6.5 ft. (2 m) Ethernet cable (RJ45)
Quick Installation Guide
System Requirements
Windows 2000/XP/2003/Vista, Windows 7/8/8.1/10, Mac, Linux
Environment
Operating Temperature: 0°C~40°C (32°F ~104°F)
Storage Temperature: -40°C~70°C (-40°F ~158°F)
Operating Humidity: 10%~90% non-condensing
Storage Humidity: 5%~90% non-condensing
*The terms "AV1200" and "1200Mbps" are derived from applicable specifications and refer to the theoretical maximum physical-layer data transfer rate. Those terms are used on this product solely to indicate its compatibility with other "AV1200" or "1200Mbps" powerline devices. Actual data speeds vary and may be limited by the product's Ethernet port and other network conditions such as data traffic, electrical noise, and wiring issues. For better performance, powerline devices should be deployed on the same electrical circuit and rated for the same HomePlug standard. A minimum of two powerline devices are required to establish a powerline connection. If you are uncertain about your network conditions, you should consult an IT professional to assist in selecting a networking product.
**Actual power saved varies based on network conditions and environmental factors.