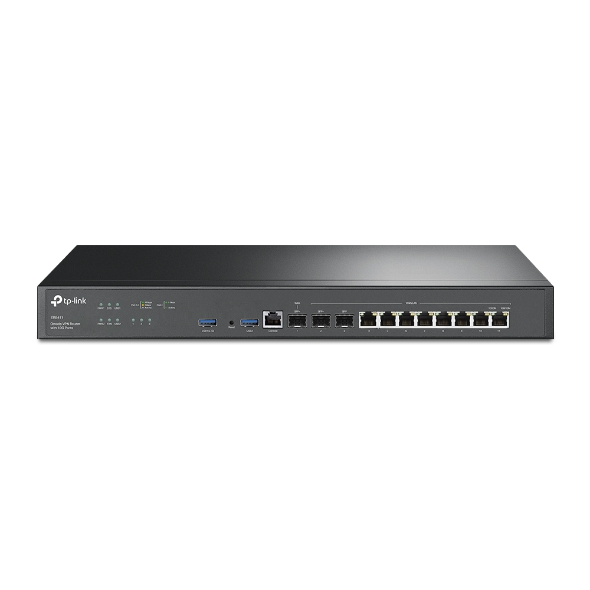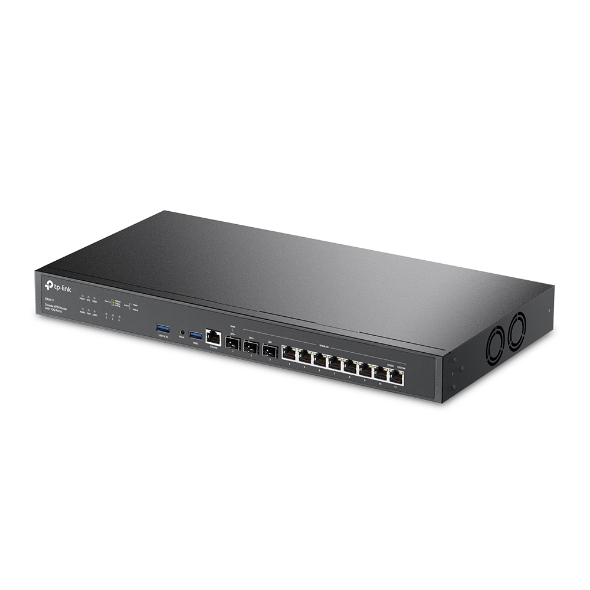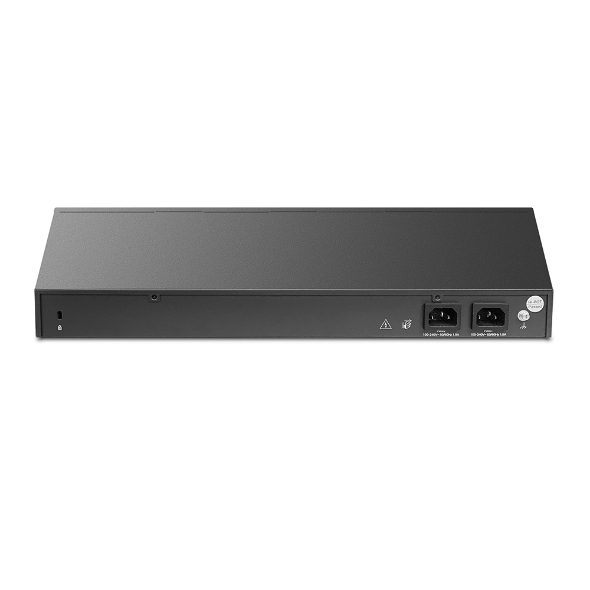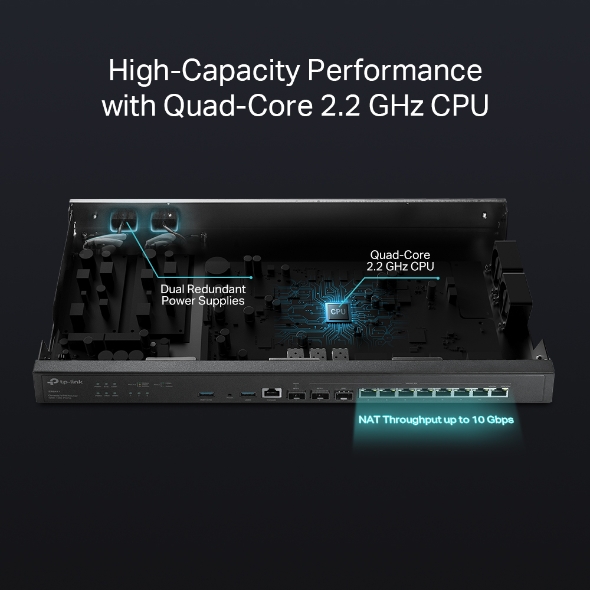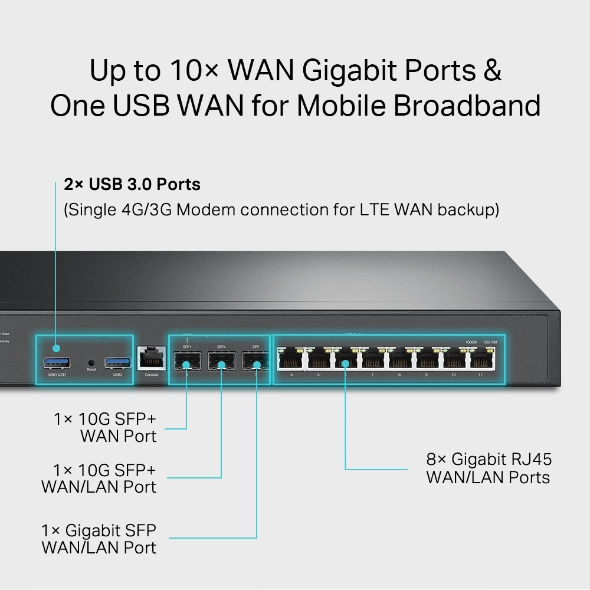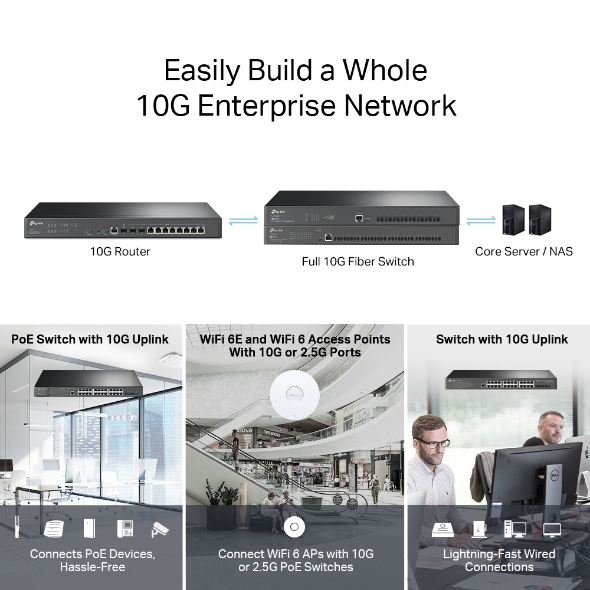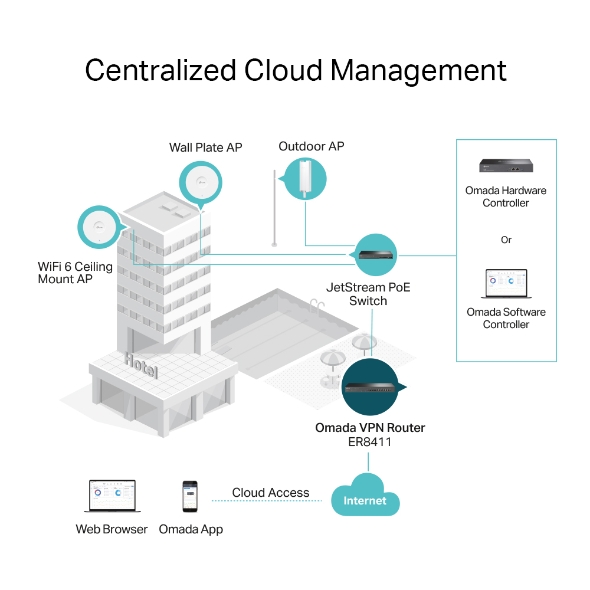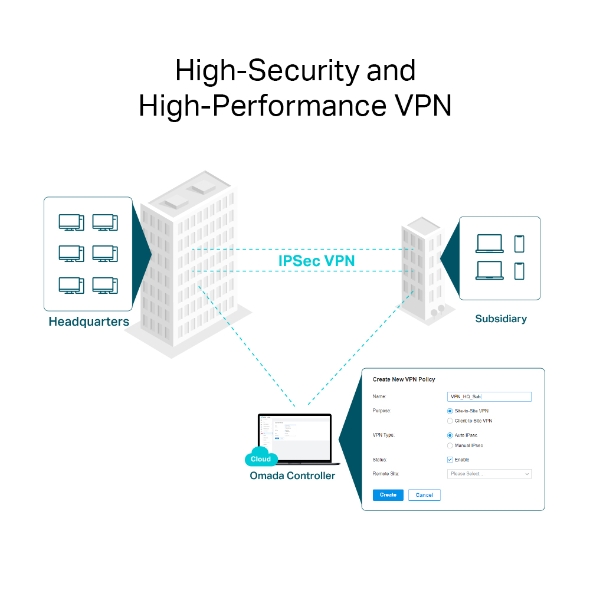 Omada VPN Router with 10G Ports
Integrated into Omada SDN: Zero-Touch Provisioning (ZTP)*3, Centralized Cloud Management, and Intelligent Monitoring.
Centralized Management: Cloud access and Omada app for ultra convenience and easy management.
Two 10GE SFP+ Ports: 1× WAN and 1× WAN/LAN 10GE SFP+ ports provide high-bandwidth aggregation connectivity.
Up to 10 WAN Ports: Fiber and RJ45 WAN ports with load balance raise the utilization rate of multi-line broadband 1.
Highly Secure VPN: Enterprise-standard SSL/ IPSec / PPTP / L2TP VPN & OpenVPN / L2TP over IPSec VPN are ideal for use across multiple branches and for WFH.
Abundant Security Features: Powerful Firewall, DoS defense, IP/MAC/URL filtering, and IP-MAC Binding, and One-Click ALG Activation provide world-class security.
Learn more about Omada Cloud SDN>​
HARDWARE FEATURES
Interface
• 2× 10GE SFP+ Ports (1 WAN, 1 WAN/LAN)• 1× 1GE SFP WAN/LAN Ports• 8× 1GE RJ45 WAN/LAN Ports• 1× RJ45 Console Ports• 2× USB Ports (Connecting 4G/3G Modem as WAN Backup)
Button
Reset Button
Power Supply
Redundant Dual Power Supplies (100–240 VAC, 50/60 Hz)
Flash
4MB SPI NOR + 256 MB NAND
DRAM
4 GB DDR4
LED
PWR, SYS, WAN, LAN, USB, FAN
Dimensions ( W x D x H )
17.3 × 8.7 × 1.7 in (440 × 220 × 44 mm)
Max Power Consumption
• 26.36 W (with USB 3.0 connected)• 19.12 W (without USB 3.0 connected)
PERFORMANCE
Concurrent Session
2,300,000
New Sessions /Second
20,000
NAT (Static IP)
• Upload: 9445.82 Mbps• Download: 9449.26 Mbps
NAT(DHCP)
• Upload: 9426.83 Mbps• Download: 9426.20 Mbps
NAT(PPPoE)
• Upload: 9413.96 Mbps• Download: 9102.01 Mbps
NAT (L2TP)
• Upload: 4230.62 Mbps• Download: 4169.53 Mbps
NAT (PPTP)
• Upload: 3933.86 Mbps• Download: 3821.97 Mbps
64 Byte Packet Forwarding Rate
• Upload: 1080 Mbps• Download: 1030 Mbps
IPsec VPN Throughput
• SHA1-AES256: 2140.45 Mbps• SHA2-AES256: 2080.20 Mbps
OpenVPN
1665.64 Mbps
L2TP VPN Throughput
• Unencrypted: 5013.50 Mbps• Encrypted: 2274.74 Mbps
SSL VPN Throughput
1511.10 Mbps
BASIC FUNCTIONS
WAN Connection Type
• Static/Dynamic IP• PPPoE• PPTP• L2TP• 6to4 Tunnel• Pass-Through• Mobile Broadband: 4G/3G modem for backup via USB port
MAC Clone
Modify WAN/LAN MAC Address*4
DHCP
• DHCP Server/Client• DHCP Address Reservation• Multi-net DHCP• Multi-IP Interfaces
IPv6
WAN Connection
VLAN
802.1Q VLAN
IPTV
IGMP v2/v3 Proxy
ADVANCED FUNCTIONS
ACL
IP/Port/Protocol/Domain Name Filtering
Advanced Routing
• Static Routing• Policy Routing
Bandwidth Control
• IP/Port-based Bandwidth Control• Guarantee & Limited Bandwidth
Load Balance
• Intelligent Load Balance• Application Optimized Routing• Link Backup (Timing*5, Failover)• Online Detection
NAT
• One-to-One NAT*5• Multi-Net NAT• Virtual Server• Port Triggering*5• NAT-DMZ• FTP/H.323/SIP/IPSec/PPTP ALG• UPnP
Security
• SPI Firewall• VPN Passthrough• FTP/H.323/PPTP/SIP/IPsec ALG• DoS Defence, Ping of Death• Local Management
Session Limit
IP-based Session Limit
VPN
SSL VPN
• SSL VPN Server• SSL VPN Client• 500 OpenVPN Tunnels
IPsec VPN
• 300 IPSec VPN Tunnels• LAN-to-LAN, Client-to-LAN• Main, Aggressive Negotiation Mode• DES, 3DES, SHA1, SHA2, AES128, AES192, AES256 Encryption Algorithm• IKE v1/v2• MD5, SHA1 Authentication Algorithm• NAT Traversal (NAT-T)• Dead Peer Detection (DPD)• Perfect Forward Secrecy (PFS)
PPTP VPN
• PPTP VPN Server• PPTP VPN Client (32)*6• 300 Tunnels (Shared with L2TP)• PPTP with MPPE Encryption
L2TP VPN
• L2TP VPN Server• L2TP VPN Client (32)*6• 300 Tunnels (Shared with PPTP)• L2TP over IPSec
OpenVPN
• OpenVPN Server• OpenVPN Client (10)*6• 110 OpenVPN Tunnels
SECURITY
Filtering
• WEB Group Filtering*5• URL Filtering• Web Security*5
ARP Inspection
• Sending GARP Packets*5• ARP Scanning*5• IP-MAC Binding*5
Attack Defense
• TCP/UDP/ICMP Flood Defense• Block TCP Scan (Stealth FIN/Xmas/Null)• Block Ping from WAN
Access Control
Source/Destination IP Based Access Control
AUTHENTICATION
Web Authentication
• No Authentication• Simple Password*2• Hotspot(Local User / Voucher*2 / SMS*2 / Radius*2)• External Radius Sever• External Portal Sever*2• Facebook Check-In*2• Instagram Follow*2
MANAGEMENT
Omada App
Yes. Requiring the use of OC300, OC200, Omada Cloud-Based Controller, or Omada Software Controller.
Centralized Management
• Omada Hardware Controller (OC300)• Omada Hardware Controller (OC200)• Omada Software Controller• Omada Cloud-Based Controller
Cloud Access
Yes. Requiring the use of OC300, OC200, Omada Cloud-Based Controller, or Omada Software Controller.
Service
Dynamic DNS (Dyndns, No-IP, Peanuthull, Comexe)
Maintenance
• Web Management Interface• Remote Management• Export & Import Configuration• SNMP v1/v2c/v3• Diagnostics (Ping & Traceroute)*5• NTP Synchronize*5• Syslog Support
Zero-Touch Provisioning
Yes. Requiring the use of Omada Cloud-Based Controller.
Management Features
• Automatic Device Discovery• Intelligent Network Monitoring• Abnormal Event Warnings• Unified Configuration• Reboot Schedule• Captive Portal Configuration
OTHERS
Certification
CE, FCC, RoHS
Package Contents
• Omada 10G Multi-WAN Security Gateway ER8411• Power Cord• Rack-Mount Kit• Quick Installation Guide
System Requirements
Microsoft Windows 98SE, NT, 2000, XP, Vista™ or Windows 7/8/8.1/10/11, MAC OS, NetWare, UNIX or Linux
Environment
• Operating Temperature: 0–40 ℃ (32–104 ℉);• Storage Temperature: -40–70 ℃ (-40–158 ℉)• Operating Humidity: 10–90% RH non-condensing• Storage Humidity: 5–90% RH non-condensing
1. At least one WAN/LAN port needs to function as a LAN port.
2. These functions require the use of Omada Hardware Controller, Software Controller, or Cloud-Based Controller.
3. Zero-Touch Provisioning requires the use of Omada Cloud-Based Controller. Please go to Omada Cloud-Based Controller Product List to find all the models supported by Omada Cloud-Based Controller.
4. LAN MAC Address can be modified only in Standalone Mode.
5. These functions are supported only in Standalone Mode.
6. ER8411 can work as a VPN client and can connect with up to 32 PPTP/L2TP VPN servers and 10 OpenVPN servers.