How to troubleshoot if there is no internet access under 3G/4G Router mode on Deco Router
There are different situations in relation to the no internet issue, please refer to the steps below to locate the problem and troubleshoot it according to the corresponding suggestions.
Things you should be aware of before troubleshooting on our products:
Make sure the SIM card works fine when using with smartphone or another 4G Router,
When testing the SIM card on smartphone, please enable hotspot on the phone, then connect another wireless client to the phone hotspot to see if internet works
Please confirm your SIM plan with your carrier to see if it is limited to use for phone/tablet only, or is only allowed to work on specific 4G modem/router supplied by the carrier, if so, it will not work on any third-party devices
Please check the network type and bands supported by your SIM card, then compare it with the Deco router to see if they are compatible, if not, there will be no service at all.
For example, Deco X20-4G(EU) V1 supports the following network type and bands:
4G:
FDD-LTE: B1/B3/B5/B7/B8/B20/B28(2100/1800/850/2600/900/800/700 MHz)
TDD-LTE: B38/B40/B41(2600/2300/2500 MHz)
3G:
DC-HSPA+/HSPA/UMTS B1/B5/B8 (2100/850/900 MHz)
Troubleshooting
Connect your phone to the Deco Wi-Fi, Launch Deco App, check internet status via Globe icon on OVERVIEW page, and then go to More->Advanced->Internet page to check more information about the internet settings and status.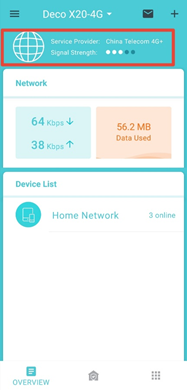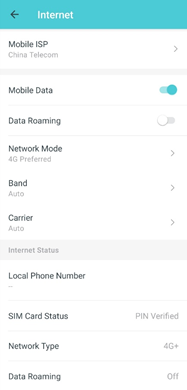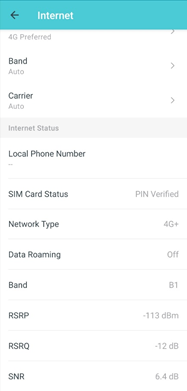 Case 1: SIM Card cannot be detected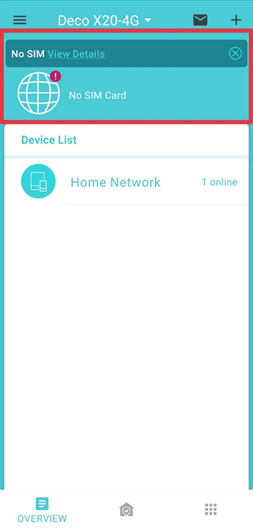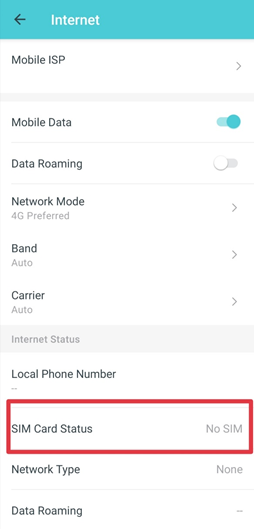 Solution:
1) Make sure that your SIM card is inserted correctly into the SIM card slot
2) Try to unplug the SIM card and insert it again
3) Reboot the Deco unit with SIM card already in
4) Try a different SIM card if available
Case 2: PIN Required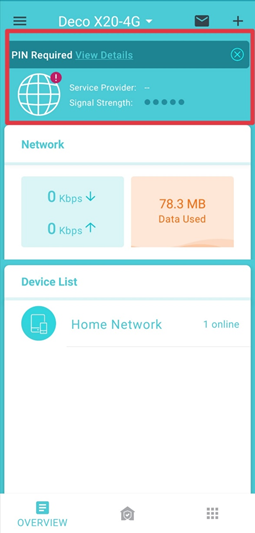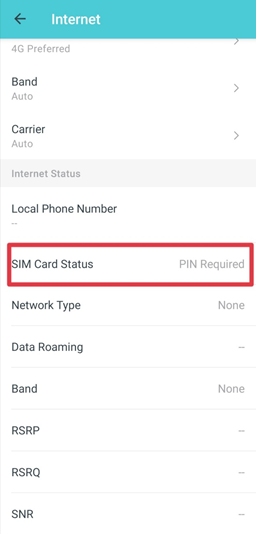 Solution:
1) Tap "View Details" on OVERVIEW page or go to More->Advanced->PIN Management page, tap "UNLOCK SIM CARD" to enter the PIN code of your SIM card.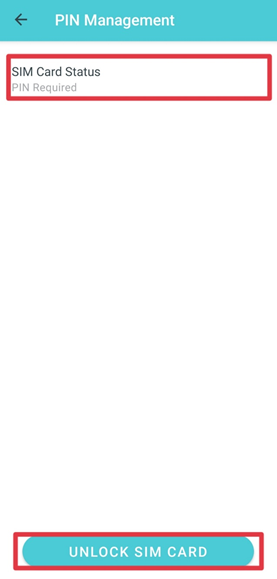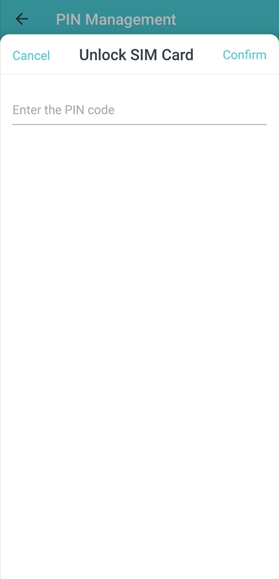 Note: If you are not sure about your PIN code, please do not keep trying, or your SIM card will be locked and PUK code will be required. Please contact your SIM card carrier to get your PIN or PUK code if necessary.
2) In order to avoid entering the PIN code every time when you reboot the Deco or reinsert the SIM card, you could also disable the PIN code or enable Auto-Unlock PIN: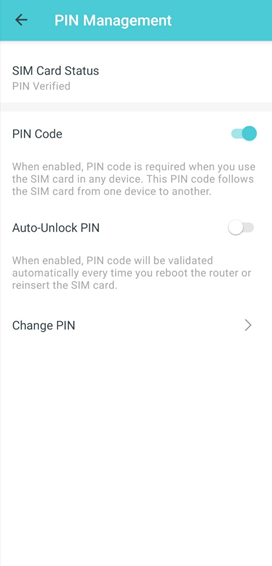 Case 3: Default APN Profile for your SIM card is incorrect or no default APN Profile listed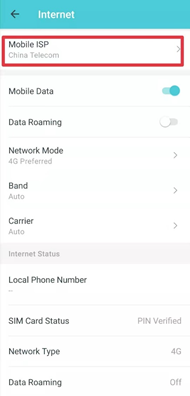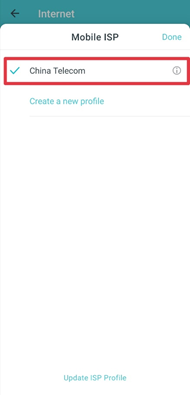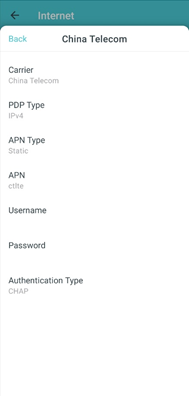 Solution
Create a new profile and enter APN, username, password and authentication type manually, if you are not sure the correct settings, contact your SIM card carrier to confirm it.
In addition, please also make sure Mobile Data is enabled, for more details about the Internet settings, please refer to this FAQ.
Case 4: You have exceeded the data usage limit you set
If you tap the Globe icon on the top, then tap the main Deco, you will see the related message as well.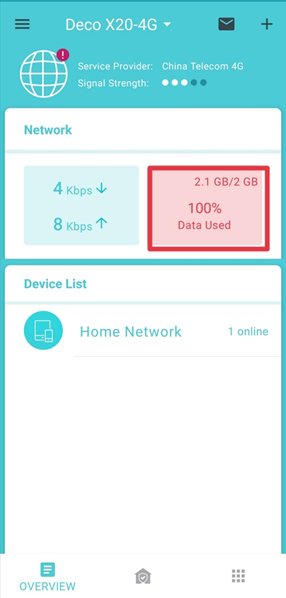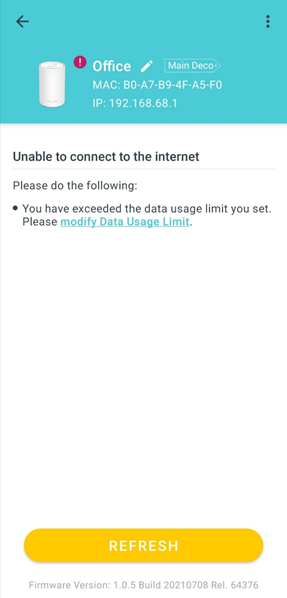 Solution
Tap the data usage statistics on the OVERVEIW page or tap "modify Data Usage Limit" or go to More->Data Settings page to modify the data settings or data usage limit.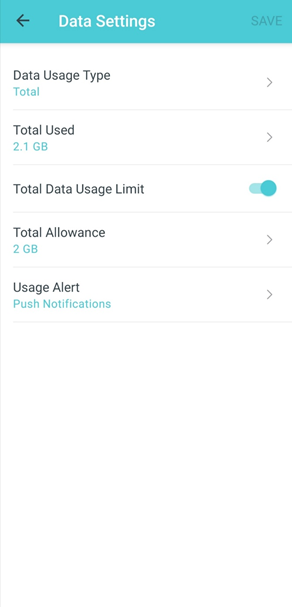 Case 5: SIM card has been detected, no PIN required, but Service Provider shows "--"and no service at all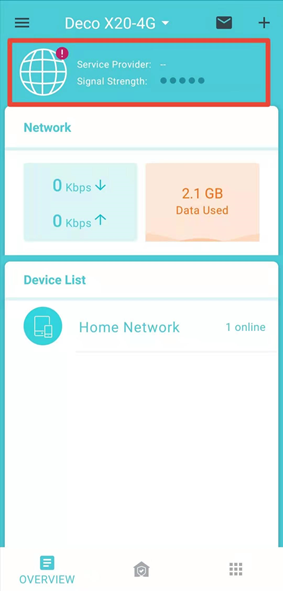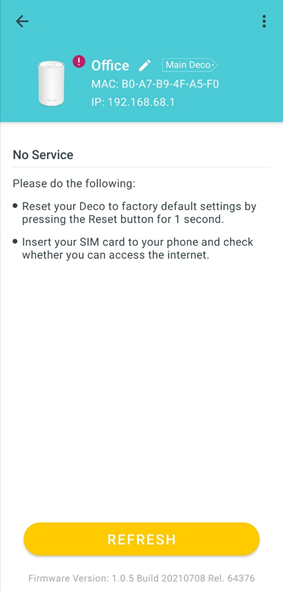 If
If you check Advanced->Internet page, you will see Network Type and Band are all "None" and no signal strength related parameters such as RSRP etc.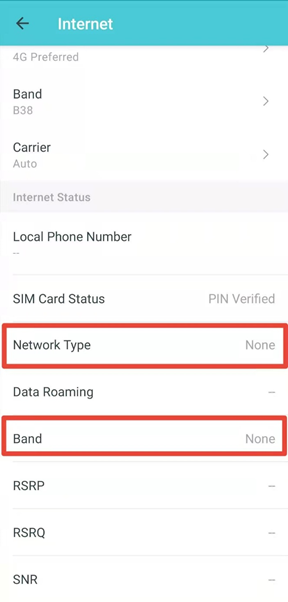 Solution
1) Make sure Network Type is on "4G Preferred", Band and Carrier are on "Auto"
2) Try to factory reset the Deco by pressing the reset hole for one second
3) Insert the same SIM card into another 4G device to check if it receives good 4G signal and if internet works fine
4) Try to change Carrier from "Auto" to "Manual" to search carrier manually to see if your carrier is available or not
5) Double check the network type and bands supported by your SIM carrier in your area, then check if it is compatible with the Deco router
If the problem is still not resolved after all the above troubleshooting, please contact TP-Link Technical Support and provide detailed information:
1) Model number, hardware, and firmware version
2) Your country, SIM card carrier
3) Screenshots of the OVERVIEW page, Advanced->Internet page, and also your APN Profile Settings page
4) Troubleshooting you've done before and what the results were for each step
To get to know more details about each function and configuration please go to ​Download Center to download the manual of your product.
Finden Sie diese FAQ hilfreich?
Mit Ihrer Rückmeldung tragen Sie dazu bei, dass wir unsere Webpräsenz verbessern.
Newsletter abonnieren Für TP-Link ist Datenschutz sehr wichtig. Weitere Informationen zu unseren Datenschutzbedingungen finden Sie in der Datenschutzerklärung von TP-Link.
Von United States?
Erhalten Sie Produkte, Events und Leistungen speziell für Ihre Region