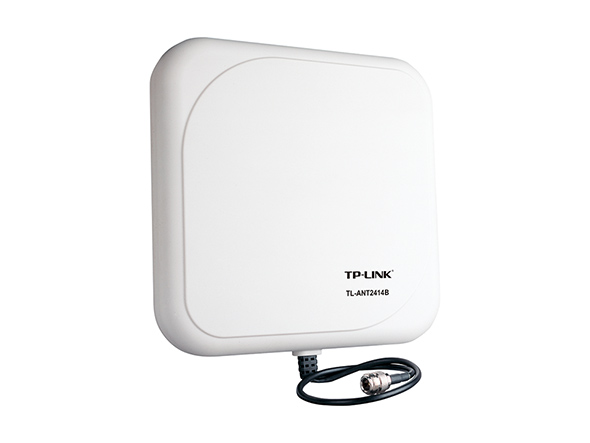 2,4GHz-14dBi-Outdoor-Richtstrahlantenne
Der 14dBi-Richtstrahlbetrieb stellt eine verlängerte Point-to-Point-Verbindung oder die Abdeckung von Innen- und Außenbereichen sicher.
Wird mit einem 100cm-CFD-200-Lowloss-Kabel für einen flexiblen Einsatz geliefert.
N-Male-Anschluss, funktioniert mit den meisten Accesspoints/WLAN-Routern
Montagekits werden für eine einfachere Installation mitgeliefert.
Produktfunktionalitäten
Die Richtantenne TL-ANT2414B arbeitet im 2,4GHz-Band und bietet 14dBi Antennengewinn, der die Reichweite des WLANs erheblich vergrößert und eine viel bessere WLAN-Performance liefert. Die Antenne verfügt über einen N-Male-Anschluss, der eine gute Kompatibilität zu den meisten WLAN-Geräten sicherstellt. Das wetterfeste Design stellt sicher, dass die Antenne auch in anspruchsvollen Outdoorlösungen normal funktionieren kann.

Genießen Sie die Vorteile der Wireless-Konnektivität bei größeren Entfernungen und Durchsatz in Ihrem Outdoor-WLAN. Keine Konfigurations- oder Installationssoftware erforderlich.
Einfache Handhabung
Die Installation der TL-ANT2414B ist kinderleicht. Sie ist kompatibel zu den meisten WLAN-Geräten (Accesspoints, Router, Bridges und Netzwerkadapter) die mit abnehmbaren externen Antennen auf dem Markt sind.
ADINET WISP in Indonesia

TP-Link Helps Local WISP Provide Long Distance Wireless Connectivity in Indonesia

ADINET WISP in Indonesia

TP-Link Helps Local WISP Provide Long Distance Wireless Connectivity in Indonesia

"Amazing! The performance of the Pharos Wireless Broadband Solution has exceeded even our wildest expectations." —Bagus Prakoso, Owner of ADINET
ANTENNE
Frequenz
2,4GHz
Gewinn
14dBi
Maximales Stehwellenverhältnis (VSWR)
1,5:1
Strahldurchmesser horizontale Polarisierung
30
Strahldurchmesser vertikale Polarisierung
30
Polarisierung
Linear, vertikal
Typ
Richtantenne
Steckertyp
N männlich
Verlängerungskabel/Länge
CFD-200
100cm
Montage
Gestellmontage/Wandmontage
Anwendung
Outdoor
Ungefähre Reichweite bei 1/11/54Mbps
5km/3km/440m
Optionales Zubehör
TL-ANT24EC6N
TL-ANT24EC12N
TL-ANT24SP
TL-ANT24PT
Lieferumfang
14dBi-Panel-Außenantenne
Installations- und Montagekits
Bedienungsanleitung
Newsletter abonnieren Für TP-Link ist Datenschutz sehr wichtig. Weitere Informationen zu unseren Datenschutzbedingungen finden Sie in der Datenschutzerklärung von TP-Link.
From United States (English)?
Check products and services for your region.