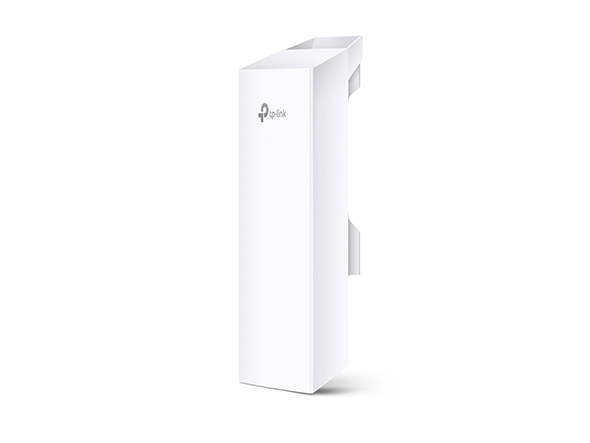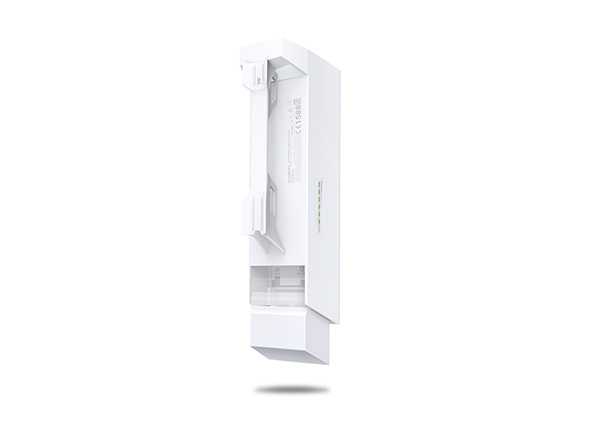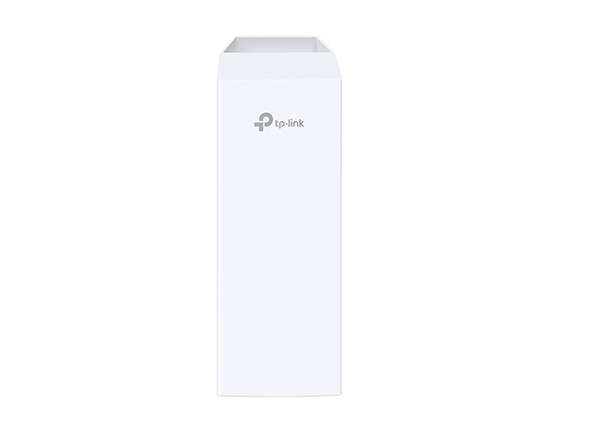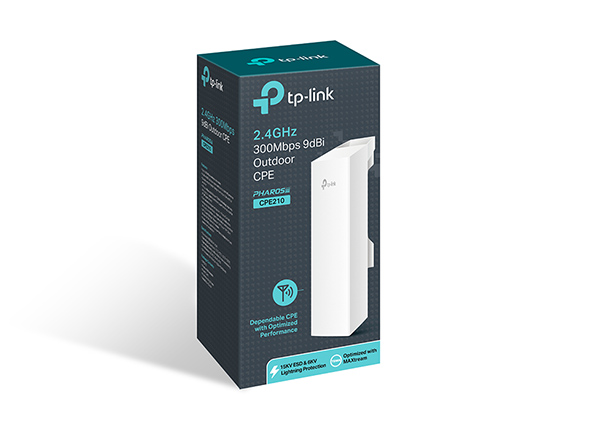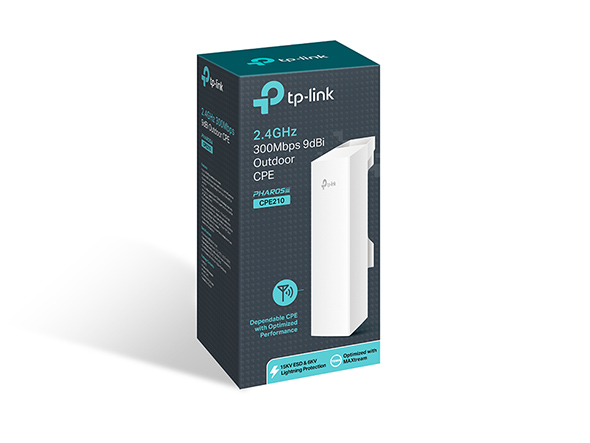 CPE210
2,4GHz-300Mbit/s-9dBi-Outdoor-Accesspoint
2 interne dualpolarisierte 9dBi-Richtantennen für 2*2-MIMO
Sendeleistung bis zu 500mW (27dBm) für große Übertragungsdistanzen
Geeignet für Langstreckenübertragungen (weiter als 5km)
TP-LINKs Pharos-MAXtream-TDMA(Time-Division-Multiple-Access)-Technik verbessert Durchsatz, Übertragungskapazität und Latenz, ideal für PTMP-Applikationen
Zentrales Management-System "Pharos Control"
Betriebsarten: AP / Client / AP-Router / AP-Client-Router (WISP-Client)
Unterstützt passives PoE bis zu 60m sowie einen Remote-Neustart
2,4GHz-300Mbit/s-9dBi-Outdoor-Accesspoint
TP-Links 2,4GHz-300Mbit/s-9dBi-Outdoor-Accesspoint CPE210 ist die kostengünstige Lösung für ein Outdoor WLAN-Netzwerk. Dank dem zentralen Managementsystem ist der CPE210 optimal für die Punkt-zu-Punkt-, Punkt-zu-Multipunkt- sowie Outdoor WLAN-Abdeckung. Ausgestattet mit professioneller Technik und benutzerfreundlichem Design ist der CPE210 Ideal für Business- und Privatanwender..
Enterprise Hardware für
höchste Ansprüche
Mit Chipsätzen von Qualcomm Atheros, High-Gain-Antennen, wetterfestem Gehäuse und PoE-Unterstützung ist der CPE210 ideal für Outdoor-Anwendungen. Er kann unter fast allen Wetterbedingungen problemlos eingesetzt werden. Er funktioniert auch in schwierigen Arbeitsumgebung, von -40℃ (-40℉) bis +70 ℃ (158℉).
650MHz-CPU von Qualcomm/Atheros
Hohe Sendeleistung und hohe Empfängerempfindlichkeit
Fortschrittliches Antennensystem
Integrierte High-Gain-Antennen
Metallreflektor sichert Hochleistung und Eliminiert Interferenzen
Horizontal Erhöhung
Horizontal Azimutwinkel
Vertical Erhöhung
Vertical Azimutwinkel
Mehr als 5km Reichweite
Mit hoher Sendeleistung und Empfängerempfindlichkeit erreicht die WLAN-Abdeckung für den CPE210 mehr als 5km (im Feldtest bestätigt).
5km+
TP-Links MAXtream-TDMA-Technologie
Dank TP-Links MAXtream-TDMA-Technologie wird effektiv verhindert, dass bei steigender Übertragungsstrecke der Einfluss von Störquellen auf das WLAN-Signal zunimmt. Im Gegensatz zu herkömmlichen Outdoor-Accesspoints wird der Nutzdatendurchsatz bei Überbrückung großer Distanzen nicht verringert.
Gesamtdurchsatz*
MAXtream TDMA Mode
802.11 CSMA Mode
Der tatsächliche Durchsatz kann je nach Umgebungsfaktoren varrieren.
Anzahl verbundener Geräte
Pharos Control – Das zentrale Managementsystem
Das zentrale Managementsystem Pharos Control kann alle PharOS-Geräte in Ihrem Netz kinderleicht von einem PC aus kontrollieren. Es beinhaltet auch die folgenden Funktionen wie Gerätesuche, Statusmonitor, Firmware-Upgrade und Netzwartung.
PharOS
Webbasierte benutzerfreundliches Design für professionelle und benutzergerechte Konfiguration.
2,4GHz-300Mbit/s-9dBi-Outdoor-Accesspoint;
CPE210
AP / Client / AP-Router /
AP-Client-Router (WISP-Client) Arbeitsmodi

Wetterfestes Gehäuse

Unterstützt passives PoE
Integrierte dualpolarisierte
9dBi-Richtantennen

6000v-Blitzschutz

15kV-ESD-Schutz
Wireless Networking for Elevators

TP-Link offers wireless point to point link delivering up to 300 Mbps throughput. The point to point link provides wireless coverage to the entire shaft, and delivers network to the elevator car, connecting the surveillance cameras or digital signage. So that real time video can be recorded to a DVR without hard wiring coax cable directly from the camera to the recorder.

Easy, Flexible Installation
Stable Connections at High-Speeds
Ideal for Elevator Camera
No Complex Cabling
PoE Support
ADINET WISP in Indonesia

TP-Link Helps Local WISP Provide Long Distance Wireless Connectivity in Indonesia

ADINET WISP in Indonesia

TP-Link Helps Local WISP Provide Long Distance Wireless Connectivity in Indonesia

"Amazing! The performance of the Pharos Wireless Broadband Solution has exceeded even our wildest expectations." —Bagus Prakoso, Owner of ADINET
HARDWARE-FUNKTIONEN
Prozessor
AR9350B (Qualcomm/Atheros) mit 650MHz und MIPS 74Kc
Speicher
64MB DDR2-RAM
8MB Flash-Speicher
Schnittstelle
1 abgeschirmter 10/100 Mbit/s-Ethernet-Port (LAN0, Passive-PoE-Eingang)
1 Erdungsanschluss
1 Reset-Taste
Spannungsversorgung
Passives PoE über LAN0 (+ auf Pins 4 und 5, - auf Pins 7 und 8)
Spannungsbereich: 16..27V Gleichspannung
Energieverbrauch
Max. 10,5W
Hinweis: Bei Verwendung von Passivem PoE hängt der Verbrauch von der Kabellänge ab.
Abmessungen (B*T*H)
224mm*79mm*60mm
Antennentyp
2 interne dualpolarisierte 9dBi-Richtantennen für 2*2-MIMO
Öffnungswinkel: 65° (H-Plane) / 35° (E-Plane)
Hinweis: Weitere Details finden Sie im Datenblatt.
Schutz
ESD bis zu 15kV
Blitzschlag bis zu 6000V
Abdeckung
Outdoor-Gehäuse aus ASA-stabilisiertem Kunststoff
IPX5-zertifizierter Wasserschutz
WLAN-FUNKTIONEN
WLAN-Standards
IEEE802.11b/g/n (wenn Pharos MAXtream deaktiviert ist)
Proprietäres Protokoll
TDMA (wenn Pharos MAXtream aktiviert ist)
WLAN-Geschwindigkeiten
Bis zu 300 Mbit/s (40MHz, dynamisch)
Bis zu 144,4 Mbit/s (20MHz, dynamisch)
Bis zu 72,2 Mbit/s (10MHz, dynamisch)
Bis zu 36,1 Mbit/s (5MHz, dynamisch)
Frequenz
2,4..2,483GHz
Hinweis: Die tatsächlich verfügbaren Frequenzen können durch gesetzliche Regelungen am Betriebsort eingeschränkt sein.
Empfängerempfindlichkeit
• 802.11b:
11M: -95dBm, 5.5M: -96dBm, 2M: -96dBm, 1M: -96dBm
• 802.11g:
54M: -79dBm, 48M: -80dBm, 36M: -84dBm, 6-24M: -88dBm
• 802.11n:
MCS15: -76dBm, MCS14: -78dBm, MCS13: -80dBm,
MCS12: -84dBm, MCS11: -87dBm, MCS10: -91dBm,
MCS9: -93dBm, MCS8: -96dBm, MCS7: -76dBm,
MCS6: -78dBm, MCS5: -80dBm, MCS4: -84dBm,
MCS3: -87dBm, MCS2: -91dBm, MCS1: -93dBm, MCS0: -96dBm
Sendeleistung
11dBm/12.58mW (in 1dBm-Schritten einstellbar)
Hinweis: Die maximale Sendeleistung kann durch gesetzliche Regelungen am Betriebsort eingeschränkt sein.
SOFTWARE-FUNKTIONEN
WLAN-Konfiguration
Pharos-MAXtream-TDMA-Technik
802.11b/g/n
Kanalbreite: 5, 10, 20 oder 40MHz
Automatische Kanalwahl
Transmission Power Control
Dynamic Frequency Selection (DFS)
WDS ein/aus
Sicherheit: WPA/WPA2, WPA-PSK/WPA2-PSK (AES/TKIP), WEP mit 64, 128 oder 152 Bit
SSID-Aussendung steuerbar
Multi-SSID mit VLAN-Tagging (nur im AP-Modus)
Distanzeinstellung/ACK-Timeout konfigurierbar
MAC-Adressenfilterung
Erweiterte Funktionen:
Ortungsintervall/RTS-Grenzwert/Fragmentierungsgrenzwert/DTIM-Intervall/AP-Isolierung/Short-GI/WiFi-Multimedia (WMM)
Verwaltung
Gerätesuche und Fernwartung über die Applikation "Pharos Control"
Webmanagement über HTTP/HTTPS
Systemprotokoll
SNMP-Agent(v2c)
Ping-Watchdog
Dynamisches DNS
SSH-Server
Systemtools
Signalqualitätsanzeige:
Stärke/Rauschen/Sende-CCQ/CPU/Speicher
Weitere Anzeigen: Durchsatz/Clients/Interfaces/ARP/Routen/WAN/DHCP
Spectrum-Analyzer
Speedtest
Ping
Traceroute
Optimierungen auf Systemebene
Optimiertes IGMP-Snooping/Proxy für Multicast-Applikationen
Hardware-Watchdog
FUNKTIONEN VON POE-ADAPTERN
Abmessungen (B*T*H)
110mm*57mm*33,5mm
Schnittstellen
1 AC-Buchse mit Erdungsanschluss
1 geschirmter 10/100 Mbit/s-Ethernetport (Power + Daten)
1 geschirmter 10/100 Mbit/s-Ethernetport (Daten)
Taste
Remote-Reset
Power-Status-LEDs
0..0,8A: Grün
0,8..1A: Rot
Eingang
100..240V/50..60Hz-Wechselspannung
Eingangsspannung
100..240V/50..60Hz-Wechselspannung
Stromaufnahme
Maximal 0,8A bei 100V Wechselspannung
Ausgang
24V/1A-Gleichspannung
+ auf Pins 4 und 5, - auf Pins 7 und 8.
(PoE-Übertragungsdistanz bis zu 60m)
Ausgangsspannung
24V-Gleichspannung
+ auf Pins 4 und 5, - auf Pins 7 und 8.
Effizienz
> 80%
Zertifizierungen
CE/FCC/UL/IC/GS/PSB/C-tick/SAA/S-Mark/KC
SONSTIGES
Zertifizierung
CE
FCC
RoHS
IPX5
Verpackungsinhalt
Drahtloser Outdoor-Accesspoint
Adapter für Passives PoE (24V/0,6A)
Kabelbinder für Mastmontage
Spannungskabel
Installationsanleitung
Systemanforderungen
Microsoft Windows 98SE, NT, 2000, XP, Vista™, 7, 8 oder 10
MacOS
NetWare
UNIX
Linux
Webbrowser: Google Chrome, Apple Safari oder Mozilla Firefox. Der Internet Exploder wird nicht empfohlen.
Umgebung
Betriebstemperatur: -40°C..70°C
Lagertemperatur: -40°C..70°C
Betriebsfeuchtigkeit: 10%..90%, nicht kondensierend
Lagerfeuchtigkeit: 5%..95%, nicht kondensierend
Newsletter abonnieren Für TP-Link ist Datenschutz sehr wichtig. Weitere Informationen zu unseren Datenschutzbedingungen finden Sie in der Datenschutzerklärung von TP-Link.
From United States (English)?
Check products and services for your region.