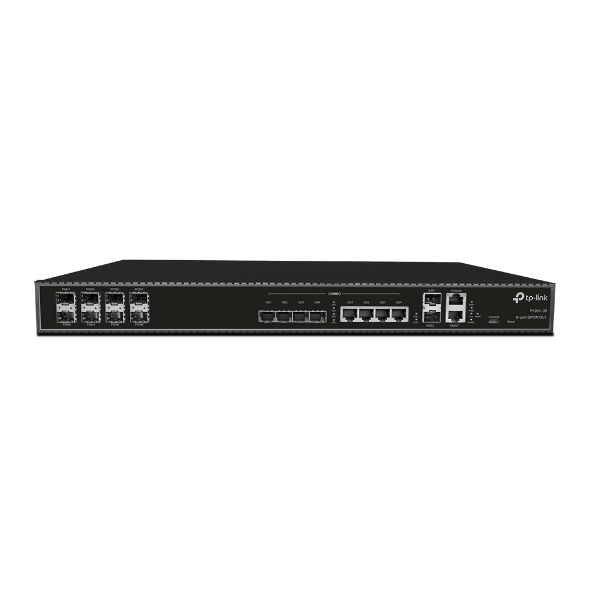 Compact design provides more flexibility than big chassis for medium and small operators.
Supports 1:128 splitting ratio, 1024 ONTs can be supported by one device;
Dual redundant power supply design provides carrier-class reliability, supports AC, DC or mixed power input.
Complete L2 functions can meet the requirement for different applications.
Supports ITU-T G.984.4/G.988 standard OMCI, can manage the ONTs remotely.
Provides console and dedicate management port for out-band managements.
Supports SNMP, can be managed by TP-Link PON Element Management System.
8 GPON Ports,
Supports 1024 ONUs
The P1201-08 supports 8 GPON ports at most, and it can served 1024 subscribers simultaneously. (by 1:128 splitting ratio)
GPON OLT EMS Software
Free Centralized Management
Free

No Additional Expense

CLI

Improve Management Efficiency And Reduce Maintenance Costs
TP-Link GPON OLT EMS

TP-Link GPON OLT User Manual And Configuration Guide

Compact size, Flexible Deployment
The P1201-08 is 1U 19 inch rack mount product, flexible and easy to deploy, suitable for different application scenarios.
19 inches
Gigabit Uplink Ports
TP-Link P1201-08 provides 4 Gigabit Combo (RJ45+SFP) uplink ports and two 10G SFP+ ports.
Dual Power Supply Backup to Ensure Reliable Operation of Equipment
Dual redundant power supply design provides carrier-class
reliability, supports AC, DC or mixed power input.
• AC input: 100V~240V 50/60Hz
• DC input: -36V~-72V
• Build-in
TÍNH NĂNG PHẦN CỨNG
Service Port
8*PON port (SFP Slot)
Management Port
1*RJ45 Console port1*USB Type-C console port1*100/1000BASE-TX out-band management port
Redundancy Design
Dual power supply SupportAC, DC, AC+DC power input
Số lượng quạt
4
Bộ cấp nguồn
AC: 90V~240V, 50/60HzDC: -36V~-72V
Điện năng tiêu thụ
Max. 70W
Công suất truyền
Class B+: 1.5dBm~5dBmClass C+: 3dBm~7dBm
Khối lượng
4kg
Tốc độ dữ liệu
Downstream: 2.5GbpsUpstream: 1.25Gbps
Kích thước ( R x D x C )
440mm(L)*391mm(W)*44mm(H)
Khoảng cách truyền
20km
Bước sóng
Tx: 1490nmRx: 1310nm
TÍNH NĂNG PHẦN MỀM
PON Features
Compatible with ITU-T G.984.x, G.988 standardsStandard OMCI management functionSupport 1:128 splitting ratio for each PON portSupport AES 128 encryption for uplink and downlink data transmission.DBA algorithm, support 5 DBA types ONU management (remote configuration, upgrade, monitor)ONU authentication
Multicast
IGMP v1/v2 snoopingIGMP fast leaveIGMP snooping querierMulticast VLAN
Chất lượng dịch vụ
Support 802.1p QoS4 priority queuesPriority schedule mode: SP, WRRSupport basic ACL, advance ACL and link ACLBasic ACL: source IPAdvance ACL: source IP, destination IP, source port, destination port, DSCP and IP message typeLink ACL: source MAC, destination MAC, VLAN ID, Ethernet typeSupport 802.1p priority, VLAN ID, TOS, DSCP remark.
VLAN
VLAN ID: 1~4094Support 802.1q VLANThe ports support Access, Trunk and Hybrid modeSupport PVID configurationSupport QinQSupport VLAN translation
Quản lý
Support CLI managementSupport dual imageSupport EMS management based on SNMPConsole port, Management portInbound and outbound managementOperation Status monitor2 levels account managementConfiguration backup and loadFirmware upgrade through FTPLog managementReal-time statisticOLT and ONT optical module diagnostics
DHCP
DHCP Client, DHCP Snooping
Spanning Tree
RSTP
KHÁC
Môi trường
Operating temperature: 0℃~50℃Storage temperature: -40℃~85℃Operating Humidity: 5%~90% non-condensingStorage Humidity: 5%~90% non-condensing
Đăng kýTP-Link takes your privacy seriously. For further details on TP-Link's privacy practices, see TP-Link's Privacy Policy.
From United States?
Get products, events and services for your region.