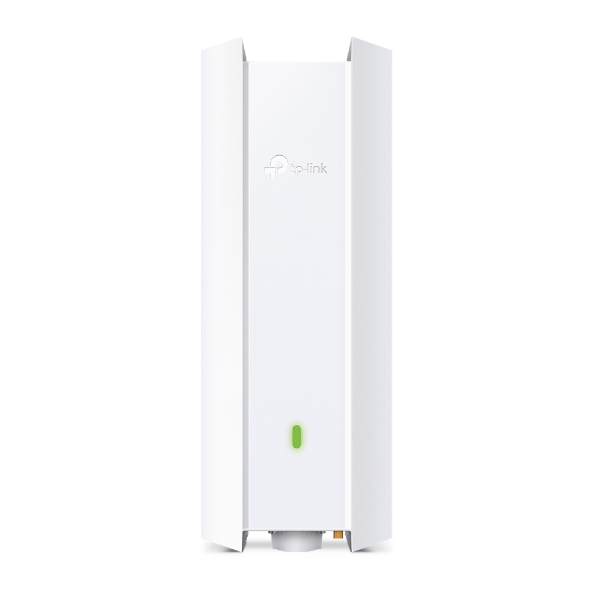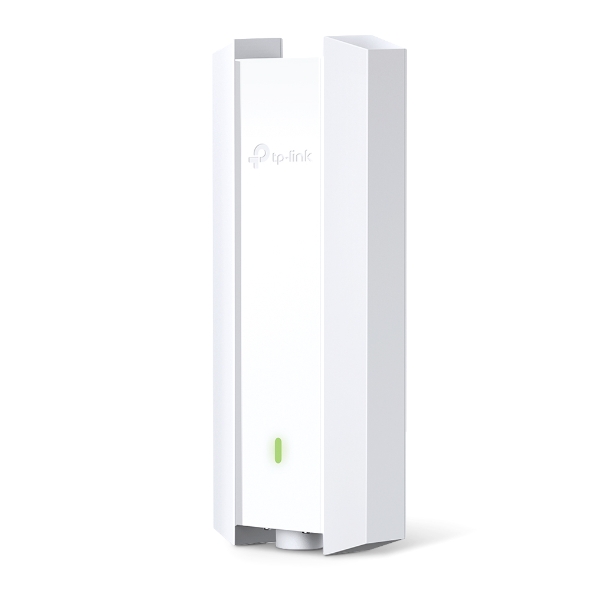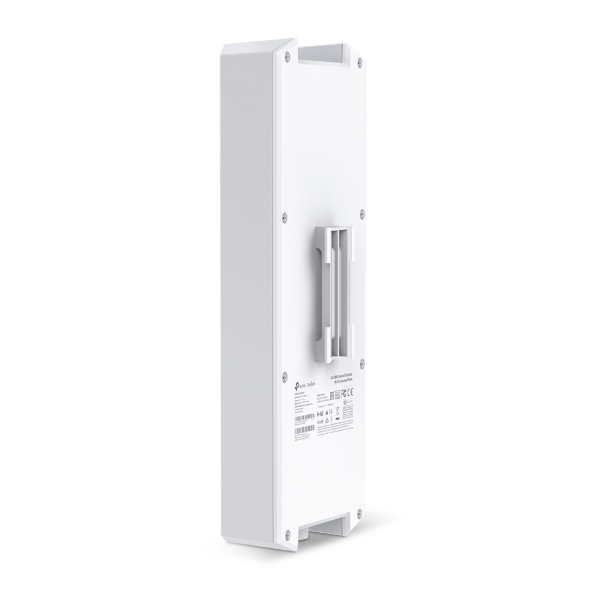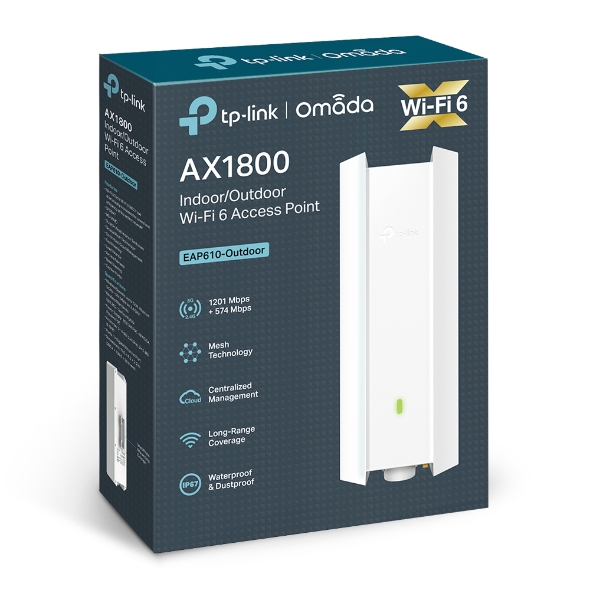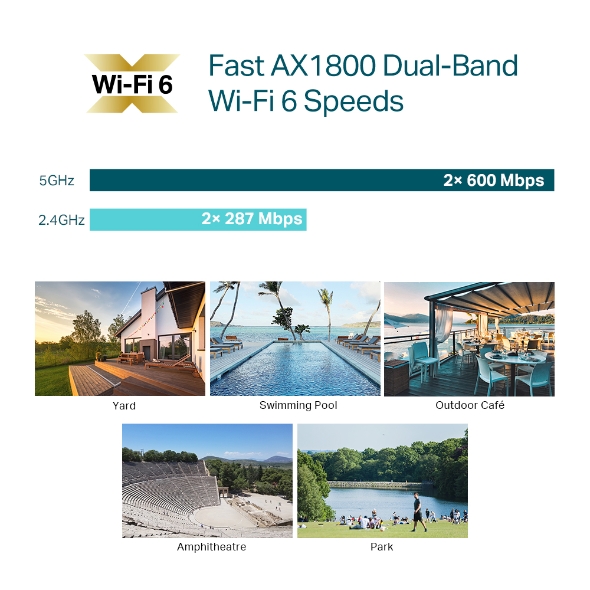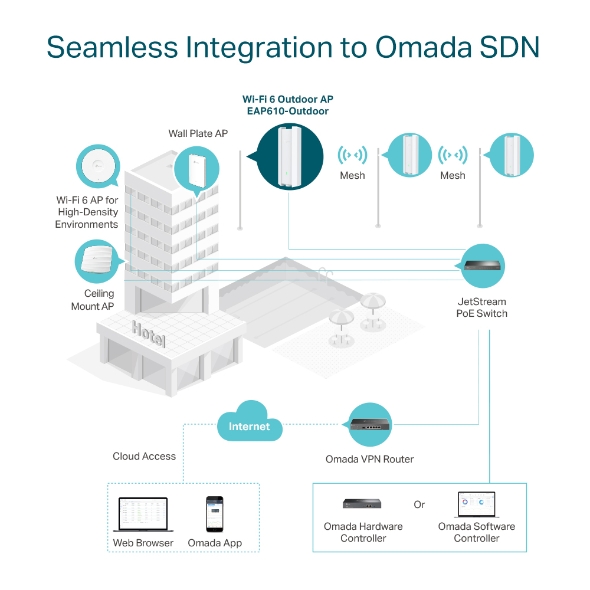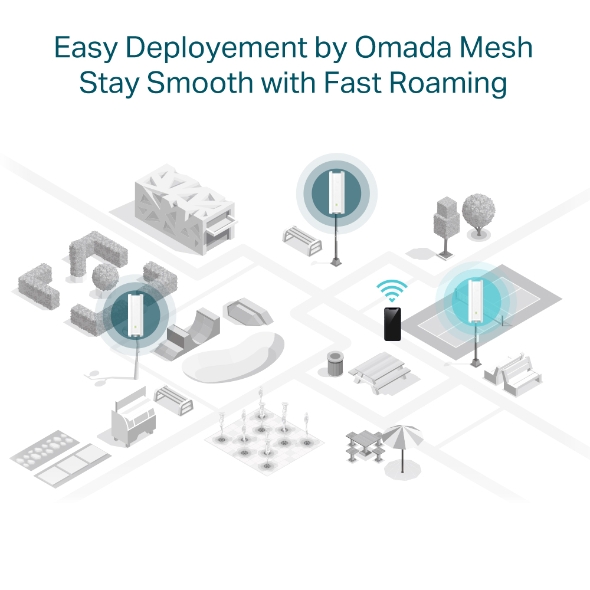 EAP610-Outdoor
Coming Soon
Access Point Trong Nhà/ Ngoài Trời WiFi 6 AX1800
WiFi 6 Tốc Độ Vượt Trội: Cung cấp tốc độ băng tần kép lên đến 1.8 Gbps được hỗ trợ bởi công nghệ WiFi 6 mới nhất†
Hiệu Quả Mạng Cao Hơn: Tận hưởng tốc độ nhanh hơn trên nhiều thiết bị hơn với độ trễ ít hơn qua OFDMA và MU-MIMO
Phạm Vi Phủ Sóng Dài: Bộ khuếch đại công suất cao chuyên dụng và ăng-ten chuyên nghiệp với vỏ chống chịu thời tiết IP67
Công Nghệ Omada Mesh: Cho phép kết nối Wi-Fi giữa các điểm truy cập để mở rộng phạm vi và triển khai linh hoạt**
Chuyển Vùng Nhanh Mượt Mà: Users can enjoy seamless streaming across the property with their devices switching effortlessly between access points**
Centralized Cloud Management: Integrates into Omada SDN for cloud access and remote management


Luôn mượt mà với Chuyển vùng nhanh: Người dùng có thể tận hưởng tính năng phát trực tuyến liền mạch trên toàn bộ nơi nghỉ với thiết bị của họ chuyển đổi dễ dàng giữa các điểm truy cập **
Quản lý đám mây tập trung: Tích hợp vào Omada SDN để truy cập đám mây và quản lý từ xa
Performance-Driven WiFi 6 for Demanding Outdoor Environments
EAP610-Outdoor
Yard

Swimming Pool

Outdoor Café

Amphitheatre

Park
Dual-Band WiFi 6 Connectivity
Powered by the latest WiFi 6 technology, the AP delivers speeds of up to 1.8 Gbps, providing higher data rates on both 5 GHz and 2.4 GHz bands for demanding multi-user scenarios, such as outdoor swimming pools, cafés, and amusement parks.†
Omada WiFi 6 AP (2× 2)
Omada WiFi 5 AP (2× 2)
Long-Range Coverage
Professional antennas equipped with high-power amplifiers utilize WiFi 6 technology to provide strong and expansive wireless coverage to various outdoor environments.
Beamforming

Band Steering

Airtime Fairness
Connect Numerous Devices
OFDMA and MU-MIMO greatly improve multi-user efficiency to provide simultaneous connections for dozens of clients in large open areas.
Wireless Camera

Laptop

Tablet

Phone

Wireless Speaker
Seamless Integration into Omada SDN Platform
The Omada Software Defined Networking (SDN) platform integrates network devices including access points, switches, and routers to provide 100% centralized cloud management and create a highly scalable network—all controlled from a single interface.
Hassle-Free Cloud or On-Premises Controllers

Centralized Cloud Management

Zero-Touch Provisioning (ZTP)*
Internet
Mesh
Mesh
Cloud Access
Wi-Fi 6 AP for High-Density Environments
Ceiling Mount AP
Wall Plate AP
Wi-Fi 6 Outdoor AP EAP610-Outdoor
JetStream PoE Switch
Omada VPN Router
Web Browser
Omada App
Omada Hardware Controller
Or
Omada Software Controller
Easy Deployment & Higher Performance by Omada Mesh**
Easy Pairing, Less Wiring
With Mesh technology, Omada EAPs save you from extra wires by wirelessly extending your WiFi signal further and more flexibly to hard-to-wire areas.
Traditional Wired Networking

Mesh Wireless Networking
Optimized Network Performance
Intelligent self-organization optimizes the best path between EAPs while self-healing ensures you stay online even when one AP is disrupted.
Intelligent Self-Organization
Always Stay Smooth with Fast Roaming
Ensures customers enjoy uninterrupted streaming when moving around by switching clients automatically to the access points with the optimal signal.**
IP67 Weatherproof Enclosure for Outdoor Environments
EAP610-Outdoor is totally resistant to dust ingress, shock, vibration, and moisture, withstanding the most extreme environments.

6: Completely dust-tight. No ingress of dust.
7: Protection against full immersion in water up to 1 meter deep for half an hour
6KV Lightning Protection and 15KV ESD Protection

No Ingress of Dust

Water Proof Enclosure
Versatile Mounting Solutions
Our mounting kits provide flexible installation, whether inside or outside.
· Pole Mounting

· Wall Mounting
Multiple PoE Options for Easy Installation
The AP supports both 802.3at PoE+ and Passive PoE power supply. It can be either powered by a PoE switch or the provided PoE adapter for convenient deployment.
Reset Button
Gigabit Ethernet Port with PoE+
/Passive PoE Supported
Easy Management with the Omada App
Follow the configuration instructions on the free Omada app to get set up in minutes. Omada lets you configure settings, monitor the network status and manage clients, all from the convenience of a smart phone or tablet.
TÍNH NĂNG PHẦN CỨNG
Giao diện
1× Gigabit Ethernet (RJ-45) Port (Support 802.3at PoE and Passive PoE)
Nút
Reset
Bộ cấp nguồn
• 802.3at PoE• 48V/0.5A Passive PoE (PoE Adapter Included)
Điện năng tiêu thụ
• EU: 12.5W (802.3at PoE or Passive PoE)• US: 14.7W (802.3at PoE or Passive PoE)
Kích thước ( R x D x C )
• 280.4×106.5×56.8 mm (without antenna & mounting kit)
Ăng ten
• 2.4 GHz: 2× 4 dBi• 5 GHz: 2× 5 dBi
Weatherproof Enclosure
IP67
Lắp
Pole/Wall Mounting (Kits included)
TÍNH NĂNG WI-FI
Chuẩn Wi-Fi
IEEE 802.11ax/ac/n/g/b/a
Băng tần
2.4 GHz, 5 GHz
Tốc độ tín hiệu
• 802.11ax: 8 Mbps to 1201 Mbps (MCS0-MCS11, NSS = 1 to 2 HE20/40/80)• 802.11ac: 6.5 Mbps to 867 Mbps (MCS0-MCS9, NSS = 1 to 2 VHT20/40/80)• 802.11n: 6.5 Mbps to 300 Mbps (MCS0-MCS15, VHT 20/40)• 802.11g: 6, 9, 12, 18, 24, 36, 48, 54 Mbps• 802.11b: 1, 2, 5.5, 11 Mbps• 802.11a: 6, 9, 12, 18, 24, 36, 48, 54 Mbps
Công suất truyền tải
• CE: <20 dBm (2.4 GHz, EIRP), <30 dBm(5 GHz, EIRP)• FCC: <25 dBm (2.4 GHz), <25 dBm(5 GHz)
Tính năng Wi-Fi
• 1024-QAM• 4× Longer OFDM Symbol• OFDMA• Multiple SSIDs (Up to 16 SSIDs, 8 for each band)• Enable/Disable Wireless Radio• Automatic Channel Assignment• Transmit Power Control (Adjust Transmit Power on dBm)• QoS (WMM)• MU-MIMO• Omada Mesh**• Seamless Roaming**• Band Steering• Load Balance• Airtime Fairness• Beamforming• Rate Limit• Reboot Schedule• Wireless Schedule• Wireless Statistics based on SSID/AP/Client
Bảo mật Wi-Fi
• Captive Portal Authentication**• Access Control• Wireless Mac Address Filtering• Wireless Isolation Between Clients• SSID to VLAN Mapping• Rogue AP Detection• 802.1X Support• WEP, WPA-Personal/Enterprise, WPA2-Personal/Enterprise, WPA3-Personal/Enterprise
QUẢN LÝ
Omada App
Yes
Centralized Management
• Omada Cloud-Based Controller• Omada Hardware Controller (OC300)• Omada Hardware Controller (OC200)• Omada Software Controller
Cloud Access
Yes (Through OC300, OC200, Omada Cloud-Based Controller, or Omada Software Controller)
Email Alerts
Yes
Quản lý kiểm soát truy cập MAC
Yes
SNMP
v1, v2c
System Logging Local/Remote Syslog
Yes
SSH
Yes
Quản lý dựa trên Web
Yes
Quản lý L3
Yes
Quản lý nhiều trang Web
Yes
Quản lý VLAN
Yes
KHÁC
Chứng chỉ
CE, FCC, RoHS
Sản phẩm bao gồm
• Access Point EAP610-Outdoor• Passive PoE Adapter• Power Cord• Mounting Kits• Waterproof Kits• Waterproof Antenna• Installation Guide
Môi trường
• Operating Temperature: -30–70 ℃ (-22–158 ℉)• Storage Temperature: -40–70 ℃ (-40–158 ℉)• Operating Humidity: 10–90% RH non-condensing• Storage Humidity: 5–90% RH non-condensing
†Maximum wireless signal rates are the physical rates derived from IEEE Standard 802.11 specifications. Actual wireless data throughput and wireless coverage are not guaranteed and will vary as a result of network conditions, client limitations, and environmental factors, including building materials, obstacles, volume and density of traffic, and client location.
*Zero-Touch Provisioning requires the use of Omada Cloud-Based Controller. Please go to www.tp-link.com/omada-cloud-based-controller/product-list to confirm which models are compatible with Omada Cloud-Based Controller.
**Omada Mesh, Seamless Roaming, and Captive Portal require the use of Omada SDN controllers. Please refer to the User Guides of Omada SDN controllers for configuration methods.
Đăng kýTP-Link takes your privacy seriously. For further details on TP-Link's privacy practices, see TP-Link's Privacy Policy.
From United States?
Get products, events and services for your region.