How to configure Static Routing on TD-W8960N_V1 and TD-W8960N_V3
A static route is a pre-determined path that network information must travel to reach a specific host or network. Data from one point to another will always follow the same path regardless of other considerations. Normal Internet usage does not require this setting to be configured.
Open the web browser and type the IP address of the device in the address bar (default is 192.168.1.1). Press Enter.
Type the username and password in the login page, the default username and password both are admin and thenclick OK to login the web page.
Click on Advanced Setup->Routing->Default Gateway, and make sure that the checkbox before Auto Gateway is selected. (The Auto Gateway checkbox is selected by default).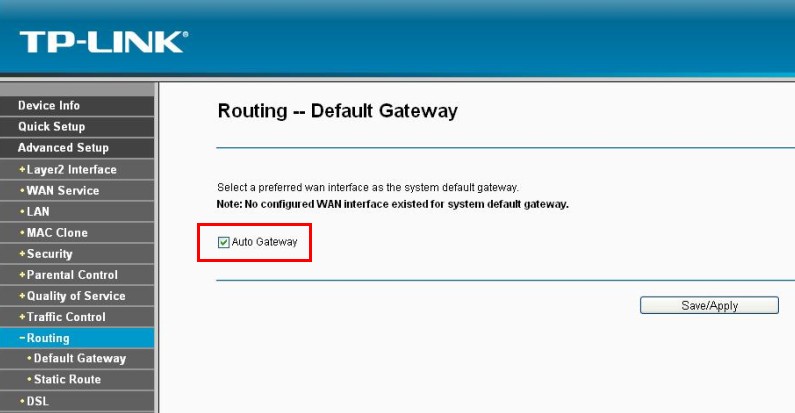 Choose Advanced Setup-> Routing-> Static Route, click on ADD button to add a new route and then Save/Apply.

Destination Network Address:
The Destination Network Address is the address of the network or host that you want to assign to a static route.
Subnet Mask:
The Subnet Mask determines which portion of an IP Address is the network portion, and which portion is the host portion.
Use Interface:
Select the Interface name in the text box, or else, the default Use Interface will be adopted for the Static Route.
Use Gateway IP Address:
If you select the IPoE or IPoA mode for Use Interface, the screen above will display this item, you should type the Gateway address correctly, and the other option for Use Interface will adopt the default Gateway address for the Static Route.
If you select LAN/br0 mode for Use Interface and make packets forwarded on the LAN, the Gateway must be a router on the same segment as your Router.
Here we take the following application for an example.
TD-W8960N is connected to Internet by PPPoE connection and it is also connected to the LAN port of Router 2 by an Ethernet cable. Computers connected to TD-W8960N will go online automatically by PPPoE connection and cannot access Local Network via Router 2.
How can the computers connected to TD-W8960N access Local Network?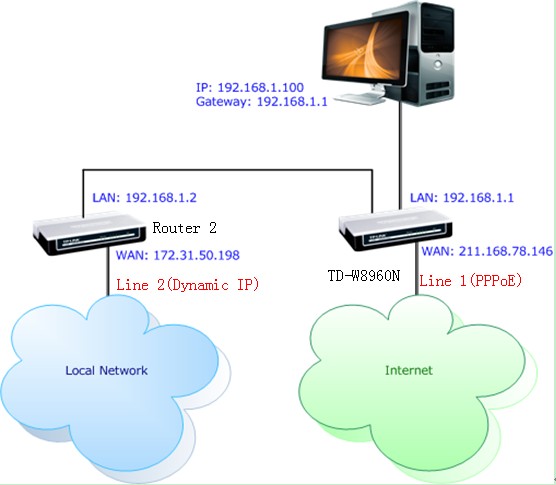 In order to make computers access Local Network, we need to set a static routing on the TD-W8960N and the packets requiring for Local Network access will be forwarded to Router 2. The settings on TD-W8960N are as the follows:
Firstly, make sure that Auto Gateway is enabled on TD-W8960N.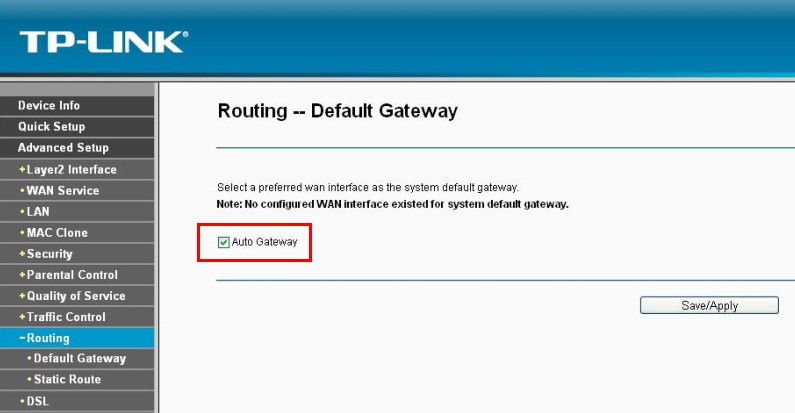 Secondly, click on Advanced Setup->Routing->Static Route, press Add button to add a new route as the following screen, and then Save/Apply.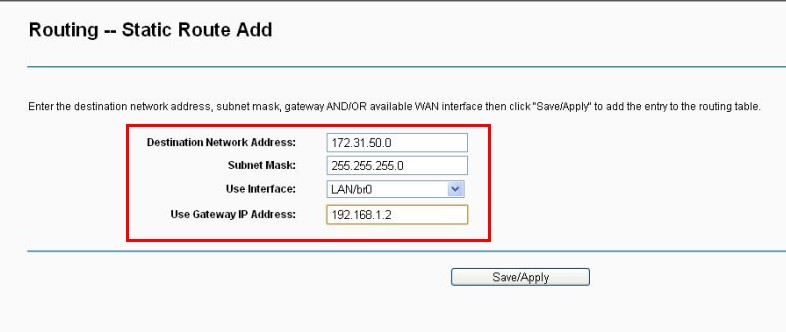 Get to know more details of each function and configuration please go to
Download Center
to download the manual of your product.
Is this faq useful?
Your feedback helps improve this site.