Unable to Find the SSID of the TP-Link Range Extender After Setup
This FAQ covers the troubleshooting steps you would want to follow if your wireless devices cannot detect the Network Name (SSID) of your range extender after completing the setup process..
Step 1.
Try rebooting the range extender. Wait for it to reconnect to your host router and try scanning for the SSID of the extender again.
Step 2.
Make sure the range extender is not using the same SSID as the host router its connected to. If it is then your extender may be working properly. When an extender uses the same SSID as your router only one network entry will be displayed. You can confirm the extender is working by referring to its light status in the extender's user guide available on our official website. While you can use the same SSID on your extender its really not recommended unless you are using the OneMesh or EasyMesh feature.
if you want to change the Wi-Fi name, refer to the FAQ: How to change wireless settings of TP-Link range extender on Tether APP
Step 3.
Check if the SSID was hidden.
a. Hard-wire a computer to the extender with an Ethernet cable.
b. Login to the web UI using the following instructions: How to log into the web management page of the range extender
c. Go to Settings >> Wireless >> Extended Network, make sure "Hide SSID broadcast" is unchecked for each band your extender supports.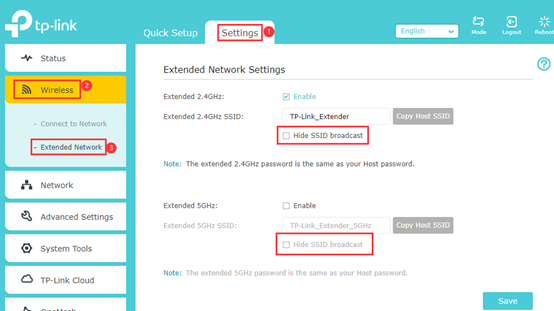 Step 4.
If the above troubleshooting steps didn't resolve the concern, we recommend resetting the extender to factory defaults and reconfiguring the device. Use a pin to press the button for 30 seconds to reset the extender. Once you rese the extender. Following the setup process to reconfigure your extender. If you need help please refer to this FAQ: How to configure Range Extender via Tether APP
If your concern still exist after this, please contact support. For better assistance please have the following information available:
The model number of your Range Extender

Hardware and firmware versions of the extender.

The current LED status on the extender.

The model number of your main router.

A brief explanation of what troubleshooting you have already performed.
Is this faq useful?
Your feedback helps improve this site.