Can Kasa Doorbell KD110 Work with My Existing Chime?
After wiring Kasa Doorbell to the pre-existing doorbell system wiring (check kasa doorbell compatibility ), you may wonder if the Kasa doorbell could work the existing chime? This article will help you find the answer and explain why.
Kasa doorbell requires to work with the included Kasa wireless Chime, rather than working with your existing or old chimes. In this way, you won't worry about the compatibility issue with the Kasa doorbell.
Simply plug Kasa wireless chime (KD110C) into the power outlet in the desired location in the home, pair the chime with a doorbell (KD110D) so you could hear when someone comes to visit your home.

In a regular doorbell wiring: When a visitor presses the doorbell button, that completes the electrical circuit that allows electricity to flow through the circuit and trigger the Chime. And there is no current through the Chime box until someone presses the button.
In Kasa smart doorbell wiring: Unlike a regular doorbell, a smart doorbell has a camera that needs to be powered on all the time and that will need a constant flow of power in the circuit, this may keep triggering your original chime. The Kasa door installation requires putting a jumper wire to 'short circuit 'the old chime, this could ensure the old chime does not affect the Kasa doorbell (KD110D) and also avoid the situation of keep triggering your old chime.
How does wireless Chime work?
The Doorbell working with the wireless chime involves a radio signal 433Mhz. After pressing the Kasa doorbell, Kasa chime wirelessly picks up the signal from the doorbell and starts to ring.
What are the advantages of Wireless Chime?
No Wiring Required

Chime is equipped with a built-in speaker and features eight ringtones

Volume adjustable: 3 different volume levels

Do Not Disturb Mode: Enjoy a moment of peace when you do not want to get disturbed. With this mode scheduled, the doorbell will not ring, and no push notifications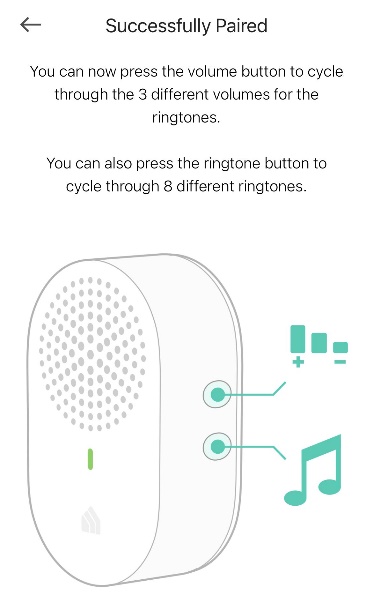 Is this faq useful?
Your feedback helps improve this site.
SubscribeTP-Link takes your privacy seriously. For further details on TP-Link's privacy practices, see TP-Link's Privacy Policy.
Be The First To Get Exclusive Deals & News