What should I do if push notifications from my Kasa Cam do not work correctly?
If push notifications from your Kasa Cam on your phone doesn't work correctly, please kindly refer here first to check and confirm the activity notification feature has been activated.
Case 1 Cannot receive push notifications on the phone
Step 1 Check and confirm Notifications setting on your phone is enabled.
For iOS: Launch Settings -> Notifications, ensure Show Previews is on Always, and the Allow Notifications for the Kasa App is on.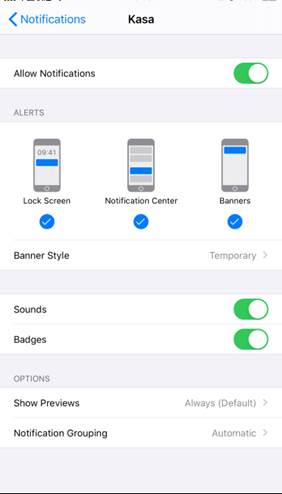 For Android: Launch Settings -> Notifications & status bar -> App notifications, locate the Kasa App and ensure the Show notifications option is on.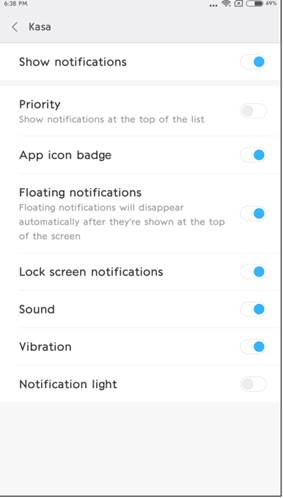 Step 2 Turn off Do Not Disturb on iOS devices
Go to Settings and tap Do Not Disturb, then tap on the switch next to Do Not Disturb to turn it off.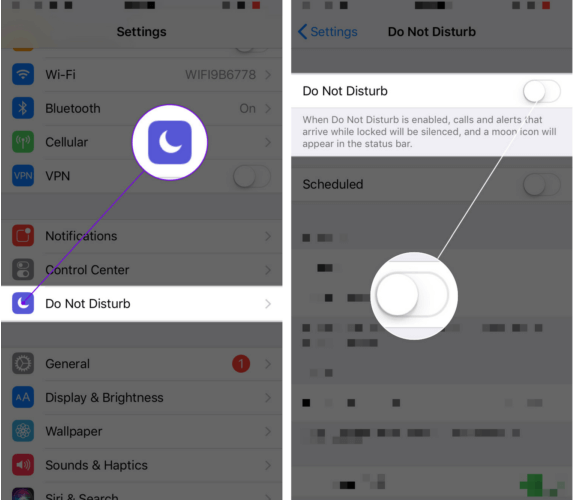 Step 3 Check and ensure the Wi-Fi & Cellular connection on the phone is working properly.
Case 2 Receive push notifications too often
Refer to Reduce false alerts of Kasa Cam first to check basic settings.
Step 1 Check the Notifications setting, you may create a schedule for receiving notifications.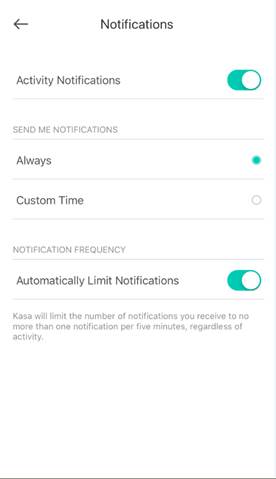 Step 2 Check the sensitivity settings on the Kasa App, you are suggested to reduce the motion and/or sound sensitivity. Click here for detailed instructions.
Step 3 Change the value of 'Record motion that lasts at least' and set a longer time period.
Step 4 Adjust the activity zone. Create activity zones in the areas you would like to monitor and it will prevent events outside of the activity zones from triggering your camera.
Step 5 If the Kasa Cam detects a motion and/or sound clips correctly but you just don't want to receive the push notifications too often, you are suggested to enable "Automatic Limit Notifications" on the Notification page.
Case 3 Delay in receiving push notifications
Step 1 Launch the Kasa App and navigate to Device Settings, check and ensure the Kasa Cam has synced the correct time accordingly.
Step 2 Try to reboot the Kasa Cam.
Step 3 Try to reset the camera to factory defaults and reconfigure it.
Please contact TP-Link technical support with the following information if you still encounter push notification issues after above suggestions.
1) Your TP-Link ID or cloud account;
2) The model number of your Kasa Cam and its MAC address;
3) Whether you have tried all suggestions listed as above or not. If yes, what are they?
Get to know more details of each function and configuration please go to Download Center to download the manual of your product.
Is this faq useful?
Your feedback helps improve this site.

TP-Link Community
Still need help? Search for answers, ask questions, and get help from TP-Link experts and other users around the world.