How to set to Ignore Ping Packets from WAN Port
What is Ping?
Ping is a method to test network performance.
The measurement is realized by sending packets and response. Sending a Ping Packet to the WAN Port of a router, then the router is supposed to respond immediately. If there is no response or a delayed response, it means that the network is interrupted or the internet access is bad.
Why people want to ignore Ping Packets from WAN Port?
1. Ping may burden your CPU and damage network security. Large amount of Ping requests would burden the CPU, making it too busy to deal with common requests, and even block the network. Though Ping itself is used for internet testing, some people may use it to damage the network security, by sending a large amount of Ping Packets in a short time.
2. Ping may make your IP exposed to hackers' attack. Hackers usually scan the IP addresses from the internet before launching attack. One of the common scanning methods is Ping. If one device respond, it means that the device is active and can be an attacking target. Thus, set to ignore Ping Packets from WAN Port can hide our devices from hackers' targets.
How to configure?
You can easily turn on the function to ignore Ping Packets from WAN Port via the Web Browser.
Follow the steps below, here takes Archer A7 as demonstration:
Step 1: Log in the manage page by referring
How do I log into the web-based Utility (Management Page) of TP-Link wireless router?
Step 2: Click Advanced>Security>Settings, and find the option Ignore Ping Packet From WAN Port, just click it to check (√) this function!
Step 3: Don't forget to Save your settings!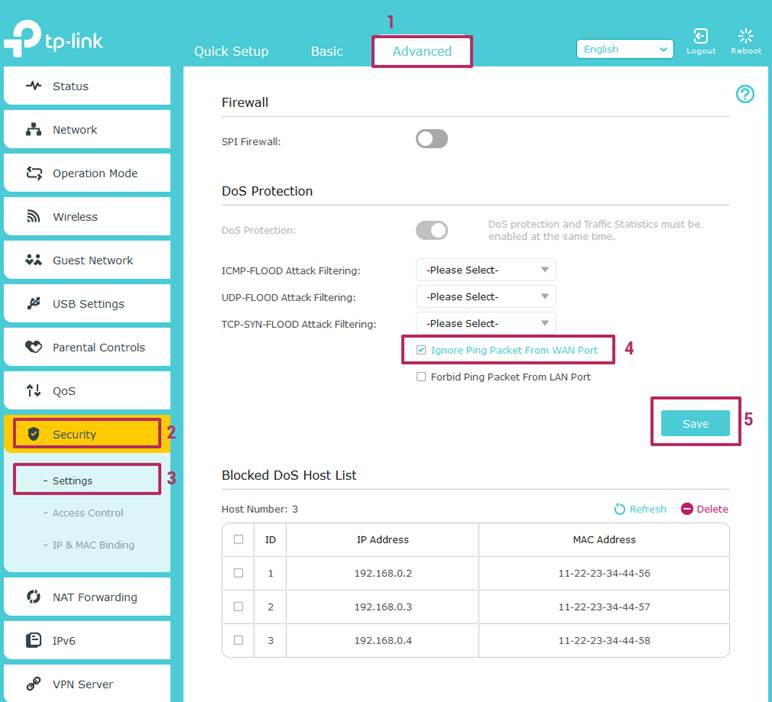 Get to know more details of each function and configuration please go to Download Center to download the manual of your product.
Is this faq useful?
Your feedback helps improve this site.

TP-Link Community
Still need help? Search for answers, ask questions, and get help from TP-Link experts and other users around the world.