How to configure TL-WR543G to connect to your WISP
Step 1
Log into the management page of your TL-WR543G. If you don´t know how to do this, please click
here
.
Step 2
On the management page, please click Operation Mode on the left side menu. Then please choose AP Client Router.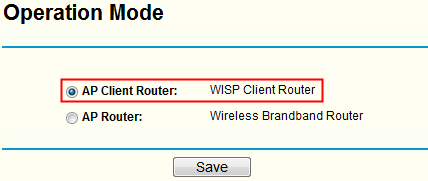 Step 3
Click Network->WAN. Then please select the correct type for WAN Connection Type. If you are not sure about the WAN Connection type, please consult your service provider about this.
For Dynamic IP: You just need to select Dynamic IP from the drop-down menu and then click Save button.

For Static IP: Please select from the drop-down menu, and input the correct parameters in the boxes. The parameters are given by your service provider. Then click Save.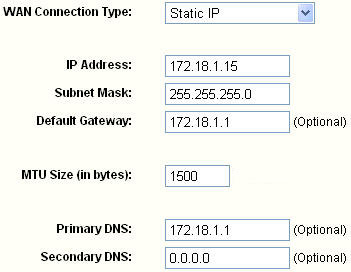 Step 4
Click Wireless->Site Survey. Find the SSID of your WISP on the list, and then click Connect.

Step 5
After Step 4, it will automatically bring you to Wireless Settings page. If it does not bring you there automatically, please click Wireless->Wireless Settings by yourself.
Here you must do the correct wireless security settings. If you are not sure about these security parameters, you need to consult your service provider. If there is no security key required by your WISP, please do not check Enable Wireless Security.

For WEP: Select the correct parameters, and type the key in WEP Key box. Then click Save.
For WPA-PSK/WPA2-PSK: Please type the security key in PSK Passphrase box. Then click Save.

Note: You should consult your service provider for these required parameters.
Step 6
Now all the basic configurations have been finished. Please go to Status page. Then you can check the information under WAN to see whether you have successfully connected to your WISP.

Note: If the there are no IP parameters (all zeroes: 0.0.0.0) displayed here, the connection to your WISP must be not successful. Please check the configurations as per this document, or consult your service provider for more information to configure the router again.
Get to know more details of each function and configuration please go to Download Center to download the manual of your product.
Is this faq useful?
Your feedback helps improve this site.