How to set up system time of TP-Link cable modem routers(Blue UI)
System time is the time displayed while the router is running. The system time you configure here will be used for other time-based functions like Parental Controls and Wireless Schedule. You can manually set how to get the system time.
How can I do that?
Follow the steps below:
Please refer to How to log into the web-based management interface of Archer CR700?
Go to Advanced > System Tools > Time Settings page.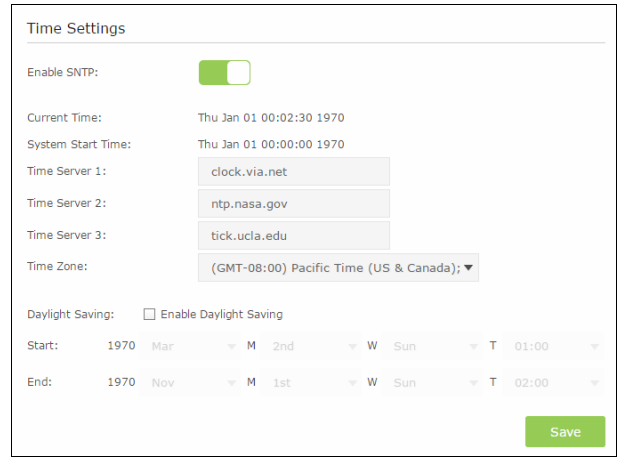 3. Configure the system time using the following methods:
Time Settings:
Enable SNTP - The switch for SNTP function. If you turn on the switch, the field will become green.
Time Server 1 / Time Server 2 / Time Server 3- Enter the address or domain of the Server 1 or Server 2, and then the modem router will get the time from the Server preferentially. In addition, the modem router built-in some common Servers, so it can get time automatically once it connects the Internet.
Time Zone - Select your local time zone from the pull down list.
For some models which have Daylight Saving. You can set Daylight Saving time according to your needs. Tick the checkbox to enable Daylight Saving, set the start and end time and then click Save to make the settings effective.
Click Save button to save these settings.
Note:
1. This setting will be used for some time-based functions such as parental control and firewall. You must specify your time zone once you login to the router successfully; otherwise, these functions will not take effect.
2. The time will be lost if the router is turned off.
3. The router will automatically obtain GMT from the Internet if it is configured accordingly.
4. The Daylight Saving will take effect one minute after the configurations are completed.
Get to know more details of each function and configuration please go to​ Download Center to download the manual of your product.
Is this faq useful?
Your feedback helps improve this site.