With so many IoT devices out there in the world, you'd expect there'd already be a unified standard that connects them all together. And you'd be right. The open connectivity standard is here, and it's called Matter.
What is Matter?
Matter has the potential to take people's smart home experience to a higher level through more secure, reliable, and seamless connections. It is a unified open-source connectivity standard for IoT devices. It promises to enable smart gadgets and platforms of different ecosystems to work together seamlessly.
The idea of a commonly-accepted standard for different ecosystems has its roots in a joint initiative, Connected Home over IP (CHIP). This initiative was launched by four main IoT tech giants — Amazon, Apple, Google and the Connectivity Standards Alliance (CSA, formerly the Zigbee Alliance) — back in 2019 and was renamed "Matter" in 2021.
Optimistic about a mass adaptation of the protocol in the industry, a large number of smart home brands signed up. The list of its members boomed and exceeds 240 to date. It includes TP-Link, Signify (Philips Hue), Tuya, Huawei, and Nanoleaf, just to name a few.
The first protocol, or Matter 1.0, due to be officially released in late 2022, runs on Wi-Fi and thread network layers and adopts Bluetooth Low Energy for device commissioning. It is built upon the Internet Protocol (IP) and works like a widely-used language to enable communication among smart home devices, IoT platforms, and cloud services.
What are the Benefits of Matter?
Matter ushers in the end to the annoying guesswork in purchasing smart home devices. A unified connectivity standard among different ecosystems means a larger pool of available options for a seamless connected smart home. As soon as you see the Matter logo on a device, you can be sure that they will work seamlessly together, regardless of which brand they belong to or which transport protocol they support.

Since Matter allows one app to control all supported devices, you can cut down on the number of apps on your phone. With Matter, you can use any preferred app as the "admin" to access, manage, and control your gadgets. Also, you can feel free to choose any voice assistant to control your Matter products whether it be Google Home Assistant, Amazon Alexa, or Siri of Apple.
Developing based on a unified and open-source connectivity protocol saves smart home brands and service providers the trouble of tailoring their offerings to different IoT ecosystems. This can significantly reduce their development costs and simplify the process, keeping their focus on developing innovative products and accelerating paths to market. When the Matter SDK is ready, manufacturers and interested companies involved in the standard development can use it royalty-free to engage their devices in the ever broader Matter ecosystem.
Which Manufacturers Support Matter?
The group of Matter-supported companies is huge and continues to grow.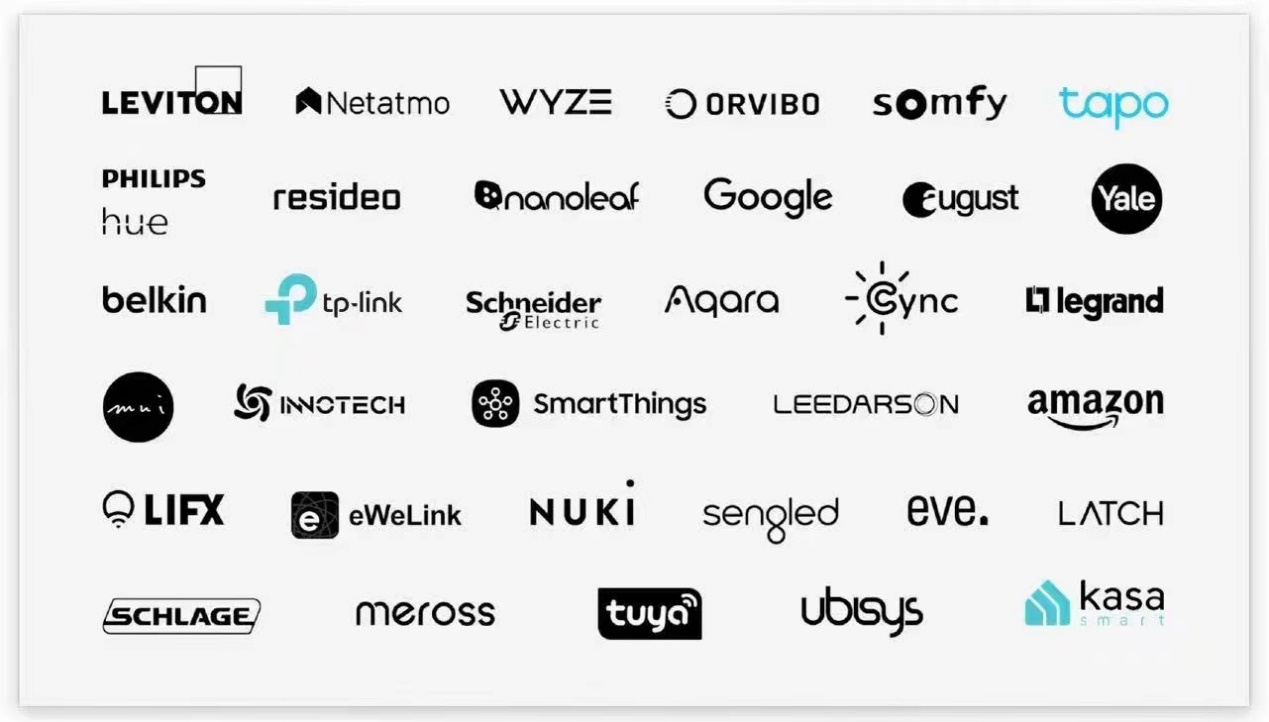 What about Matter Compatibility?
New Matter-end products, of course, will support the new protocol. Some devices that work with Thread, ZigBee, or Z-wave will work with it after a firmware or software development kit (SDK) update for Matter. Still, it is advisable to check up with providers about specific devices and their future compatibility.
Matter 1.0, the specification of its first protocol will only cover some categories of devices that are most commonly used, such as:
Smart lighting
Smart plugs & switches
HVAC controllers
Smart locks
Smart blinds and shades
Smart TVs
Smart thermostats
Access points & bridges
Other categories such as security cameras will be included until there are specifications ready for them.
Tapo & Kasa Announces Integration with Matter
Along with the initial release of Matter 1.0, TP-Link's smart home brands, Tapo and Kasa, will launch their first Matter solutions in late 2022. Among them, at least 10 Matter-capable TP-Link smart home devices, including plugs, switches, and lighting are expected to make their debut. With the Matter-end hubs working as a bridge, the oncoming sensors can also be incorporated into the Matter ecosystem. Soon, software upgrades should enable products from other providers to work well within the Tapo and Kasa ecosystems. In this way, TP-Link can work hand in hand with other major smart home players and play its part in smart home standard development for the future.