How to configure Dynamic IP or Static IP on the TP-Link Wi-Fi router to work with a Cable/Fiber modem or a community network(new designed blue UI)
This FAQ is suitable for the users who already have a Cable/Fiber Modem or community network and want to share the Internet connection. If you are using a DSL Modem, please ignore the article, and refer to How to install the TP-Link Wi-Fi router to work with a DSL Modem?
Note: Make certain you do have internet access directly via your modem or community network.
Step 2: Connect your Network
Take C8 as an example. If there is no modem, regard your internet source as a modem, like an ethernet cable through a wall.
(1) Turn off your Cable modem,
C8
and computer.
(2) Connect the WAN port of C8
to the Cable modem with Ethernet cable.
(3) Connect your computer to any of the LAN ports (yellow one) of C8
(4) Power on C8
and computer. Don't power on the modem before logging into the router.
Power on the cable modem.
After logging into the router,
you will see Quick Setup
→
choose the Region and Time Zone
→
Next.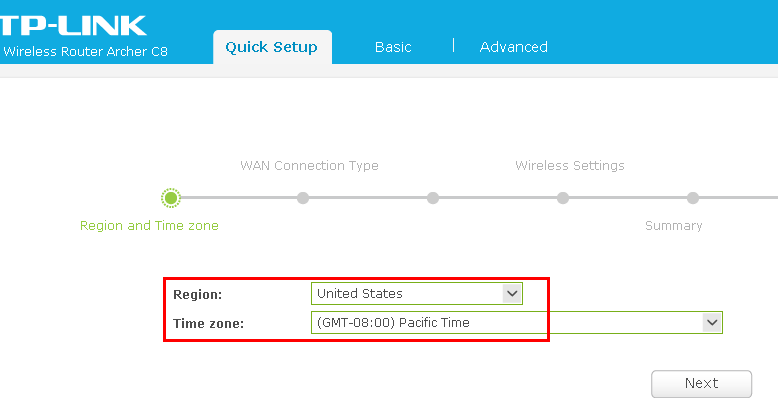 Wan Connection Type choose "
Dynamic IP"
→
Next.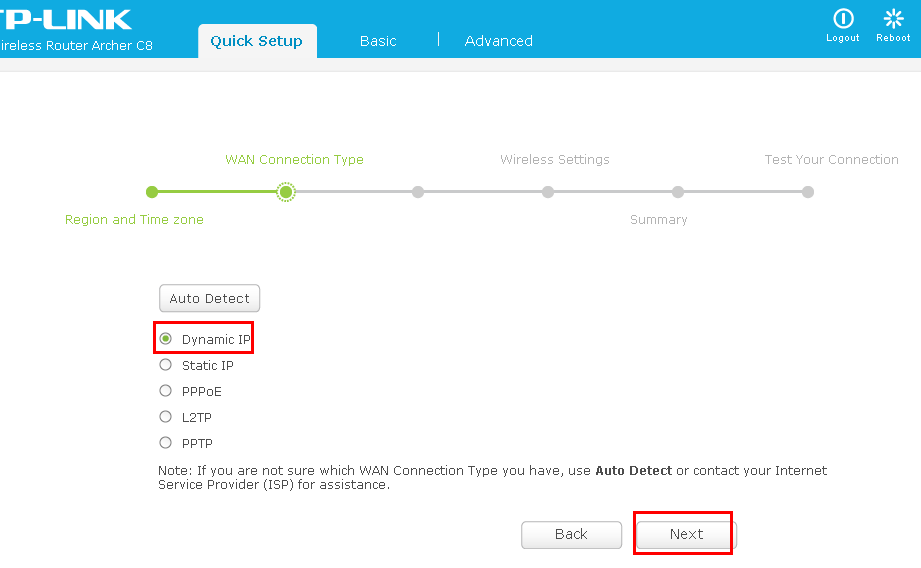 Click Clone MAC Address to clone your PC's MAC address to WAN MAC Address of the router
→
Next.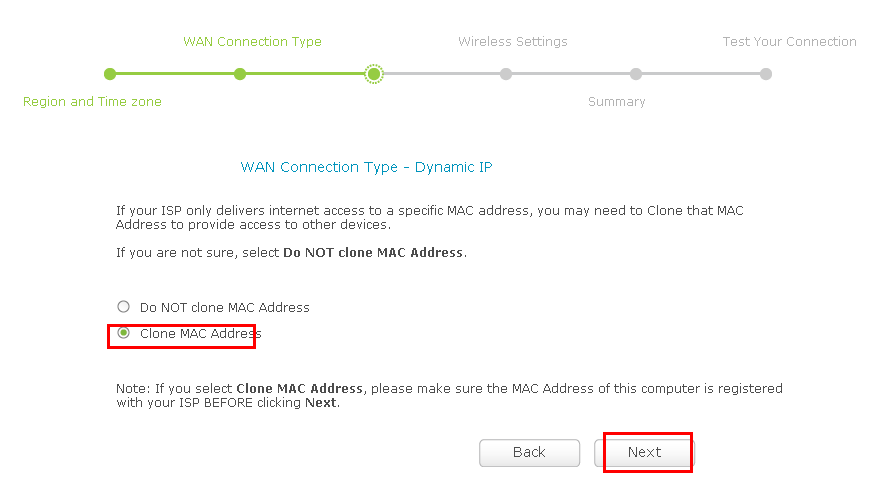 Note:If your ISP provides Static IP,the WAN Connection Type you may choose Static IP and put in the specific IP information from your ISP
→
Next.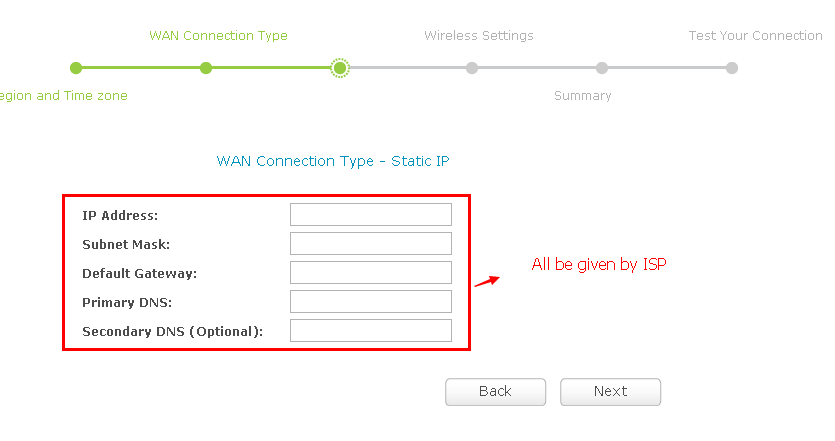 Customize your own wireless network names and passwords for wireless 2.4GHz and 5GHz
→
Next.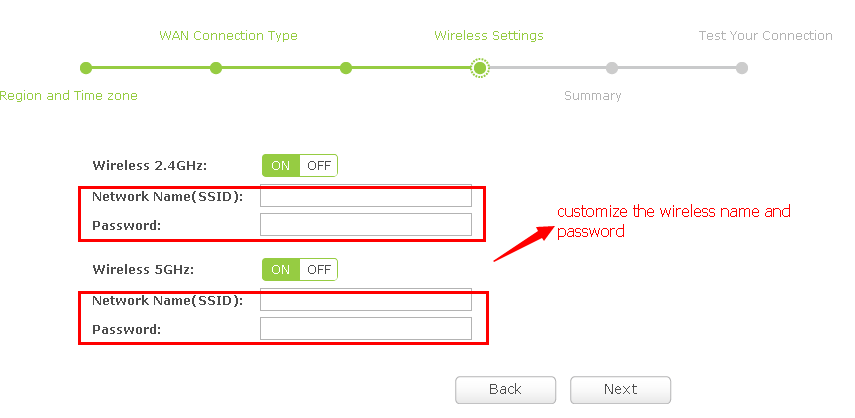 Click Save to save the settings.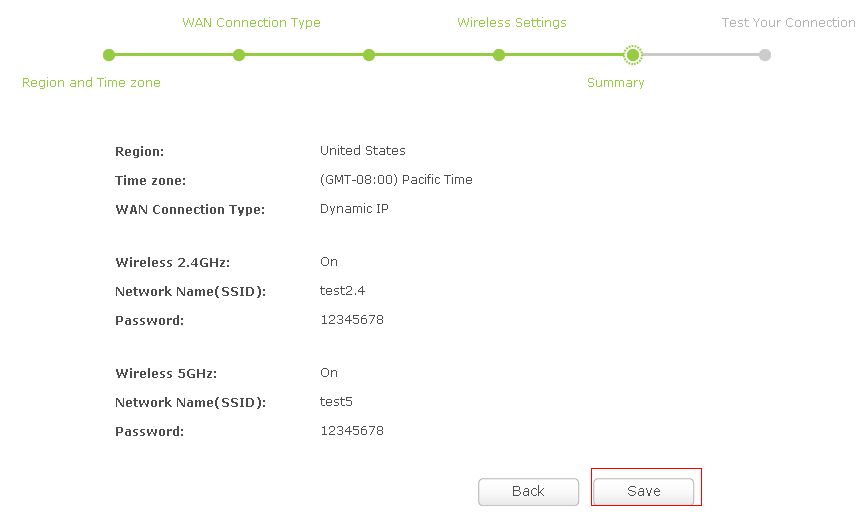 Click Test Internet Connection.If it is configured successfully, you will see the message Success,then click Finish to close the Quick Setup.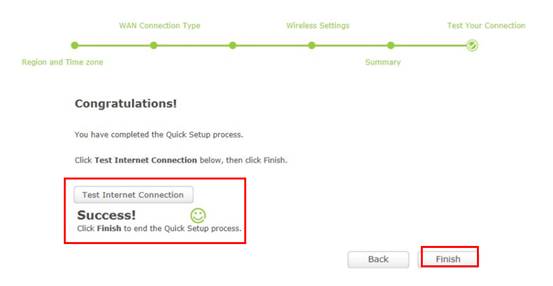 If the test is failed,please go Back to confirm the settings and try again.
Moreover, connect your computer directly to your modem and see whether you have internet access.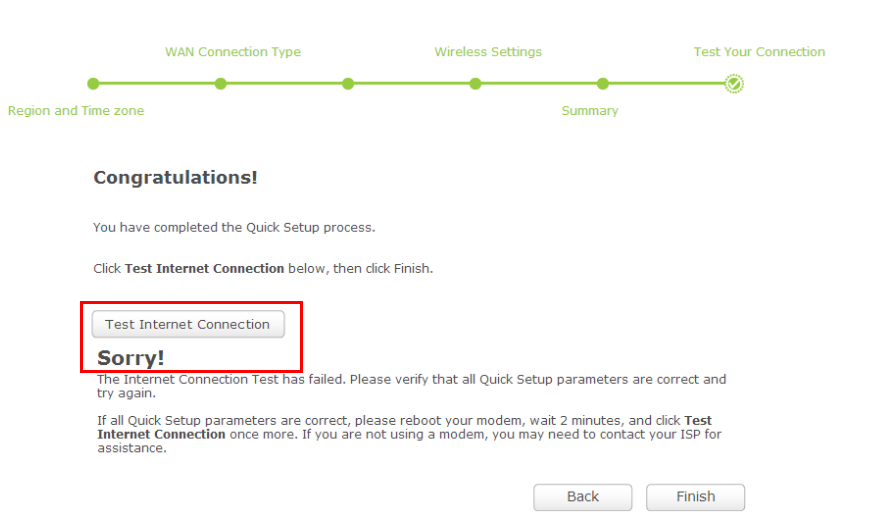 Power cycle the cable modem and router
After the configurations, powering cycle your network can make your network work more stable.
(1)Turn the cable modem off firstly, then turn your router and computer off, and leave them off for about 2 minutes;
(2)Turn the router on firstly and wait about 1 minute, and then power on your computer.
(3)Turn the cable modem on, and wait till the modem works stable (All LED lights work normally).
(4)Repeat the steps 1-3 above until you connect to the Internet.
Get to know more details of each function and configuration please go to
Download Center
to download the manual of your product.
คำถามที่พบบ่อยนี้มีประโยชน์หรือไม่?
Your feedback helps improve this site.
From United States?
Get products, events and services for your region.