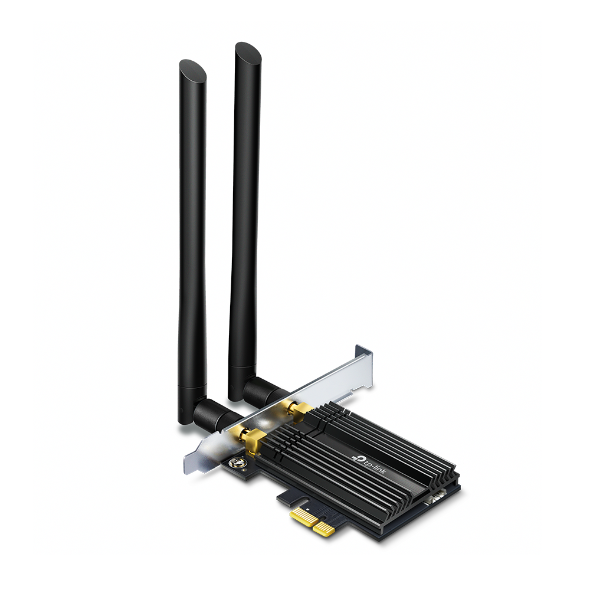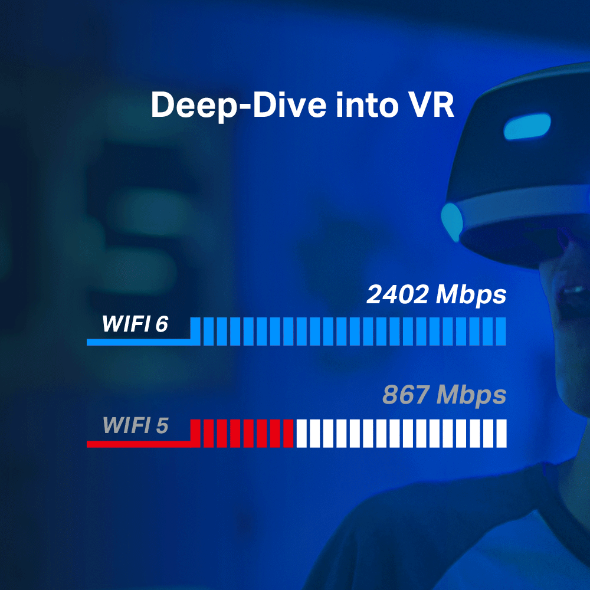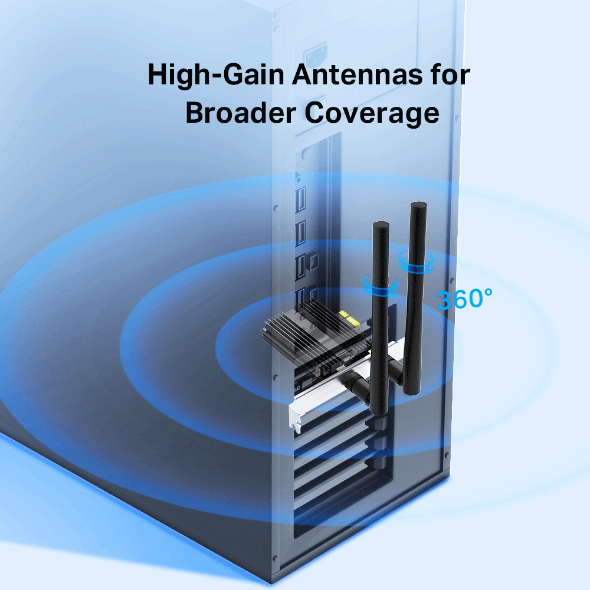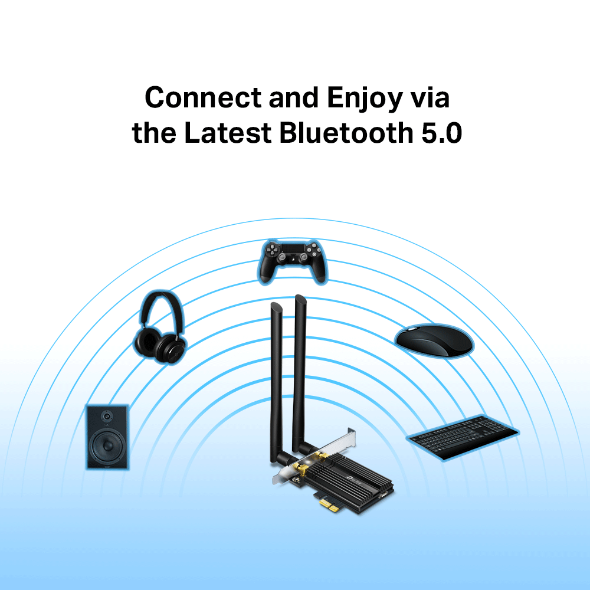 AX3000 Wi-Fi 6 Bluetooth 5.2 PCIe Adapter
Unrivalled Wi-Fi 6 Speed—รองรับ Wi-Fi 6 ด้วยความเร็ว Wireless สูงสุดที่ 2402 Mbps (5GHz) + 574 Mbps (2.4GHz)
Smoother Experience—ช่วยประหยัดพลังงานได้ถึง 75% สร้างความมั่นใจในการเล่นเกม การตอบสนองอย่างยอดเยี่ยมหรือการสนทนาผ่านวิดีโออย่างต่อเนื่อง
Reliable Connections—มอบประสบการณ์การเล่นเกมที่ดีกว่าเดิมด้วย Intel® Wi-Fi 6
Wider Signal Coverage— เสาอากาศ 2 เสาแบบรอบทิศทางและสามารถปรับทิศทางของเสาได้ ทำให้รับสัญญาณได้ดียิ่งขึ้น
Bluetooth 5.2—Bluetooth 5.2 ในตัว ให้ความเร็วที่มากกว่าถึง 2 เท่าและครอบคลุมเพิ่มขึ้นมากกว่า Bluetooth 4.2 ถึง 4 เท่า
Improved Security—การรักษาความปลอดภัยของ Wi-Fi ที่มากขึ้นด้วย WPA3
Fine Crafting—Specialized heatsink และ gold plating วัสดุอย่างดีที่ถูกออกแบบมาเพื่อที่มีความเสถียร
Backward Compatibility – รองรับมาตรฐานเก่า 802.11ac/a/b/g/n standards
Give Your PC Wi-Fi 6 and Bluetooth 5.2
AX3000 Wi-Fi 6 Bluetooth 5.2 PCIe Adapter
Archer TX50E
High Performance for High Demands
มาตรฐานล่าสุดอย่างเทคโนโลยี Wi-Fi 6, พร้อมมอบความเร็วที่สูงที่สุด เชื่อมต่ออินเตอร์เน็ตอย่างต่อเนื่อง
ดังนั้นมั่นใจได้เลยว่าคุณจะสนุกกับการดาวน์โหลดที่เร็วที่สุด การสตรีมที่สมูทยิ่งขึ้น และการเล่นเกมที่สมจริงยิ่งขึ้น
1Gbps

Traditional Tethered Gaming: 1Gbps

2.4Gbps

with PCIe TX50E

with PCIe TX50E

Unlimited Wi-Fi 6 Gaming: 2.4 Gbps
Deep-Dive into VR
Wi-Fi 6 มาพร้อมด้วยคลื่นสัญญาณ 1024-QAM และแบนด์วิธ 160 MHz เพื่อพลังอินเตอร์เน็ตที่ต่อเนื่อง. แบนด์วิธสูง เพื่อให้คุณใช้งาน VR ที่ต้องการความเร็วสูงเพื่อเราเตอร์ Wi-Fi 6 ของคุณ—ความเร็วที่เพิ่มขึ้นที่เร็วกว่า Wi-Fi เดิมถึง 3เท่า § แค่เพียงเสียบใช้งาน Archer TX50E ไปที่เครื่องพีซีของคุณ คุณก็จะได้รับประสบการณ์อินเตอร์เน็ตที่ดีกว่าเดิม



Lag No More
ช่วยประหยัดพลังงานได้ถึง 75% สร้างความมั่นใจในการเล่นเกม การตอบสนองอย่างยอดเยี่ยมหรือการสนทนาผ่านวิดีโออย่างต่อเนื่อง*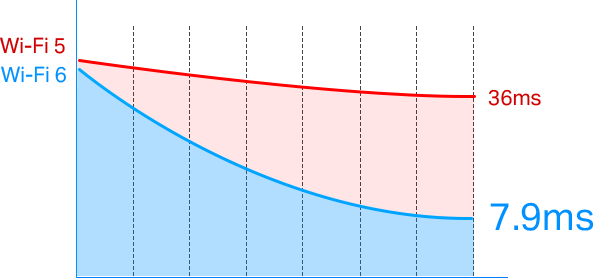 Latency
High-Gain Antennas for Broader Coverage
เสาอากาศ 2 เสาแบบรอบทิศทางและสามารถปรับทิศทางของเสาได้ ทำให้รับสัญญาณได้ดียิ่งขึ้น
Connect and Enjoy via the Latest Bluetooth 5.2
Bluetooth 5.2 ในตัว ให้ความเร็วที่มากกว่าถึง 2 เท่าและครอบคลุมเพิ่มขึ้นมากกว่า Bluetooth 4.2 ถึง 4 เท่า เพื่อการจับคู่ที่เหมาะสม ประสานกับตัวควบคุมเกม หูฟังคีย์บอร์ดและอุปกรณ์บลูทูธ อื่น ๆ ได้อย่างสมบูรณ์แบบ***
Cutting-Edge Security
การรักษาความปลอดภัยของ Wi-Fi ที่มากขึ้นด้วย WPA3 การป้องกันการเข้าถึงรหัสผ่านที่มีความปลอดภัยมากขึ้น ปกป้องการเข้าถึงรหัสผ่านที่ไม่พึงประสงค์และมั่นใจได้ว่าการระบบเครือข่ายของคุณจะมีความปลอดภัยในขณะที่คุณกำลังช้อปปิ้งออนไลน์ก็ตาม **
More Devices, Less Congestion
OFDMA ช่วยแบ่งช่องสัญญาณ ให้เหมาะสมกับการใช้งานของแต่ละอุปกรณ์ ในขณะที่ MU-MIMO ช่วยให้สามารถรับ-ส่งข้อมูลได้มากขึ้นในเวลาเดียวกัน การรวมกันของเทคโนโลยีเหล่านี้จะช่วยให้คอมพีซีของคุณแข็งแกร่งมากยิ่งขึ้น , มีประสิทธิภาพ
802.11ac | without OFDMA

802.11ax | OFDMA
Ingenious Details Make
a Perfect Whole
ชุดระบายความร้อนเพิ่มความเสถียรในการเชื่อมต่อ และวัสดุที่มีประสิทธิภาพเพื่อให้คุณได้มั่นใจว่าจะได้รับการเชื่อมต่อที่ดีที่สุด
Easy Setup

The utility on the provided CD
makes software installation
remarkably simple

Operating System

Operating System Supports Windows 10 (64-bit) only

Standard and
Low-Profile Brackets

Both a standard and low-profile bracket, for mini tower computer cases, are provided
HARDWARE FEATURES
Dimensions
3.7 x 4.8 x 0.8 in(95.2 x 120.8 x 21.5 mm)
Antenna Type
Two High-Gain Dual Band Antennas
Chipset
Intel Wi-Fi 6 Chipset
Bluetooth Features
Standards and Protocols
Bluetooth 5.2, Bluetooth 5.0, Bluetooth 4.2, Bluetooth 4.0
Interface
F_USB 2.0
WIRELESS FEATURES
Wireless Standards
IEEE 802.11ax/ac/n/a 5 GHzIEEE 802.11ax/n/g/b 2.4 GHzBluetooth 5.2/5.0/4.2/4.0
WLAN Signal Rate
5 GHz11ax: Up to 2402 Mbps(dynamic)11ac: Up to 1733 Mbps(dynamic)11n: Up to 300 Mbps(dynamic)11a: Up to 54 Mbps(dynamic)2.4 GHz11ax: Up to 574 Mbps(dynamic)11n: Up to 300 Mbps(dynamic)11g: Up to 54 Mbps(dynamic)11b: Up to 11 Mbps(dynamic)
WLAN Reception Sensitivity
5 GHz :11ax HT160:-56.25dBm11ax HT80: -59dBm11ax HT40: -62.25dBm11ax HT20: -65dBm11ac HT160:-62dBm11ac HT80: -65.5dBm11ac HT40: -69.75dBm11ac HT20: -73.75dBm11n HT40: -74.5dBm11n HT20: -77.5dBm11a 54Mbps: -77.75dBm11a 6Mbps: -94.5dBm2.4GHz :11ax HT40: -60.75dBm11ax HT20: -63.75dBm11n HT40: -73dBm11n HT20: -76.25dBm11g 54Mbps: -76.5dBm11b 11Mbps: -89dBm
WLAN Transmit Power
5 GHz : 27dBm(FCC) / 23dBm(CE) (EIRP)2.4 GHz : 26dBm(FCC) / 20dBm(CE) (EIRP)
WLAN Modes
Infrastructure mode
Wireless Security
Support 64/128 bit WEP, WPA/WAP2/WPA3, WPA-PSK/WPA2-PSK, 802.1x
Modulation Technology
DBPSK, DQPSK, CCK, OFDM, 16-QAM, 64-QAM, 256-QAM, 1024QAM
OTHERS
Certification
CE, FCC, RoHS
Package Contents
Archer TX50ETwo High-Gain AntennasLow-Profile BracketStandard Bluetooth Header CableQuick Installation GuideResource CD
System Requirements
Windows 11/10(64-bit) only
Environment
Operating Temperature: 0℃~40℃ (32℉~104℉)Storage Temperature: -40℃~70℃ (-40℉~158℉)Operating Humidity: 10%~90% non-condensingStorage Humidity: 5%~90% non-condensing
†Maximum wireless signal rates are the physical rates derived from IEEE Standard 802.11 specifications. Actual wireless data throughput and wireless coverage, and the number of connected devices are not guaranteed and will vary as a result of network conditions, AP limitations, and environmental factors, including building materials, obstacles, volume and density of traffic, and AP location.
‡Use of Wi-Fi 6 (802.11ax), and features including OFDMA, MU-MIMO, HE160, and 1024-QAM require APs to also support the corresponding features.
§802.11ax 2x2 160 MHz enables 2402 Mbps maximum theoretical data rates, 3× faster than standard 802.11ac 2x2 80 MHz (867 Mbps) and nearly 6x faster than baseline 1x1ac (433 Mbps) Wi-Fi as documented in IEEE 802.11 wireless standard specifications, and require the use of similarly configured 802.11ax wireless network routers.
*"Up to 75% lower latency" is based on Intel simulation data of 802.11ax with and without OFDMA using 9 clients. The average latency without OFDM is 36ms, with OFDMA average latency is reduced to 7.6ms. Latency improvement requires that the AP and all clients support OFDMA.
**Use of WPA3TM requires APs to also support the corresponding feature.
***Several new features are introduced in the Bluetooth Core Specification 5.0 and 5.2 Releases, including 2× faster speed and 4× broader coverage compared with Bluetooth 4.2.
From United States?
Get products, events and services for your region.