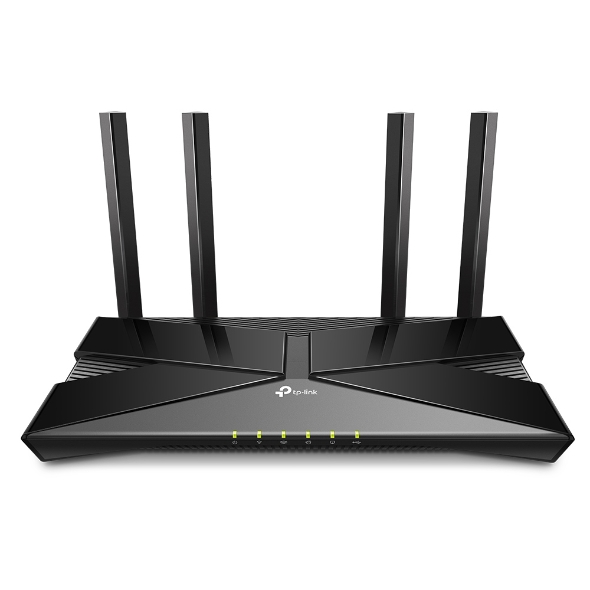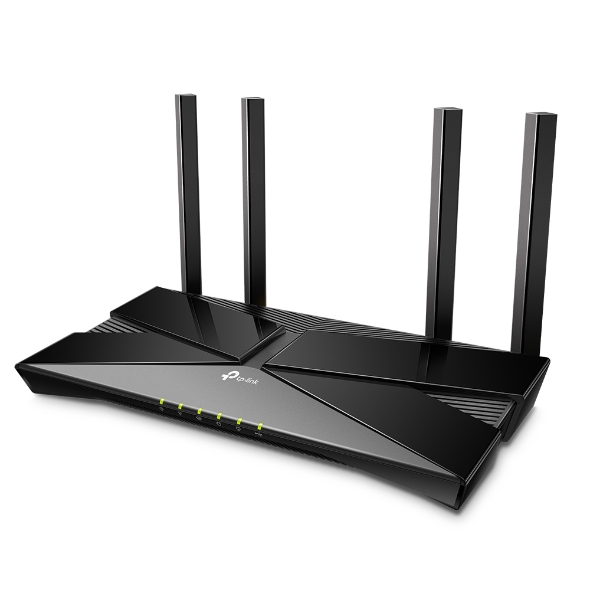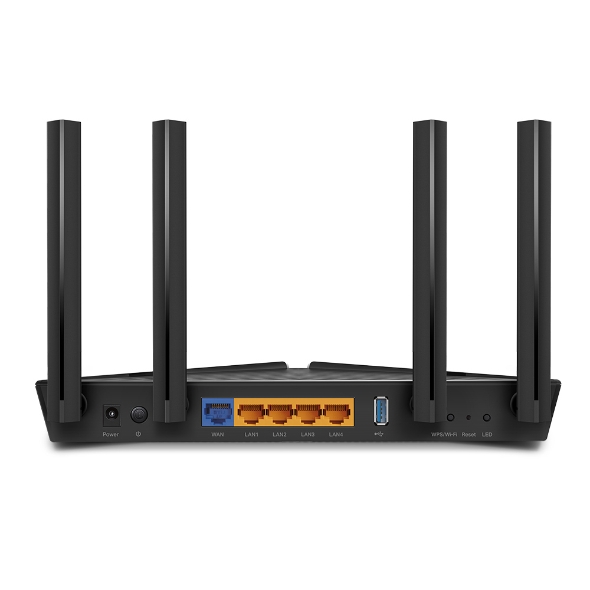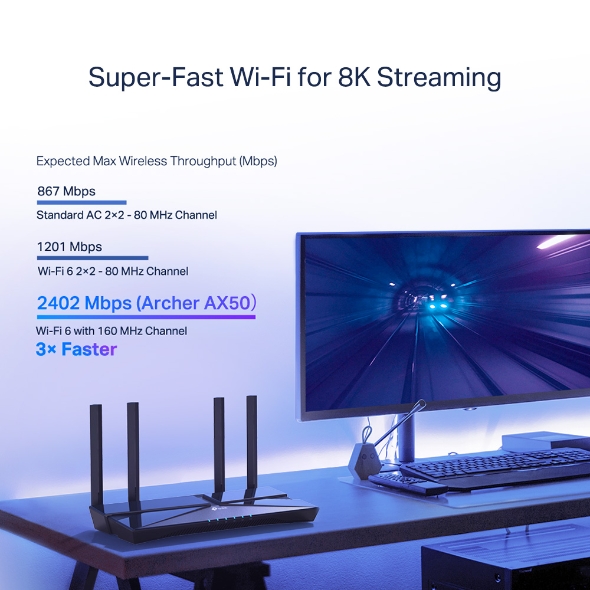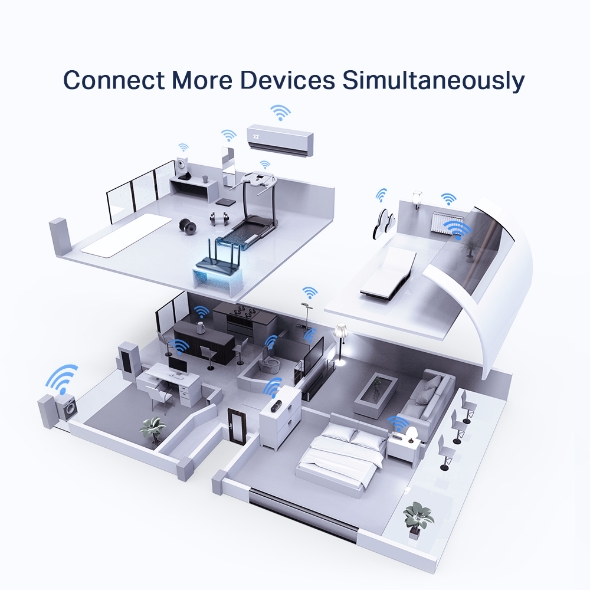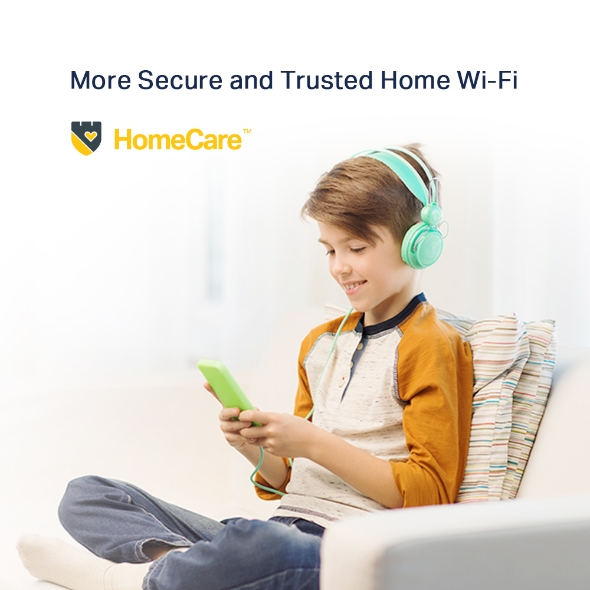 AX3000 Dual Band Gigabit Wi-Fi 6 Router
Next-Gen Gigabit Wi-Fi 6 Speed—รองรับความเร็ว Wireless 2402 Mbps บนย่านความถี่ 5 GHz และ 574 Mbps บนย่านความถี่ 2.4 GHz ที่จะช่วยให้คุณเล่นอินเตอร์เน็ตได้ไหลลื่น ทั้งดาวน์โหลดและอัพโหลด

Connect More Devices—เทคโนโลยี OFDMA ช่วยให้ส่งข้อมูลได้เร็วและดีกว่าเดิมถึง 4 เท่า

Ultra-Low Latency —การลดเวลาในการตอบสนองสูงถึง 75% ช่วยให้การเล่นเกมและวิดีโอลื่นไหลขึ้น

Expanded Wi-Fi Coverage—มาพร้อมเสาสัญญาญ 4 เสา และเทคโนโลยี Beamforming ปรับแต่งสัญญาณให้เสถียรและครอบคลุมทั่วทั้งบ้าน

Enhanced Security—ปลอดภัยมากขึ้นด้วย TP-Link HomeCare™.

Reliable Connections—มาพร้อมกับ Intel® Home Wi-Fi Chipset เพื่อเพิ่มความสามารถในการประมวลผลและมอบประสิทธิภาพในการใช้ Wi-Fi 6 ที่ดีขึ้นกว่าเดิม

Improved Battery Life—Target Wake Time ลดการใช้พลังงาน *ในกรณีที่ไม่มีการใช้ข้อมูล เพื่อให้คุณใช้ประสิทธิภาพได้อย่างเต็มที่

Compatible with Alexa—ควบคุมเราเตอร์ของคุณผ่านคำสั่งเสียงและช่วยให้ชีวิตคุณง่ายขึ้นด้วย Amazon Alexa
The Next Wave of
Home Connectivity
AX3000 Gigabit Wi-Fi 6 Router
Archer AX50
The Next Generation of Wi-Fi is Upon Us
เทคโนโลยีใหม่ Wi-Fi 6 (802.11ax), มอบความเร็วและประสิทธิภาพในการใช้งานอินเตอร์เน็ตเพิ่มมากขึ้น และในขณะนี้อุปกรณ์มากมายเริ่มจะรองรับ Wi-Fi 6 ถึงเวลาแล้วที่จะต้องเปลี่ยนเราเตอร์ของคุณให้เป็นเราเตอร์ที่รองรับเทคโนโลยีใหม่
เรียนรู้เพิ่มเติมเกี่ยวกับ Wi-Fi 6 (802.11ax)
WI-FI 6
3× Faster Speed

4× Capacity

75% Lower Latency

Improved Security
Blazingly Fast Gig+ Speed Can't Wait
ไม่มีเหตุผลอะไรเลยที่คุณจะไม่เลือกซื้อเราเตอร์ Wi-Fi 6 ในเมื่อคุณสามารถใช้ประสิทธิภาพได้อย่างเต็มที่! Feature160 MHz แบนด์วิช และ 1024-QAM, Archer AX50 พร้อมแล้วที่จะมอบอินเตอร์เน็ตรวมสูงสุดถึง 3 Gbps ให้คุณสนุกกับประสบการณ์อินเตอร์เน็ตที่ไม่เคยพบมาก่อน ขับเคลื่อนด้วย Intel® Home Wi-Fi WAV654 chipset สำหรับเราเตอร์ Wi-Fi 6 AX3000 และการจับคู่ที่สมบูรณ์แบบกับ PC และ Laptop Intel® Wi-Fi 6 Gig + ช่วยให้เล่นอินเตอร์เน็ตราบรื่นยิ่งขึ้น ‡
Expected Max Wireless Throughput (Mbps)
867 Mbps

มาตรฐาน AC 2×2 - ช่องแชแนล 80 MHz

1201 Mbps

มาตรฐาน Wi-Fi 6 2×2 - ช่องแชแนล 80 MHz

2402 Mbps (Archer AX50)

Intel Wi-Fi 6 Gig+ Speed -ช่องแชแนล 160 MHz l§

เร็วกว่า 3× เท่า
Reliable Connections for up to 256 Devices
เพื่อตอบสนองความต้องการที่เพิ่มขึ้นภายในบ้าน , Archer AX50 เราเตอร์อินเตอร์เน็ตแห่งอนาคตที่จะช่วยเพิ่มประสิทธิภาพอินเตอร์เน็ตในบ้านของคุณ ด้วยความเร็วการรับ-ส่งข้อมูลเพิ่มขึ้นอีก 4 เท่า และเทคโนโลยี OFDMA ที่ช่วยเพิ่มประสิทธิภาพการเชื่อมต่อ 4 เท่าเมื่อเปรียบเทียบกับเราเตอร์มาตรฐาน 802.11ac เพื่อก้าวต่อไปสู่เทคโนโลยีในอนาคต**
Lower Latency,
Greater Experience.
ก้าวต่อไปข้างหน้าด้วยการเชื่อมต่อไร้สาย , Wi-Fi 6 จะนำการเชื่อมต่อที่เสถียรให้แก่คุณ ช่วยให้งานที่ใช้แบนด์วิธจำนวนมากทำงานได้อย่างราบรื่นในเวลาเดียวกัน แม้ว่าจะมีอุปกรณ์เชื่อมต่อเยอะแค่ไหน
เพิ่มขึ้น 75%
ลดความล่าช้า*
HomeCare™
More Secure,
and More Trusted Wi-Fi
สร้างความปลอดภัยที่มากขึ้นด้วย TP-Link HomeCare™ ไม่ว่าจะเป็นการปกป้องข้อมูลสำคัญของคุณและการกำหนดข้อมูลและการเข้าถึงสำหรับเด็กและผู้ใช้งานภายนอก
Robust
Parental Controls

Block inappropriate content and restrict time spent online

Built-In Antivirus

Protect all connected devices in your home from online threats

Quality of Service

Prioritize devices and applications for faster performance when needed
Expanded Coverage Throughout Your Home
เสาสัญญาณ 4 เสา และเทคโนโลยี Beamforming ปรับแต่งสัญญาณให้ครอบคลุมทั่วทั้งบ้าน เทคโนโลยีล้ำสมัยที่มาพร้อมกับ Wi-Fi 6, อย่างเช่น BSS Color, สร้างความมั่นใจในการเชื่อมต่อและสัญญาณที่เสถียร์โดยปราศจากการรบกวนสัญญาณ APs จากเพื่อนบ้าน.‡
Reduce Devices'
Power Consumption
ในขณะที่อุปกรณ์ที่สามารถรองรับ Wi-Fi 6 เริ่มออกตลาดมากขึ้น , เทคโนโลยีใหม่ล่าสุด AX —ฟีเจอร์ Target Wake Time—ช่วยลดการใช้พลังงานบนโทรศัพท์มือถือและอุปกรณ์ IoT ที่รองรับการจัดการ TWT ระบบจะใช้ sleep mode กับอุปกรณ์ที่ไม่ต้องการเชื่อมต่อ และยืดอายุแบตเตอร์รี่****
Easy Management with Tether
ติดตั้ง Archer AX50 ผ่านหน้าเว็บอินเตอร์เฟส หรือบนแอพลิเคชั่น Tether สามารถใช้งานได้ทั้งบนระบบปฎิบัติการ Android กับ iOS
WIRELESS
Standards
Wi-Fi 6IEEE 802.11ax/ac/n/a 5 GHzIEEE 802.11ax/n/b/g 2.4 GHz
WiFi Speeds
AX30005 GHz: 2402 Mbps (802.11ax, HE160)2.4 GHz: 574 Mbps (802.11ax)
WiFi Range
3 Bedroom Houses

---

4× Fixed High-Performance AntennasMultiple antennas form a signal-boosting array to cover more directions and large areasBeamformingConcentrates wireless signal strength towards clients to expand WiFi rangeHigh-Power FEMImproves transmission power to strengthen signal coverage
WiFi Capacity
High

---

Dual-BandAllocate devices to different bands for optimal performanceOFDMASimultaneously communicates with multiple Wi-Fi 6 clientsAirtime FairnessImproves network efficiency by limiting excessive occupationDFSAccess an extra band to reduce congestion4 StreamsConnect your devices to more bandwidth
Working Modes
Router ModeAccess Point Mode
HARDWARE
Processor
Dual-Core CPU
Ethernet Ports
1× Gigabit WAN Port4× Gigabit LAN PortsStatic Link Aggregation (LAG) available with 2× LAN ports
USB Support
1× USB 3.0 PortSupported Partition Formats:NTFS, exFAT, HFS+, FAT32Supported Functions:Apple Time MachineFTP ServerMedia ServerSamba Server
Buttons
Wi-Fi/WPS ButtonPower On/Off ButtonLED On/Off ButtonReset Button
Power
12 V ⎓ 2 A
SECURITY
WiFi Encryption
WEPWPAWPA2WPA/WPA2-Enterprise (802.1x)
Network Security
SPI FirewallAccess ControlIP & MAC BindingApplication Layer GatewayHomeCare™ Antivirus

---

Malicious Site CheckerPort Intrusion PreventionInfected Device IsolationNotification and Log
Guest Network
1× 5 GHz Guest Network1× 2.4 GHz Guest Network
VPN Server
OpenVPNPPTP
SOFTWARE
Protocols
IPv4IPv6
Service Kits
HomeCare™Learn More>
Parental Controls
HomeCare™ Parental Controls

---

Custom ProfilesContent FilteringApp BlockURL FilteringTime Limit Time Schedule (Bedtime)Log Insight
WAN Types
Dynamic IPStatic IPPPPoEPPTPL2TP
Quality of Service
QoS by DeviceHomeCare™ QoS

---

QoS by Application
Cloud Service
Auto Firmware UpgradeOTA Firmware UpgradeTP-Link IDDDNS
NAT Forwarding
Virtual ServersPort ForwardingPort TriggeringDMZUPnP
IPTV
IGMP ProxyIGMP SnoopingBridgeTag VLAN
DHCP
Address ReservationDHCP Client ListServer
DDNS
TP-LinkNO-IPDynDNS
Management
Tether AppWebpageCheck Web Emulator>
OTHER
System Requirements
Internet Explorer 11+, Firefox 12.0+, Chrome 20.0+, Safari 4.0+, or other JavaScript-enabled browserCable or DSL Modem (if needed)Subscription with an internet service provider (for internet access)
Certifications
FCC, CE, RoHS
Environment
Operating Temperature: 0℃~40℃ (32℉ ~104℉)Storage Temperature: -40℃~70℃ (-40℉ ~158℉)Operating Humidity: 10%~90% non-condensingStorage Humidity: 5%~90% non-condensing
TEST DATA
WiFi Transmission Power
CE: <20dBm(2.4GHz)<23dBm(5.15GHz~5.35GHz)<30dBm(5.47GHz~5.725GHz)FCC:<30dBm(2.4GHz & 5.15GHz~5.825GHz)
WiFi Reception Sensitivity
5 GHz:11a 6Mbps:-97dBm, 11a 54Mbps:-79dBm11ac VHT20_MCS0:-96dBm, 11ac VHT20_MCS11:-66dBm11ac VHT40_MCS0:-94dBm, 11ac VHT40_MCS11:-63dBm11ac VHT80_MCS0:-91dBm, 11ac VHT80_MCS11:-60dBm11ac VHT160_MCS0:-88dBm, 11ac VHT160_MCS11:-55dBm11ax HE20_MCS0:-95dBm, 11ax HE20_MCS11:-63dBm11ax HE40_MCS0:-92dBm,11ax HE40_MCS11:-60dBm11ax HE80_MCS0:-89dBm, 11ax HE80_MCS11:-58dBm11ax HE160_MCS0:-85dBm, 11ax HE160_MCS11:-55dBm2.4 GHz:11g 6Mbps:-97dBm, 11a 54Mbps:-79dBm11n HT20_MCS0:-97dBm,11n HT20_MCS7:-78dBm11n HT40_MCS0:-95dBm, 11n HT40_MCS7:-75dBm11ac VHT20_MCS0:-96dBm,11ac VHT20_MCS11:-67dBm11ac VHT40_MCS0:-94dBm, 11ac VHT40_MCS11:-64dBm11ax HE20_MCS0:-96dBm, 11ax HE20_MCS11:-64dBm11ax HE40_MCS0:-93dBm, 11ax HE40_MCS11:-61dBm
PHYSICAL
Dimensions (W×D×H)
10.2 × 5.3 × 1.5 in(260.2 x 135.0 x 38.6 mm)
Package Contents
Wi-Fi Router Archer AX50Power AdapterRJ45 Ethernet CableQuick Installation Guide
†Maximum wireless signal rates are the physical rates derived from IEEE Standard 802.11 specifications. Range, coverage, and the maximum number of connected devices are based on test results under normal usage conditions. Actual wireless data throughput, wireless coverage, and number of connected devices are not guaranteed and will vary as a result of 1) environmental factors, including building materials, physical objects, and obstacles, 2) network conditions, including local interference, volume, and density of traffic, product location, network complexity, and network overhead, and 3) client limitations, including rated performance, location, connection quality, and client condition.
‡Use of Wi-Fi 6 (802.11ax), and features including OFDMA, MU-MIMO, and 1024-QAM require clients to also support the corresponding features.
§HE160 requires client devices that support 160 MHz bandwidth on Wi-Fi.
△802.11ax 2x2 160 MHz enables 2402 Mbps maximum theoretical data rates, 3X faster than standard 802.11ac 2x2 80 MHz (867 Mbps) and nearly 6x faster than baseline 1x1ac (433 Mbps) Wi-Fi as documented in IEEE 802.11 wireless standard specifications, and require the use of similarly configured 802.11ax wireless network routers.
*"Up to 75% lower latency" is based on Intel simulation data of 802.11ax with and without OFDMA using 9 clients. Average latency without OFDM is 36ms, with OFDMA average latency is reduced to 7.6ms. Latency improvement requires that the AP and all clients support OFDMA.
**This amendment defines standardized modifications to both the IEEE 802.11 physical layers (PHY) and the IEEE 802.11 Medium Access Control layer (MAC) that enable at least one mode of operation capable of supporting at least four times improvement in the average throughput per station (measured at the MAC data service access point) in a dense deployment scenario while maintaining or improving the power efficiency per station.
***Intel and the Intel logo are trademarks of Intel Corporation or its subsidiaries in the U.S. and/or other countries.
****Saving clients' battery power requires clients to also support the 802.11ax Wi-Fi standard. Actual power reduction may vary as a result of network conditions, client limitations, and environmental factors.
*****This router may not support all the mandatory features as ratified in Draft 3.0 of IEEE802.11ax specification. Further software upgrades for feature availability may be required.
******TP-Link HomeCare™ is available for free for the first few months after subscription. Please visit www.tp-link.com/homecare for more information.
From United States?
Get products, events and services for your region.