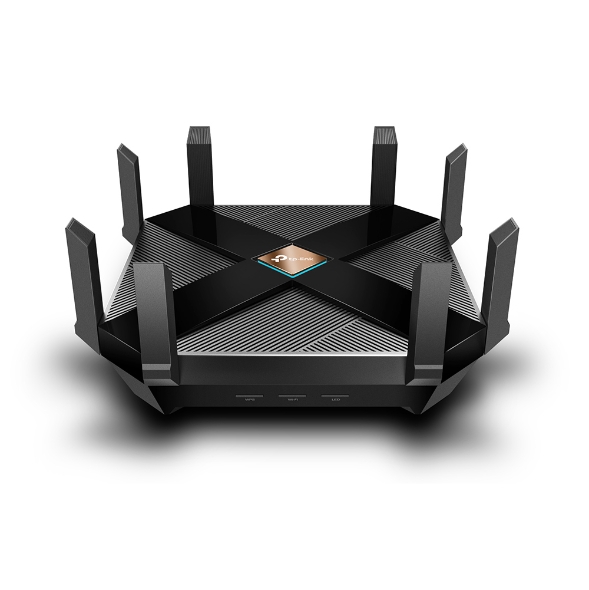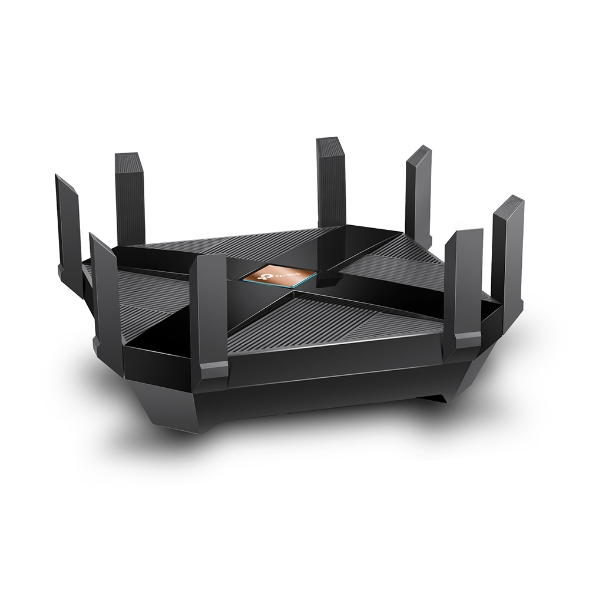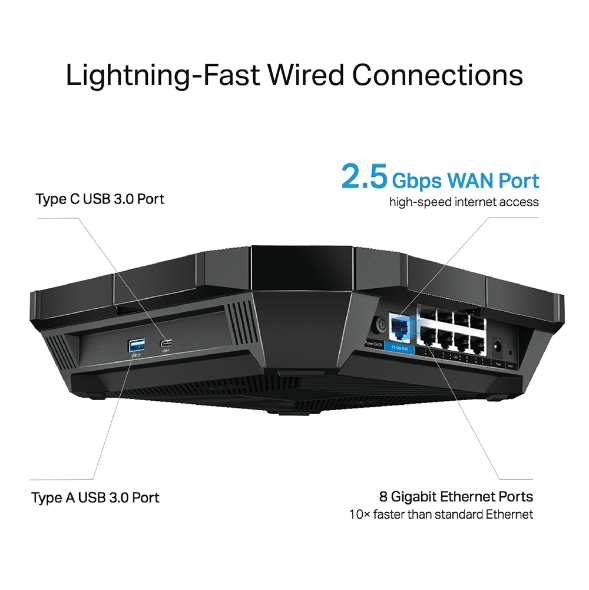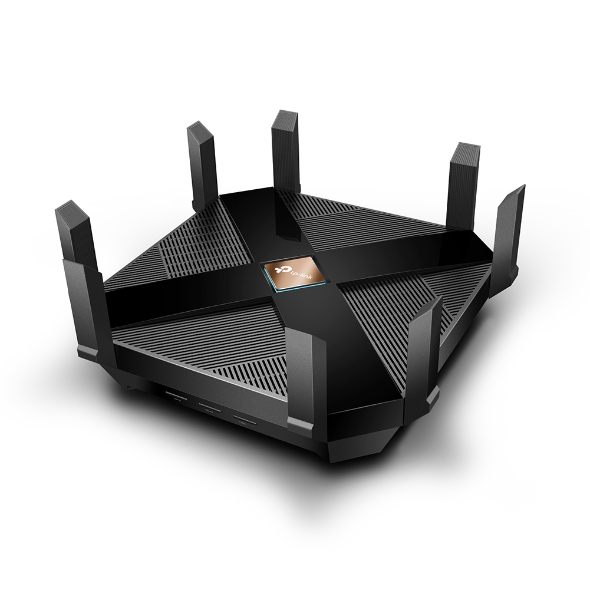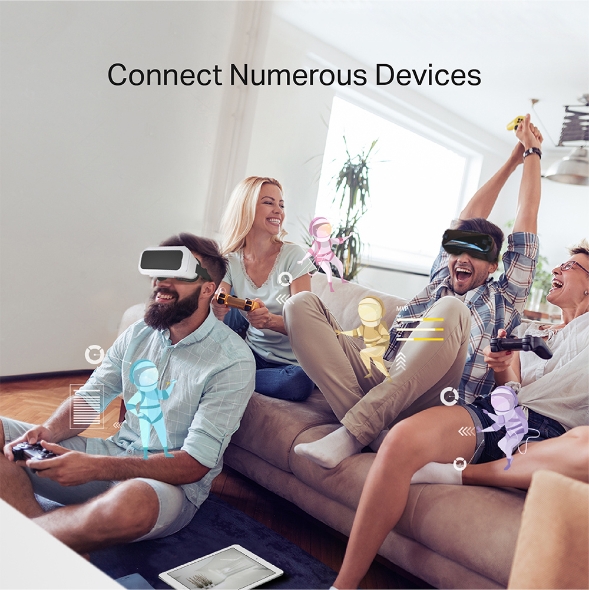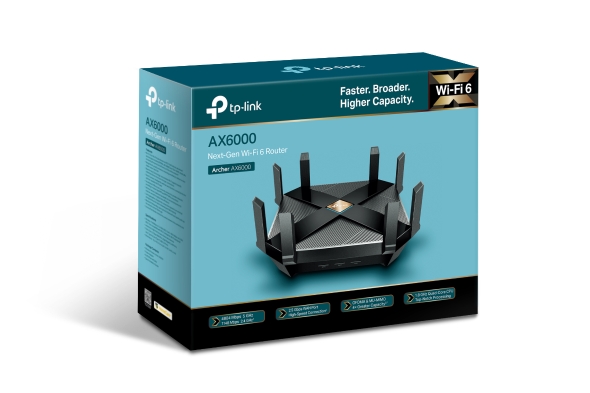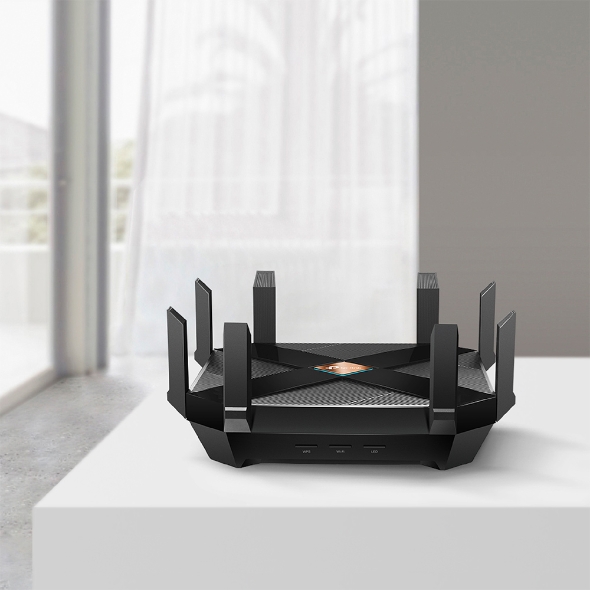 Archer AX6000
End of Life
AX6000 Next-Gen Wi-Fi Router
Blazing Speed - เทคโนโลยี Wi-Fi 802.11ax, ด้วยคลื่นสัญญาณ 1024QAM จึงทำให้ Archer AX6000 มีความเร็ว Wireless รวมสูงสุดที่ 5952 Mbps 4804 Mbps (5 GHz) and 1148 Mbps (2.4 GHz)
Ultra Connectivity - 1 × 2.5 Gbps WAN port, 8 × Gigabit LAN ports, and 2 × USB 3.0 ใน Type A และ Type C
Highly Efficient - เทคโนโลยี OFDMA ช่วยเพิ่มประสิทธิภาพความเร็วสูงเพิ่มขึ้น 4 เท่าเมื่อเทียบกับมาตรฐาน AC , เพิ่มประสิทธิภาพทั้ง Down link และ Uplink MU-MIMO
Powerful Processing - CPU Quad-Core 1.8 GHz และโปรเซสเซอร์ 2 ตัวช่วยเพิ่มประสิทธิภาพในการใช้งานอินเตอร์เน็ต
Intelligent Connection - Band Steering นำอุปกรณ์ไปยังพื้นที่เชื่อมต่อที่แออัดน้อยกว่าและ Airtime Fairness การปรับเวลาใช้งานให้เหมาะสมที่สุดการเพิ่ม
Security System Built-In - TP-Link HomeCareTM by Trend MicroTM จะช่วยปกป้องอินเตอร์เน็ตบ้านของคุณให้มากขึ้นกว่าเดิม ทั้งฟังก์ชั่น Antivirus ,Parental Controls และ QoS
Easy Setup - ต่อเราเตอร์ของคุณผ่านบูลทูธ และเชื่อมต่อภายในเวลาอันสั้นด้วย Tether App
Faster. Broader. Higher Capacity.
802.11ax Next-Gen Wi-Fi Router
Archer AX6000
802.11ax Wi-Fi
เร็วและมีประสิทธิภาพสูง
ให้คุณไม่ต้องกังวลทุกการเล่นอินเตอร์เน็ต ไม่ว่าจะเป็นการเล่นเกมออนไลน์ การดูหนัง 4K/8K หรือการใช้อุปกรณ์เพื่อสมาร์ทโฮมต่างๆ ก็จะไม่ช้าและไม่สร้างความรำคาญให้แก่คุณ
802.11ax (หรือเรียกอีกอย่างนึงว่า Wi-Fi 6), Wi-Fi มาตรฐานใหม่ได้เกิดขึ้นแล้ว และในตอนนี้ คุณก็พร้อมแล้วที่จะเพลิดเพลินและสนุกสนานกับการเชื่อมต่อที่มากขึ้น , และสัมผัสความเร็วอินเตอร์เน็ตที่เร็วมากกว่าเดิม
Next-Gen Wi-Fi — 802.11ax
Archer AX6000 เป็นเราเตอร์ Wi-Fi 6 ของ TP-Link รุ่นแรกในมาตรฐานเทคโนโลยี 802.11ax ยกระดับ Wi-Fi ของคุณไปขั้น ในขณะที่ยังเข้ากันได้กับมาตรฐาน 802.11a/b/g/n/ac
4x
Larger Capacity

OFDMA , เชื่อมต่ออุปกรณ์ได้มากขึ้น โดยจะแบ่งช่องสัญญาณให้เหมาะสมกับการใช้งานของแต่ละอุปกรณ์

3x
Faster Speed

คลื่นสัญญาณ 1024 QAM และ OFDM ที่จะให้ความเร็ว Wireless รวมสูงสุดถึง 6000 Mbps

Boosted Coverage

เสาสัญญาณ 8 เสาสัญญาณ เทคโนโลยี Beamforming และ RangeBoost ที่รวมกันเพื่อสัญญาณที่แข็งแรงและทรงประสิทธิภาพ
Blazing Fast Speed
เทคโนโลยีใหม่ 802.11ax มาแล้ว ฟีเจอร์ 1024QAM และ Long OFDM Symbol ที่พร้อมจะมอบความเร็วสูงที่ 1148 Mbps บนย่านความถี่ 2.4GHz และ 4804 Mbps บนย่านความถี่ 5GHz รวมถึงแบนด์วิชเพิ่มขึ้นถึง 160MHz ที่จะให้คุณสนุกกับความเร็วอินเตอร์เน็ตโดยไร้การรบกวน
Connect Numerous Devices
สนุกพร้อมกันกับทุกอุปกรณ์ของคุณ
ด้วย OFDMA และเทคโนโลยี MU-MIMO Archer AX6000 มอบความเร็วประสิทธิภาพสูงกว่าเดิมถึง 4× เท่าเมื่อเทียบกับมาตรฐาน AC แม้ว่าเพิ่มอุปกรณ์เชื่อมต่อเยอะแค่ไหนก็ยังคงแรง
Far-Reaching
Wi-Fi

Coverage

8 เสาสัญญาณภายนอก ที่ใช้การส่งสัญญาณได้มากขึ้น และแรงขึ้นทั่วทั้งบ้านของคุณ เทคโนโลยี Beamforming มุ่งเน้นสัญญาณไปยังทุกอุปกรณ์เชื่อมต่อในขณะที่ Rangeboost ก็ช่วยสร้าง Wi-Fi ที่แข็งแรงและครอบคลุมทั่วทั้งบ้านของคุณ
TP-Link OneMesh™ :
Flexibly Create a Whole-Home Wi-Fi
OneMesh™ is a simple way to form a Mesh network with a single Wi-Fi name for seamless whole-home coverage. Just connect a OneMeshTM range extender to a OneMesh™ router. No more searching around for a stable connection.
Wi-Fi Dead-Zone Killer

Eliminate weak signal areas with Wi-Fi coverage for the whole house

Smart Roaming

Uninterrupted streaming when moving around your home

One Wi-Fi Name

No more switching Wi-Fi network names

Unified Management

Manage the whole-home Wi-Fi by managing the central node via Tether app/Web UI
Traditional Router with Extender

OneMesh™ Router + Range Extender
Lightning-Fast Wired Connections
Archer AX6000 มาพร้อมช่องสายแลน 2.5Gbps WAN port เพื่อความสามารถในการใช้งานอินเตอร์เน็ตมากกว่า 1Gbps,พร้อมพอร์ตเสียบสาย USB 3.0 Type A และ Type C ในการเชื่อมต่ออินเตอร์เน็ต และพอร์ต Gigabit Ethernet จำนวน 8 พอร์ต
พอร์ตเสียบสาย USB Type A 3.0 Port
พอร์ตเสียบสาย USB Type C 3.0 Port
ช่องสายแลน 2.5Gbps WAN port
อินเทอร์เน็ตความเร็วสูง
พอร์ต Gigabit Ethernet จำนวน 8 พอร์ต
เร็วกว่า Ethernet มาตรฐาน 10 เท่า
Smarter. Faster. Safer.
Top-Notch Processing Architecture
มาพร้อมพลังเต็มประสิทธิภาพ 1.8GHz 64-bit quad-core processor ด้วย Co-processor ที่แตกต่างกันสองตัวและ RAM ขนาด 1GB เพิ่มพลังงานที่มากขึ้นให้อินเตอร์เน็ต พลังประมวลผลคุณภาพสูงนี้จะทำให้เราเตอร์รองรับการรับ-ส่งข้อมูลหลายอย่างได้ในเวลาเดียวกัน
HomeCare™
สร้างความปลอดภัยที่มากขึ้นอีกด้วย TP-Link HomeCare™ ไม่ว่าจะเป็นการปกป้องข้อมูลสำคัญของคุณและการกำหนดข้อมูลและการเข้าถึงสำหรับเด็กและผู้มาเยือน, HomeCare™ จะมอบเครื่องมือนั้นเพื่อให้คุณจัดการได้อย่างเต็มที่
เรียนรู้เพิ่มเติม >>
Robust Parental Controls

บล็อกเนื้อหาที่ไม่เหมาะสมและจำกัดเวลาที่ใช้ออนไลน์

Built-In Antivirus

ปกป้องทุกอุปกรณ์ภายในบ้านของคุณจากภัยคุกคามออนไลน์

Quality of Service

จัดลำดับความสำคัญของอุปกรณ์และแอปพลิเคชันเพื่อประสิทธิภาพที่รวดเร็วขึ้นเมื่อต้องการ
Setup Just Got a Lot Easier
คุณสามารถตั้งค่า Archer AX6000 ผ่านบูลทูธง่ายๆเพียงดาวน์โหลด Tether app,
ทำตามขั้นตอนการแนะนำ แค่นี้ก็สามารถติดตั้ง Archer AX6000 ง่ายๆ เพียงไม่กี่นาที
เชื่อมต่อ Archer AX6000 กับโมเด็มเราเตอร์ และเปิดการทำงานทั้งสองอุปกรณ์

ดาวน์แอพ Tether และเริ่มการใช้งาน

ต่อเราเตอร์ของคุณผ่านบูลทูธ จากนั้นทำตามคำแนะนำของแอพ แค่นี้ก็เสร็จสิ้นการตั้งค่า
Ready for Today and Tomorrow's Smart Home
ด้วยจำนวนอุปกรณ์ภายในบ้านที่เพิ่มมากขึ้น คุณจะสามารถควบคุมทุกอุปกรณ์ของคุณไว้ด้วยกันด้วย Amazon ผ่านคำสั่งเสียงให้สนุกกับชีวิตที่ชาญฉลาดอย่างแท้จริง
Alexa,tell TP-Link to prioritize my laptop's Wi-Fi connect !
WIRELESS
Standards
Wi-Fi 6IEEE 802.11ax/ac/n/a 5 GHzIEEE 802.11ax/n/b/g 2.4 GHz
WiFi Speeds
AX60005 GHz: 4804 Mbps (802.11ax, HE160)2.4 GHz: 1148 Mbps (802.11ax)
WiFi Range
4 Bedroom Houses

---

8× Fixed High-Performance AntennasMultiple antennas form a signal-boosting array to cover more directions and large areasBeamformingConcentrates wireless signal strength towards clients to expand WiFi rangeHigh-Power FEMImproves transmission power to strengthen signal coverage4T4RMultiple streams in the same band strengthen the fault tolerance in transmission
WiFi Capacity
Very High

---

Dual-BandAllocate devices to different bands for optimal performance4×4 MU-MIMOSimultaneously communicates with multiple MU-MIMO clientsOFDMASimultaneously communicates with multiple Wi-Fi 6 clientsAirtime FairnessImproves network efficiency by limiting excessive occupationDFSAccess an extra band to reduce congestion8 StreamsConnect your devices to more bandwidth
Working Modes
Router ModeAccess Point Mode
HARDWARE
Processor
1.8 GHz 64 Bit Quad-Core CPU
Ethernet Ports
1× 2.5 Gbps WAN Port8× Gigabit LAN PortsStatic Link Aggregation (LAG) available with 2× LAN ports
USB Support
1× USB-C 3.0 Port1× USB-A 3.0 PortSupported Partition Formats:NTFS, exFAT, HFS+, FAT32Supported Functions:Apple Time MachineFTP ServerMedia ServerSamba Server
Buttons
Wi-Fi On/Off ButtonPower On/Off ButtonLED On/Off ButtonWPS ButtonReset Button
Power
12 V ⎓ 4 A
SECURITY
WiFi Encryption
WPAWPA2WPA3WPA/WPA2-Enterprise (802.1x)
Network Security
SPI FirewallAccess ControlIP & MAC BindingApplication Layer GatewayHomeCare™ Antivirus

---

Malicious Site CheckerPort Intrusion PreventionInfected Device IsolationNotification and Log
Guest Network
1× 5 GHz Guest Network1× 2.4 GHz Guest Network
VPN Server
OpenVPNPPTP
SOFTWARE
Protocols
IPv4IPv6
Service Kits
HomeCare™Learn More>
OneMesh™
OneMesh™ SupportedWithout replacing your existing devices or buying a whole new WiFi ecosystem, OneMesh™ helps you create a more flexible network that covers your entire home with TP-Link OneMesh™ products. Learn More>All OneMesh Products>
Parental Controls
HomeCare™ Parental Controls

---

Custom ProfilesContent FilteringApp BlockURL FilteringTime Limit Time Schedule (Bedtime)Log Insight
WAN Types
Dynamic IPStatic IPPPPoEPPTPL2TP
Quality of Service
QoS by DeviceHomeCare™ QoS

---

QoS by Application
Cloud Service
Auto Firmware UpgradeOTA Firmware UpgradeTP-Link IDDDNS
NAT Forwarding
Port ForwardingPort TriggeringDMZUPnP
IPTV
IGMP ProxyIGMP SnoopingBridgeTag VLAN
DHCP
Address ReservationDHCP Client ListServer
DDNS
TP-LinkNO-IPDynDNS
Management
Tether AppWebpageCheck Web Emulator>
OTHER
System Requirements
Internet Explorer 11+, Firefox 12.0+, Chrome 20.0+, Safari 4.0+, or other JavaScript-enabled browserCable or DSL Modem (if needed)Subscription with an internet service provider (for internet access)
Certifications
FCC, CE, RoHS
Environment
Operating Temperature: 0℃~40℃ (32℉ ~104℉)Storage Temperature: -40℃~70℃ (-40℉ ~158℉)Operating Humidity: 10%~90% non-condensingStorage Humidity: 5%~90% non-condensing
TEST DATA
WiFi Transmission Power
CE:<20dBm(2.4GHz)<23dBm(5.15GHz~5.35GHz)<30dBm(5.47GHz~5.725GHz)FCC: <30dBm(2.4GHz & 5.15GHz~5.25GHz & 5.725GHz~5.825GHz)<24dBm(5.25GHz-5.35GHz & 5.47GHz-5.725 GHz)
WiFi Reception Sensitivity
5 GHz:11a 6Mbps:-97dBm,11a54MBps:-79dBm11ac VHT20 MCS0:-97dBm,11ac VHT20 MCS11:-67dBm11ac VHT40 MCS0:-95dBm,11ac VHT40 MCS11:-64dBm11ac VHT80 MCS0:-92dBm,11ac VHT80 MCS11:-61dBm11ac VHT160 MCS0:-87dBm,11ac VHT160 MCS11:-55dBm11ax HE20 MCS0:-95dBm,11ax HE20 MCS11:-64dBm11ax HE40 MCS0:-93dBm,11ax HE40 MCS11:-61.5dBm11ax HE80 MCS0:-89dBm,11ax HE80 MCS11:-58.5dBm11ax HE160 MCS0:-86dBm,11ax HE160 MCS11:-56dBm2.4 GHz:11g 6Mbps:-97dBm,11a54MBps:-79dBm11n HT20 MCS0:-97dBm,11n HT20 MCS7:-78dBm11n HT40 MCS0:-95dBm,11n HT40 MCS7:-75dBm11ac VHT20 MCS0:-96dBm,11ac VHT20 MCS11:-67dBm11ac VHT40 MCS0:-94dBm,11ac VHT40 MCS11:-64dBm11ax HE20 MCS0:-95dBm,11ax HE20 MCS11:-64dBm11ax HE40 MCS0:-93dBm,11ax HE40 MCS11:-62dBm
PHYSICAL
Dimensions (W×D×H)
10.3 × 10.3 × 2.4 in.(261.2 × 261.2 × 60.2 mm)
Package Contents
Wi-Fi Router Archer AX6000Power AdapterRJ45 Ethernet CableQuick Installation Guide
*Maximum wireless signal rates are the physical rates derived from IEEE Standard 802.11 specifications. Actual wireless data throughput, wireless coverage, and quantity of connected devices are not guaranteed and will vary as a result of network conditions, client limitations, and environmental factors, including building materials, obstacles, volume and density of traffic, and client location.
* Use of 802.11ax Wi-Fi standard requires clients to also support the 802.11ax Wi-Fi standard.
* Claims about 802.11ax Wi-Fi technology are based on comparisons of the expected maximum theoretical data rates for one spatial stream using 802.11ax at 160 MHz (1201 Mbps) as opposed to one spatial stream using 802.11ac at 80 MHz (433 Mbps) as documented in IEEE 802.11ax draft 3.0 spec and IEEE 802.11-2016 wireless standard specifications.
*Use of MU-MIMO requires clients to also support MU-MIMO.
* The amendment defines standardized modifications to both the IEEE 802.11 physical layers (PHY) and the IEEE 802.11 Medium Access Control (MAC) layer that enable at least one mode of operation capable of supporting improvement of at least four times the average throughput per station (measured at the MAC data service access point) in a dense deployment scenario.
* Requires client device that supports 160 MHz bandwidth on Wi-Fi.
* This router may not support all the mandatory features as ratified in Draft 3.0 of IEEE 802.11AX specification.
* 2.5 Gbps internet speeds require compatible service plans and equipment.
* TP-Link HomeCare™ is available for free for the first few months after subscription. Please visit www.tp-link.com/homecare.
From United States?
Get products, events and services for your region.