Deco M4 installatie incombinatie met Ziggo
Om gebruik te maken van uw Ziggo modem in combinatie met de Deco M4 kunt u de volgende procedure uitvoeren:
Stap 1: Installeer de Deco app via de Google Playstore of de Appstore
Stap 2: Zet uw WiFi netwerk uit van uw Ziggo modem. Hoe dit moet kunt u terug vinden via www.ziggo.nl/wifi-uit, deze blijft na de installatie uitgeschakeld.
Stap 3: Schakel uw Bluetooth en locatie voorziening in op uw smart toestel
Stap 4: Open de Deco app en registreer een TP-Link ID
Stap 5: Gebruik uw TP-Link ID om in te loggen in de Deco app
Stap 6: Sluit Deco 1 aan op de netspanning en de meegeleverde netwerk kabel aan uw Ziggo modem
Stap 7: Druk op "Laten we beginnen" en loop de installatie door (tijdens de installatie moet u voor Soort verbinding "Dynamisch IP" kiezen)
Stap 8: Op het einde van de installatie krijg u de optie "Voeg nog een Deco toe", sluit Deco 2 dicht aan bij Deco 1 op de netspanning en wacht tot de LED van Deco 2 blauw pulseert. Kies dan voor "Voeg nog een Deco toe" en loop de installatie door
Stap 9: Voer Stap 7 uit op Deco 3 en op het einde van de installatie kiest u "Ik ben voor nu klaar"
Stap 10: Ga in de Deco APP naar "Meer-Geavanceerd-Snelle roaming" en schakel deze in
Stap 11: Ga in de Deco APP naar "Meer-Geavanceerd-Bedrijfsmodus" en kies voor "Access point", u druk vervolgens op "Oke" waarbij uw Deco opnieuw opgestart wordt
Stap 12: Indien u achteraf nog een Deco wil toevoegen dan kunt in rechts boven in het hoofd scherm van de Deco APP op het "+" icon drukken.
Stap 13: Mocht u de Decos achteraf willen bekabelen dan kan dit op 2 manieren (sluit niet meerdere Decos op uw Ziggo modem-router).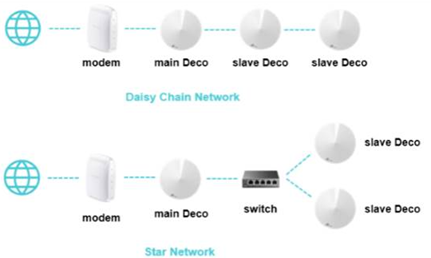 Stap 14: U kunt het volgende FAQ bezichtigen voor tips omtrent het plaatsing van uw Decos: https://www.tp-link.com/nl/support/faq/1446/
Stap 15: Geniet van uw Deco netwerk
Ik ondervind problemen met mijn Toon thermostaat in combinatie met de Deco.
Open uw Deco APP.
Druk op uw Toon in de apparaten lijst.
Druk rechts bovenin op het tandwiel icoontje en
Schakel de Mesh Technologie uit.
Let op! Uw hoofd Deco moet ten alle tijden bekabeld aangesloten blijven aan uw Ziggo modem.
Voor verdere ondersteuning kunt u zich wenden tot Ziggo 0900-1884.
Is this faq useful?
Your feedback helps improve this site.
AbonneerTP-Link hecht veel waarde aan privacy. Voor meer informatie over ons privacybeleid kan je onze Privacy Policy bekijken.
Krijg updates over nieuwe producten, samenwerkingen en ander interessant nieuws
From United States?
Check products and services for your region.