Wat kan ik doen als ik mijn Tapo smart-apparaten niet kan bedienen (smart-plug, smart-camera, smart-lamp)?
Als u de configuratie in de Tapo app hebt voltooid maar het Tapo-apparaat niet via de app kunt bedienen, volg dan onderstaande stappen om het probleem te verhelpen.
Probleem 1: Kan het Tapo-apparaat binnen het lokale netwerk niet bedienen
Stap 1 Controleer de led-status op het Tapo-apparaat. Als de led-status aangeeft dat het Tapo-apparaat niet correct is geconfigureerd, reset het apparaat en voer de configuratie opnieuw uit.
Stap 2 Controleer of de router correct werkt. Maak met uw telefoon of laptop verbinding met het wifi-netwerk van de router om te controleren of de router werkt.
Stap 3 Controleer of er mac-adresfilters, blacklists en regels voor de firewall voor de router zijn ingeschakeld. Indien dit het geval is, schakel de regels uit en start het Tapo-apparaat opnieuw op.
Stap 4 Plaats het Tapo-apparaat dichter bij de router indien het probleem door een slecht signaal wordt veroorzaakt.
Stap 5 Werk de firmware van het Tapo-apparaat bij.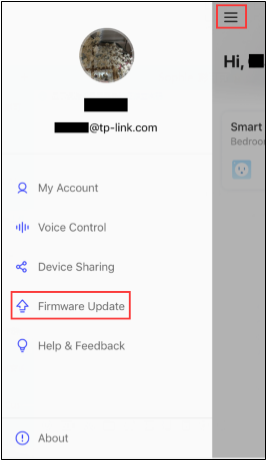 Probleem 2: Kan het Tapo-apparaat niet op afstand bedienen.
Stap 1. Controleer of u het Tapo-apparaat binnen het lokale netwerk kunt bedienen. Raadpleeg Probleem 1 indien u het Tapo-apparaat niet binnen het lokale netwerk kunt bedienen.
Stap 2. Werk uw Tapo-apparaat bij tot de laatste firmwareversie. Open de Tapo app, klik in de linkerbovenhoek op het pictogram met drie regels , klik op 'Firmware bijwerken' om de firmware bij te werken.
Stap 3. Probeer de DNS-server van uw router te wijzigen.
Stap 4. Schakel indien mogelijk de firewallinstellingen van uw router uit en start de router opnieuw op.
Is this faq useful?
Your feedback helps improve this site.
From United States?
Get products, events and services for your region.