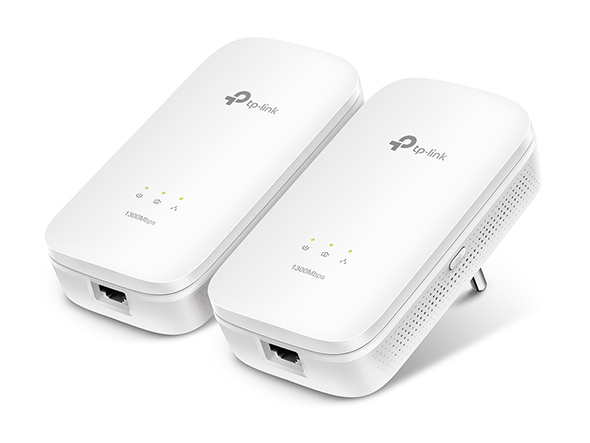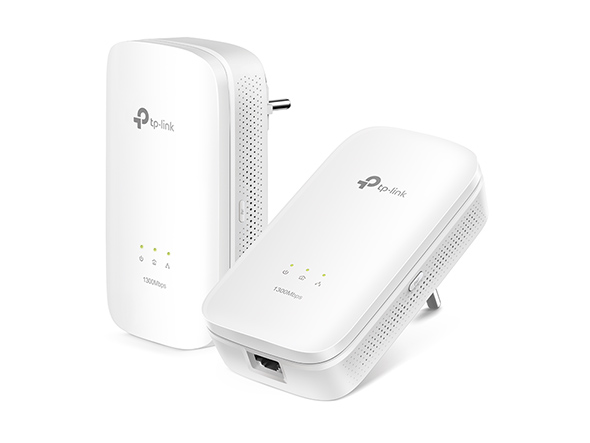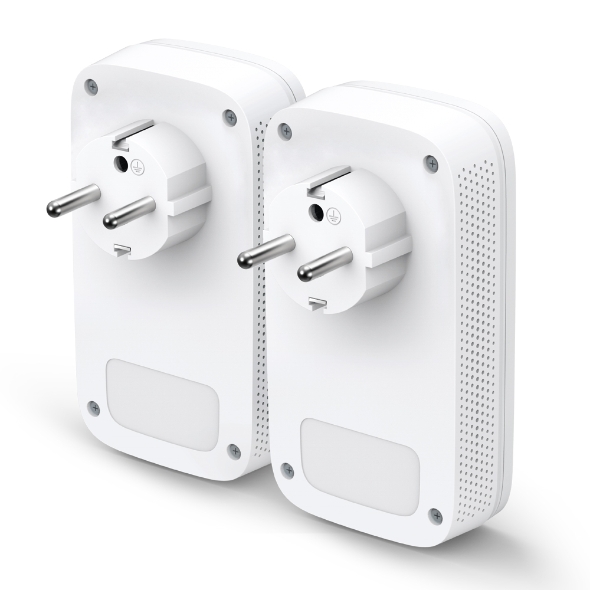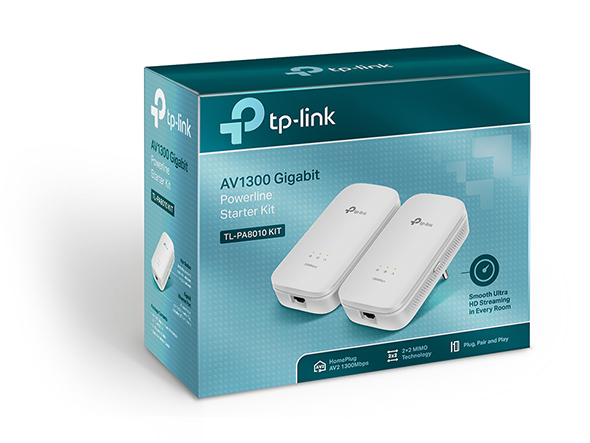 TL-PA8010 KIT
AV1300 Gigabit Powerline Starter Kit
HomePlug AV2 standaard, hoge dataoverdrachtsnelheden tot 1300Mbps1, ondersteunt al uw online behoeftes.
Line-Neutraal/Line-Ground 2x2 MIMO met Beamforming verzekert een groter bereik, hogere transmissie capaciteit en stabielere verbindingen.
Gigabit poorten bieden een beveiligd bedraad netwerk voor desktops, smart TV's of spelcomputers.
Plug, Pair en Play. Er is geen configuratie nodig.
Gepatenteerd energiebesparende modus reduceert stroomverbruik

automatisch

tot 85%2.
AV1300

Powerline Kit
Bring Your Home Network Into New Era

TL-PA8010 Gigabit

Powerline Starter Kit

HomePlug AV2
Upgraded 1300Mbps!
Perfect voor activiteiten die veel bandbreedte vereisen
Geavanceerde Homeplug AV2 technologie zorgt ervoor dat de TL-PA8010 KIT 2x2 MIMO* ondersteunt. Gebruikers profiteren van razendsnelle dataoverdrachtssnelheden tot 1200Mbps. Perfect voor activiteiten die veel bandbreedte vereisen zoals streamen van een Ultra HD video naar meerdere apparaten tegelijk, online gamen en grote bestandsoverdrachten.
*De MIMO functionaliteit binnen de HomePlug AV2 verbetert aanzienlijk de dataoverdrachtssnelheden vooral tijdens piek periodes.
2x2
MIMO
Line-Neutral / Line-Ground
Groter bereik
MIMO Technologie maximaliseert de prestaties van onafhankelijke datastromen, welke de dekking verbetert door uw gehele huis, vooral naar voorheen moeilijk te bereiken plekken.
Lange afstand
Lange afstand
Hoge transmissie capaciteit en stabielere verbindingen
MIMO Technologie zorgt ervoor dat de TL-PA8010 KIT 3 kabels kan gebruiken inclusief nul draad, fase draad en aarde draad om meerdere datastromen te creëren. Zo kunt u profiteren van een snelle datadoorvoer en stabielere verbindingen.
Nul draad
Fase draad
Aarde draad
MIMO

SISO
Note:
MIMO - Multi-input Multi-output
SISO - Single-input Single-output
Gigabit Port for Ultra-fast Datasheet Transfer
With one Gigabit Ethernet port, TL-PA8010 KIT allows users to connect a bandwidth intensive device to the Internet at high speeds and ensures the smooth transmission of Ultra HD video streaming. This makes the TL-PA8010 KIT the perfect home entertainment companion.
Computer
Gigabit Poort
voor razendsnelle dataoverdracht
Met een Gigabit ethernet poort staat de TL-PA8010 KIT gebruikers toe om een bandbreedte intensief apparaat te verbinden met het internet op hoge snelheden en verzekert de soepele overdracht van Ultra HD video's. Dit maakt de TL-PA8010 KIT de perfecte home entertainment gadget.
85%
LESS
Working mode
Power-Saving mode
Energiebesparing tot 85%
TL-PA8010 KIT is een nieuwe generatie powerline adapter.
Zijn geavanceerde energiebesparende modus schakelt automatisch over van zijn reguliere "Werkings" modus naar "Energiebesparende" modus waardoor het energieverbruik tot 85% gereduceerd wordt.
85%
LESS
Working mode
Power-Saving mode
1. De theoretische maximale dataoverdrachtsnelheid is afgeleid van de HomePlug AV2 specificaties. Actuele overdrachtssnelheden kunnen variëren door netwerk omgevingen inclusief: afstand, netwerk verkeer, ruis op elektrische draden, bouwmateriaal en constructie, qkwaliteit van elektrische installatie en andere nadelige omstandigheden.
2. Actuele data kan variëren vanwege netwerkcondities en omgevingsfactoren.
3. Compatible with all HomePlug AV and AV2 Standard Powerline adapters. This product may not be compatible with routers or gateways with firmware that has been altered, is based on open source programs, or are non-standard or outdated.
Functionaliteit van de Hardware
Stekkertype
EU
Standaarden en protocollen
HomePlug AV2, HomePlug AV, IEEE 1901,
IEEE 802.3, IEEE 802.3u, IEEE 802.3ab
Interface
1 * Gigabit Ethernet Poort
Knop
Pair knop
Energieverbruik
Maximaal: 5.7W (220V/50Hz)
Normaal: 4.7W (220V/50Hz)
Standby: 1.4W (220V/50Hz)
LED-Indicator
PWR, PLC, ETH
Afmetingen ( B x D x H )
4.85*2.68*1.18 in. (123*68*30 mm)
BEREIK
300 meter over het elektriciteitnet
Overige
Certificatie
Ce, RoHS
Pakketinhoud
Powerline Ethernet adapter
6.5 ft. (2m)CAT.5e Ethernet kabel (RJ45)
Bron CD
Snelle Installatie Gids
Systeemvereisten
Windows 2000/XP/2003/Vista, Windows 7/8/8.1, Mac, Linux
Omgeving
Gebruikstemperatuur: 0°C~40℃ (32°F ~104°F)
Bewaartemperatuur: -40°C~70℃ (-40°F ~158°F)
Rel. luchtvochtigheid gebruik: 10%~90%, niet-condenserend
Rel. luchtvochtigheid opslag: 5%~90%, niet-condenserend
AbonneerTP-Link hecht veel waarde aan privacy. Voor meer informatie over ons privacybeleid kan je onze Privacy Policy bekijken.
Krijg updates over nieuwe producten, samenwerkingen en ander interessant nieuws
From United States?
Check products and services for your region.