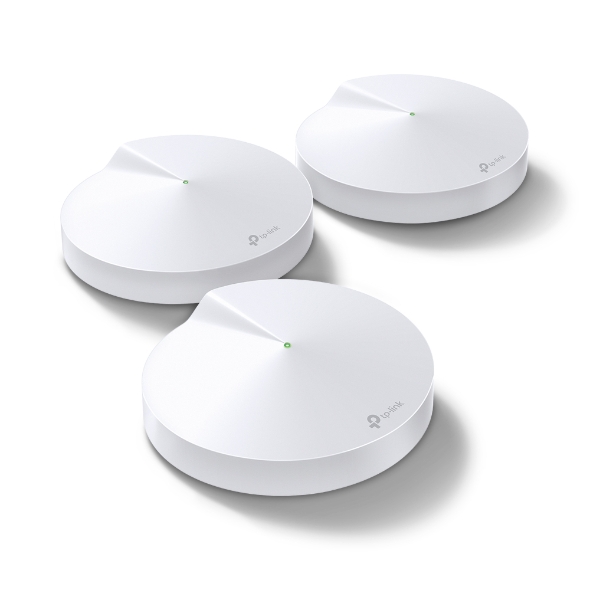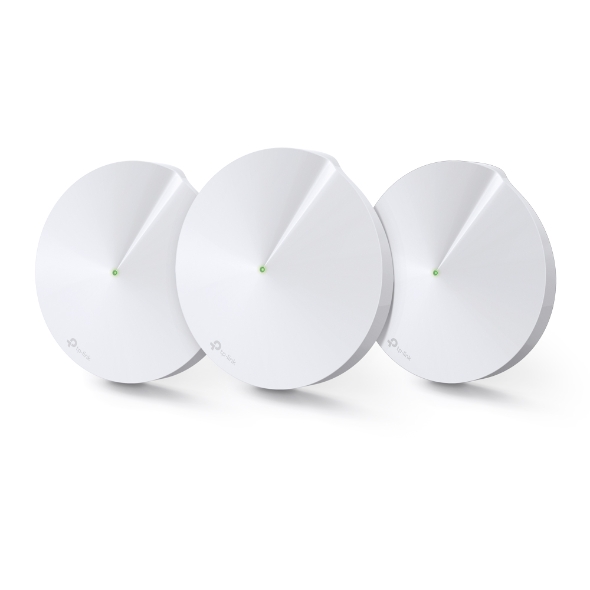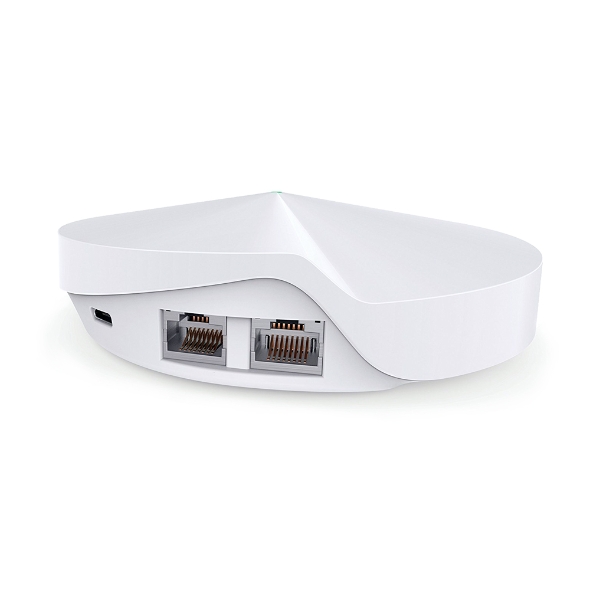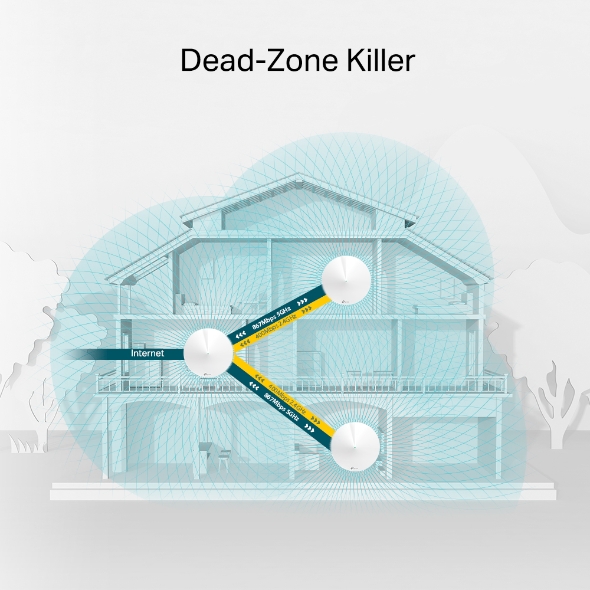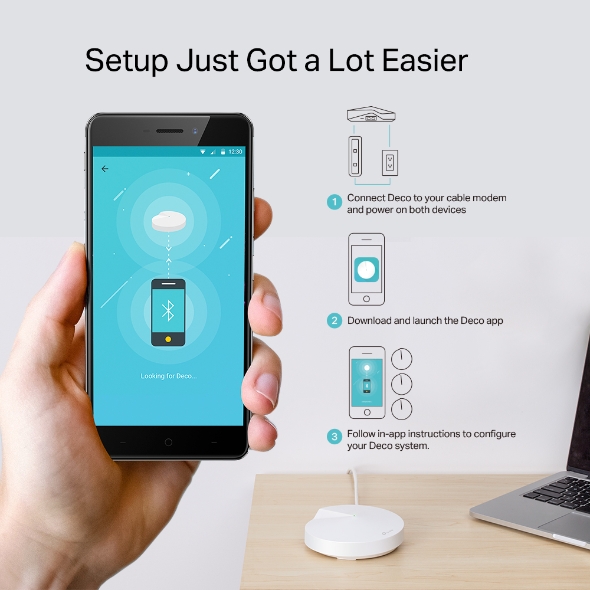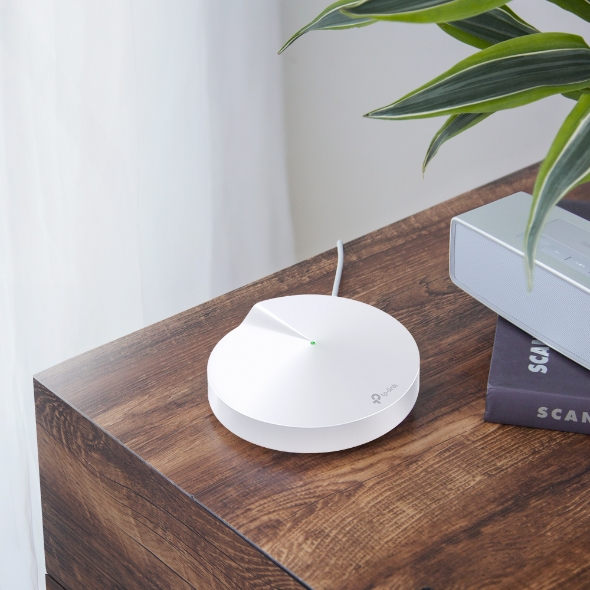 Deco Whole-Home Wi-Fi Deco M5
Deco uses a system of units to achieve seamless whole-home Wi-Fi coverage — eliminate weak signal areas once and for all!
With advanced Deco Mesh Technology, units work together to form one unified whole-home network with the same network name. Devices automatically switch between Decos as you move through your home for the fastest possible speeds.
A Deco M5 three-pack delivers Wi-Fi to an area of up to 5500 square feet, while a Deco M5 two-pack delivers up to 3800 square feet. And if that's not enough, simply add more Decos to the network anytime to increase coverage.
Deco M5 provides fast and stable connections with speeds of up to 1267Mbps and works with any internet service provider (ISP) and modem.
Deco can handle traffic from even the busiest of networks, providing lag-free connections for over 100 devices.
TP-Link HomeCareTM provides a suite of personalized and secure features, including Parental Controls, built-in Antivirus and Quality of Service (QoS).
Setup is easier than ever with the Deco app there to walk you through every step.
"If you're looking to ditch your traditional router-extender setup for a whole-home Wi-Fi system, put the TP-Link Deco M5 Wi-Fi System on your short list"
It Takes a Wi-Fi System for Complete Coverage
Average routers are designed to send Wi-Fi in all directions but don't always reach every room. Range extenders improve coverage but create multiple networks for you to navigate.
Deco M5 uses several units working together to replace your router and create seamless Wi-Fi in every room. Each Deco mesh router can work independently to cover up to 2,000 sq. ft. and three units
working together deliver up to 5,500 sq. ft. of fast Wi-Fi. For even more coverage, you can use
up to 10 Deco units on a single network.
Small Home
1 Unit - 2,000 square feet
Medium Home
2 Units - 3,800 square feet
Large Home
3 Units - 5,500 square feet
Three Separate Devices, All in One Deco.
Mesh Wi-Fi
Security Box
Parental Controls Device
Deco for the Best Wi-Fi
Deco includes three separate features in one device—seamless coverage, antivirus and parental controls.
Not only do you get strong Wi-Fi in every room of your home, you also get the most secure whole-home Wi-Fi with HomeCare protecting every device.
LEARN MORE
Antivirus

Protects every device from cyber threats.

Parental Controls

Keep your family safe while online.

Quality of Service

Prioritize devices and applications.
Setup Just Got a Lot Easier
With just a few minutes and the Deco app, you can get your entire home network up and running. Just unpack your Deco units, download the "TP-Link Deco" app for Android or iOS, and follow the on-screen directions. Deco will take care of the rest, even helping you place each unit in the best spot.
Create a More Reliable Wi-Fi System through Powerline
Deco M5 Plus supports powerline networking. Decos automatically choose between Wi-Fi and powerline methods for connecting to one another to guarantee the best quality Wi-Fi in your home.
Deco Takes Care
of Everything
It provides fast Wi-Fi, antivirus, parental
controls and QoS—all in one device.
HomeCare for Protection, Safety and Fast Wi-Fi
You don't need to buy a separate security box device like Cujo or Circle to add security to your network. Deco includes TP-Link HomeCareTM powered by Trend MicroTM*, which comes with antivirus, parental controls and QoS.
*TP-Link HomeCareTM powered by Trend MicroTM (HomeCare) is included for 3 years from date of activation at no additional cost. Deactivation of HomeCare will disable certain parental controls and security protections. For a complete list of HomeCare functionalities go to www.tp-link.com/us/HomeCare
LEARN MORE
Antivirus

Every device that uses Wi-Fi is protected by Deco. That includes things that don't normally have protection from cyber threats, like Wi-Fi cameras, smart locks and game consoles. It even protects devices that your friends use at your home.

Parental Controls

Whether you want to block websites, set time limits, see which sites your kids are using or pause the internet, you can with Deco. And you can do it all from the app.

Prioritize What Matters

Choose which devices or activities you want Deco to prioritize with Quality of Service (QoS). In just a few taps, you can make sure your laptop or streaming movie is first in line for Wi-Fi or Ethernet.
ARTTM
(Adaptive Routing Technology)
Deco uses ART (Adaptive Routing Technology) to deliver the fastest Wi-Fi possible to each device.

As more devices connect to your network, Deco balances the demand by finding the best path to send information across your home.

With Deco and ART working together, you're free to move from room to room as you stream, game, download and browse—all on a seamless Wi-Fi connection.
Works with Alexa and IFTTT
Add new devices to your network, prioritize devices and activities, share the guest Wi-Fi password and more with Amazon Alexa and your voice.
Trigger actions when devices are connecting, disconnecting or being added to your network and set triggers to prioritize a device or an activity with anything that works with IFTTT.
Learn about Alexa integration>
Learn about our custom Alexa skills>
Compare
Deco M5
Eero 1st Gen
Luma
Google WiFi

Wi-Fi Features

MU-MIMO
Auto Path Selection
AP Steering
Band Steering
Beamforming

Ease of Use

Mobile App
Bluetooth Onboarding
Location Assistant
Speedtest
Device List
Easy Guest Wi-Fi Sharing

Software & Security

Network Scanning
Router-based Antivirus
Cloud based
Firewall Security
QoS (By Device)
QoS (By Application)
Device Activity Report
Parental Controls (Time Restrictive)
Parental Controls (URL Filtering)
Monthly Usage Reports
Auto FW Update
*Please note that the comparison was compiled based on product information available from product brochures/websites as of 4/12 2017. No actual testing was performed.
Features Raised to a Fine Art
Assisted Setup
Deco helps you quickly find the perfect spot to place each unit.
Download the Deco app from the Apple App Store or Google Play.
Follow the instructions in the app to set up your primary Deco.
HomeCare gives Deco the most comprehensive security of any whole-home Wi-Fi system.
Included with HomeCare:
Robust Parental Controls

Manage content and control when each device can access the internet.

3-Year Built-In Antivirus

Protect all connected devices in your home from viruses and malware.

Usage Report

Review a monthly list of usage, blocked content and security threats.

Quality of Service

Prioritize devices and applications for faster performance when needed.
LEARN MORE
ART

Automatically chooses the clearest path for all your devices based on the location of each Deco unit.

Speedtest

Check on the upload and download speeds of your network to keep it running at full speed.

24/7 Support

Contact us anytime for no-cost technical service, including setup assistance, for the lifetime of your product.
Specs
Quad-core CPU
Wireless 400 Mbps on
2.4 GHz + 867 Mbps on 5 GHz
4 internal antennas per Deco unit
2 Gigabit ports per Deco unit
1 USB Type-C port
Bluetooth 4.2
IPv6 compatible
Product dimensions
(120 mm dia x 38 mm h)
Just Add Power
Simply download the app and let it do the work of finding the strongest spot for placement. No pulling cords or counting to 15, Deco guides you straight out of the box for a seamless setup experience.
System requirements:
Android 4.3 or later
iOS 8.0 or later
Bluetooth 4.0 or later
ХАРДУЕРНИ ХАРАКТЕРИСТИКИ
Процесор
Quad-core CPU
Интерфейс
2 LAN/WAN Gigabit Ethernet Ports
Бутон
1 Reset button on the underside
Външно захранване
12 V/1.2 A
Flash
32 MB
SDRAM
256 MB
Dimensions
Φ4.7 in. x 1.3 in. (Φ120 mm x 38 mm)
Антена
4 internal antennas per Deco unit
Bluetooth version
4.2 and above
БЕЗЖИЧНИ ХАРАКТЕРИСТИКИ
Wireless Standards
IEEE 802.11 ac/n/a 5 GHz, IEEE 802.11 b/g/n 2.4 GHz
Честотa
2.4 GHz and 5 GHz
Скорост на сигнала
400 Mbps on 2.4 GHz867 Mbps on 5 GHz
Предавателна мощност
FCC: <30 dBmCE: <20 dBm (2.4 GHz) <23 dBm (5 GHz)
Безжична сигурност
WPA-PSK/WPA2-PSK
Разширени функции
TP-Link Mesh Technology:MU-MIMOAuto Path SelectionAP SteeringBand SteeringBeamforming
СОФТУЕРНИ ХАРАКТЕРИСТИКИ
Качество на услугата
WMM
IPv6
Support
Тип WAN
Dynamic IP/Static IP/PPPoE
Управление
Local Management, Remote Management
DHCP
Server, Client
Пренасочване на портове
Support
Контрол на достъпа
Blacklist
Сигурност със защитна стена
SPI Firewall
Протоколи
Supports IPv4 and IPv6
Advanced Features
Homecare:AntivirusParental ControlsQuality of Service
Разширени функции
SpeedtestMonthly Usage ReportsAuto FW UpdateExpand for more deco
Мрежа за гости
2.4 GHz guest network * 15 GHz guest network * 1
Beamforming
Support
APP
Easy setup by Deco App
ДРУГИ
Сертификати
CE, FCC, IC, NCC, BSMI, IDA,
Съдържание на пакета
● Deco M5 (3-pack):3 Deco units1 RJ45 Ethernet Cable3 Power Adapters● Deco M5 (1-pack):1 Deco unit1 RJ45 Ethernet Cable1 Power Adapter
Smartphone/Tablet Requirements
iOS 8.0 or laterAndroid 4.3 or laterBluetooth 4.0 or later
Околна среда
Operating Temperature: 0℃~40℃ (32℉~104℉)Storage Temperature: -40℃~70℃ (-40℉~158℉)Operating Humidity: 10%~90% non-condensingStorage Humidity: 5%~90% non-condensing