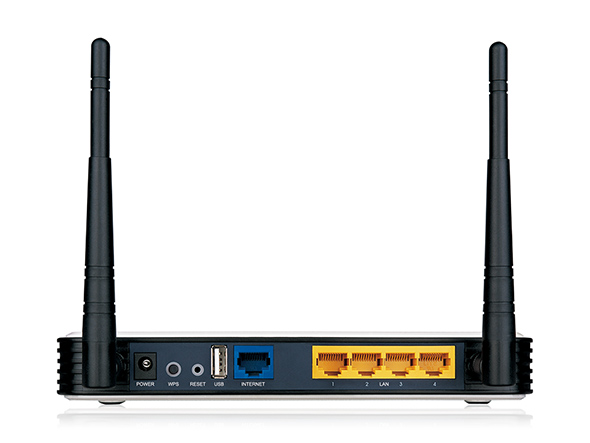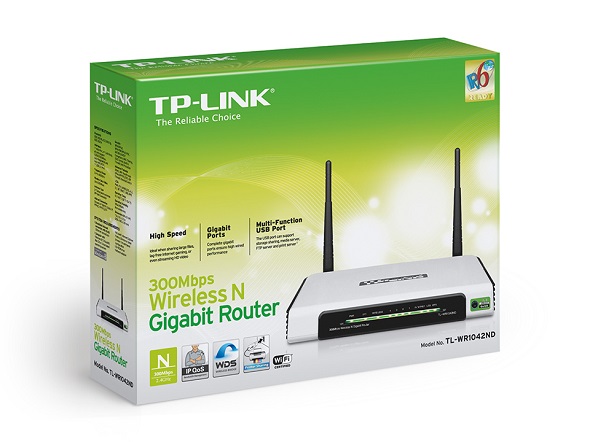 300Mbps Wireless N Gigabit Router
WAN / LAN กิกะบิตพอร์ตสมบูรณ์ และไร้สายความเร็ว 300Mbps เหมาะสำหรับการสตรีมมิ่งวิดีโอความละเอียดสูงและการเล่นเกมออนไลน์ 
พอร์ต USB ฝังตัวรองรับการใช้งานร่วมกันในการจัดเก็บเซิร์ฟเวอร์สื่อเซิร์ฟเวอร์และฟังก์ชั่นเซิร์ฟเวอร์ 
สัญญาณไร้สายได้อย่างง่ายดายเปิด / ปิดด้วยการกดที่เรียบง่ายของสายปุ่มเปิด / ปิดและการเข้ารหัสความปลอดภัยแบบไร้สายที่ง่ายเพียงแค่กดปุ่ม WPS 
มี ชื่อโดเมนง่ายtplinklogin.net  โดเมนเข้าสู่ระบบฟังก์ชั่นช่วยให้ผู้ใช้เพื่อเข้าสู่ระบบไปยังอุปกรณ์ที่แทนของที่อยู่ที่ใช้เป็นเวลานาน
ผลิตภัณฑ์นี้ทำอะไร
300Mbps Wireless N Router Gigabit TL-WR1042ND กับเทคโนโลยีเครือข่ายภายในบ้านรุ่นล่าสุดที่สามารถนำมาใช้ที่บ้านหรือสำนักงานของพวกเขา ที่ให้ประสบการณ์ยอดเยี่ยมในสถานการณ์เช่นโปรแกรมสตรีมมิ่งวิดีโอความละเอียดสูงทำให้สายอินเทอร์เน็ตแบ่งปันไฟล์ขนาดใหญ่และการเล่นเกมออนไลน์ การนำ MIMO ขั้นสูง ที่มี WMM (Wi-Fi Multi Media) และมีพอร์ต กิกะบิท อีเทอร์เน็ทเพื่อการเชื่อมต่ออย่างรวดเร็วดุจสายฟ้าแลบให้ผู้ใช้มีอิสระที่จะสนุกกับการใช้แบนด์วิดธ์หลายอย่างพร้อมกันและปราศจากการหยุดชะงักสำหรับการใช้งานที่มีความสำคัญ TL-WR1042ND มาพร้อมกับพอร์ต USB พิเศษที่ด้านหลังของเราเตอร์ที่มีความสามารถในการปรับใช้การจัดเก็บเซิร์ฟเวอร์สื่อ เซิร์ฟเวอร์FTP หรือเซิร์ฟเวอร์การพิมพ์ และปุ่มเปิด / ปิดไร้สาย ช่วยให้ผู้ใช้สามารถเปิด / ปิดสัญญาณไร้สายของเราเตอร์ตามที่พวกเขาต้องการ

พอร์ตกิกะบิต - แบนด์วิดธ์ที่เหลือเชื่อ
Gigabit Ethernet Switch, ที่มีในตัว ของ TL- WR1042ND ให้ความสามารถในการประมวลผลข้อมูลที่มีประสิทธิภาพมากขึ้นซึ่งปลดปล่อยศักยภาพของเสรีภาพของ N-abled กำจัดคอขวดในการถ่ายโอนระหว่างความเร็วเมกะบิตแบบมีสายและการเชื่อมต่อไร้สาย 11n ในขณะที่ทุกอย่างที่พวกเขาทำจะได้เร็วขึ้นและมีประสิทธิภาพมากขึ้นจึงใช้จะแบ่งปันไฟล์ขนาดใหญ่เช่นวิดีโอความละเอียดสูงในไม่กี่นาทีแทนที่จะเป็นชั่วโมง

พอร์ต USB อเนกประสงค์
การตั้งค่า TL-WR1042ND USB 2.0 ช่วยให้ผู้ใช้สามารถแบ่งปันข้อมูลที่เก็บไว้ในที่เก็บข้อมูล USB หรือ FTP เซิร์ฟเวอร์ ผู้ใช้ยังสามารถแบ่งปันเพลงวิดีโอและภาพถ่ายผ่านทางเราเตอร์มีเดียเซิร์ฟเวอร์ ในตัวสิ่งที่เพิ่มเติมในตัว Print Server ของอุปกรณ์ที่ทำให้บ้านหรือสำนักงานของการพิมพ์ที่มีความยืดหยุ่นมากขึ้น
home or office printing much more flexible.

ความเร็ว และระยาทาง ของอุปกรณ์ไร้สายโหมด N
สอดคล้องกับมาตรฐาน IEEE 802.11n ผู้ใช้สามารถสร้างเครือข่ายไร้สายและได้รับถึง 18เท่าความเร็วและ ระยะทาง6เท่า ช่วงของผลิตภัณฑ์ 11g ทั่วไป เราเตอร์ที่มีความเร็วในการทำงานได้อย่างราบรื่นด้วยการประยุกต์ใช้มากเกือบทุกแบนด์วิดธ์รวมทั้ง VoIP, HD สตรีมมิ่งหรือการเล่นเกมออนไลน์โดยไม่มีความล่าช้า การใช้เทคโนโลยีที่มีประสิทธิภาพยังไม่มีเราเตอร์ยังสามารถลดการสูญเสียข้อมูลในระยะทางไกลและผ่านอุปสรรคเปลี่ยนบ้านของคุณและแม้กระทั่งบ้านของคุณเป็นหนึ่งในจุดกระจายสัญญาณขนาดใหญ่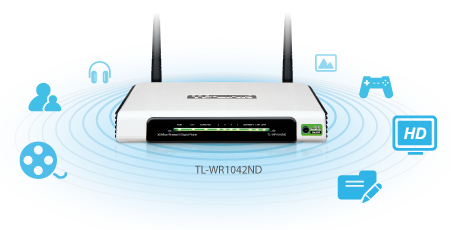 Better Wireless Performance
The router has the speed to work smoothly with almost any bandwidth intensive application including VoIP, HD streaming, or online gaming, without the lag. Using its powerful N technologies, the router is also able to mitigate data loss over long distances and through obstacles turning your home and even your yard into one big hot - spot.
Wi-Fi On/Off

มีปุ่มเปิด / ปิดไร้สายซึ่งจะช่วยให้ผู้ใช้เปิด / ปิดอุปกรณไร้สายในเวลาที่พวกเขาต้องการ

Easy Setup

มีแผ่นซีดีสำหรับติดตั้งภายในกล่อง

WPS

เชื่อมต่อ Wi-Fi อย่างง่ายเพียงกดปุ่ม "WPS"

IP QoS

การควบคุม IP-based bandwidth ทำให้แอดมินสามารถจัดการการใช้งานแบนวิธของแต่ละ PC
HARDWARE FEATURES
Standards and Protocols
IEEE 802.11b, IEEE 802.11g, IEEE 802.11n
Interface
4 10/100/1000Mbps LAN Ports
1 10/100/1000Mbps WAN Port
1 USB 2.0 Port

Button
WPS Button, Wireless On/Off Button, Reset Button
External Power Supply
12VDC / 1.5A
Dimensions ( W x D x H )
7.9 x 5.5 x 1.2 in. (200 x 140 x 28mm)
Antenna
2*3dBi Detachable Omni Directional Antennas (RP-SMA)
WIRELESS FEATURES
Frequency
2.4-2.4835GHz
Signal Rate
11b:Up to 11Mbps(dynamic)
11g:Up to 54Mbps(dynamic)
11n:Up to 300Mbps (dynamic)

Reception Sensitivity
270M: -68dBm@10% PER;
130M: -69.5@10% PER
108M: -69.5@10% PER;
54M: -69.5@10% PER
11M: -85dBm@8% PER;
6M: -88dBm@10% PER
1M: -90dBm@8% PER
Transmit Power
CE:
<20dBm(2.4GHz)
FCC:
<30dBm
Wireless Functions
Enable/Disable Wireless Radio, WDS Bridge, WMM, Wireless Statistics
Wireless Security
64/128-bit WEP ,WPA/WPA2, WPA-PSK/WPA2-PSK
SOFTWARE FEATURES
Quality of Service
WMM, Bandwidth Control
WAN Type
Dynamic IP/Static IP/PPPoE/
PPTP(Dual Access)/L2TP(Dual Access)/BigPond
Management
Access Control
Local Management
Remote Management
DHCP
Server, Client, DHCP Client List,
Address Reservation
Port Forwarding
Virtual Server,Port Triggering, UPnP, DMZ
Dynamic DNS
DynDns, Comexe, NO-IP
VPN Pass-Through
PPTP, L2TP, IPSec (ESP Head)
Access Control
Parental Control, Local Management Control, Host List, Access Schedule, Rule Management
Firewall Security
DoS, SPI Firewall
IP Address Filter/MAC Address Filter/Domain Filter
IP and MAC Address Binding
OTHERS
Certification
CE, FCC, RoHS
Package Contents
TL-WR1042ND
2 Detachable Omni Directional Antennas
Power supply unit
Resource CD
Ethernet Cable
Quick Installation Guide
System Requirements
Microsoft Windows 98SE, NT, 2000, XP, Vista™ or Windows 7, Windows 8/8.1/10
MAC OS, NetWare, UNIX or Linux
Environment
Operating Temperature: 0℃~40℃ (32℉~104℉)
Storage Temperature: -40℃~70℃ (-40℉~158℉)
Operating Humidity: 10%~90% non-condensing
Storage Humidity: 5%~90% non-condensing
From United States?
Get products, events and services for your region.