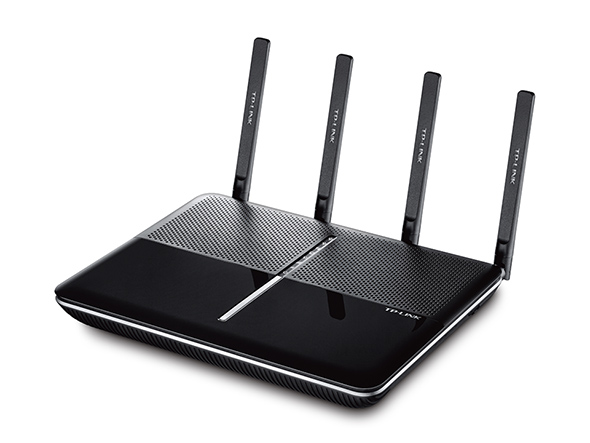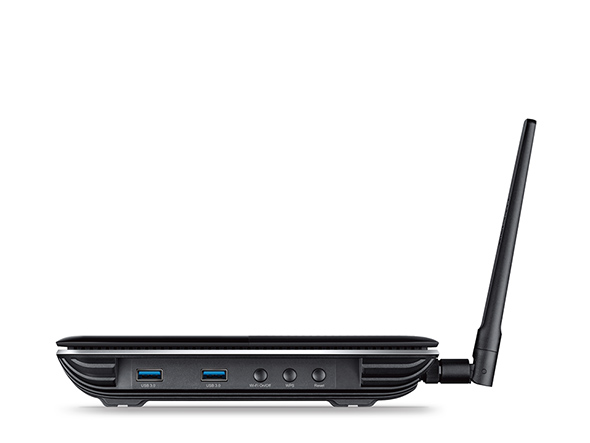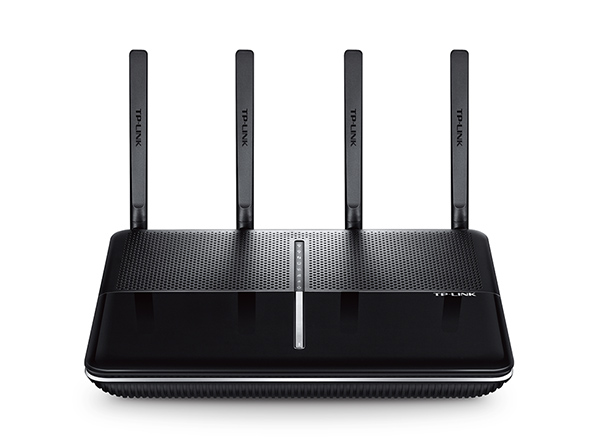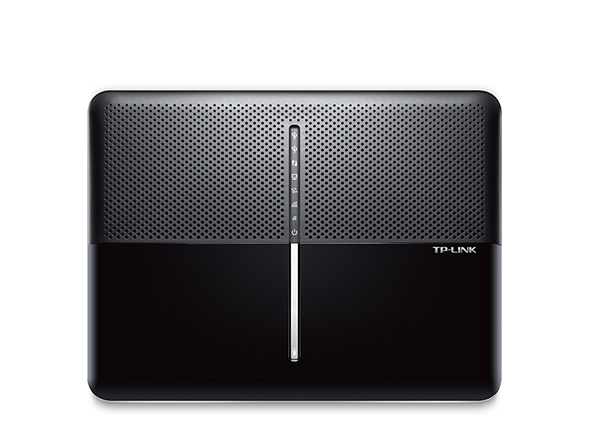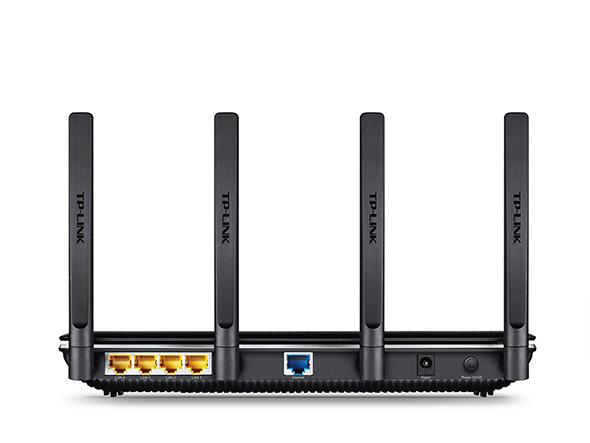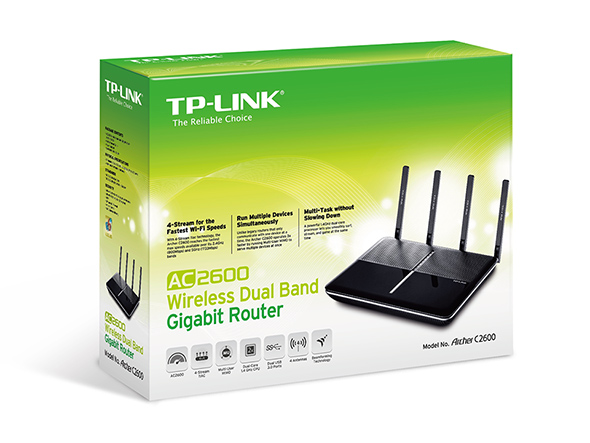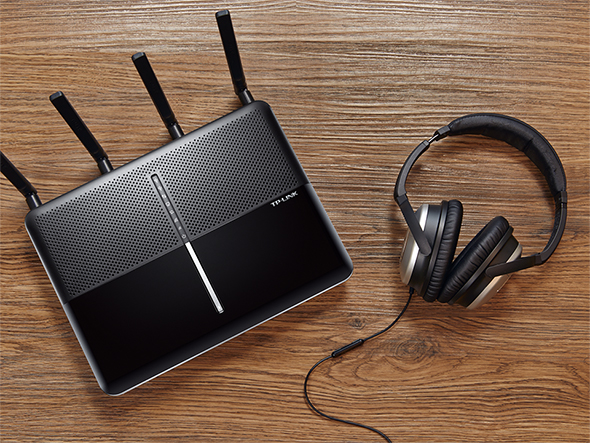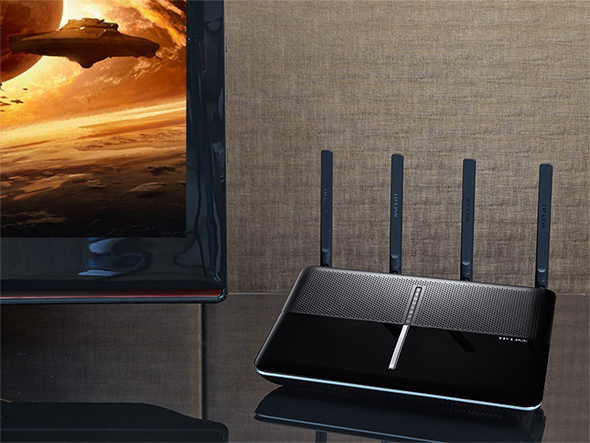 AC2600 Wireless Dual Band Gigabit Router
4-Stream for the Fastest Wi-Fi Speeds – Archer C2600 มีความเร็ว Wi-Fi ได้มากสูงสุดในย่าน 2.4GHz (800Mbps) และ 5GHz (1733Mbps)
Run Multiple Devices Simultaneously – Archer C2600 เร็วกว่าถึง 3 เท่าโดยการใช้ MU-MIMO ในการจัดการกับอุปกรณ์จำนวนมากที่เข้ามาในเวลานั้น
Multi-Task without Slowing Down – ด้วยพลังของ 1.4GHz dual-core processor ทำให้ไหลลื่นในขณะสตรีมดูหนังและเล่นเกมส์ออนไลน์ในเวลาเดียวกัน
Maximum Range – ด้วย 4 สายอากาศแบบสองย่านถอดสายอากาศได้ที่มีประสิทธิภาพสูง ซึ่งสายอากาศเป็นรูปแบบ Omni-directional Wireless และ Beamforming เทคโนโลยีซึ่งทำให้สัญญาณมีความครอบคลุมมากยิ่งขึ้น
TP-LINK Tether App – TP-LINK Tether เป็นอีกทางเลือกนึงที่ทำให้คุณง่ายต่อการเข้าถึงและจัดการเราเตอร์ของคุณผ่านอุปกรณ์ iOS และ Android
MU-MIMO for Nonstop Entertainment on All Your Devices
Wireless AC technology ยุคใหม่ที่มาพร้อมกับ Multi-User MIMO ซึ่งจะทำให้ Archer C2600 ให้ความเร็วมากกว่าเดิมถึง 3 เท่ากับอุปกรณ์เคลื่อนที่หลายตัวและทุกอุปกรณ์บนเครือข่ายของคุณในเวลาเดียว ปลดปล่อยสัญญาณได้อย่างเต็มศักยภาพกับคอมพิวเตอร์ สมาร์ททีวี และเกมส์คอนโซลโดยผ่านเราเตอร์ตัวนี้ ด้วยเทคโนโลยี MU-MIMO นี้จะทำให้การดูหนังแบบ 4K HD video และการเล่นเกมส์ออนไลน์ไร้ปัญหาเรื่องการขาดหายไปของสัญญาณ ทำขึ้นโดยQualcomm® MU | EFX.
Traditional Router ส่งข้อมูลไปยังอุปกรณ์อีกตัวในเวลานั้น
MU-MIMO Router ส่งข้อมูลไปยังหลายๆอุปกรณ์พร้อมกันในเวลานั้น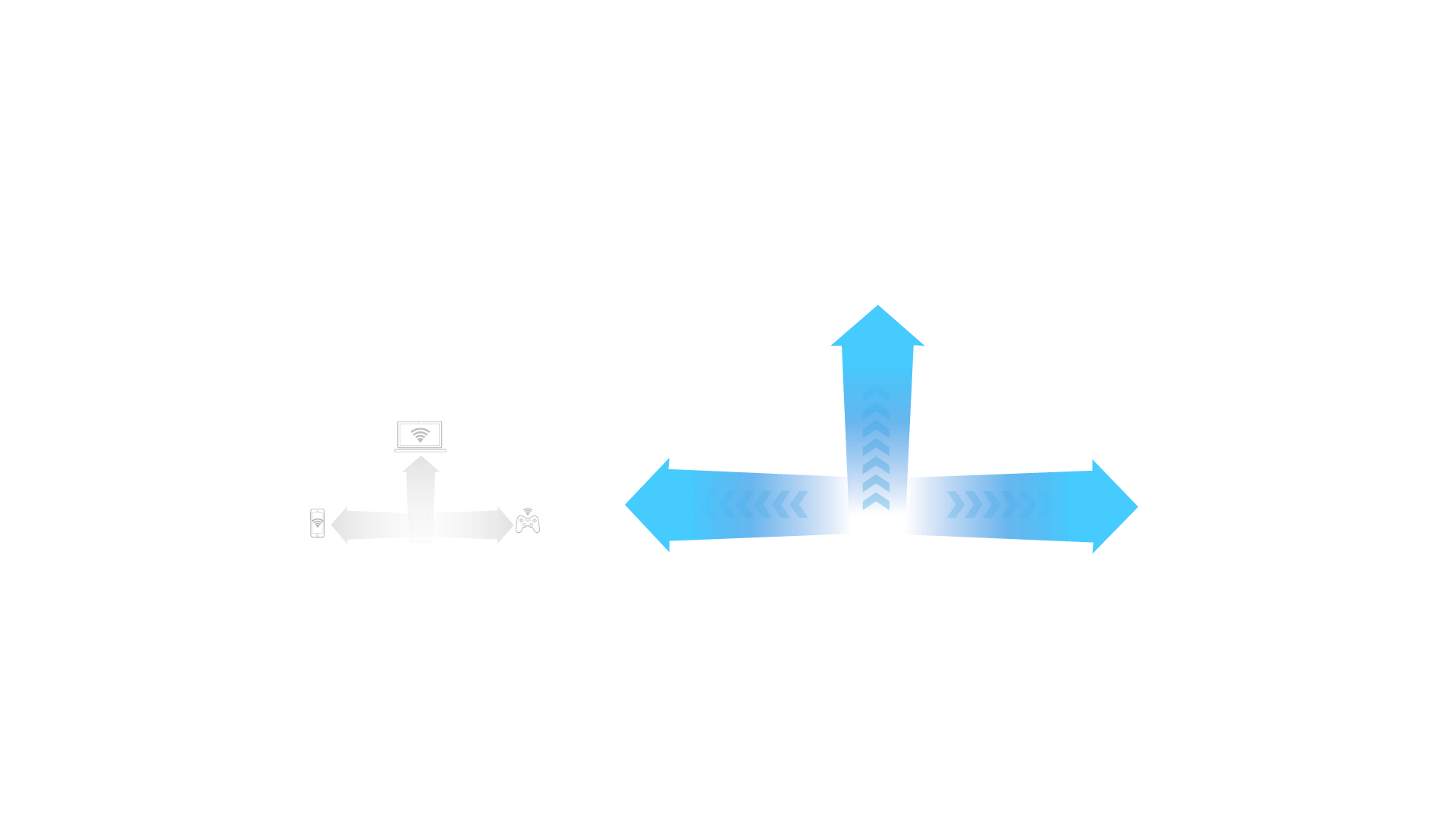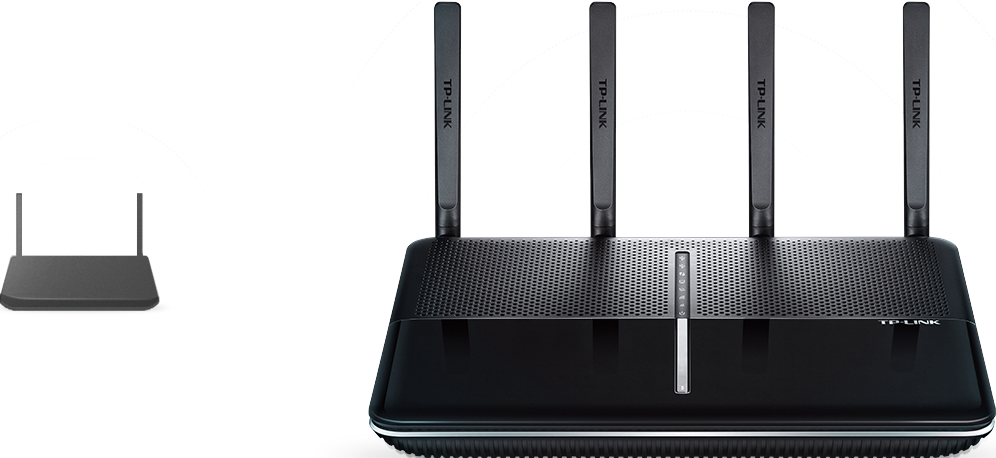 4-Stream for the Fastest Wi-Fi
Archer C2600 ใช้เทคโนโลยี 4-Stream เพิ่มกำลังส่งให้กับ Wi-Fi ทำให้สัญญาณย่าน 2.4GHz และ 5GHz มีความเร็วของสัญญาณได้สูงสุดถึง 800Mbps บนย่าน 2.4GHz และ 1733Mbps บนย่าน 5GHz ซึ่งความเร็ว Wi-Fiเมื่อรวมกันแล้วจะได้ 2.53Gbps ทำให้ เราเตอร์กระจายสัญญาณ Wireless ได้อย่างมีประสิทธิภาพ
Powerful Processing
A 1.4GHz dual-core processor cที่จะช่วยให้การทำงานหลายๆการเชื่อมต่อพร้อมกันได้อย่างไร้ปัญหา
1.4GHz Dual-Core Processor
Superior Wi-Fi Coverage
ด้วย 4 สายอากาศแบบสองย่านถอดสายอากาศได้ที่มีประสิทธิภาพสูง ซึ่งสายอากาศเป็นรูปแบบ Omni-directional Wireless และเทคโนโลยี Beamforming ซึ่งจะช่วยเพิ่มความครอบคลุมของสัญญาณ Wi-Fi ให้กับอุปกรณ์และความน่าเชื่อถือในการเชื่อมแม้ว่าอุปกรณ์มีการเคลื่อนที่จากจุดหนึ่งไปยังจุดหนึ่ง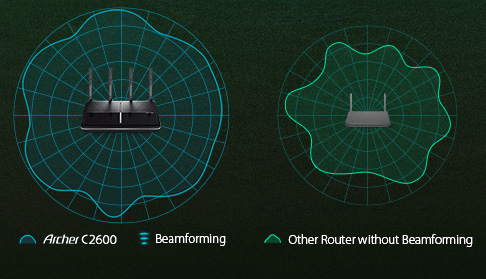 A Router You Can Show Off
ด้วยรูปแบบที่หรูหราจะทำให้ Archer C2600 มีลักษณะที่โค้งเว้าเนียนสวย แสงไฟ LED สามารถปิดได้เพื่อป้องกันการรบกวนสายตาในเวลาที่คุณต้องติดตั้งไว้ในห้องนอนหรือพื้นที่ต่างๆ
Blazing Wired Performance
Archer C2600 มี USB 3.0 จำนวน 2 ports ซึ่งมีความเร็วมากกว่า USB 2.0 ถึง 10 เท่าในการโอนถ่ายไฟล์ข้อมูล สามารถเชื่อมต่อ External Haddisk ที่ Port ได้และง่ายต่อการแชร์ไฟล์ รูปภาพ เพลง และวีดีโอผ่านเครือข่ายของคุณ เพื่อช่วยให้คุณไม่ต้องใช้สายมาเชื่อมต่อกับอุปกรณ์ สำหรับ Port ของตัวเราเตอร์นี้ยังเป็นแบบ Gigabit Ethernet Port ซึ่งมีความเร็วมากกว่า Ethernet ถึง 10เท่า
Hard Disk
Digital Camera
Printer
Flash Drive
Easy Setup and Use
การตั้งค่า Archer C2600 ภายในไม่ถึงนาทีผ่าน Web interface และ Tether app. Tether ยังคงช่วยคุณในการจัดการการตั้งค่าเครือข่าย ซึ่งคุณสามารถใช้ผ่าน Android หรือ iOS device รวมถึงการควบคุมแบบ Parental Control และการแชร์สื่อต่างๆ
Guest Network

จัดการผู้มาเยือนด้วยการแยก Wi-Fi จากเครือข่ายหลักของคุณ

Parental Controls

จัดการอุปกรณ์ที่จะเชื่อมต่อไปยังอินเทอร์เน็ตได้

Advanced Security

การเข้ารหัสแบบ WPA/WPA2 สร้างการป้องกันให้กับระบบเครือข่าย Wireless ของคุณ
HARDWARE FEATURES
Interface
4 10/100/1000Mbps LAN Ports,
1 10/100/1000Mbps WAN Port
2 USB 3.0 Ports
Button
Wireless On/Off Button
Power On/off Button
LED On/off Button
WPS Button
Reset Button
External Power Supply
12V/4A
Dimensions ( W x D x H )
10.4 X 7.8 X 1.5 in. (263.8 X 197.8 X 37.3mm)
Antenna
4 Detachable antennas
WIRELESS FEATURES
Wireless Standards
IEEE 802.11ac/n/a 5GHz
IEEE 802.11b/g/n 2.4GHz
Frequency
2.4GHz and 5GHz Band
Signal Rate
5GHz Band: Up to 1733Mbps
2.4GHz Band: Up to 800Mbps
Reception Sensitivity
5GHz:
11a 6Mbps: -91dBm
11a 54Mbps: -73dBm
11ac HT20: -66dBm
11ac HT40: -67dBm
11ac HT80: -58dBm
2.4GHz
11g 54M: -76dBm
11n HT20: -73dBm
11n HT40: -71dBm
Wireless Functions
Enable/Disable Wireless Radio, WMM, Wireless Statistics
Wireless Security
64/128-bit WEP, WPA/WPA2, WPA-PSK/WPA-PSK2 encryptions
Transmission Power
CE:
<20dBm(2.4GHz)
<23dBm(5GHz)
FCC:
<30dBm
Guest Network
2.4GHz guest network × 1
5GHz guest network × 1
SOFTWARE FEATURES
Quality of Service
WMM, Bandwidth Control
Access Control List
Parental Control, Local Management Control, Host List, Access
Schedule, Rule Management
WAN Type
Dynamic IP/Static IP/PPPoE/
PPTP(Dual Access)/L2TP(Dual Access)/BigPond
Management
Access Control
Local Management
Remote Management
DHCP
Server, Client, DHCP Client List,
Address Reservation
Port Forwarding
Virtual Server, Port Triggering, UPnP, DMZ
Dynamic DNS
DynDns, NO-IP
VPN Pass-Through
PPTP, L2TP, IPSec
Protocols
Supports IPv4 and IPv6
USB Sharing
Support Samba(Storage)/FTP Server/Media Server/Printer Server
OTHERS
Certification
CE, FCC, RoHS
Package Contents
AC 2600 Wireless Dual Band Gigabit Router Archer C2600
Power Adapter
RJ45 Ethernet Cable
Quick Installation Guide
System Requirements
Microsoft Windows 98SE, NT, 2000, XP, Vista™ or Windows 7, Windows 8/8.1/10
MAC OS, NetWare, UNIX or Linux
Environment
Operating Temperature: 0℃~40 ℃ (32 ℉~104℉)
Storage Temperature: -40℃~70 ℃ (-40 ℉~158℉)
Operating Humidity: 10%~90% non-condensing
Storage Humidity: 5%~90% non-condensing
From United States?
Get products, events and services for your region.