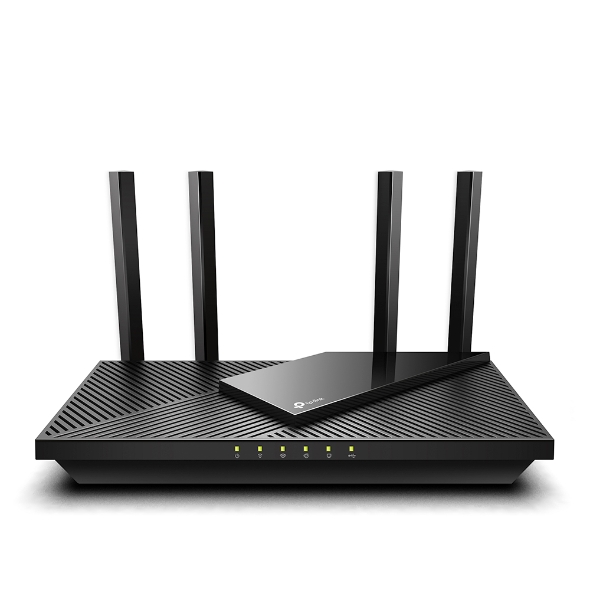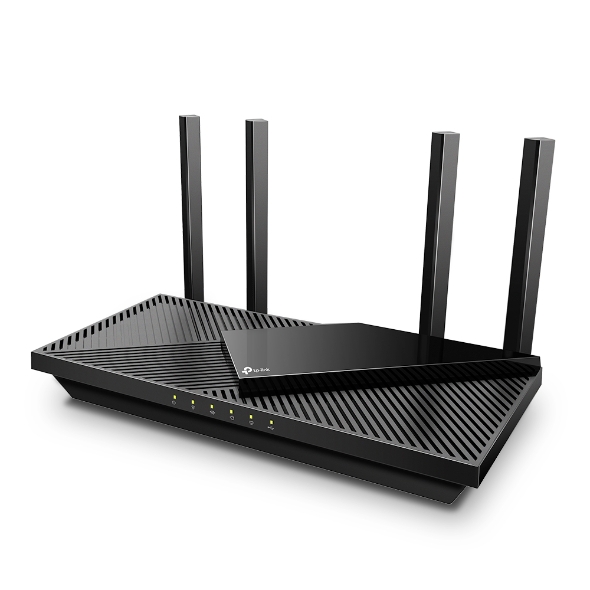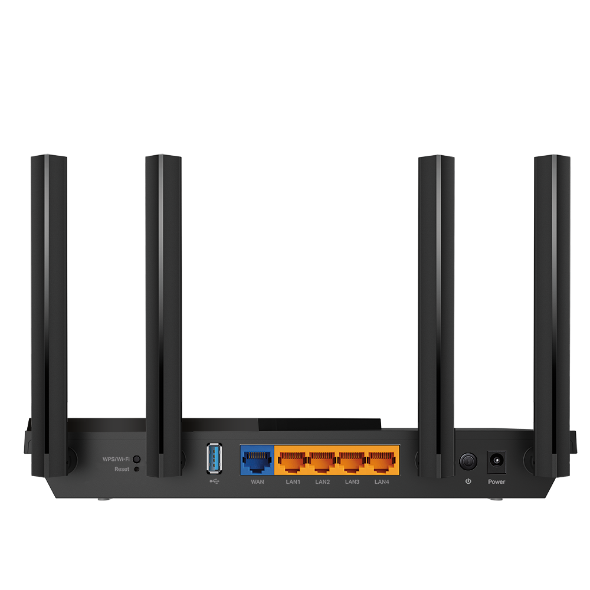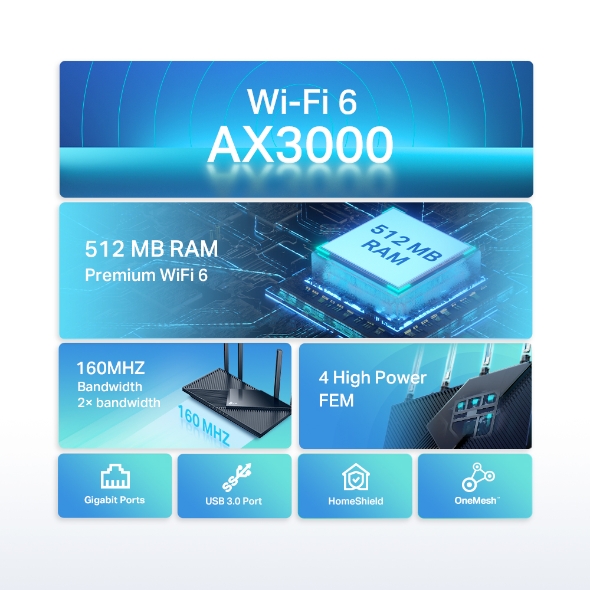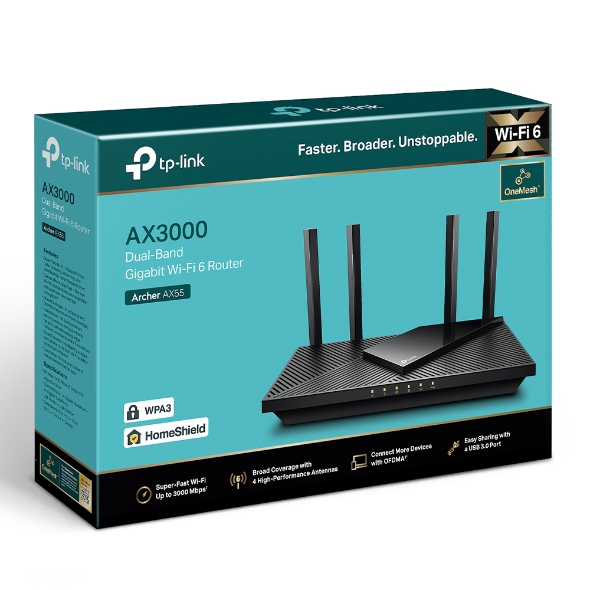 Archer AX55
AX3000 Dual Band Gigabit Wi-Fi 6 Router
Next-Gen Gigabit Wi-Fi 6 Speed—รองรับความเร็ว Wireless 2402 Mbps บนย่านความถี่ 5 GHz และ 574 Mbps บนย่านความถี่ 2.4 GHz ที่จะช่วยให้คุณเล่นอินเตอร์เน็ตได้ไหลลื่น ทั้งดาวน์โหลดและอัพโหลด
Connect More Devices—เทคโนโลยี OFDMA ช่วยให้ส่งข้อมูลได้เร็วและดีกว่าเดิมถึง 4 เท่า
Ultra-Low Latency —การลดเวลาในการตอบสนองสูงถึง 75% ช่วยให้การเล่นเกมและวิดีโอลื่นไหลขึ้น
Expanded Wi-Fi Coverage—มาพร้อมเสาสัญญาญ 4 เสา และเทคโนโลยี Beamforming ปรับแต่งสัญญาณให้เสถียรและครอบคลุมทั่วทั้งบ้าน
HomeShield – บริการรักษาความปลอดภัยที่มีคุณภาพสูงของ TP-Link ช่วยให้เครือข่ายในบ้านของคุณปลอดภัย
Improved Battery Life—Target Wake Time ลดการใช้พลังงาน *ในกรณีที่ไม่มีการใช้ข้อมูล เพื่อให้คุณใช้ประสิทธิภาพได้อย่างเต็มที่
Compatible with Alexa—ควบคุมเราเตอร์ของคุณผ่านคำสั่งเสียงและช่วยให้ชีวิตคุณง่ายขึ้นด้วย Amazon Alexa
The New Era of
Home Connectivity
AX3000 Dual-Band Gigabit Wi-Fi 6 Router
Archer AX55
160MHZ
Bandwidth
2× bandwidth
512 MB RAM
Premium WiFi 6
4 High Power FEM
Gigabit Ports
USB 3.0 Port
HomeShield
OneMesh™
Wi-Fi 6 Upgrades Everything
เทคโนโลยีใหม่ Wi-Fi 6 (802.11ax), มอบความเร็วและประสิทธิภาพในการใช้งานอินเตอร์เน็ตเพิ่มมากขึ้น และในขณะนี้อุปกรณ์มากมายเริ่มจะรองรับ Wi-Fi 6 ถึงเวลาแล้วที่จะต้องเปลี่ยนเราเตอร์ของคุณให้เป็นเราเตอร์ที่รองรับเทคโนโลยีใหม่
Incredible Speed
สตรีมมิ่งได้อย่างเสถียรมากขึ้น มาพร้อมกับความเร็วที่เพิ่มขึ้นและการเล่นเกมส์ที่ไม่สะดุดได้ในเวลาเดียวกัน ย่านความถี่ 5 GHz บนช่องสัญญาณกว้างขึ้นถึง 160 MHz ทำให้คุณเพลิดเพลินกับการดูหนัง 8K ได้โดยไม่สะดุด
4 Stream Wi-Fi 5 Router

Archer AX55

250% Faster
More Responsive Experiences
Less Loading Wheels
สนุกกับการเล่นเกมส์ที่เสถียร การสตรีมวิดิโอ และการดูไลฟ์ได้อย่างไร้รอยต่อ ด้วยเทคโนโลยี OFDMA ที่จะช่วยให้คุณได้รับสัญญาณที่แข็งแกร่งและเสถียร โดยไม่ต้องกังวลใจแม้ว่าจะเชื่อมต่อหลายอุปกรณ์ในเวลาเดียวกัน
Powerful CPU and High Memory
Connect More without Dropping Speed
ด้วยโครงสร้างเทคโนโลยี WiFi 6 มาพร้อมกับชิปเซ็ตระดับสูง Qualcomm และหน่วยความจำที่มาก ให้คุณเพลิดเพลินกับการชื่อมต่อโดยไร้ซึ่งความหน่วงภายในการรับ-ส่งข้อมูลที่มาก มั่นใจได้เลยว่าทุกการคลิกเข้าเว็บไซต์ การเล่นเกมส์ออนไลน์บนแล็ปท็อปและมือถือของคุณจะได้รับการตอบสนองในทันที
Improved Cooling Design Consistent Full Output
หมดกังวลกับความร้อนของเครื่องด้วยการออกแบบภายนอกช่วยรักษาอุณหภูมิเราเตอร์ถึงแม้จะอยู่ในสภาพแวดล้อมที่ต่างกัน
WiFi Coverage Throughout Your Home
เสาสัญญาณภายนอก 4 เสาช่วยขยายสัญญาณภายในบ้านให้ครอบคลุมพร้อมเทคโนโลยี Beamforming ส่งสัญญาณให้กว้างขึ้นไปยังพื้นที่ที่เข้าถึงยาก
USB 3.0 Ports
ง่ายต่อการแชร์ไฟล์ เข้าถึงได้ง่ายแค่เพียงเสียบเข้ากับไดร์ฟภายนอก คุณยังสามารถทำให้เป็นที่เก็บข้อมูลบนคลาวด์ส่วนตัวของคุณและเข้าถึงจากภายนอกได้อย่างปลอดภัย*.
TP-Link OneMesh™
Flexibly Create Whole Home WiFi with Archer AX55
อยากเพิ่มประสิทธิภาพอินเทอร์เน็ตให้ครอบคลุมทั่วบ้าน Archer AX55 รองรับการใช้งานแบบ OneMesh ที่จะให้คุณสามารถใช้งานอินเทอร์เน็ตแบบไร้รอยต่อ ไม่ดรอป และไม่สะดุด ขณะที่เคลื่อนจุดนึงไปยังอีกจุดหนึ่ง
*ต้องใช้งานร่วมกับ Range Extender ที่รองรับ Onemesh เหมือนกัน
Traditional Router with Extender

Archer AX55 + OneMesh™ Range Extender
Multi-Band Backhaul

Single-Band Backhaul

Strong Mesh with Multi-Band Backhaul

0.4 s
Roaming 5 GHz

Ultra-Fast Smart Roaming

Unified Management
TP-Link HomeShield:
Advanced Security for Your Everyday Devices
ด้วย TP-Link HomeShield,เพลิดเพลินไปกับคุณสมบัติการรักษาความปลอดภัยขั้นสูงที่มอบสภาพแวดล้อมที่ปลอดภัยซึ่งปกป้องข้อมูลและความเป็นส่วนตัวของครอบครัวและเครือข่ายของคุณ
Home Network Scanner

เครื่องสแกนเครือข่ายแบบเรียลไทม์เพื่อตรวจจับภัยคุกคามและปัญหาด้านความปลอดภัยที่อาจเกิดขึ้น

Parental Controls

จัดการเวลาออนไลน์และบล็อกเนื้อหาที่ไม่เหมาะสมทำให้ครอบครัวของคุณใช้งานออนไลน์ได้อย่างปลอดภัย

Quality of Service

กำหนดอุปกรณ์โปรดของคุณให้มีการเชื่อมต่อที่เร็วที่สุดเพื่อประสิทธิภาพสูงสุด
Upgrade to HomeShield Pro
(Subscription fees apply)
DDoS Attack
Prevention

IoT Device
Protection

Advanced Parental
Controls including
Time Rewards

1-Month
Free Trial
WPA3—New Level of Cyber Security
โปรโตคอลความปลอดภัย Wi-Fi ล่าสุด WPA3 นำความสามารถใหม่มาปรับปรุงความปลอดภัยทางไซเบอร์ในเครือข่ายส่วนบุคคล การเข้ารหัสที่ปลอดภัยยิ่งขึ้นในความปลอดภัยของรหัสผ่าน Wi-Fi และการป้องกันที่เพิ่มขึ้นจากการโจมตีที่ไม่พึงประสงค์ เพื่อปกป้อง Wi-Fi ที่บ้านของคุณให้ได้รับความปลอดภัยที่ดีที่สุด
Easy Setup and Use
ใช้งานง่ายผ่านแอพลิเคชั่นหรือบนหน้าเว็บเอ็นเทอร์เฟซก็รองรับทุกความต้องการของคุณ ตั้งค่าเราเตอร์ได้ง่ายๆ ไม่กี่นาที แอพลิเคชั่นรองรับทั้งบน IoS และแอนดรอยด์
Protect Your Children
บล็อคเนื้อหาที่ไม่เหมาะสมสำหรับบุตรหลานของคุณ และจัดการเวลาในการใช้งานออนไลน์ให้เหมาะสมได้มากยิ่งขึ้น
New Connection Notification
คุณจะได้รับการแจ้งเตือนผ่านมือถือของคุณ หากมีการเชื่อมต่อกับอุปกรณ์ใหม่ สามารถยกเลิกการเชื่อมต่อได้ง่ายดายสำหรับอุปกรณ์ที่มาแทรกแซงตามรูปได้เลย.
Easy Firmware Upgrade
เบื่อกับการคอยอัพเดทเฟิร์มแวร์อยู่เสมอรึเปล่า? การอัปเดต OTA ช่วยให้อัปเกรดเฟิร์มแวร์ได้ง่ายด้วยการคลิกในแผงการจัดการ เพื่อให้การรักษาความปลอดภัยและฟังก์ชันของคุณทันสมัยอยู่เสมอ เพียงแค่เปิดกำหนดการอัตโนมัติ
WIRELESS
Standards
Wi-Fi 6IEEE 802.11ax/ac/n/a 5 GHzIEEE 802.11ax/n/b/g 2.4 GHz
WiFi Speeds
AX30005 GHz: 2402 Mbps (802.11ax, HE160)2.4 GHz: 574 Mbps (802.11ax)
WiFi Range
3 Bedroom Houses

---

4× Fixed High-Performance AntennasMultiple antennas form a signal-boosting array to cover more directions and large areasBeamformingConcentrates wireless signal strength towards clients to expand WiFi rangeHigh-Power FEMImproves transmission power to strengthen signal coverage
WiFi Capacity
High

---

Dual-BandAllocate devices to different bands for optimal performanceOFDMASimultaneously communicates with multiple Wi-Fi 6 clientsAirtime FairnessImproves network efficiency by limiting excessive occupationDFSAccess an extra band to reduce congestion4 StreamsConnect your devices to more bandwidth
Working Modes
Router ModeAccess Point Mode
HARDWARE
Processor
Dual-Core CPU
Ethernet Ports
1× Gigabit WAN Port
4× Gigabit LAN Ports
USB Support
1× USB 3.0 PortSupported Partition Formats:NTFS, exFAT, HFS+, FAT32Supported Functions:Apple Time MachineFTP ServerMedia ServerSamba Server
Buttons
Wi-Fi/WPS ButtonPower On/Off ButtonReset Button
Power
12 V ⎓ 2 A
SECURITY
WiFi Encryption
WPAWPA2WPA3WPA/WPA2-Enterprise (802.1x)
Network Security
SPI FirewallAccess ControlIP & MAC BindingApplication Layer GatewayHomeShield Security

---

Real-Time IoT ProtectionMalicious Site BlockerIntrusion Prevention SystemDDoS Attack PreventionHome Network Scanner
Guest Network
1× 5 GHz Guest Network1× 2.4 GHz Guest Network
VPN Server
OpenVPNPPTP
SOFTWARE
Protocols
IPv4IPv6
Service Kits
HomeShieldLearn More>
OneMesh™
OneMesh™ SupportedWithout replacing your existing devices or buying a whole new WiFi ecosystem, OneMesh™ helps you create a more flexible network that covers your entire home with TP-Link OneMesh™ products. Learn More>All OneMesh Products>
Parental Controls
HomeShield Parental Controls

---

Custom ProfilesProfessional Content Filter LibraryFamily TimeBedtimeOff TimeTime RewardsFamily Online Time RankingPause the InternetWeekly and Monthly Reports
WAN Types
Dynamic IPStatic IPPPPoEPPTPL2TP
Quality of Service
QoS by Device
Cloud Service
Auto Firmware UpgradeOTA Firmware UpgradeTP-Link IDDDNS
NAT Forwarding
Virtual ServersPort ForwardingPort TriggeringDMZUPnP
IPTV
IGMP ProxyIGMP SnoopingBridgeTag VLAN
DHCP
Address ReservationDHCP Client ListServer
DDNS
TP-LinkNO-IPDynDNS
Management
Tether AppWebpageCheck Web Emulator>
OTHER
System Requirements
Internet Explorer 11+, Firefox 12.0+, Chrome 20.0+, Safari 4.0+, or other JavaScript-enabled browserCable or DSL Modem (if needed)Subscription with an internet service provider (for internet access)
Certifications
FCC, CE, RoHS
Environment
Operating Temperature: 0℃~40℃ (32℉ ~104℉)Operating Humidity: 10%~90% non-condensing
TEST DATA
WiFi Transmission Power
CE: <20dBm(2.4GHz)<23dBm(5.15GHz~5.35GHz)<30dBm(5.47GHz~5.725GHz)FCC:<30dBm(2.4GHz & 5.15GHz~5.825GHz)
WiFi Reception Sensitivity
5GHz:11ac VHT20_MCS0:-96dBm, 11ac VHT20_MCS8:-75dBm11ac VHT40_MCS0:-94dBm, 11ac VHT40_MCS9:-70dBm11ac VHT80_MCS0:-91dBm, 11ac VHT80_MCS9:-67dBm11ac VHT160_MCS0:-88dBm, 11ac VHT160_MCS9:-63dBm11ax HE20_MCS0:-96dBm, 11ax HE20_MCS11:-66dBm11ax HE40_MCS0:-93dBm, 11ax HE40_MCS11:-63dBm11ax HE80_MCS0:-91dBm, 11ax HE80_MCS11:-61dBm11ax HE160_MCS0:-87dBm, 11ax HE160_MCS11:-58dBm2.4GHz:11ac VHT20_MCS0:-96dBm, 11ac VHT20_MCS8:-74dB11ac VHT40_MCS0:-94dBm, 11ac VHT40_MCS9:-70dB11ax HE20_MCS0:-96dBm, 11ax HE20_MCS11:-66dBm11ax HE40_MCS0:-93dBm, 11ax HE40_MCS11:-63dBm
PHYSICAL
Dimensions (W×D×H)
10.2 × 5.3 × 1.5 in(261.1 × 134.5 × 41.0 mm)
Package Contents
Wi-Fi Router Archer AX55Power AdapterRJ45 Ethernet CableQuick Installation Guide
†Maximum wireless signal rates are the physical rates derived from IEEE Standard 802.11 specifications. Actual wireless data throughput, wireless coverage and number of connected devices are not guaranteed and will vary as a result of network conditions, client limitations, and environmental factors, including building materials, obstacles, volume and density of traffic, and client location.
‡Use of 802.11ax (Wi-Fi 6) and its features including OFDMA, HE160, and TWT requires clients to also support corresponding features. The 160 MHz bandwidth may be unavailable in the 5 GHz band in some regions/countries due to regulatory restrictions. Actual power reduction by Target Wake Time may vary as a result of network conditions, client limitations, and environmental factors.
§The 802.11ax white paper defines standardized modifications to both the IEEE 802.11 physical layers (PHY) and the IEEE 802.11 Medium Access Control (MAC) layer as enabling at least one mode of operation capable of supporting improvement of at least four times the average throughput per station (measured at the MAC data service access point) in a dense deployment scenario.
△HomeShield includes the Free Basic Plan. Fees apply for the Pro Plan. Visit https://www.tp-link.com/homeshield for more information
*Use of WPA3 requires clients to support WPA3.
**This router may not support all the mandatory features as ratified in IEEE 802.11ax specification.
***Further software upgrade for feature availability may be required.
From United States?
Get products, events and services for your region.