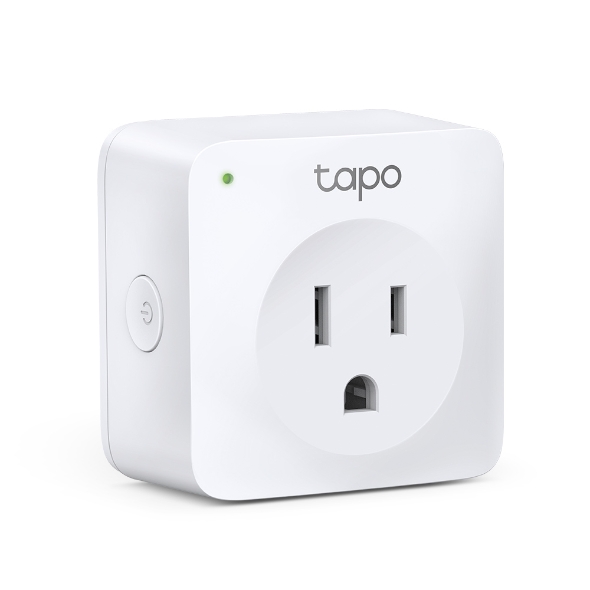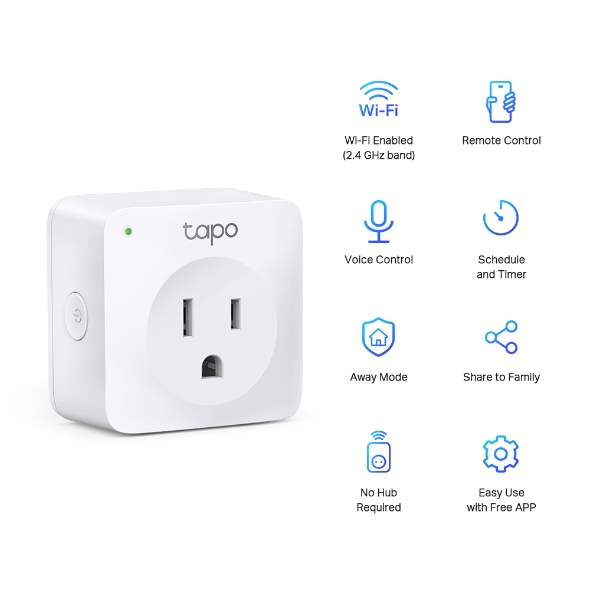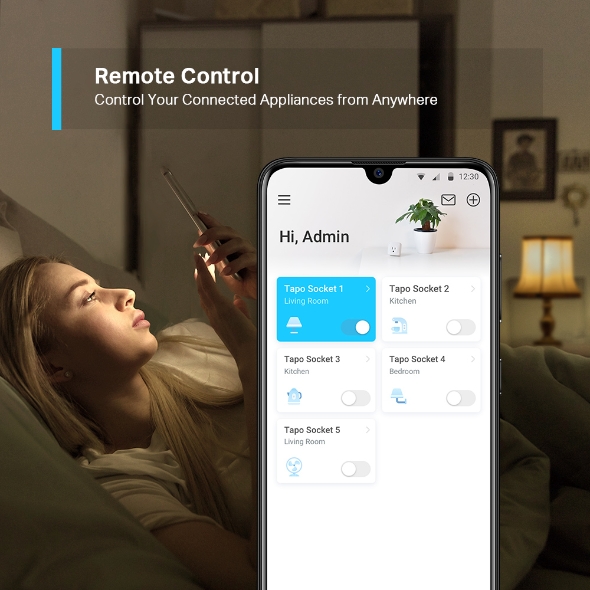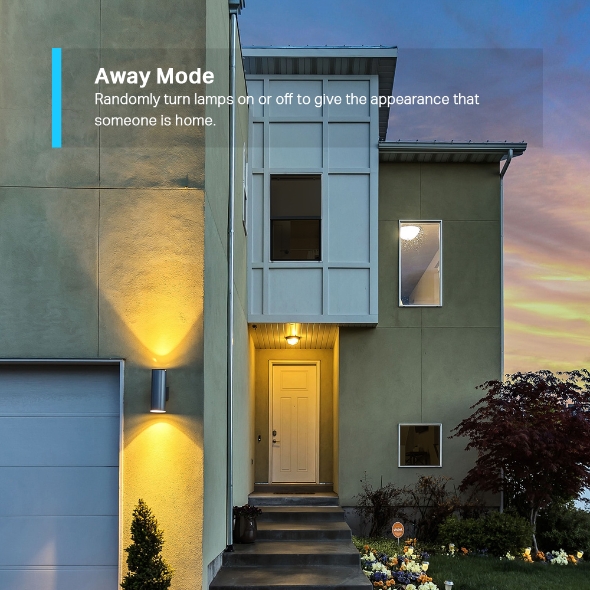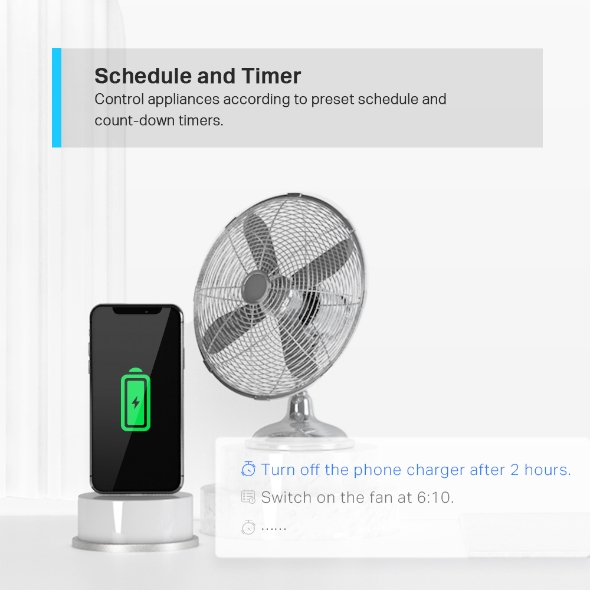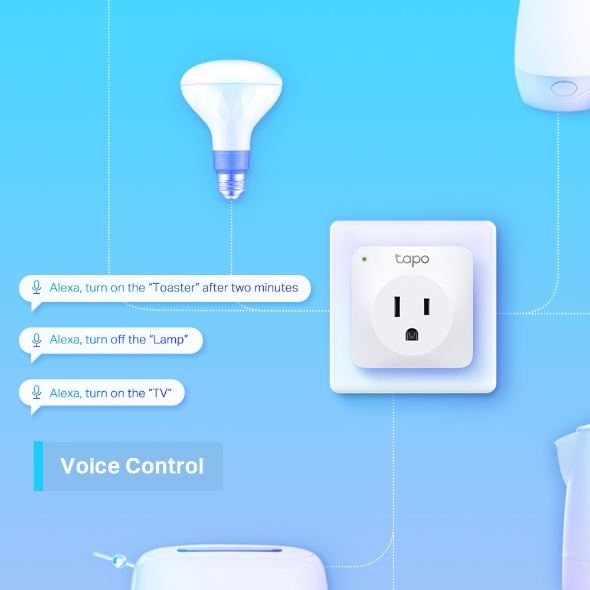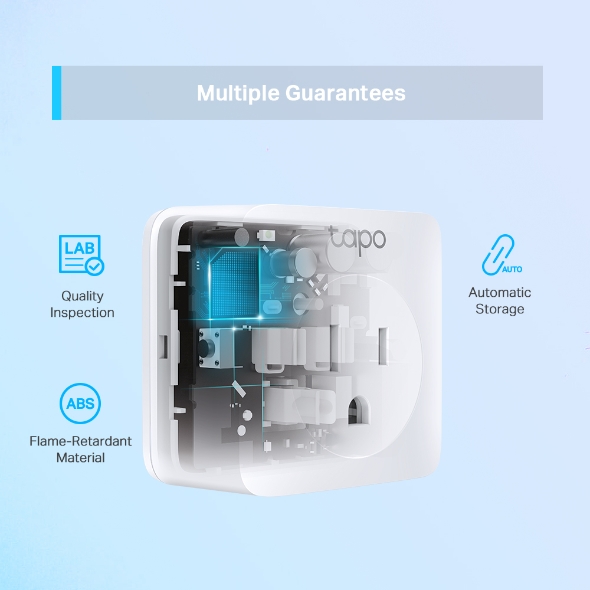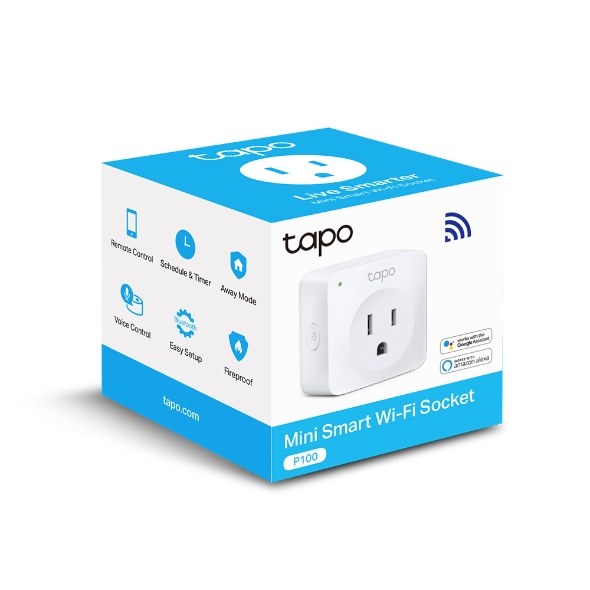 Remote Control – อุปกรณ์ที่ใช้ในการจัดการ สั่งเปิด -ปิด เครื่องใช้ไฟฟ้าบนสมาร์ทโฟนผ่าน Tapo APP
Schedule – สามารถตั้งเวลาล่วงหน้าเพื่อจัดการอุปกรณ์อัตโนมัติ
Timer - สามารถตั้งเวลานับถอยหลังสำหรับการเชื่อมต่ออุปกรณ์อิเล็กทรอนิกส์ของคุณ
Voice Control – รับรองการจัดการสมาร์ทปลั๊กของคุณผ่านคำสั่งเสียงบน Amazon Alexa หรือ Google Assistant
Away Mode – สามารถตั้งเวลาเปิด-ปิดอุปกรณ์อัตโนมัติเสมือนว่ามีคนอยู่ที่บ้าน
Compact Design - ขนาดกระทัดรัด
Easy Setup and Use - คุณก็สามารถตั้งค่าและจัดการได้อย่างรวดเร็ว
The Superior Smart Partner for Small Appliances
Mini Smart Wi-Fi Socket P100
Remote Control

Schedule & Timer

Voice Control

Compact Design

Away Mode

Share to Family

Multiple Safety Guarantees

Easy Setup
Remote Control from Anywhere
อุปกรณ์ที่ใช้ในการจัดการ สั่งเปิด -ปิด เครื่องใช้ไฟฟ้าบนสมาร์ทโฟนผ่าน Tapo APP ที่จะช่วยให้ชีวิตของคุณง่ายและปลอดภัยมากยิ่งขึ้น
Live Smarter by Presetting Time
กำหนดวันที่และเวลา ฟีเจอร์นี้จะช่วยให้คุณสามารถจัดการอุปกรณ์ เช่น การกำหนดเวลาการใช้งานหรือการนับถอยหลังของอุปกรณ์ ทุกอุปกรณ์อิเล็กทรอนิกส์ที่เชื่อมต่อทั้งหมดของคุณจะทำงานตามเวลาที่คุณตั้งไว้อัตโนมัติ , ให้ชีวิตคุณง่าย สะดวกสบาย และยังช่วยประหยัดพลังงานอีกด้วย
ปิดการชาร์จโทรศัพท์หลังจากนี้ 2 ชั่วโมง
เริ่มเปิดพัดลมในเวลา 6:10 น.
ปิดโคมไฟในเวลา 22:00 น.
เปิดเครื่องพ่นไอน้ำหลังจากนี้ 30 นาที
……
Free Up Your Hands with Voice Control
Mighty Features and Compact Size
Tapo P100 ออกแบบขึ้นมาให้มีขนาดเล็กเพื่อประหยัดพื้นที่ช่องปลั๊กไฟ ,สะดวกต่อการใช้งานทุกวัน
A Deterrent for Your Home
Away Mode,เป็นฟีเจอร์หนึ่งที่สามารถตั้งเวลาเปิด-ปิดอุปกรณ์สุ่มอัตโนมัติเสมือนว่ามีคนอยู่ที่บ้าน
Share to Families
ไม่เพียงจำกัดควบคุมหนึ่งคนแต่สมาชิกในครอบครัวก็มีสิทธิในการจัดการได้ ประหยัดเวลาและเพิ่มความสะดวกในการใช้งานสำหรับผู้สูงอายุ
Multiple Safety Guarantees
ตรวจสอบคุณภาพอย่างเข้มงวดโดย TP-Link's Lab และรับรองโดยหน่วยงานระดับโลก
วัสดุทนไฟ ช่วยลดอันตรายจากการเผาไหม้
เก็บข้อมูลอัตโนมัติหลังจากปิดเครื่องหรือขาดการเชื่อมต่อ
ป้องกันไฟฟ้าช๊อตเพื่อเพิ่มความปลอดภัย
Quality Inspection

Flame‑
Retardant Material

Automatic Storage

Sliding Safety Cover
Enjoy Easy, Friendly Setup and Use
Unique Bluetooth onboarding เทคโนโลยีที่ช่วยให้ตั้งค่าง่ายขึ้นเพื่อการเชื่อมต่อที่รวดเร็ว(ภายใน 20 วินาที)และแก้ปัญหาการเชื่อมต่อล้มเหลวในอนาคต
*ไม่ต้องแยกฮับหรืออุปกรณ์เสริม
*Bluetooth is only used for onboarding.
*The total power of the connected electrical equipment should not exceed the max load current (10A).
*Please do not use in damp environments or outdoors.
*The Bluetooth onboarding speed is based on performance testing results. Actual time required for onboarding may vary in different network conditions and environments.
*Made with V-0 (UL94) flame-retardant materials
NETWORK
Protocol
IEEE 802.11b/g/n, Bluetooth 4.2 (for onboarding only)
Wireless Type
2.4 GHz
System Requirements
Android 4.3 or higher, iOS 9.0 or higher
GENERAL
Dimensions( H X W X D )
2.2* 2.2* 1.3 in (55*55*32.5 mm)
Materia
PC
Buttons
Power Button
Status LED
Power Requirements
100-240V, 50/60Hz, 10A
OTHERS
Package Contents
Mini Smart Wi-Fi Socket Tapo P100
Quick Start Guide
Certifications
FCC, RoHS, ETL
Environment
Operating Temperature: 0 ºC– 40 ºC (32°F–104°F )
Operating Humidity: 10%–90%RH, Non-condensing
From United States?
Get products, events and services for your region.