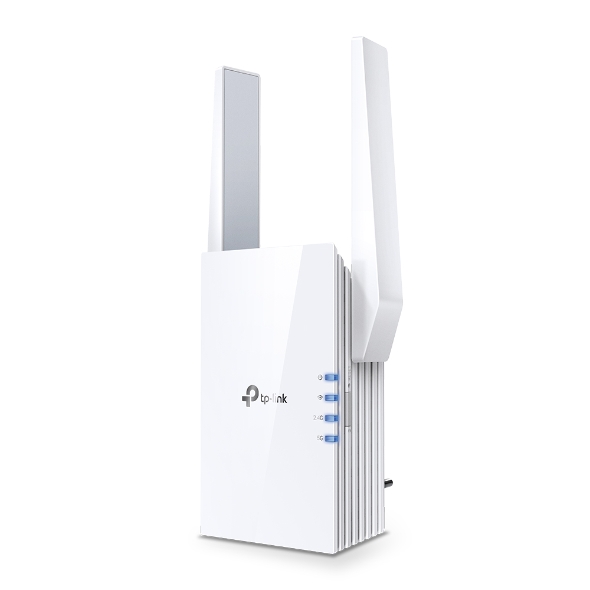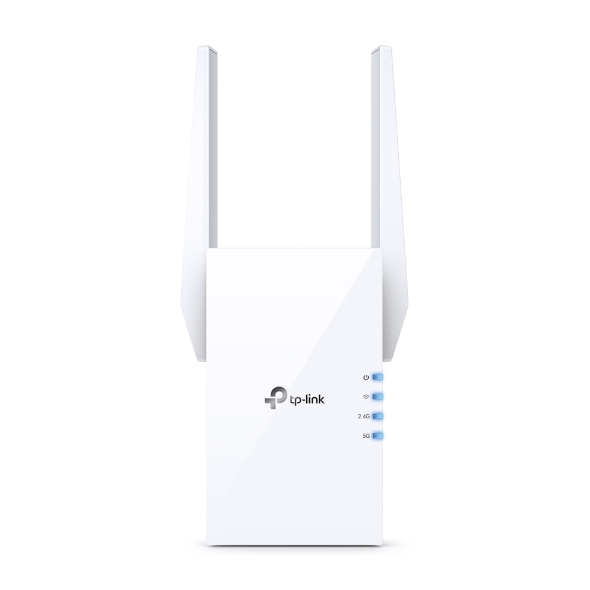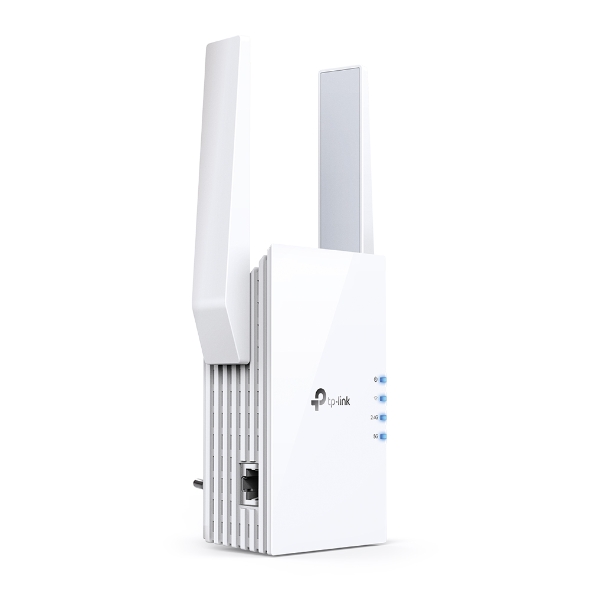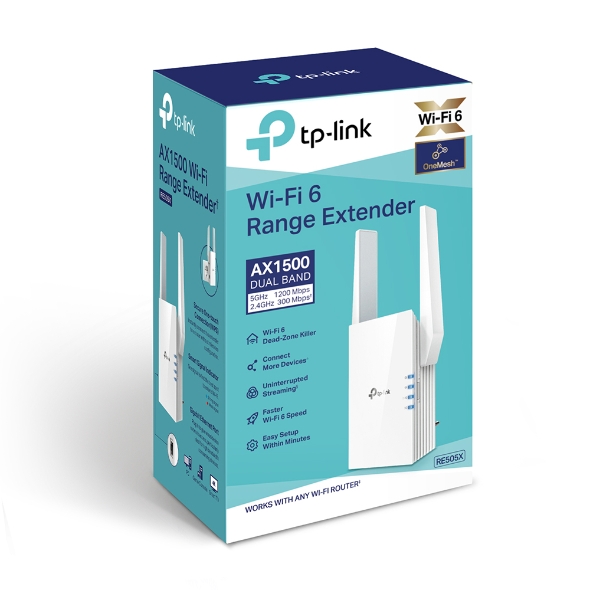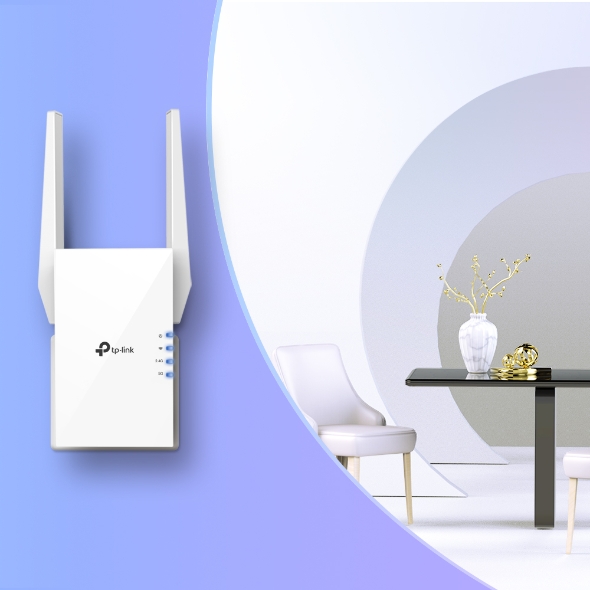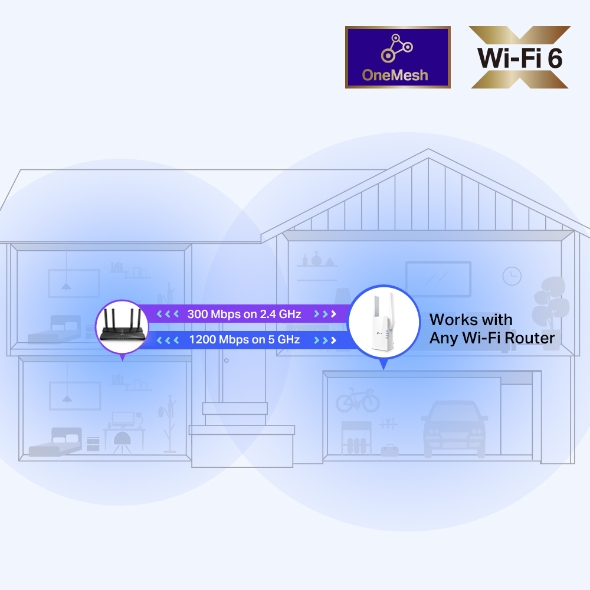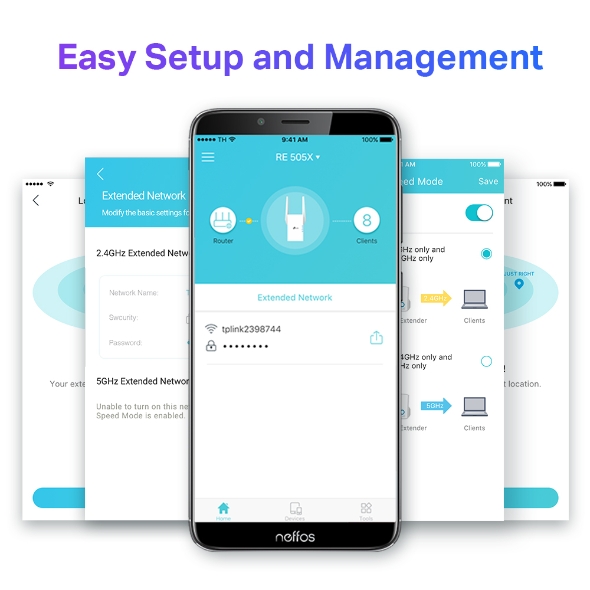 AX1500 Wi-Fi Range Extender
RE505X มาพร้อมกับเทคโนโลยีล่าสุดอย่างเทคโนโลยี Wi-Fi 6 ที่พร้อมจะมอบความเร็วที่มากกว่า แรงกว่า และเสถียรมากขึ้น
สามารถสร้างเครือข่าย one Mesh โดยเชื่อมต่อกับเราเตอร์ One mesh เพื่ออินเทอร์เน็ตที่ครอบคลุมทั่วทั้งบ้าน
Gigabit Ethernet Port – มอบการเชื่อมต่ออินเทอร์เน็ตความเร็วแบบมีสายเพื่อการเชื่อมต่อที่ดีขึ้นบนสมาร์ททีวี , คอมพิวเตอร์ และเครื่องเล่มเกมส์
Intelligent Signal Light – ไฟสัญญาณอัจฉริยะที่ช่วยให้ค้นหาที่ตั้งสัญญาณ Wi-Fi ที่ครอบคลุมได้ดีที่สุด โดยแสดงความเหมาะสมของสัญญาณ
AP Mode –Access Point

สร้างการเชื่อมต่อ

Wi-Fi access point

ใหม่ ๆ เพื่อเพิ่มเครือข่ายแบบใช้สายของคุณให้มีความสามารถในการเชื่อมต่อด้วย

Wi-Fi

TP-LINK Tether App – ง่ายต่อการจัดการอุปกรณ์บนสมาร์ทโฟนผ่าน Tether APP รองรับทั้ง iOS และบนแอนดรอยด์
Ultimate Compatibility –

ขยาย

ช่วงสัญญาณของเราเตอร์

Wi-Fi หรือ ไวเลส

access point

ไม่แนะนำให้เชื่อมต่อผ่าน Hotspot มือถือ
Expand Coverage of the Fastest Next-Gen Wi-Fi
AX1500 Range Extender
RE505X
Cutting-Edge
Wi-Fi 6
เทคโนโลยีล่าสุดมาตรฐานใหม่เพื่อการเชื่อมต่อที่ดียิ่งขึ้น หมดปัญหาอินเทอร์เน็ตช้า, การโหลดที่น่าเบือ และขจัดจุดอับสัญญาณ ให้คุณสนุกกับอินเทอร์เน็ตแห่งอนาคต และการเชื่อมต่อที่เพิ่มขึ้น
5 GHz

2.4 GHz
Higher Speed

Larger Capacity

Ultra-Low Latency
Works with
Any Wi-Fi Router
300 Mbps on 2.4 GHz
1200 Mbps on 5 GHz
Fill Every Inch of Your Home with
Wi-Fi 6
เชื่อมต่อ 505X กับเราเตอร์ของคุณ เริ่มใช้งานสัญญาณอินเทอร์เน็ต Wi-Fi 6 ที่พร้อมจะเชื่อมต่ออินเทอร์เน็ตในบ้านของคุณ เพื่อให้คุณได้ใช้งานได้อินเทอร์เน็ตได้ทุกที่
Adaptive Path Selection
ทำให้เครือข่ายของคุณทำงานด้วยความเร็วสูงสุดโดยการเลือกเส้นทางการเชื่อมต่อที่เร็วที่สุดไปยังเราเตอร์โดยอัตโนมัติ
High Speed Mode
ใช้งานอินเทอร์เน็ต 2 ย่านความถี่ สนุกกับอินเทอร์เน็ตที่ไม่มีลิมิต - เพื่อการสตรีมหนัง HD หรือเล่นเกมเครื่องโปรดของคุณ
Built-In Access Point Mode
RE505X เป็นมากกว่าอุปกรณ์ขยายสัญญาณ
เพียงแค่เสียบ Ethernet cable เข้าไปในพอร์ต , เท่านี้คุณก็ใช้งานการเชื่อมต่อแบบมีสายเข้ากับสัญญาณไร้สายบนอินเตอร์เน็ต 2 ย่านความถี่
TP-Link OneMesh TM
OneMeshTM คืออีกหนึ่งทางเลือกของ Mesh network ที่จะให้คุณใช้สัญญาณอินเทอร์เน็ตเพียงชื่อเดียว ก็ครอบคลุมทั่วทั้งบ้านของคุณ แต่เพียงต่ออุปกรณ์ขยายสัญญาณ OneMeshTM ไปที่เราเตอร์ OneMeshTM เท่านี้คุณก็จะได้สัญญาณอินเทอร์เน็ตที่มั่นคงและเสถียร พร้อมรองรับทุกงานใช้งาน
Smart Roaming

เชื่อมต่อไม่หยุดชะงักแม้จะอยู่ที่ไหนในบ้านของคุณ

One Wi-Fi Name

ไม่ต้องคอยสลับชื่อ Wi-Fi อีกต่อไป

Easy Creation

การจับคู่ที่เหมาะสมในทันทีของ เราเตอร์ OneMesh Router และอุปกรณ์ขยายสัญญาณ OneMesh

Unified Management

จัดการเครือข่ายทั้งหมดผ่านแอพลิเคชั่่น TP-Link Tether app
Traditional Router with Extender

Wi-Fi

Router

Extender

OneMeshTM Router + Range Extender

Wi-Fi

Whole Home
Enjoy an AX Mesh Network with Your Existing Router
ต้องการใช้งาน Mesh network? ลังเลอยู่รึเปล่าว่าควรจะเปลี่ยนเราเตอร์ของคุณมั๊ย?
1
อัพเดทเราเตอร์ทีพี-ลิงค์ตัวเก่าของคุณให้เป็นเฟิร์มแวร์ OneMesh
2
เชื่อมต่อ RE505X กับเราเตอร์
3
เท่านี้ก็พร้อมใช้งาน One Mesh ได้แล้ว!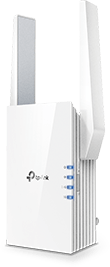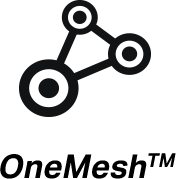 HARDWARE FEATURES
Ports
1 Gigabit Ethernet Port
Button
WPS Button, Reset Button
Power Consumption
10W
Dimensions ( W x D x H )
2.9×1.8×4.9 in. (74.0×46×124.8 mm)
Antenna
2 External Antennas
WIRELESS FEATURES
Wireless Standards
IEEE 802.11a/n/ac/ax 5GHz, IEEE 802.11b/g/n 2.4GHz
Frequency
2.4GHz and 5GHz
Signal Rate
300 Mbps at 2.4GHz, 1200 Mbps at 5GHz
Reception Sensitivity
5GHz:
11ax HE80MCS0:-86, 11ax HE80MCS11:-55
11ax HE40MCS0:-88, 11AX HE40MCS11:-58
11ax HE20MCS0:-92, 11ax HE20MCS11:-60
11a 6Mbps: -93dBm, 11a 54Mbps: -75dBm
11ac HT20 MCS0: -92dBm, 11ac HT20 MCS8: -70dBm
11ac HT40 MCS0: -90dBm, 11ac HT40 MCS9: -66dBm
11ac HT80 MCS0: -87dBm, 11ac HT80 MCS9: -62dBm

2.4GHz:

11g 54Mbps: -77dBm,
11n HT20 MCS7: -75dBm
11n HT40 MCS7: -72dBm
Transmit Power
CE: 2.4GHz ≤20dBm, 5GHz ≤30dBm
Wireless Functions
Enable/Disable Wireless Radio, Wireless Statistics
Wireless Security
64/128-bit WEP, WPA/WPA-PSK2 encryptions
OTHERS
Package Contents
Wi-Fi Range Extender RE505X Quick Installation Guide
System Requirements
Microsoft Windows 98SE, NT, 2000, XP, Vista™ or Windows 7, 8, 8.1, 10, MAC OS, NetWare, UNIX or Linux Internet Explorer 11, Firefox 12.0, Chrome 20.0, Safari 4.0, or other Java-enabled browser
Certifications
FCC, RoHS
SubscriptionTP-Link takes your privacy seriously. For further details on TP-Link's privacy practices, see TP-Link's Privacy Policy.
From United States?
Get products, events and services for your region.