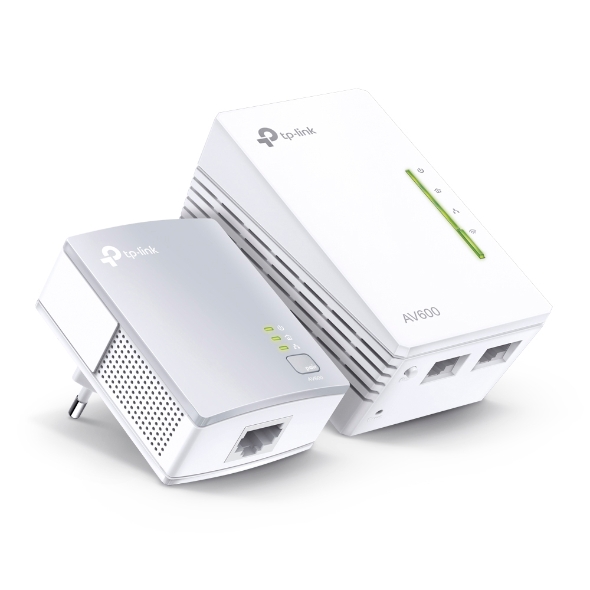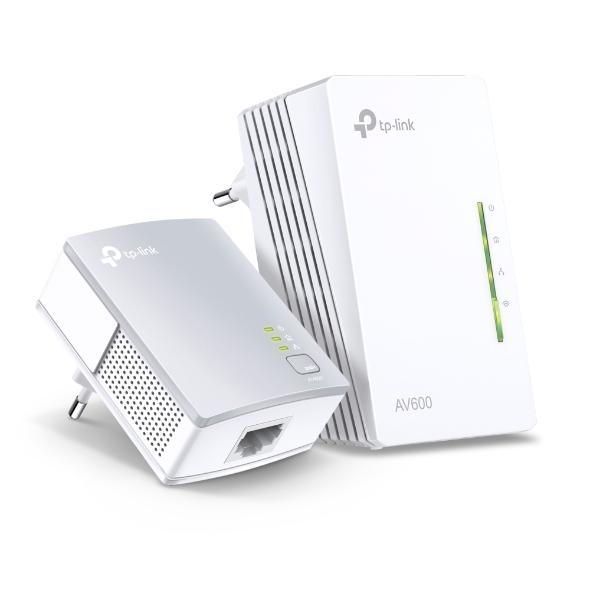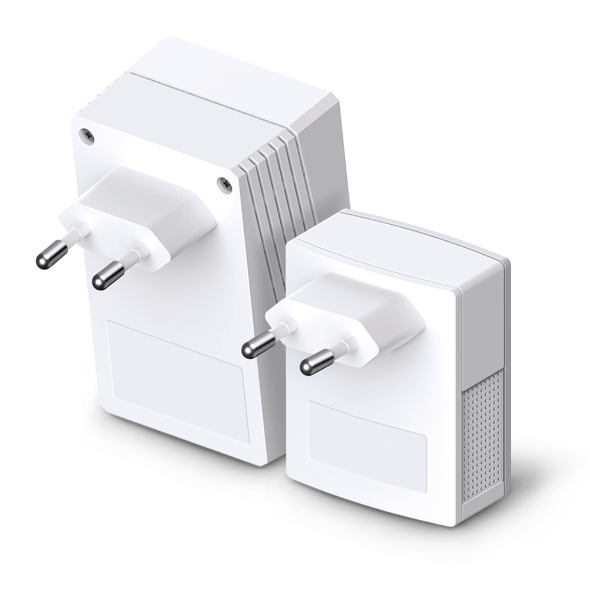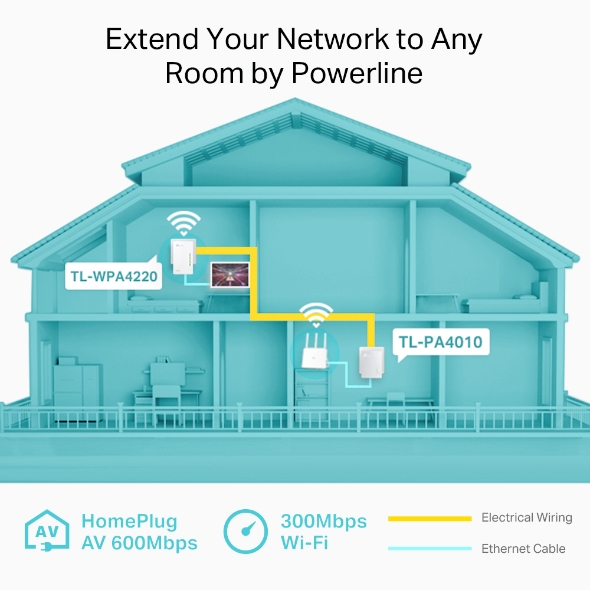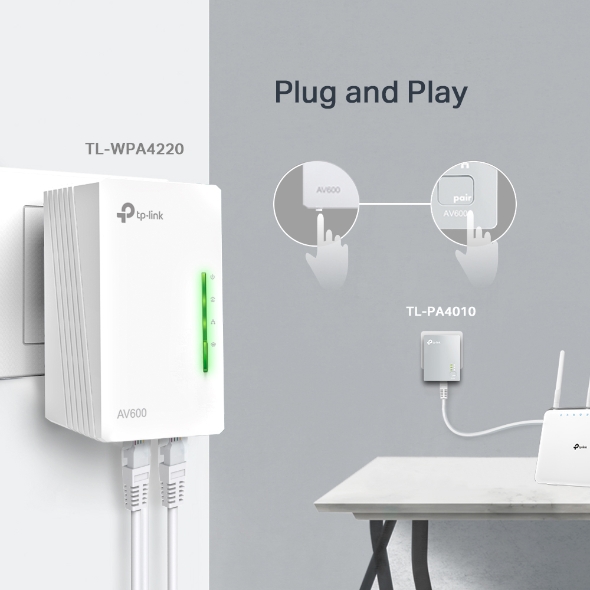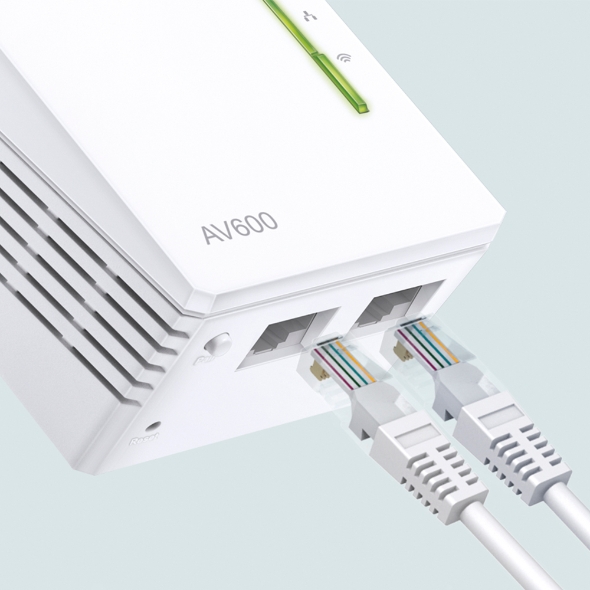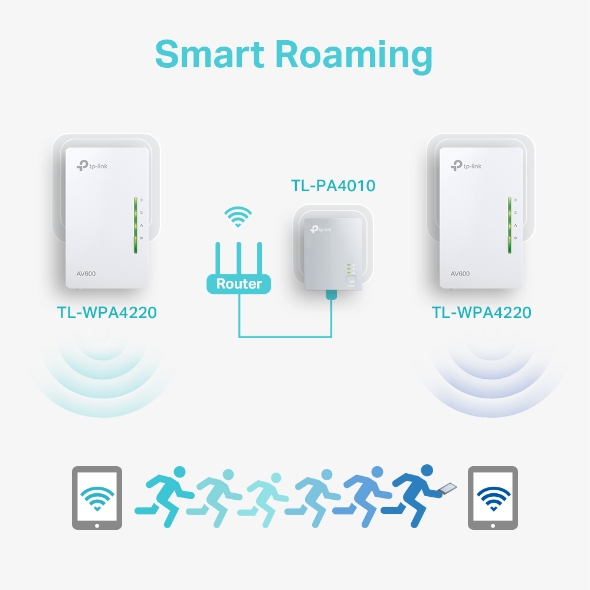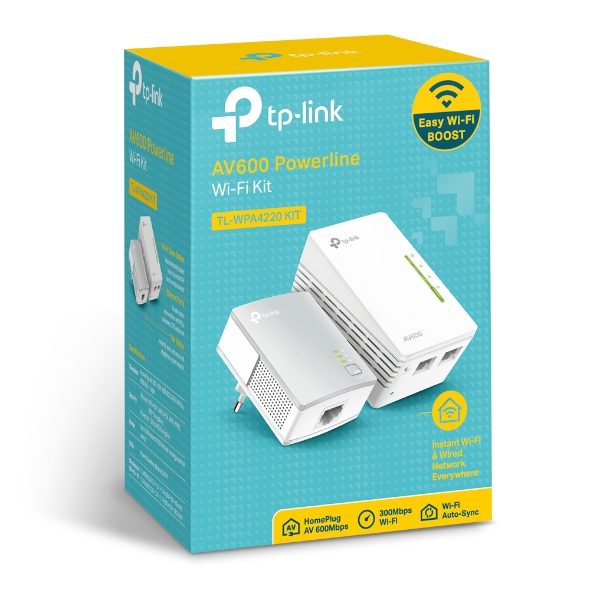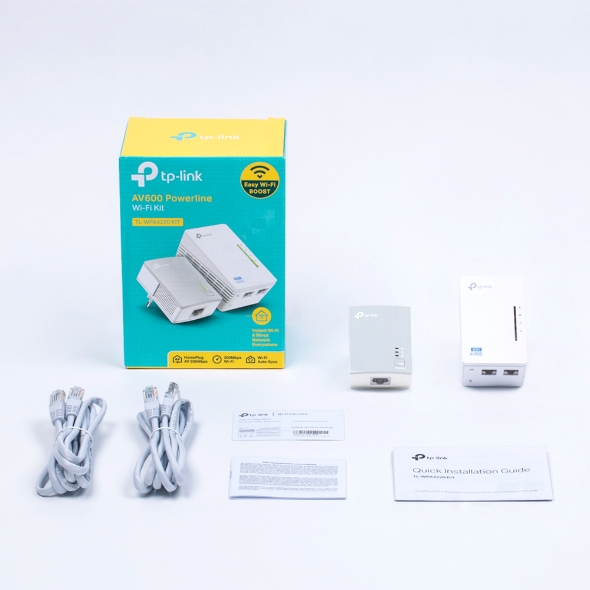 TL-WPA4220 KIT
End of Life
300Mbps AV500 WiFi Powerline Extender Starter Kit
กดปุ่มครั้งเดียวขยายช่วงสัญญาณได้ - ปุ่มโคลน Wi-Fi ช่วยลดความยุ่งยากการกำหนดค่าและจะช่วยสร้างเครือข่ายภายในบ้านแบบครบวงจรอย่างราบรื่น
มาตรฐาน HomePlug AV 600Mbps การส่งข้อมูลความเร็วสูงผ่านสายไฟฟ้าในบ้านที่มีอยู่เหมาะสำหรับ สตรีมมิ่งวิดีโอHD หรือ 3D และการเล่นเกมออนไลน์
ขยายการเชื่อมต่อไร้สาย 300Mbps ในพื้นที่ที่ยากต่อการเข้าถึงก่อนหน้านี้ของที่บ้านและที่ทำงานของคุณ
ปุ่ม Wi-Fi Clone


สำหรับการใช้งาน Wireless Roaming

การคัดลอกชื่อ (SSID) และรหัสผ่านเครือข่ายไร้สายของเราเตอร์โดยอัติโนมัติ เพียงกดปุ่ม หลังจากนั้นคุณสามารถวาง Powerline adapter ที่ไหนก็ได้ และสนุกกับการเชื่อมต่อแบบไม่มีสะดุดกับเครือข่ายภายในบ้านหรือออฟฟิศของคุณ
ไม่มีปุ่ม Wi-Fi Clone
Wireless PLC
มีปุ่ม
with Wi-Fi Clone

การโรมมิ่งสัญญาณ Wi-Fi

ตั้งค่าบนเว็บ

เพียงปุ่มเดียว

ตั้งค่าเครือข่าย Powerline

ง่าย

ง่ายมากๆ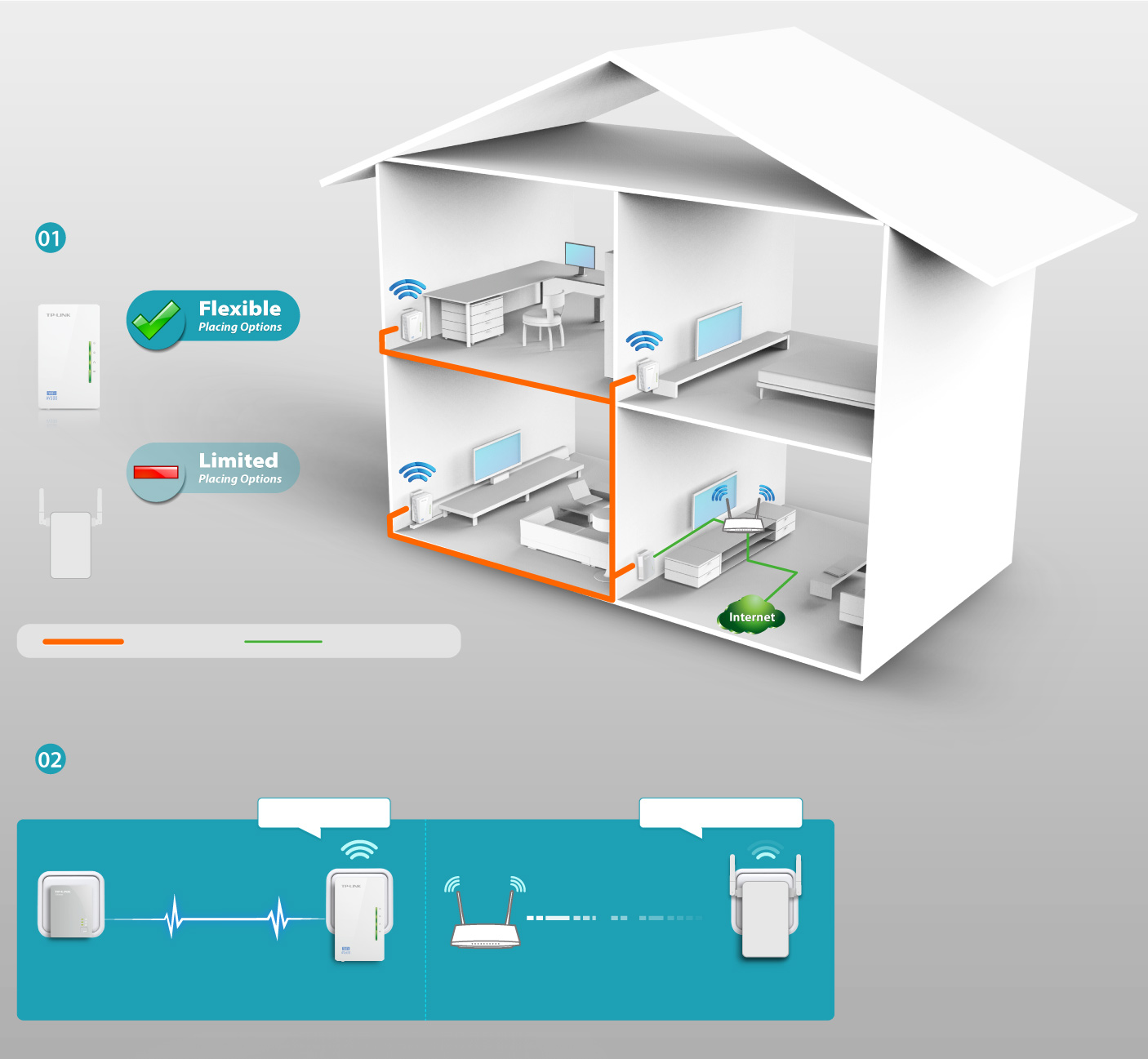 ประสิทธิภาพที่ดีกว่า


การขยายช่วงสัญญาณ Wi-Fi
การใช้สัญญาณ Wi-Fi ในที่ต่างๆ

ใช้ Powerline ขยายช่วงสัญญาณ Wi-Fi

ขยายสัญญาณอินเตอร์เน็ตแบบมีสายและไร้สาย
ไปสู่ ชั้นใต้ดิน ลานบ้านหรือห้องต่างๆ

ขยายช่วงสัญญาณ Wi-Fi เพียงอย่างเดียว

ต้องวางภายในที่ๆมี Wi-Fi อยู่เพื่อรับสัญญาณ ดังนั้นทางเลือกในการวางอุปกรณ์มีจำกัด

Powerline Ethernet Cable

การเชื่อมต่อ Wi-Fi ที่เร็วกว่า เสถียรกว่า

Powerline Transmission

High Speed Wi-Fi

Powerline Wi-Fi Range Extender

Network signal is transmitted through home wiring with little interference resulting in stable, speedy Wi-Fi transmissions.

Wi-Fi Transmission

Degraded Wi-Fi Speed

Wi-Fi Only Range Extenders

Simply takes an already weak Wi-Fi signal and reproduce it, signal quality can be degraded.
Unified


Home Network
300Mbps AV500 WiFi Powerline Extender


TL-WPA4220

AV500 Nano Powerline Adapter


TL-PA4010

300Mbps AV500 WiFi Powerline Extender


TL-WPA4220
xDSL/Ethernet/Cable
Powerline Ethernet Cable
ผลิตภัณฑ์ที่เกี่ยวข้อง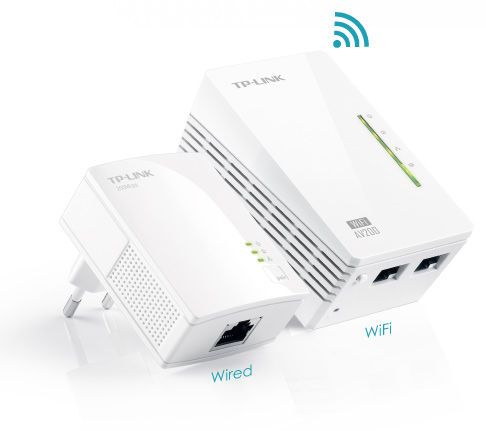 300Mbps AV200 WiFi Powerline Extender Starter Kit

TL-WPA2220KIT(TL-WPA2220&TL-PA2010)
ปุ่ม Wi-Fi Clone ช่วยลดความยุ่งยากในการตั้งค่า WI-Fi และสร้างเครือข่ายภายในบ้านอย่างครบวงจร
มาตรฐาน HomePlug AV ให้ความเร็วในการส่งข้อมูลถึง 200Mbps ผ่านสายไฟฟ้าในบ้าน
ขยายการเชื่อมต่อแบบไร้สาย 300Mbps ในพื้นที่ที่ยากต่อการเข้าถึงที่บ้านและที่ทำงานของคุณ
2 พอร์ตอีเธอร์เน็ต ช่วยให้ทีวี เกมคอนโซลหรือเครื่องคอมพิวเตอร์สามารถเชื่อมต่อกับอินเตอร์เน็ต
ติดตั้งอย่างง่ายดาย เพียงแค่เสียบปลั๊กและใช้งาน
HARDWARE FEATURES
Plug Type
EU, UK, US, AR
Standards and Protocols
HomePlug AV, IEEE802.3, IEEE802.3u, IEEE802.11b/g/n
Interface
2*10/100Mbps Ethernet Port
Button
Pair, Reset, Wi-Fi/Wi-Fi Clone
Power Consumption
Maximum: 7.608W (220V/50Hz)
Typical: 7.216W (220V/50Hz)
Standby: 4.610W (220V/50Hz)
LED Indicator
PWR, PLC, ETH, Wi-Fi/Wi-Fi Clone
Dimensions ( W x D x H )
3.7 x 2.1 x 1.6 in. (94×54×40mm)
Range
300 Meters over electrical circuit
Compatibility
Compatible with all HomePlug AV & AV2 standard powerline adapters
Transmission Speeds
Powerline: up to 600 MbpsEthernet: 10/100 Mbps
WIRELESS FEATURES
Frequency
2.4-2.4835GHz
Signal Rate
11n: Up to 300Mbps(dynamic)
11g: Up to 54Mbps(dynamic)
11b: Up to 11Mbps(dynamic)
Reception Sensitivity
270M: -68dBm@10% PER
130M: -68dBm@10% PER
108M: -68dBm@10% PER
54M: -68dBm@10% PER
11M: -85dBm@8% PER
6M: -88dBm@10% PER
1M: -90dBm@8% PER
Wireless Security
64/128-bit WEP / WPA / WPA2,WPA-PSK / WPA2-PSK
Advanced Functions
Enable/DisableWireless Radio,WMM, Wireless Statistics
Transmission Power
CE:<20dBm(2.4GHz)
FCC:<30dBm
SOFTWARE FEATURES
Management
tpPLC-Scan the QR code to download TP-Link tpPLC App.Or download new tpPLC Utility on PCs: www.tp-link.com.
Modulation Technology
OFDM (PLC)
Encryption
Powerline Security:
128-bit AES
Wireless Security:
WEP, WPA/WPA2, WPA-PSK/WPA2-PSK Encryption
OTHERS
Certification
CE, FCC, RoHS
Package Contents
Powerline Ethernet Adapter TL-WPA4220 & TL-PA4010
6.5 ft. (2 m) Ethernet cable (RJ45)
Resource CD
Quick Installation Guide
System Requirements
Windows 2000/XP/2003/Vista, Windows 7/8, Mac, Linux
Environment
Operating Temperature: 0°C~40°C (32°F ~104°F)
Storage Temperature: -40°C~70°C (-40°F ~158°F)
Operating Humidity: 10%~90% non-condensing
Storage Humidity: 5%~90% non-condensing
The theoretical maximum channel data transfer rate is derived from HomePlug AV specifications. Actual data transfer rate will vary from network environment including: distance, network traffic, noise on electrical wires, building material and construction, quality of electrical installation and other adverse conditions.
SubscriptionTP-Link takes your privacy seriously. For further details on TP-Link's privacy practices, see TP-Link's Privacy Policy.
From United States?
Get products, events and services for your region.