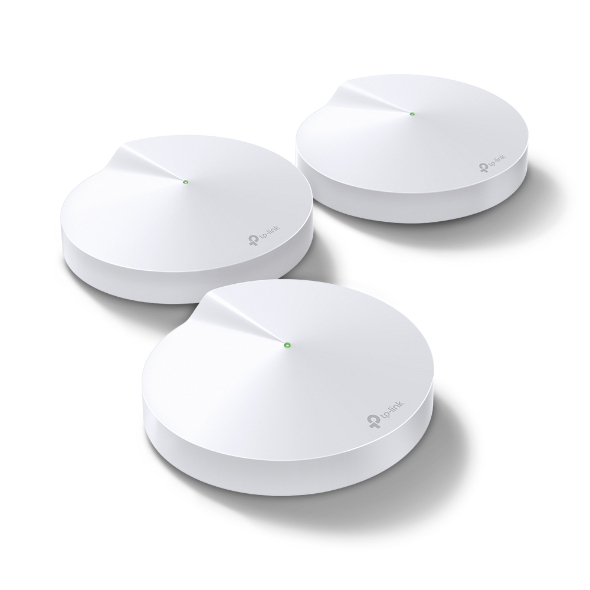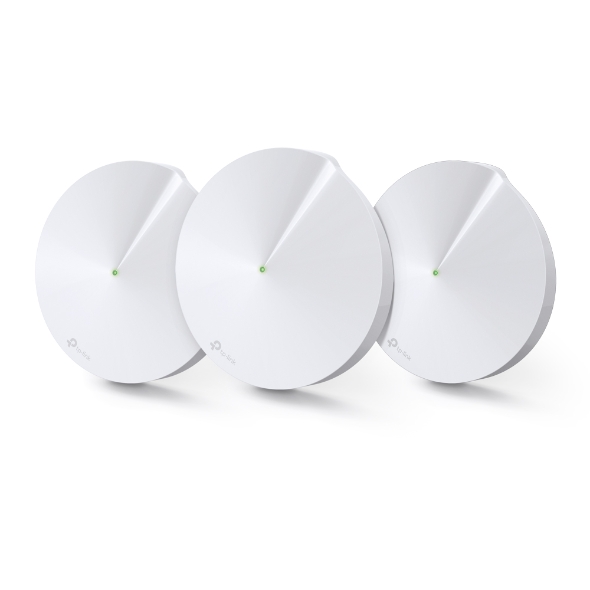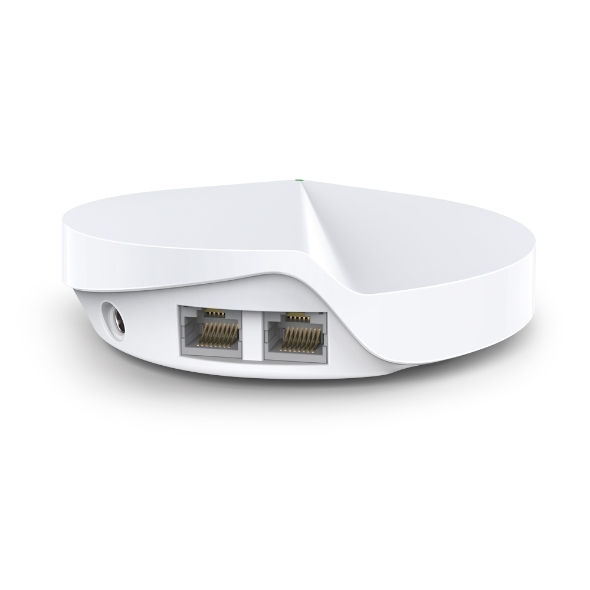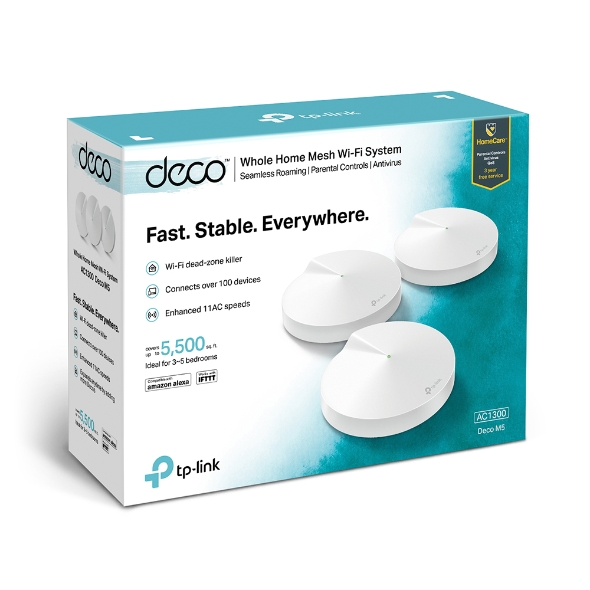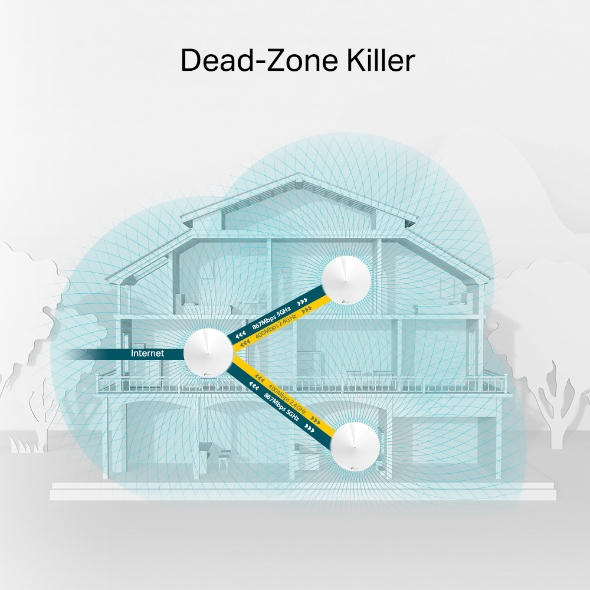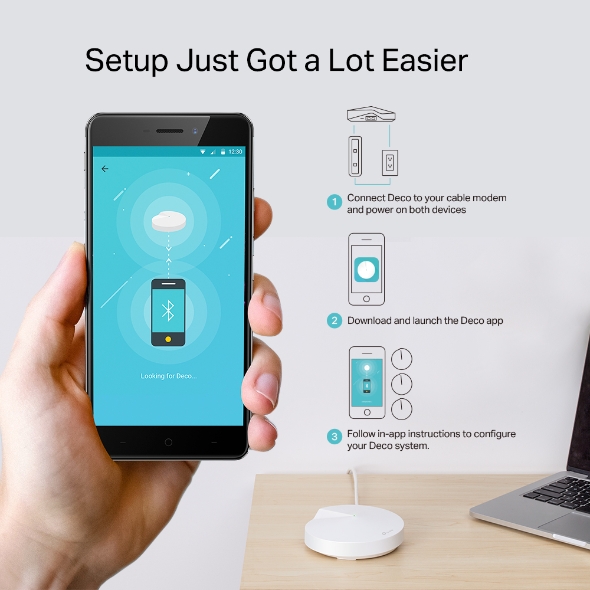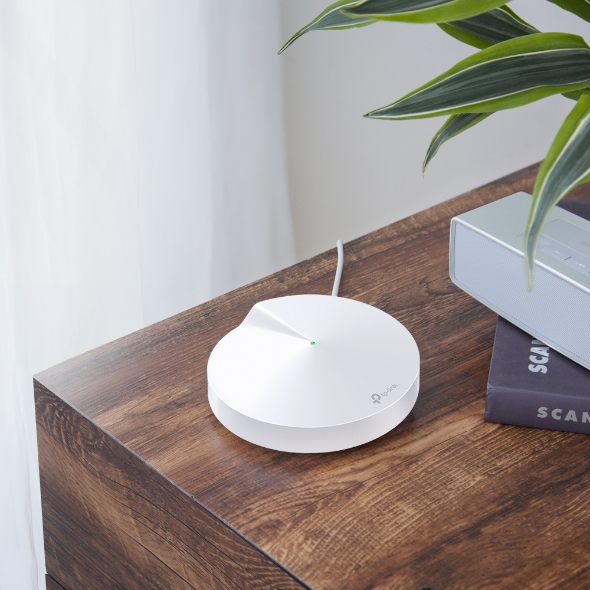 AC1300 Whole Home Mesh Wi-Fi System
Deco ใช้งานบนระบบ Mesh ที่ช่วยให้ได้รับสัญญาณ Wi-Fi ที่ครอบคลุมทั่วทั้งบ้านได้อย่างราบรื่น — กำจัดจุดอับสัญญาณภายในบ้าน
ด้วยระบบเทคโนโลยี Mesh , ทุกอุปกรณ์จะทำงานร่วมกันภายใต้ชื่อเครือข่ายเดียว Deco จะสลับสัญญาณจากจุดหนึ่งไปยังอีกจุดหนึ่งโดยอัตโนมัติโดยจะเลือกสัญญาณที่ดีที่สุดให้แก่คุณ
A Deco M5 (pack-3) สัญญาณครอบคลุมมากถึง 5500 ตร.ฟุต ในขณะที่ Deco M5 (pack-2) สัญญาณครอบคลุมมากถึง 3800 ตร.ฟุต เท่านี้ยังไม่พอ ง่ายกว่าด้วยการเพิ่ม Deco ลงในเครือข่ายได้ทุกเวลาเพื่อเพิ่มความครอบคลุมให้ขยายยิ่งขึ้นไปอีก
Deco M5 มอบตวามเร็ว Wireless รวมสูงสุดที่ 1267Mbps และสามารถทำงานร่วมกับผู้ให้บริการอินเทอร์เน็ตรายใหญ่ (ISP) และโมเด็มเราเตอร์
Deco สามารถรองรับการเชื่อมต่อของอุปกรณ์ได้มากถึง 100 อุปกรณ์†.
สร้างความปลอดภัยที่มากขึ้นอีกด้วย TP-Link HomeCare™ ไม่ว่าจะเป็นการจัดการการใช้งานอินเตอร์เน็ตแต่ละบุคคล , การควบคุมโดยผู้ปกครอง , ป้องกันไวรัสในตัว และ คุณภาพการบริการ (QoS)
ตั้งค่าง่ายด้วยแอพลิเคชั่น Deco ที่พร้อมจะแนะนำทุกขั้นตอนเชื่อมต่อให้แก่คุณ
Deco จะช่วยให้คุณได้ใช้งานอินเตอร์เน็ตที่เสถียรและครอบคลุมทุกจุดภายในบ้านของคุณ เพลิดเพลินไปกับการเชื่อมต่อสัญญาณที่ดีกับทุกอุปกรณ์ภายในบ้าน สัญญาณครอบคลุมมากถึง 5500 ตร.ฟุต (3-pack) หรือ 3800 ตร.ฟุต(2-pack) พร้อมกับการตั้งค่าที่แสนจะง่าย แนะนำทุกขั้นตอน ด้วยแอพ Deco เพียงหนึ่งแอพ
Wi-Fi dead-zone killer

Connects over 100 devices

Enhanced 11AC speeds
Dead-Zone Killer
กำจัดทุกจุดอับสัญญาณภายในบ้านของคุณ ไม่ต้องมาคอยหาสัญญาณอินเตอร์เน็ตอีกต่อไปการเชื่อมต่อไร้สาย
อยากจะขยายสัญญาณให้ครอบคลุม ง่ายๆ เพียงเพิ่ม Deco
No More Buffering
เร็วกว่าเราเตอร์รุ่นก่อนหน้าถึง 3 เท่าด้วยเทคโนโลยีไร้สาย 802.11ac สามารถรองรับการเชื่อมต่อได้มากถึง 100 อุปกรณ์ †.
เชื่อมต่ออุปกรณ์สูงสุด
100
อุปกรณ์
Seamless Roaming
TP-Link Mesh หมายถึง Deco จะทำงานร่วมกันเพื่อสร้างเครือข่ายหนึ่งเดียวโทรศัพท์มือถือหรือแล็ปท็อปของคุณจะเชื่อมต่อ Deco ตัวที่สัญญาณดีที่สุดโดยอัตโนมัติ นั่นหมายความว่า Deco จะมอบสัญญาณที่ดีและเหมาะสมที่สุดให้กับทุกอุปกรณ์ภายในบ้านของคุณ เมื่อคุณเคลื่อนที่ภายในบ้านของคุณ Deco พร้อมมอบการเชื่อมต่อ Wi-Fi ที่ไร้รอยต่ออย่างแท้จริง
Deco M5

Router's Wi-Fi

RE's Wi-Fi 1

RE's Wi-Fi 2

Router + Range Extenders
Setup Just Got a Lot Easier
แค่แกะกล่อง ติดตั้งแอพลิเคชั่น และทำตามขั้นตอนแนะนำของแอพ Deco เท่านี้คุณก็พร้อมแล้วที่จะสนุกกับประสบการณ์อินเตอร์เน็ตแบบใหม่
เชื่อมต่อ Deco กับโมเด็มเราเตอร์ของคุณ จากนั้นเปิดการทำงานของทั้งสองเครื่อง

ดาวน์โหลดและเริ่มการใช้งาน Deco App

ทำตามคำแนะนำบนหน้าแอพลิคเชั่น
TP-Link HomeCareTM
TP-Link HomeCareTM by Trend MicroTM. จะช่วยปกป้องการเล่นอินเตอร์เน็ตของคุณ เพื่อให้แน่ใจว่าทุกอุปกรณ์ของคุณจะได้รับความปลอดภัย การควบคุมโดยผู้ปกครองที่มีประสิทธิภาพความสามารถ จำกัดการใช้งานอินเตอร์เน็ตและบล็อคเนื้อหาที่ไม่เหมาะสมตามโปรไฟล์ที่สร้างขึ้นสำหรับสมาชิกครอบครัวแต่ละคน
เรียนรู้เพิ่มเติม >>
บล็อคเนื้อหาที่ไม่เหมาะสมและกำหนดเวลาการใช้งานอินเตอร์เน็ต

ปกป้องทุกอุปกรณ์ของคุณจากภัยคุกคามออนไลน์

จัดลำดับความสำคัญของอุปกรณ์และแอปพลิเคชันเพื่อประสิทธิภาพที่รวดเร็วขึ้นเมื่อต้องการ
Fits Every Type of Home
Multi-Story Home

Modern Home

Apartment
All Decos Work Together
Deco E4 สามารถทำงานได้ร่วมกับทุกอุปกรณ์ในเครือ Deco ทุกรุ่น โดยที่เครือข่าย Mesh จะช่วยขยายสัญญาณให้ครอบคลุมทุกที่ทุกเวลา ง่ายๆ เพียงเพิ่ม Deco
The Reviews Are In
"The M5 can protect the entire network from online threats."
- C|NET
---
"If you're looking to ditch your traditional router-extender setup for a whole-home Wi-Fi system, put the TP-Link Deco M5 Wi-Fi System on your short list"
- PCMAG.COM
True Seamless Roaming
Deco units work together to form one unified network with a single network name. You phone or tablet automatically connects to the fastest Deco as you move through your home. The switching takes less than 0.3 second and is smooth and unnoticeable, creating a truly seamless online experience.
Adaptive Path Selection

TP-Link Mesh Technology dynamically chooses the best route and band for your connections and applications, guaranteeing a fast Wi-Fi no matter where you are in the home.
Self-Healing

If one Deco has an issue, the system will automatically reroute data via the other Decos to make sure you stay online.
Wi-Fi + Powerline
Powerline connections utilize your home's electrical circuit to link Decos, bypassing even the thickest of walls and ceilings.
The dual-band Wi-Fi and powerline work together to transmit data between Deco units. The total network speed is greatly improved compared with using Wi-Fi only.
Wi-Fi + Powerline:

Hybird Wi-Fi System

Boosted Speeds

Traditional Mesh Wi-Fi:

Standard Wi-Fi System
Powerline

Note:Wi-Fi + Powerline is only for Deco P9
IoT Mesh
Unlike traditional smart hubs, TP-Link Mesh Technology provides whole-home IoT coverage with Wi-Fi, Bluetooth and Zigbee integrated into a single system.Enjoy the magic of your smart home in every room with TP-Link Mesh Technology. Say goodbye to countless hubs.
- - -

Wi-Fi

- - -

Zigbee

- - -

Bluetooth
Wi-Fi 6 Mesh
Armed with Wi-Fi 6 technology,
Deco whole home mesh Wi-Fi is designed to deliver a huge boost in coverage, speed, and total capacity. Get on the latest mesh Wi-Fi to enjoy the future network that loads faster and connects more.
Broader coverage

More Connections

Faster Wi-Fi 6 Speed
without Wi-Fi 6 technology
AI-Driven Mesh
Armed with AI Mesh technology,Deco automatically learns and improves itself from experience.
This provides the ideal mesh Wi-Fi unique to your home and network environment.
Walk through your home and enjoy seamless streaming at the fastest possible speeds.
Why TP-Link Mesh Technology
an industry leading solution?
Compete Comparison

Model Number
TP-Link Deco
Netgear Orbi
Google WiFi
Wireless Backhaul
Tri-Band(2.4G+5G_1+5G_2)¹
Single-Band(5G_1 Only)
Dual-Band(2.4G+5G)
Mesh Protocol Supported
IEEE 802.11k/v/r
IEEE 802.11k/v
IEEE 802.11s
True Seamless Roaming
✔
×
×
APS(Adaptive Path Selection)
✔
×
✔
IoT Mesh
✔²
×
×
Wi-Fi 6 Mesh
✔5
✔
×
AI-Driven Mesh
✔6
×
×
Powerline Backhaul
✔³
×
×
Wireless + Powerline Bandwidth
✔⁴
×
×
Band Steering
✔
✔
✔
AP Steering
✔
✔
✔
Self-Healing
✔
✔
✔

Notes: 1&2 For Deco M9 Plus Only;5 for Deco X20;Deco X90;6 for Deco X90 only.




Spec sourced by Dec. 2019
*1. Maximum wireless transmission rates are the physical rates derived from IEEE Standard 802.11 specifications. Range, coverage, and maximum quantity of connected devices are based on test results under normal usage conditions. Actual wireless data throughput. wireless coverage, and quantity of connected devices are not guaranteed and will vary as a result of 1) environmental factors, including building materials, physical objects, and obstacles, 2) network conditions, including local interference, volume and density of traffic, product location, network complexity, and network overhead, and 3) client limitations, including rated performance, location, connection quality, and client condition.
*2. TP-Link HomeCareTM is available for free for the first few months after subscription. Please visit and check: www.tp-link.com/homecare
*3. Deco M3/ E3 is comprised of a router (Deco M4R/ E4R) and one or two satellites (Deco M3W), while Deco M4/ E4 is comprised of two or three Deco M4R/ E4R units. And Deco M3W will be released soon.
SubscriptionTP-Link takes your privacy seriously. For further details on TP-Link's privacy practices, see TP-Link's Privacy Policy.
From United States?
Check products and services for your region.