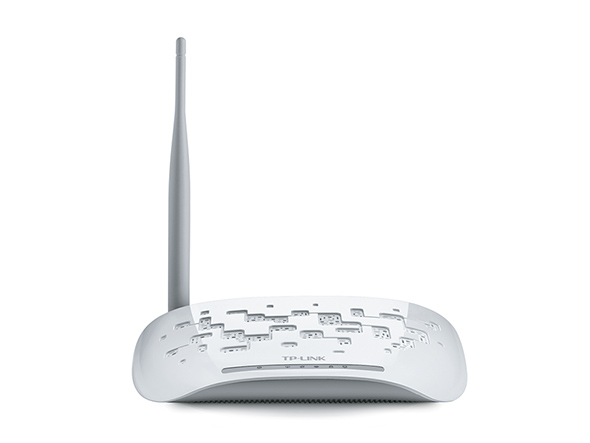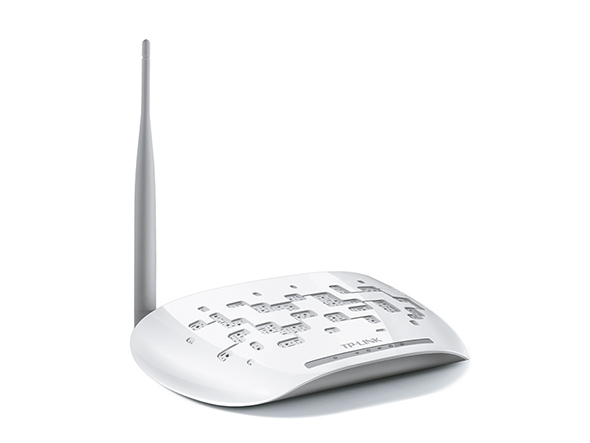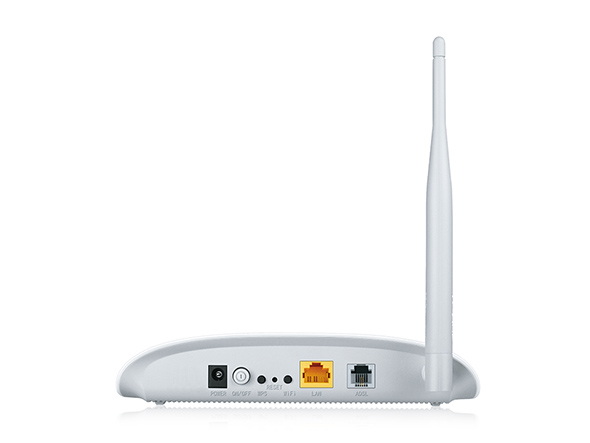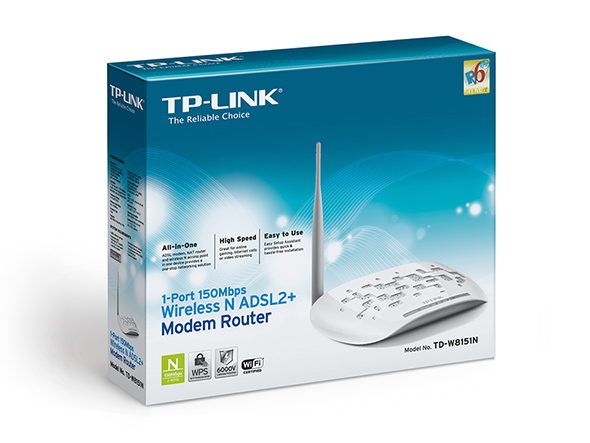 150Mbps Wireless N ADSL2+ Modem Router
Hoge snelheid DSL-modem, 1-poorts NAT-router en draadloos N toegangspunt in één toestel.
Draadloze N met een snelheid tot 150Mbps maakt dit geweldig geschikt voor online-gaming, internettelefonie en video-streaming.
De meertalige Easy Setup Assistant zorgt voor een snelle en probleemloze installatie
De QoS-engine zorgt voor ononderbroken IPTV-streaming en online-gaming zonder vertragingen
Wat dit product voor u kan doen
De TD-W8151N 150Mbps draadloze N ADSL2+ Modem Router is een alles-in-één apparaat, bedoeld om u een one-stop toepassing te geven om hoge snelheid internettoegang te verwerven en te delen op een draadloos netwerk. Met de Easy Setup Assistant in de gebundelde CD, SPI en NAT firewall, QoS motor en andere geavanceerde eigenschappen, kunt u gemakkelijk een beschermd draadloos netwerk instellen en van internet genieten, files delen, VoIP, audio en video streaming.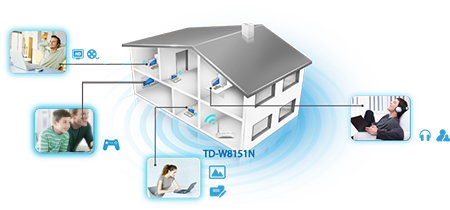 Hoge-snelheidsinternet toegang en draadloze prestaties.
Anders dan een inbelverbinding met internet is een DSL-verbinding altijd open, zodat je niet hoeft te wachten om toegang tot het web te krijgen. TD-W8151N, dat de laatste ADSL standaard ondersteunt, geeft hogere prestaties (tot 24Mbps downstream en 3,5Mbps upstream1) en een groter bereik vanuit het kantoor van uw Internet Service Provider (ISP). In overeenstemming met de IEEE 802.11n norm kan de TD-W8951ND een draadloos netwerk opzetten, en hij geeft betere draadloze prestaties, grotere overdrachtssnelheden, stabiliteit en dekking. U kunt tot max. 9X de snelheid en 4X het bereik van de conventionele 11g producten halen en uw hoge-snelheids DSL internetverbinding delen, foto's, muziek, files, en zelfs bandbreedte verbruikende applicaties als draadloze HD video streaming overal vanuit uw woning of zelfs uw tuin, wat niet mogelijk is met 11g producten.
Geavanceerde netwerkbeveiliging en flexibel beheer.
De TD-W8151N gebruikt NAT en SPI (stateful packet inspection) firewalls die de inhoud van binnenkomende pakketten inspecteert voordat ze naar binnen mogen, waarmee potentiële aanvallen vanaf het internet worden voorkómen. Voor nog meer gemak ondersteunt hij toegangscontrole gebaseerd op een MAC adres, IP adres, domeinnaam of applicaties als MSN, Yahoo Messenger, zodat ouders en netwerkbeheerders een beperkend beleid kunnen voeren ten aanzien van hun kinderen of personeel. Naast de webconfiguratie ondersteunt TD-W8151N ook TR-069 en SNMP, dat gemakkelijk de firmware en andere instellingen kan updaten wanneer zij beschikbaar komen vanaf uw ISP. Al deze eigenschappen dragen bij aan een hoger netwerk beveiligingsniveau en maken het netwerkbeheer flexibeler.

Makkelijk te gebruiken
De CD bevat de Easy Setup Assistant met meertalige ondersteuning. U kunt uw moedertaal selecteren en de internetverbinding, draadloze netwerkinstellingen en beveiligingsconfiguraties stap voor stap uitvoeren. Deze eigenschap stelt zelfs nieuwe gebruikers in staat om de router producten in te stellen zonder sleuteleigenschappen te verliezen; speel gewoon de gebundelde AUTO-RUN CD af om uw netwerk snel en probleemloos in te stellen.
Functionaliteit van de Hardware
Interface
1 RJ11 DSL poort
1 10/100Mbps RJ45-poort
Knop
1 Power On/Off Switch
1 WPS Button
1 Reset Button
1 Wi-Fi On/Off Button
Externe Voeding
9VDC/0.6A
Productbeschrijving
1-Port 150Mbps Wireless N ADSL2+ Modem Router
IEEE-Standaarden
IEEE 802.3, 802.3u
ADSL-Standaarden
Full-rate ANSI T1.413 Issue 2, ITU-T G.992.1(G.DMT) Annex A, ITU-T G.992.2(G.Lite) Annex A,ITU-T G.994.1 (G.hs)
ADSL2-Standaarden
ITU-T G.992.3 (G.dmt.bis) Annex A/L/M, ITU-T G.992.4 (G.lite.bis) Annex A
ADSL2+ Standaarden
ITU-T G.992.5 Annex A/L/M
Gevenssnelheden
Downstream: Tot 24Mbps
Upstream: Tot 3,5Mbps (met ingeschakelde Annex M)
Afmetingen ( B x D x H )
6,5 x 4,3 x 1,1 inch (165x108x28mm)
Type Antenne
Omni directional, Fixed
Draadloze Functies
Standaarden voor Draadloze Netwerken
IEEE 802.11g, 802.11b, met een aantal n-functies
Frequentie
2,400-2,4835 GHz
Overdrachtssnelheid
11N: Tot 150Mbps (dynamisch)
Draadloos Zendvermogen
20dBm (max. EIRP)
Draadloze Beveiliging
Met 64/128-bit WEP-encryptie en draadloze LAN ACL (Access Control List), WPA-PSK/WPA2-PSK authenticatie en TKIP/AES-encryptie
Functionaliteit van de Software
Kwaliteit van de Dienst (QoS)
QoS-remarking op basis van IPP/ToS, DSCP, 802.1p
Veiligheid
NAT- en SPI-firewall
MAC / IP / Application / URL Filtering
Denial of Service (DoS), SYN Flooding, Ping of Death
Management
Webgebaseerde configuratie (HTTP), beheer op afstand, Telnetmanagement,
Command Line Interface,
SSL voor TR-069, SNMP v1/2c, SNMP over EOC,
Webgebaseerde firmware-upgrade, CWMP (TR-069), diagnostische tools
ATM/PPP Protocollen
ATM Forum UNI3.1/4.0 PVC (tot 8 PVC's)
ATM Adaptation Layer Type 5 (AAL5)
ATM QoS (Traffic Shaping)
Overbrugde en gerouteerde ethernet-inkapseling
VC- en LLC-gebaseerde multiplex
PPP over Ethernet (RFC2516)
PPP over ATM (RFC 2364)
IPoA (RFC1577/2225)
Geavanceerde Functies
DHCP (Dynamic Host Configuration Protocol), DHCP Relay
NAT (Network Address Translation)
Statische routing, RIP v1/v2
VPN (PPTP, L2TP, IPSec) doorvoer
PVC/Ethernet Port Mapping
VLAN, 802.1P
DNS Relay, DDNS
IGMP Multicast, IGMP Snooping v1/2
Virtual Server, DMZ, ACL (Lijst toegangsbeheer)
UPnP
Overige
Certificatie
CE, FCC, RoHS
Omgeving
Bedrijfstemperatuur: 0 °C – 40 °C (32 °F – 104 °F)
Opslagtemperatuur: -40 °C – 70 °C (-40 °F – 158 °F)
Luchtvochtigheid in bedrijf: 10% ~ 90% zonder condens
Luchtvochtigheid in opslag: 5% ~ 90% zonder condens
Awards

Silver-Award

TD-W8151N-Received-"Silver-Award"-from-"xtreme-hardware" in Italy

2011, Italy
AbonneerTP-Link hecht veel waarde aan privacy. Voor meer informatie over ons privacybeleid kan je onze Privacy Policy bekijken.
Krijg updates over nieuwe producten, samenwerkingen en ander interessant nieuws
From United States?
Check products and services for your region.